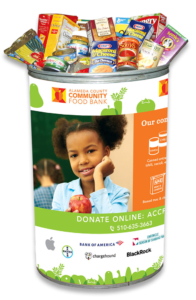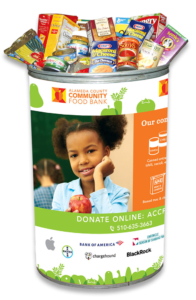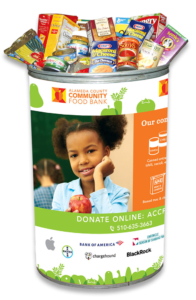 We're kicking off a food drive this month and we hope you all can join up by helping feed less fortunate families during this holiday season.The Alameda County Food Bank will be dropping off food barrels that will be placed in our lobby during the months of November and December. These barrels are 3-feet tall, and when empty, weigh 25lbs, but when full, weigh up to 200lbs. Our goal is to fill 3 barrels by December 30th!

Please help out by donating healthy, non-perishable food. Some examples include canned entrees such as ravioli or chili, canned meat and tuna, boxed Mac & Cheese, and low-sodium canned soups. Another popular food item that the Food Bank recommends is peanut butter. They CANNOT accept donations of food in glass jars/containers, perishable items, frozen food, fresh produce, alcohol, soda and/or baby food or formula.

The Food Bank serves 1 in 4 Alameda County residents. Together, let's do our part to help end hunger!