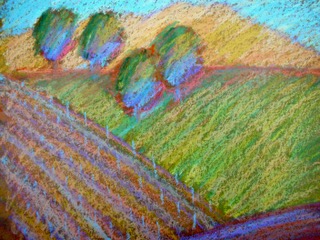 Winter Vineyards, Oil Pastel, by Sally Landis
Longtime Hills Member Sally Landis was raised on the beaches of Southern California, spent many summers backpacking in the High Sierra, and has lived her adult life exploring Northern California. Currently displayed in the lobby, Sally's oil pastel sketches of the California landscape have been made in many of these places that she loves. These small drawings are often a prelude to her larger paintings.

"I love the immediacy of oil pastel, they are actually like adult crayons. I don't have to worry about fussy tubes of paint, canvases, solvents, brushes, or easels. Just a pad of paper and the oil pastels. These drawings were made on brown Kraft paper, which gives a nice dark background for the vibrant colors of the pastels."

We welcome you to take a moment to stop and admire her works next time you walk through the lobby doors.

Would you like to exhibit your artwork in The Hills lobby? If so, please contact Sally at [email protected].