Notes from the Billing Department
You should have received the following text message from us on Thursday, June 24: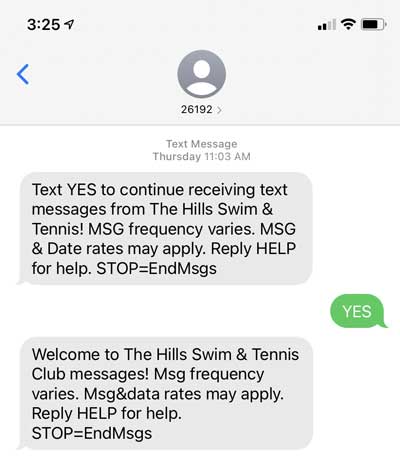 This update requires you to "opt-in" to receiving texts from The Hills. We believe a text alert is often read/received more quickly than an email. Going forward, we plan to use this feature to alert members about important club announcements. If you did not receive this text, chances are you need to update your profile.

Instructions to access your member portal:
Go to cachstc.clubautomation.com and click "Member Login" at the top
Click "Access My Account" on the bottom of the screen
Provide your name and email address. It must be the same email address as the club has for you.
Go to your email on your phone or computer and click the link it sent
Provide a password (Note: you may also have to provide an emergency contact or missing info)
Install "The Hills Swim & Tennis Club" App on your phone

(Note: before accessing the app on your phone, you MUST set up your online member portal!)

Log in with your email and password (same one you created for your member portal)
Once you have logged into your portal, click on "View My Info" on the left side column and then "edit" in the Personal Information section. You can also update your profile information via The Hills app in the "Account" section.
As always, send me an email, [email protected], if you have any questions/concerns.

- Stefani McDermott, Administrative & Accounting Manager