Pilates & Yoga Retreat in San Miguel de Allende, Mexico with Hills Instructor Mae Chesney!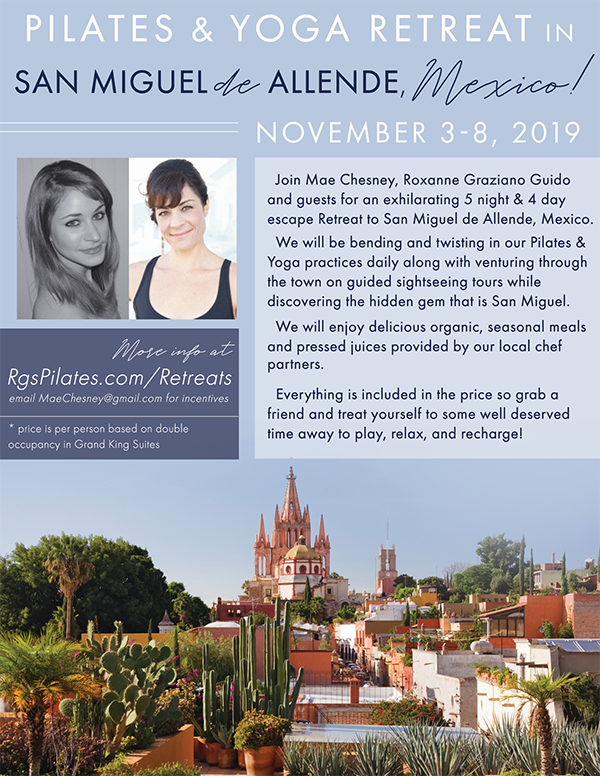 If you're feeling a bit anxious knowing that the end of another year is just around the corner, a retreat is a great way to "reset" and relax before heading into the busy holiday season. All are invited to join our own Hills Instructor Mae Chesney as she heads to San Miguel, Mexico, Sunday, November 3rd through Friday, November 8th to share her pilates experience and knowledge at the 3rd Annual RGS Luxury Pilates Retreat San Miguel de Allende.
With extended yoga and pilates classes twice a day, attendees will stay at a classic Spanish style villa just two blocks from San Miguel's Plaza Principal. The space is complete with extensive grounds, luxurious pool, outdoor sauna and numerous areas both indoors and out to relax, read a book or hang out with friends.
Each day will begin with a yoga class followed by fresh pressed organic juices, coffee and a snack leading into an extended Pilates session (with level options) and then brunch. Each evening will include a restorative Pilates session followed by more fabulous fresh food prepared for dinner.
The Pilates sessions will focus on heightened mind-body awareness to help you grow in so many ways. Please join Mae and put aside your busy lives for a few days and take a deeper dive into our Pilates practice - reconnecting with our bodies, our breath and our friends while relaxing in the sun and enjoying San Miguel de Allende.

Lunch will be available on site at your leisure or you can venture into town for the endless culinary options available. In addition to the classes, attendees will have time for plenty of optional activities in and around the town each day including hiking, hot springs and art gallery visits for those who want to get out and see more of what San Miguel has to offer.
For pricing, accommodation details and all other information about the retreat please visit the website: http://www.roxannegrazianostudio.com/retreats/
Here is a link to the gorgeous retreat center where you'll be staying: https://youtu.be/hMK1cBjmXwg
For more info and to sign up for the retreat, please contact Mae at
MaeChesney@gmail.com

This is a wonderful experience that I highly recommend!
-Therese Brewitz, Pilates Director