Free Tennis Programs:
Every 2nd Monday of the month Beginner/Novice Tennis 6-7pm
Every 2nd Monday of the month Intermediate/Advanced Tennis 7-8pm
Please confirm with Front desk as some days get switched.

Private Tennis Lesson Instructors
Hills Tennis Coordinator Sydney Williams offers private, semi-private and group tennis lessons as well as clinics for both youth and adults. Sydney has led clinics throughout the Bay Area, given lessons to players of all skill levels and ages, and is currently the head coach for the Piedmont High School Junior Varsity tennis program. She loves getting out on the court and sharing her expertise.

Sydney is a firm believer that success in any sport begins with passion. Tennis requires a combination of physical skill and mental diligence, both of which stem from loving what you are doing. Whether you are a first timer or a tournament player, Sydney will lead you through drills and exercises that will improve your form, strategy, endurance and overall game.

If you have any questions or would like to see something specific offered through the club's tennis program, please reach out to Sydney, [email protected]
---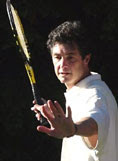 Eddie Pasternak: 510-703-5783 | [email protected]

http://www.youtube.com/watch?v=HR20kBiYkk4&feature=youtu.be

Eddie has quietly been heading our tennis program for a number of years. He is a top-tier instructor, certified by the United States Professional Tennis Association. For nearly 30 years, he's taught privately and at club facilities all over the East Bay including the Claremont Country Club, Montclair Recreation Center, and here at The Hills.

Scores of Eddie's past students have raved about his approach to teaching the game. He makes tennis seem simple, encouraging the fundamentals for beginners and polishing strokes and strategy for more advanced players. Check out Eddie in this YouTube video as he explains his coaching approach and offers a few tips!

Best of all, Eddie conducts free clinics each month here at the club — a little known perk of your Hills membership.