UPDATE FROM THE CLUB PRESIDENT
Dear Members:
I am pleased to announce that we have hired a new general manager for the club. His name is Derek Schulte, and he brings to The Hills a great background in athletics and the fitness industry.
Derek begins this week and I will personally be on site to ensure he gets settled into his new role. I want to thank those of you who have communicated your suggestions and ideas over the past several weeks. I am confident that The Hills is heading in the right direction and appreciate your passion about the club facilities and community.
I asked Derek to prepare a brief introductory message for you all. Please welcome him when you have the chance.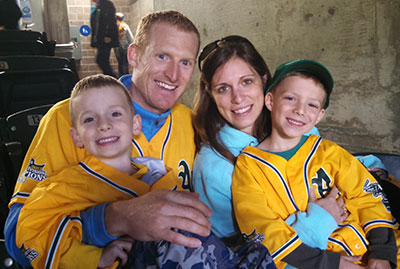 "I can't tell you how excited I am to be joining the community at The Hills. Throughout my life I have loved being a part of communities that pursue health and happiness in life. Some of those experiences have spanned from working in churches, with the YMCA, and at a sports and fitness club in the Bay Area.
"I have been married to my lovely wife Emily-Anne for 13 years and we have two wonderful boys (Cole age 6 and Davin age 4). Some fun facts about me: I played basketball and soccer in college, ran a marathon, acquired my motorcycle racing license at Texas Motor Speedway. My competitive nature is sure to bring some laughs on the tennis court, basketball court or ping pong table!
"My heart and soul has always been to serve and put smiles on people's faces. The values, mission, and vision of The Hills is one that is a perfect fit for who I am as a person. I look forward to the conversations and relationships that will be built with each of you."
Thanks again for all your feedback and don't hesitate to reach out if you ever need to. You can reach Derek directly at
dschulte@caclubs.com
.
Take care,
Eric Schmitz
President, California Athletic Clubs
eschmitz@caclubs.com
PROGRAMS & ANNOUNCEMENTS
Holiday & Schedule Changes
Please note that the club is closed on Thanksgiving Day. Our Group Fitness Manager has announced a limited schedule of classes for Friday, November 27 and Saturday, November 28:

Friday
Masters swim, 7am
Introductory swim, 8am
Spin/Sculpt with Luci, 9am
Aqua with Robin, 9:15am
Yoga, 4:45pm
Saturday
Nia with Kathleen, 9am
Also note that the Clubhouse will be used for staff meeting on Thursday, November 6. All classes are cancelled except Barre at 6pm and Yoga at 7pm.
Highlights from The Group Fitness Schedule
The Hills offers a wide array of group classes to keep you motivated and in motion! Try something new to challenge yourself. Here are a few of our newer offerings to consider:
Tai Chi is Back!
Wednesdays, 8am
New Yoga Class
A Level II class is a nice way to finish up a long day. All are welcome as long as you know your limits — don't feel pressured into movements too advanced for your capability.
Thursdays with Robert, 7-8:30pm

Family Yoga
Great "together time" with your spouse and/or kids. Ideal for beginners and all levels.
Saturdays, 8am

Barre Classes
Mondays with Therese, 4pm
Thursdays with Ruby, 6pm

Pilates for "Swingers" (Golf and Tennis Players, That Is!)
Strengthen your inner core while you gain flexibility to hit better shots. Our own Pilates for golf expert Barbara Hoffer (
Barbara@back9pilates.com
) is offering six sessions in November and December designed with the golfer and tennis player in mind. Each class is limited to five players.
To reserve your spot, contact our studio at tbrewitz@caclubs.com or schedule online at Hills Pilates and Massage SchedulerTuesdays, November 4, 11, 18, and December 2, 9, and 16, 6-7 pm
Massage at The Hills: "We Help You Take Care of You!"
The Hills offers Thai and Shiatsu massage in our cozy Pilates studio. Thai massage is best described as massage and assisted stretching. Our Shiatsu massage is powerful acupressure offered in combination with restorative Pilates. Programs are led by trained and certified instructors. All you need to do is show up in comfortable clothing!
Schedule your studio sessions here: Hills Pilates and Massage Scheduler. For more information about any of these programs, please contact tbrewitz@caclubs.com.
Notes from Our Nutritionist: Fight Cancer with Fiber

When you think about fighting cancer, you likely envision chemotherapy or radiation. But did you know that by the time cancer is clinically detectable, it's been growing in your body for years? That's scary, but the good news is that you can ward off cancer with a high-fiber diet. Fiber binds with toxins that can initiate cancer cell growth and removes them from the body. Dietary fiber is also rich in anti-oxidants that retard cancer cell growth. Ideally, you should be consuming 30 to 35 grams daily — foods like fruit, vegetables, whole grains, and legumes (beans, lentils, nuts and seeds). Increase your intake of fiber, and you are making a profound difference for your long-term health.
Bronwyn Schweigerdt has a Master's degree in nutrition and works with clients individually to improve their health and lose weight. Contact her at schwags12@yahoo.com.