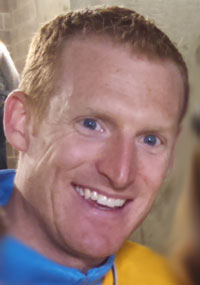 Dear Members:

I am happy to report that The Hills facilities weathered the recent storms. Other than some leaves and sticks to clean up, we were unharmed and welcome the water to help make up for the drought.
Last week, we had a meet-and-greet event to acquaint members with our programs and staff. It was great for our managers to get to know new members and share what was going on in their departments. I found it fascinating to watch the interactions and to see new friendships being made. Some great stories were shared about experiences here at The Hills.
One of my focuses is to build community and to highlight the great people here at the club. Since everyone enjoyed last week's event, we'll plan a monthly "social" like this. To make these events accessible for more of you, we'll alternate morning and evening times. Our next meet-and-greet will be Friday, January 16 at 9:30am. Our managers will answer your questions and we'll serve some refreshments and finger foods. I look forward to seeing you there.
On behalf of the entire staff here at The Hills, I want to wish you and your family the best of holiday seasons.
Healthy and happy living,
Derek
dschulte@caclubs.com


CALENDAR OF EVENTS
Wednesday, Dec. 24: Club closes at 4pm
Christmas Day, Dec. 25: Club closed; Happy Holidays!
Wednesday, Dec. 31: Club closes at 4pm
New Years Day, Jan. 1: Club closed; Here's to a Healthy 2015!
PROGRAMS & ANNOUNCEMENTS
Group Fitness
Holiday Class Schedule
While the club is closed on Christmas and New Years Day, please note the modified schedule for some of our popular group classes during the holiday period.

Wednesday, December 24
Spin with Martin, 6am
Master Swim with Erin, 6am
Intro Swim with Erin, 7am
Boot Camp with Tatiana, 9am
Spin/core with Luci, 10am

Friday, December 26
No swim or water aerobics

Monday, December 29
Spin at 5:45am is cancelled

Wednesday, December 31
Spin with Martin, 6am
Master Swim with Erin, 6am
Intro Swim with Erin, 7am
Boot Camp with Tatiana, 9am
Spin/core with Luci, 10am
Yoga with Domonick, 1pm


Message from Birgitte Rohrbach, Group Fitness Manager
"It's been a great year for group fitness at The Hills and we want to continue this success. Thanks for great feedback and your enthusiasm for our classes. I hope that in the New Year, you'll maintain your motivation and even try some new classes. We offer a great variety of fitness disciplines and diversity of instructors — so you have lots of options and challenges. We look forward to seeing you expand your fitness horizons in 2015!"


Aquatics News
Pre-Competition Swim Team
We are restarting our pre-competition swim team on Wednesday, January 7. This eight-session program is a great way to introduce your kids to the sport.
Wednesdays and Fridays through March 27
Register online and save $10!

Manta Rays (Pre-swim Team)

Swimmers ages 5 to 8 learn basic swimming skills, including all four strokes. Team activity skills and swim safety are introduced. Swimmers learn to swim and dive (or jump) in deep water. Instruction is conducted in and out of the water.
Wednesdays and Fridays, 4–4:30pm

Tidal Waves (Novice Swim Team)
To join this program, swimmers ages 6 to 10 must demonstrate these prerequisite skills: 50 yards of freestyle with side breathing; 25 yards of back swimming; Treading water for 30 seconds; Streamline off wall for five yards. This program prepares swimmers for the competitive team.
Wednesdays and Fridays, 4:30–5pm

Tadpoles (Intro to Swimming)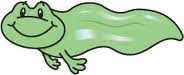 Three- to five-year olds enjoy fun pool activities and songs as they learn to be comfortable swimming in four feet of water by completion of this class. Floating, swimming motions, jumping in and support-ed kicking are introduced.
Sundays (beginning Feb. 4), 10–10:30am

Please visit The Hills website to register for these programs under the Aquatics tab.


News from the Pilates Studio
Out in the Rain Buying Holiday Gifts?
Stop! Stay home, cozy up and buy a thoughtful gift of wellness from your laptop or tablet.
The Hills Pilates Studio offers gift certificates for Pilates and massage, separate or in combination. One-on-one Pilates training is catered to your individual needs — everything from athletic conditioning to rehabbing a back or shoulder.



Our massage program includes Thai Massage, Shiatsu Massage and Active Isolated Stretching — all great body work techniques for health and rejuvenation. You can also get packages of Reformer classes. The perfect gift for yourself or for a loved one!

To learn more and to purchase a Gift certificate, please contact our studio.
Visit the Hills Pilates and Massage Scheduler to schedule your classes.

Already a Reformer Fan? Tell Your Friends and Save!
Starting January 1, you can invite a friend to try the Pilates Reformer for free. You get one free session and two more if your friend signs up for a class (class space permitting).

Our Pilates program has something for everyone. We offer classes and sessions with highly trained and certified instructors.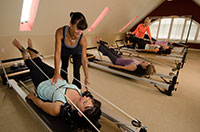 New to Pilates?
Try the Intro to Reformer class on Pilates Instructor Barbara Hoffer gives you a solid introduction to the equipment and a great workout.
Tuesdays, 4pm
Early Bird?
Meet with Elizabeth Howe, one of our excellent trainers on Wednesdays from 6am or hop into Muriel Reiley's energizing reformer class on Thursdays at 6:30am.
Weekend Warrior?
Then set the alarm for Sundays at 9:45am and come see Barbara Hoffer.
Sore Back or Injury?
Try our specialized Better Back Reformer program, Mondays at 6pm with Patricia Brown, or Wednesdays at 6:30pm and Fridays at 4pm with Therese Brewitz.
For more information about any of these programs, please contact tbrewitz@caclubs.com.



CPR Certification with Erin Lucas
Members are invited to earn their American Red Cross CPR certification here at The Hills. We have two opportunities coming in January. Book by email to Erin: elucas@caclubs.com.
Thursday, January 15, 5:30–8:30pm
Monday, January 26, 6:30–8:30pm
Members: $60, Non-members: $80