UPDATE FROM OUR GENERAL MANAGER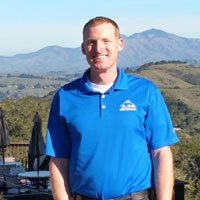 Dear Members:
I've really enjoyed hearing from all of you that participated in our Passport Program over the past few months. Thanks to the over 75 members who took part, contributed ideas and offered feedback. The point was to encourage participation in "new-to-you" activities around the club.
To celebrate the success of the Passport Program, we are planning a potluck dinner for Wednesday, April 8th at 6:30pm. Bring a dish to share with other Passport participants and we'll provide drinks and fresh fruits. For those of you that completed the Passport challenge in all three months, we'll have the grand prize drawing for a $250 account credit!
Another way The Hills is supporting your healthy lifestyle is our new Smoothie Bar in the café. We're raising the bar (no pun intended!) by offering completely all-natural smoothies. As you may know, after you work out, it's important to "refuel" yourself in the first 30 minutes if possible. So we're offering you a choice of delicious smoothies that are made from 100% crushed fruit, veggies, and low-glycemic ingredients — free of artificial ingredients, synthetic sweeteners, trans-fats, GMO's and rBGH hormones.
The Smoothie Bar is all about helping you achieve your performance and wellness goals because proper nutrition is just as important, if not more so, than exercise. We are also training our staff about nutrition, the importance of recovery after exercise, and the link between eating properly and quality of life.
Special thanks to our smoothie vendor, Performance Food Centers, which also offers nutritional training and educational materials to enhance the program. Their credo is "Whole Foods, Engineered by Nature." Stop by and try one of our smoothies today. I've tasted them all, and I'll tell you that it's hard to pick a favorite flavor!
Our warm spring weather has made it feel like summer already here at the club. But with the busy summer season right around the corner, it's a good time for a refresher on our rules — especially the pool regulations. So please review these important safety and courtesy rules with your family.
/club/scripts/library/view_document.asp?NS=PM&DN=RULES
On a related note, cell phones is a topic that comes up often around the club. Of course, taking calls in the gym, locker rooms, or studios is not allowed. Even when you have to take a call outside, please be courteous to other members who are enjoying the peace and serenity of the club. I'll admit that my wife is always reminding me how loud I can be when I'm talking on the phone! With that in mind, please find an area where you won't disturb others. If you are bothered by a loud conversation, please be polite in approaching the caller or alert a staff person so they can handle it.
I want to notify you that for the next several weeks, members of the Montclair Swim Club will be using our pool on weekdays only. Their facility is being repaired, and we owe those people a debt of gratitude for hosting Hills members for months during our own pool reconstruction. Please welcome them to our club for this short period of time.
Please make note of these important dates and policies: The club will close at 8pm on Wednesday, April 22 for an all-staff training meeting. During the summer months (May-August) we will not be booking any parties or events. Also, club policy is that no more than four guests can join you on any given day in the summer.
Finally, please join us for our monthly "meet-and-greet" event on Monday, April 20 at 6pm. You'll enjoy refreshments and a chance to mingle with our department managers. Our Personal Training team will provide a functional fitness demo as well!
Be happy and healthy,
Derek
MEMBER SPOTLIGHT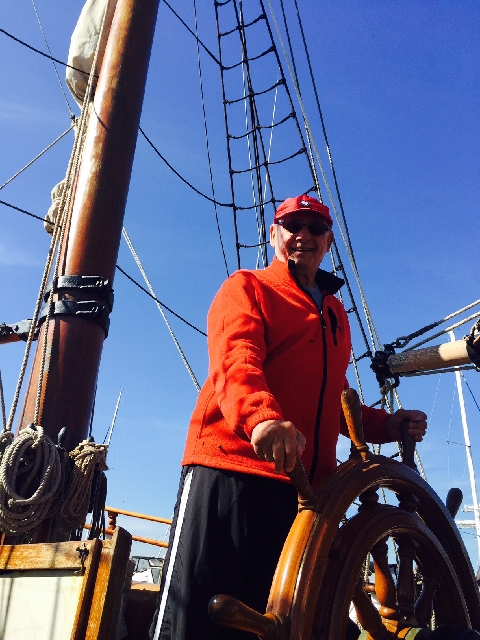 Meet Our 'Magnificent' Marathoner
Mortimer ("Mort") Landsberg has been a Hills member since 1983. We spoke to Mort on the day he was turning 82, and asked what attracted him to The Hills. Mort said: "I was a member at a different club but it was cold and lifeless. Then I visited The Hills and fell in love with the camaraderie and atmosphere."
Mort's fondest memories have been "watching the club transform from a nice facility to a magnificent place." He works out in the early mornings, five days a week. His routine is weightlifting, stretching and meditation time in the sauna.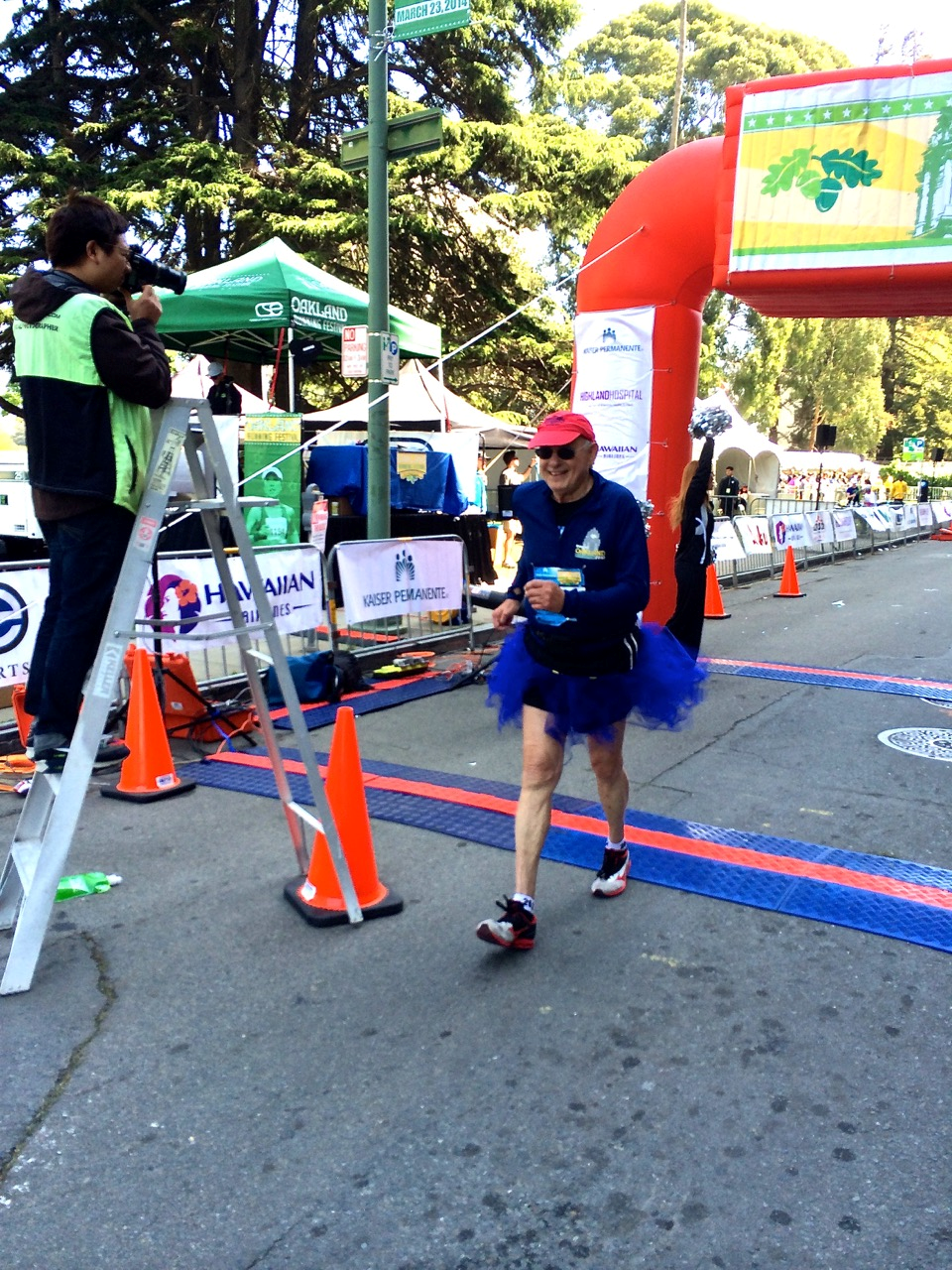 Mort has completed over 40 marathons and half marathons, and over 35 competitive race-walking events. His most recent conquest was the Portland half marathon. He finished in second place in his age bracket, averaging a 14-minute per mile pace (3 hours, 7 minutes total). He's earned many medals and mementos in his racing career.
Once during a race, Mort ran into two ladies that were struggling to finish. He stopped and offered some encouraging words and led them in some stretches. Then they realized they were ready to go for it! One of the ladies offered Mort her costume — a blue tutu! — and he wore it to the finish line!
Mort has worked as a manufacturing representative in the bath, kitchen and tile business for over 50 years. He says his greatest achievement has been working with many special people.
Thanks, Mort, for being such a great member of the club. We appreciate all the things you have contributed to make this place "magnificent."
PROGRAMS & ANNOUNCEMENTS
Summer Activities Registration Underway
Be sure to register your kids for The Hills' popular week-long Summer Activity Camp sessions. Choose from Sports Camp, Tennis Lessons, Swim Lessons and Junior Lifeguard instruction. Sign up early to get the weeks that work for your family's summer schedule. Registration is fast and easy online.
Schedule Change for Tennis Clinic
Join USPTA Elite Professional Eddie Pasternak for a free one-hour tennis clinic at The Hills! Eddie does these clinics once a month, and the class is open to players of all skill levels. Check out Eddie in this YouTube video as he explains his coaching approach and offers a few tips!
Saturday, April 18, 12pm (Clinics are usually on the second Saturday each month)
IN THE PILATES STUDIO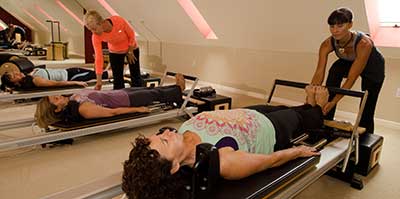 April is "Better Back Month"
We want you to have your best year ever, free of any back pain and with renewed strength and resilience! Join our new Better Back workshops and/or Reformer classes. To register, email
tbrewitz@caclubs.com
.
Better Back Workshops
Led by Pilates Instructor Therese Brewitz, these workshops will help you find your core, manage or prevent back pain, and includes a take-home exercise program.
Four Tuesdays, 6-7pm (April 14, 21, 28 and May 5)
$130 for a series of four sessions; $40 drop-in
Better Back Reformer Classes
Taught by Pilates Instructor and Massage Therapist Patricia Brown, you'll build core strength and flexibility to elevate your mood and enjoyment of life.
Two classes every Monday, 5-6pm and 6-7pm
$130 for a series of four sessions; $40 drop-in
What Can Pilates Do For You?
Learn more about Pilates and back pain on Therese's new blog:
Hills Pilates Studio blog: Therese TC Brewitz-The Back Pain Chronicles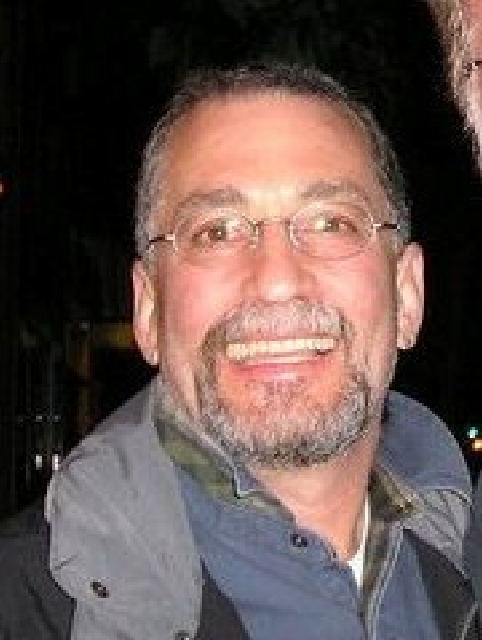 A Testimony to Pilates
"I've been taking 'Better Back Reformer' with Therese for over two years now," says Hills' member Mitch Segal. "Prior to her Pilates class, I was dealing with awful chronic pain throughout my low back and hip flexors. It was extremely debilitating. With great coaching from Therese, individually and in group sessions, I began to strengthen my core. For the first time in more than 12 years, I'm dealing with less pain and able to enjoy a better quality of my life. I found that through hard work and determination, you strengthen your core, and your whole body becomes stronger and eventually pain free. It's worked for me! Pilates "Better Back Reformer" is my medicine! I will continue to practice it throughout the rest of my life. All thanks to Therese!"
Attention Young Dancers
There is still room in our Pre-ballet class for boys and girls ages 3 to 5. Dance, movement, rhythm and fun! Contact
tbrewitz@caclubs.com
for more info and to enroll.
Thursdays, 3:15-3:45pm
WHAT'S NEW IN GROUP FITNESS
Check out the Group Fitness schedule at the front desk (or online with the link below) for all of the great classes we offer every month. Here are a few highlights:
Spin/Strength with Ryan
Our Wednesday evening spin/strength class now starts at 6:15pm to accommodate more of you.
Zumba with Angelique
, Mondays at 9am
Core/Spin with Angelique
, Mondays at 10am
Core Sub Instructors
Note that Caitlin will be teaching the Saturday 10am core class on April 4 and April 18. We hope she can continue with at least a couple of Saturdays every month. Also, the April 25 class will be led by Ryan.
PERSONAL TRAINING HIGHLIGHTS

Vote for Meredith
The Hills' own Meredith Mills has been named a finalist in the Best of Oakland Magazine's Personal Trainer category. If you know Meredith's good work, please take a minute and give her your vote at
www.oaklandmagazine.com
. Voting ends May 31. If you don't know Meredith, why not book a FREE 15-minute consultation and find out how she can boost your lifestyle? Contact her at
meredith.Mills.LifeCoach@gmail.com
. Congratulations Meredith!
Functional Fitness Demo
Join us at our next "meet-and-greet" event on Monday evening, April 20, at 6pm. Jeff and his team will demonstrate a Functional Fitness workout for members interested in exploring this effective and comprehensive fitness program.
New Evening Classes!
Functional Fitness, Tuesday evenings at 7:30pm, beginning May 5.
TRX, Mondays and Wednesdays, 4;30-5:15pm, beginning May 4.
NOTES FROM OUR AQUATICS DIRECTOR
It is that time of year when the pool area can be a busy place. I would like everyone to refresh themselves about our pool policies. Most importantly, we require parents to be in direct supervision of their children at all times. Children under 14 are not allowed to be unsupervised while you are working out. We also ask that you use extra vigilance in making sure the club policies are being upheld at all times.
Here is a link to the pool policies and other club rules.
As you know, we have a limited lifeguard schedule for the pools. However during busy times we will do our best to add a monitor to patrol the pool, assist with members' concerns, and enforce club policies. Please respect the monitor's authority as you would a lifeguard and you'll be helping us make sure the pool is safe and fun for everyone.
2015 Lifeguard Schedule
Weekends, May 23 through September 27: 11am to 7pm
Holidays, (Memorial Day, Fourth of July, Labor Day): 11am to 7pm
Weekdays, June 1 to June 12: 4pm to 7pm
Weekdays, June 15 to August 21: 10:15am to 7pm
Weekdays, August 24 to August 28: 4 to 7pm
In-service Lifeguard Training
Our lifeguards may require up to three lap lanes and other area of the pool to practice their rescue and safety techniques.
Wednesdays, June 10 through August 19, 9–10:15am
If you have questions about the pool or lifeguard schedule, please email our Aquatics Director, Shad Wojtala, at
swojtala@caclubs.com
.
Register for Spring Swim Classes
Tadpoles (ages 3-5): Learn to swim on Sunday mornings
Pre-competitive Swim Team (ages 4-12): Manta Rays and Tidal Waves on Wednesday and Friday afternoons
Sign up for May sessions at:
https://thriva.activenetwork.com/Reg4/Form.aspx?IDTD=5507582&RF=11909842