UPDATE FROM OUR GENERAL MANAGER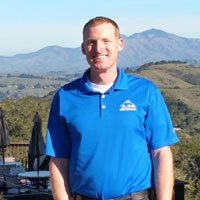 Dear Members:
We had a great time at the recent "Chill at The Hills" event. It was completely sold-out, and we enjoyed some wonderful jazz music as accompaniment to the evening. The menu prepared by our wonderful café team was out of this world! Plus, the selection of wines that we sampled really topped off the night.
We also had four outstanding authors from The Hills share insights about their work. The books we discussed covered a wide range of interests: David Newhouse talked about his sports reference, Founding 49ers: The Dark Days Before the Dynasty; Edward MacKinnon covered his three books on physics; Stewart Florsheim presented his collection of poetry called A Split Second of Light; and Barbara Falconer Newhall conversed about her recent publication Wrestling with God: Stories of Doubt and Faith. It was amazing to hear these authors read excerpts and share stories about what inspired them. We will be planning another night of entertainment soon!
On another note, we're approaching the busiest time of year around the club, so we want to be good neighbors and generate goodwill in our community. Parking is probably the biggest issue to address. Please do not park across the street from the entrance to the club. This is a red "no parking" zone — which means the city can ticket your car. Also please avoid stopping in front of the club to drop off your family or guests. This is dangerous, as cars will attempt to go around you, into oncoming traffic. Finally, please observe the "one-way" rule in the upper parking lot. I've heard of some close calls when members exit the lot via the entrance driveway — which doesn't leave enough visibility for approaching traffic.
There is news about our expansion of the fitness center and the addition of lights on the Diablo tennis court. On May 18, we had a public hearing and indications were that everything looked to be in order. But two days later, we were notified that the county needed to further review the projects. Now we await what is called a "reconsideration hearing." I think this is only a small setback, and I'm hoping we'll get a green light once the county gathers the information they need to approve our projects.
When you plan to bring guests to the club, don't forget that we have an online guest registration form that can be filled out on a computer or smartphone. This speeds up the check-in process and avoids "log jams" at the front desk. Remember that we do not accept free guest passes during the summer months (June through August). Visits by a single guest are limited to six times per year. Thanks for registering your guests and helping us control summer traffic at the club.
We are looking forward to a wonderful summer 2015! Don't hesitate to reach out if I can answer any questions or assist you in making the most of your membership.
To your health and happiness,

Derek


PROGRAMS & ANNOUNCEMENTS
Club Closes Early Next Wednesday
On June 10, we are holding an important all-staff meeting which requires us to close the club at 8pm. Thanks for your cooperation.

Summer Activities Registration is Open
Be sure to register your kids for The Hills' popular week-long Summer Activity sessions. Choose from Sports Camp, Tennis Lessons, Swim Lessons and Junior Lifeguard instruction. Sign up early to get the weeks that work for your family's summer schedule. Registration is fast and easy online.



Summer Safety Reminders
Our summer season is here, so we'll open the diving board again. We've updated some of our rules for the diving area, now posted near the board. Also please observe the posted rules about safety in and around the family hot tub. Number one among these regulations is that parents need to provide direct supervision of their children at all times.

Remember that we do not allow children under 14 to be unsupervised anywhere on the club property. Also, please avoid changing clothes on the pool deck. This can make other members feel uncomfortable, even if you're changing a small child. Please use the locker rooms to put on swimsuits or get dressed. Here is a link to the pool policies and other club rules.

Lap swimmers should review our pool etiquette and summer programming schedule. During the summer months, it's often likely that you will be required to share your lane. Thanks for your cooperation.

Our Tennis Program is Expanding
Through tennis, we can better connect and build the community at The Hills. We are forming an email chain where players can find players with similar skills. There's a signup sheet at the front desk. Coming soon: A website to make scheduling with other players easy!
Two Free Tennis Clinics in June
Join USPTA Elite Professional Eddie Pasternak for a free one-hour tennis clinic at The Hills! Next month he'll offer two sessions, one for beginners and another for intermediate/advanced skills. Check out Eddie in this YouTube video as he explains his coaching approach and offers a few tips!

Intermediate/Advanced
Saturday, June 13, 12-1pm
Introduction for Beginners
Sunday, June 28, 4pm
Group Fitness
Schedule Changes to Note
We're making several changes to the group fitness schedule this month. Please check the schedule found on our website.

• We are welcoming Mark as a new spin instructor for our 6am class.
• Robert is now leading Tuesday's 1pm yoga class.
• Yoga on Thursdays at 1pm is cancelled.
• Please note: Although we switched around the schedule last weekend, we are still spinning on Sundays!

Question or Suggestion?
As you may know, our Group Fitness Director, Birgitte, is on leave. In her absence, Angelique Pine will step up as a temporary program coordinator. Please feel free to contact her with any questions or concerns: angeliquepine@gmail.com.
Pilates & Dance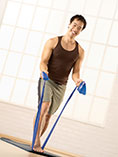 Be Vacation Fit! Try Pilates and Strength Training
Going away this summer? Concerned about long flights, car trips, stiff muscles, and falling out of shape? Come to the Pilates Studio! We've put together a special full-body, Pilates-based strength and core routine. Using a flex band, you can have a great workout anywhere! You'll work and stretch all major muscle groups and build a stronger core. Great for beginners as well as experienced Pilates students. Your own flex band is included in the class fee.
Taught by Therese Brewitz, STOTT PILATES Instructor and Athletic Conditioning Specialist. We have a couple spots left in our two sessions. Sign up on the Scheduler under Events (link below):
Monday, June 8, 7-8:15pm
Tuesday, June 16, 6-7:15pm
$45 (or both classes for $70)
Need to Get Fit, NOW?
Try our 4-week series Cardiotrampoline class with Therese. This is a high-intensity cardio, core and strength workout, set to great music, with low impact on the joints. Results come quickly in this fun and energizing class. No previous experience necessary. Sign up with the Scheduler (link below).
4 weeks for $130, $40 drop in
Wednesdays, 9-10am
Do You Want a Better Back?
We have two openings in our popular Better Back Reformer Pilates program. This class focuses on deep core strength and stabilization on the reformer. It is a safe, yet challenging workout that can aid in the recovery and prevention of several back conditions. Taught by STOTT PILATES instructor Patricia Brown. Patricia has studied bodywork, Neuromuscular Reprogramming and Thai massage and has extensive training in working with injures and special populations.
Current openings: Mondays, 5-6pm
Sign up for Pilates programs here:
Hills Pilates Studio scheduler
For more info, please contact our studio:
tbrewitz@caclubs.com
Personal Training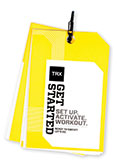 New Fitness Packages and Programs
Beginning in July, all of the small group fitness programs will run concurrently for six weeks. Buy a package or drop in and try something new. Choose from Functional Fitness, TRX, TRX/Spin, TRX Boot Camp, or Extreme TRX Circuit.

You can choose from 54 sessions during the six-week program. We'll help you set your fitness goals, and take measurements at the outset and at the end to prove your progress! You can track your progress on the MyFitnessPal app, and also attend a nutritional seminar. Class sizes of four to eight students.

Package Options
1 times per week $100 (6 sessions = $16.66 per session)
2 times per week $160 (12 sessions = $13 per session)
3 times per week $200 (18 sessions = $11 per session)
Drop In Rate $25 (non-members 20% more)


New Classes Coming in July
Beginning July 2, we're kicking off an Extreme TRX Circuit class led by Brenda Rodriguez.
Thursdays, 9:15am

Beginning July 6, we're starting an evening TRX class.
Mondays and Wednesdays, 4:30–5:15pm

Beginning July 7, we're adding an evening Functional Fitness class.
Tuesdays, 7:30pm

Take advantage of our introductory price for one-on-one, personalized TRX workouts — save even more with a 10-pack!
$75/workout
$600 for 10 (By appointment)

Soon we'll be kicking off our popular summer programs for kids including basketball, fitness training, etc. Watch for further announcements.


Online Registration
In the near future, you will be able to sign up for fitness classes using our "CSI" internal scheduling system. Stay tuned.




Free Nutrition Seminar Series
Join Certified Nutrition Consultant Rachel Barach for a five-week series of classes focused on eating for better health. Rachel attended Bauman College in Berkeley, is also a graduate of Northwestern University, and is a trained chef who studied with the Natural Gourmet Institute in New York. She is an Eating Psychology Coach, certified by the Institute for the Psychology of Eating. She has six years of professional cooking experience, including a stint with a Michelin-starred restaurant in Manhattan. Rachel promotes a healthy relationship with food and eating with an emphasis on making it delicious and enjoyable! Participants are strongly encouraged to attend all five classes.

The Foundations of Eating for Health
Wednesday evenings in July, 6:15–7:15pm

July 1: Orientation
Include a drawing to select two participants for four, free individualized
nutrition-counseling sessions.

July 8: Eating for Health
Understanding the Eating for Health approach. Discuss whole foods, nutritional "Heroes and Bandits," and the importance of organic foods and healthful seafood.

July 15: Lean Proteins and Clean Fats
How to choose outstanding proteins and superior fats for the growth and nourishment of
our bodies.

July 22: Colorful Complex Carbohydrates
Complex carbohydrates defined, with an emphasis on whole grains and antioxidant-rich
fruits and vegetables.

July 29: How to Gain Energy and Lose Weight
Discuss the relationships between diet, blood sugar, and insulin control in maintaining optimal weight; identify risk factors that contribute to symptoms of dysglycemia; explain how stress contributes to unhealthy weight gain.


Aquatics News
Summer Lifeguard Schedule
Weekends & Holidays (4th of July, Labor Day)
11am to 7pm (Through September 27)
Weekdays
(June 1 - 12) 4pm to 7pm
(June 15 - August 21) 10:15am to 7pm
(August 24 - 28) 4pm to 7pm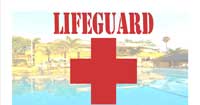 In-Service Training on Wednesdays
Every Wednesday between June 10 and August 19, from 9am to 10:15am, lifeguards may use up to three lap lanes and other areas of the pool to perform training drills. Please understand this is a requirement and ensures everyone's safety.

Junior Lifeguard Course
For ages 11 to 15, this program is designed as a community-based, water-safety program for youths. The Hills Junior Lifeguard Training Program has been developed to serve many purposes where water safety is our primary goal. Along with water safety activities we engage in CPR and First Aid training. A secondary benefit is the unique combination of establishing the foundation for good work skills, responsibility, certification, skill development, competition, and leadership skills. In providing a well-rounded training experience, we include 30-minute daily fitness routines, lectures, demonstrations, and team-building activities. An additional two hours per week of volunteering may be required from each junior guard.

Course Prerequisites: 50 yards of freestyle or breaststroke; retrieve a 10lb. brick from a depth of 12 feet; swim underwater at least 25 feet.

Two sessions: June 15-19 and August 3-7
Registration is available online at:
https://thriva.activenetwork.com/Reg4/Form.aspx?IDTD=5507582&RF=11909831&mode=0

Summer Swimming
We offer a wide variety of summer swim programs. We have great instructors that can help you achieve your goals! Whether it's private lessons or small group swim lessons, there's easy online registration for every level.

Our pre-swim team groups are very popular. The Manta Rays and Tidal Waves will continue through the summer. These are taught in and out of the water with at least two instructors. Swimmers will learn basic skills of being a swim team member without competitive pressure. These groups fill up fast, so register early.

Our year-round swim team groups will continue in the summer with a modified workout schedule. Please look at the schedule as it may conflict with your usual lap swim schedule. Lane availability is limited during team practices. Signs on the pool deck will keep you informed of the schedules.

If you have comments or suggests about the pool or lifeguard schedule, email Shad Wojtala, Aquatics Director, at swojtala@caclubs.com.