UPDATE FROM OUR GENERAL MANAGER

Dear Members,
I hope everyone had a great Valentine's weekend, and if you didn't get a chance to share some good times with that special someone then we have the perfect event for you: February 27th at 6:30pm we will have our very own Eddie Pasternak and his four-piece band sharing "Out of the Winter Blues". Eddie Pasternak will be on Guitar, Roger Glenn on Flute, Marcos Silva on the keys, & Scott Thompson slappin' the Bass. We'll also have a great menu prepared again and a free wine tasting. Tickets are on sale for the first 60 people for $35 per person.
I want to take this time to share a concern that many of you in the neighborhood have noticed: noise. There has been an increase in planes flying over our neighborhood and I wanted to let you know that we want to help in the cause to reduce this. You can visit
http://www.soseastbay.org/
to learn more about the FAA Next Generation Air Transportation System and how this has significantly increased noise from planes flying over our neighborhood. We have posted a petition for you to sign at the front desk if you are interested in helping join the cause.
On another note, our group orientations are over for the new fitness equipment, but don't forget that you are entitled to a yearly fitness assessment. A yearly fitness assessment is a great way to get a basic workout plan and learn more about our Technogym machines.
To your health and happiness,
Derek
PROGRAMS & ANNOUNCEMENTS
Celebrate Out of the Winter Blues with us!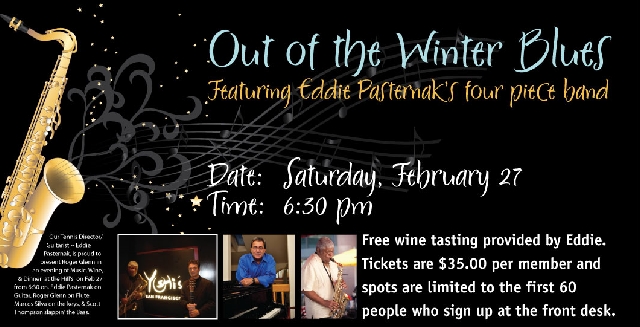 The Skinny: Jazz concert, February 27th at 6:30pm with dinner and a free wine tasting. Tickets: $35/mem., $40/non-mem. Band: Eddie Pasternak, Roger Glenn, Marcos Silva, & Scott Thompson. Limited spots; call the Front Desk for reservations.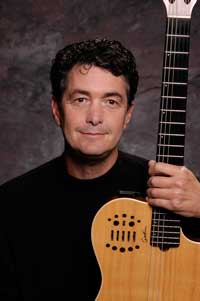 Guitarist Eddie Pasternak, is proud to present Roger Glenn in an evening of Music, Wine, & Dinner at The Hills on Feb 27th at 6:30pm. Also featured will be the great Brazilian pianist/arranger Marcos Silva, and Scott Thompson on bass. Dinner will include: ciabatta rolls, herb-crusted Salmon, roasted pork loin with cranberry chutney, wild rice with sun dried tomatoes, roasted vegetables (Brussel sprouts, mushrooms, and carrots), and a house salad with Arcadian mix, sliced pears, toasted almonds, and balsamic vinaigrette.

More about the band:
Eddie Pasternak
Eddie's guitar work has been a mainstay of the Bay Area music scene for 30yrs. Eddie has played with alumni from the world's greatest jazz bands including Tee Carson (Count Basie) and Dave Black (Duke Ellington), and with sax great Stan Getz. Eddie has been teaming with multi-instrumentalist Roger Glenn since 1985.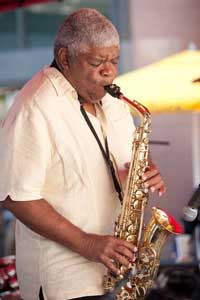 Roger Glenn
Master multi-instrumentalist, composer, and entertainer Roger Glenn is the son of the late Tyree Glenn, who worked with jazz icons Duke Ellington and Louis Armstrong. Roger himself has worked and recorded with the legendary Dizzy Gillespie. His flute playing is featured on the Grammy-award winning album "La Onda Va Bien" with Cal Tjader. In addition to leading his own band, he has been touring with Taj Mahal, Kurt Elling, and The Count Basie Orchestra.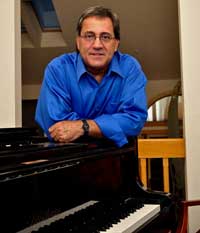 Marcos Silva
Multi-instrumentalist, composer, and arranger Marcos Silva is a Brazilian force on the global scene. Marcos was nominated for a Grammy in 2013, has toured with world-renowned artists, and served as a musical director for 23 years. As a compliment to Marcos, his music has been played by Dizzy Gillespie's big band. Marcos is also sought after as a Brazilian producer and has released two CDs of his own. Marcos currently heads the Brazilian Music Department at the Jazzschool Institute in Berkeley.

Scott Thompson
Scott is a master at playing acoustic bass as well as bass guitar and is a former member of the San Francisco High School All Stars. Recent stints at Yoshi's along with world tours have revealed his talents and built his name in the music industry. Scott is also an educator and has taught at Jazz Camp West.
Pick-up your March Passports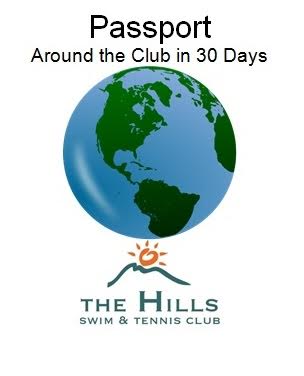 The Skinny: Pick-up March passports at the Front Desk after Fri., Feb. 26th. Complete 12+ activities on the March passport to receive a $20 credit.

Sadly, this is the last month of the 90-Day passport program. We've had great feedback on the program and have been delighted to hear how many have enjoyed participating. We hope that you don't miss your last chance to participate and receive a $20 credit to your membership. With over 30 fitness and well-being programs to choose from, our Passport program gives you incentive to try some new activities! Complete at least 12 different activities in March to receive the credit to your account. If you participate in all three months, you'll be entered to win the Grand Prize of a $250 account credit. Staff members will date and initial completed activities, one per visit. March's passports will be available after Friday, February 26th. Limit one $20 credit per single membership, two $20 credits per family membership each month.
UPCOMING EVENTS:
Saturday, February 20th FREE Kids' Tennis Clinic, 10-11am.
Monday, February 22nd Spring Swim Team tryouts begin 5:15pm
Thursday, February 25th Domonick's Ballroom Dancing (Rhumba) begins
Saturday, February 27th Eddie's FREE Novice Tennis Clinic, 12pm
"Out of the Winter Blues" concert & free wine tasting
PERSONAL TRAINING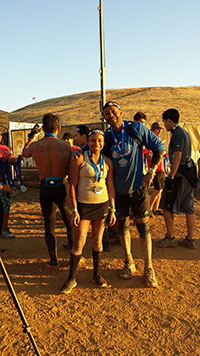 Join the Spartan training program
The Skinny: Train with Spartan race finisher Jeff Allen for 12-weeks to prepare for the next Spartan race. Program starts tomorrow; 10 spots available. $375 for all 12-weeks.

Whether this will be your first Spartan event or just the next event on your agenda, the time has come to begin your SPARTAN training. We want individuals who are looking for adventure, fun, and a challenge. In February 2016, we will begin training 1 hour per day, twice per week. The training will be focused on the demands of the race which include: tire flipping and dragging, sand bag carrying, rope climbing, crawling, climbing over walls and obstacles, jumping, crossing monkey bars, doing pull-ups, lateral wall climbing, mastering the burpee, and overall strength and endurance training. Training will take place in various areas of the club - primarily outdoors.
The program will run from 2/16/16 – 5/05/16 (12 weeks or 24 sessions, includes simulated workouts on 1-2 weekends) on Tuesdays & Thursdays, 6-7 am ( The time may be adjusted depending on the demand )
Cost of the program will be $375. Only 10 slots available
The race will be at 11:15 am on 5/14/16 at AT&T Park in San Francisco (you're responsible for signing up for the race). Go to: spartan.com to sign up
Come join us. It'll be a blast!


TENNIS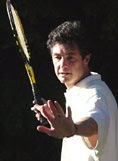 Free Clinics with Eddie
The Skinny: Free Tennis Clinic for Novices with Eddie Pasternak on Saturday, February 27th at 12pm.

Join USPTA Elite Professional Eddie Pasternak for free one-hour tennis clinics at The Hills! Eddie has taught tennis for over 25 years and has been sought after by clubs and resorts across the world, including France and Jamaica where he previously worked as a Tennis Instructor. Eddie has also worked with professional Tennis players, such as former pro Brad Gilbert. Eddie is most thrilled to be a part of a Tennis player's progression, and be able to see the change. Eddie leads clinics each month that address all ages and skill levels. If it's raining on one of the Clinic dates, the clinic will be held either the next day or the following weekend.
Saturday, February 27th at 12pm, Novice Clinic

NEW! Tennis program for Kids
The Skinny: 6-week tennis clinic for kids every Friday starting March 4th on Manzanita court with two times to choose from: 3pm or 4pm. Clinic costs $120 per member but can't begin until at least 3 children are enrolled. Max of 6 children per time slot.

Tennis instructor Lexi Bevins is offering a 6-week, small-group tennis clinic on Friday afternoons starting March 4th. Each class will be one hour long with two different start times: 3pm or 4pm. The 6-week clinic costs $120/member and will be held on Manzanita Court. There is a maximum of 6 children per time slot so enroll your children before they get filled up! A minimum of 3 children per time slot is required for the demands of the clinic. Tennis rackets can be provided by The Hills if necessary. Lexi would like to remind you to "please wear appropriate close-toed shoes and bring a water bottle!" Sign-ups for this opportunity to help your children grow, learn, and be healthy are at the front desk. Charge to account (CTA) is gladly accepted as payment.


GROUP FITNESS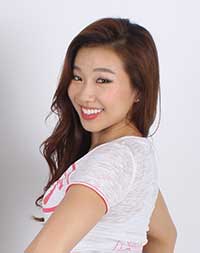 Zoom away with Joanne in Zumba
The Skinny: New Zumba class Thursdays at 7pm starting Feb. 25th with new instructor, Joanne.

Starting Thursday, February 25th, The Hills will be adding another Zumba class to our schedule with a new instructor – Joanne. If your schedule has made it difficult for you to attend the 10:15am Zumba class, hopefully the new class, which will be at 7pm on Thursdays, will make things easier for you. There will be more about our new Zumba instructor in the next newsletter so keep an eye out for it!