UPDATE FROM OUR GENERAL MANAGER

Dear Members,
We've been hit with quite a bit of rain lately at the club and it has created a beautiful sight to see of hills so green. Speaking of beautiful sights, many of our members have been sharing gorgeous photos of our sunrises and rainbows lately and it makes our day to get these emailed to us. Feel free to share your pictures with us and we'll put them in our newsletter and on our facebook page if you would like them to be featured.
If our weather has been getting to you, try a class! I recently had the opportunity to take our new Morning Jolt class taught by Megan King at 5:15am. She is so motivating for such an early hour! For all you early risers please give this a chance. We are trying to come up with more group classes like this for those that work regular business hours.
If you work regular business hours and are off on the weekends, our swim team will be hosting a swim meet this coming weekend at Campolindo High School and would love your support. The coaches, kids, and parents put so much work into hosting this meet and they would love for you to stop by and see all the fun that goes on. See below as to the exact date and times that the swimmers will be in the water.
The swim meet may be off site, but we have other events coming up. This winter we had opportunities to host some amazing social events that included great jazz, wine, and food. We are continuing these events with a concert, this time led by our very own Therese Brewitz. TC (her stage name) and her band will be sharing some of her Swedish folk hits from her latest CD as well as some american hits. This event will include some great food. Be sure to sign up for this event at the front desk as seating is limited to the first 60. TC has quite the following and we are planning for a sellout night.
To your health and happiness,
Derek
PROGRAMS & ANNOUNCEMENTS
By Amelia Broadhurst
What you missed last week
The Skinny:
Double rainbows and a power outage closed the club early.
Kicking off the week, The Hills had front row seats to a marvelous double rainbow thanks to the much needed showers. It was glorious enough that both members and staff stopped what they were doing to take a look (and maybe a few pictures), even in the middle of class. The wonderful sights are just one of the many reasons to love The Hills.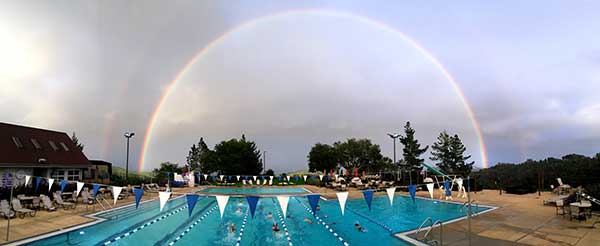 Wrapping up the week, we had a power outage on Friday that affected the entire facility, forcing us to shut down the club early for safety reasons. According to some members and staff, there was at least one power line down along Shepherd Canyon Road that caused the 3:45pm outage. We want to thank you for your cooperation and patience throughout the outage and closure of the club. We understand the disappointment and inconvenience a club-closure can cause and greatly appreciate the support that was given.
Spring into music with Therese
The Skinny:
Our very own, Therese Brewitz, will be performing at our next Jazz & Wine event on Friday, April 15th from 6:30-9:30pm. Tickets are $30/member. Sign-up at the front desk or by calling (510) 339-0234.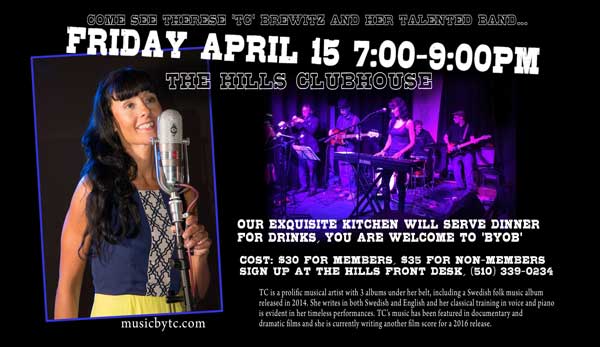 Our very own Pilates Instructor, Therese "TC" Brewitz, will be performing with her band for our next music, dinner, and wine event on Friday, April 15th. Therese has classical piano and voice training, 3 albums, and film scores under her belt to boast. She writes and performs in both Swedish and English. This will be one show you won't want to miss! Eddie Pasternak will be offering wine again for tastings and bottles at discounted purchase prices, and the Cafe will be serving Monterey Chicken, seared Salmon with dijon-caper sauce, florentine wild rice, roasted vegetable medley, and caesar salad for dinner, with a warm chocolate brownie with raspberry ice cream to top things off for dessert. For dinner, wine, and a show is only $30 per member, which is an incredible deal. The doors will open at 6:30pm, dinner will be served by no later than 6:45pm, and the show will start at 7pm. Reserve your spot at the Front Desk or by calling (510) 339-0234.
UPCOMING EVENTS:
Saturday, March 19th Hurricane Swim Meet @ Campo, ALL DAY
Sunday, March 20th Hurricane Swim Meet @ Campo, ALL DAY
Saturday, April 9th Yoga & Meditation Clinic with Miriam Ani, 2-4:30pm
Friday, April 15th Jazz & Wine Event with Therese Brewitz, 6:30-9:30pm
Saturday, April 16th FREE Kids' Tennis Clinic with Lexi Bevins, 10-11am
Saturday, April 23rd Pilates for Runners Clinic with Caitlin Smith, 10-11am
PILATES
By Therese Brewitz
Pilates for Athletes and for Everyday Heroes
The Skinny:
Pilates has something for each of your needs. See featured articles and program details for more information.
Are you getting excited about your favorite sport in 2016? Are you being held back by injuries, stiffness and sore muscles? Are you feeling fatigued and overwhelmed? Pilates can help! Our Pilates program has a broad panel of fitness and wellness experts. Let them help you reach your goals this summer!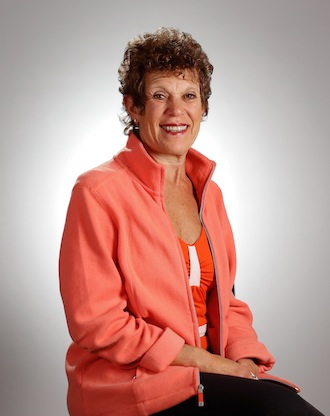 Improve your Golf & Racquet sports game with Pilates
The Skinny:
Barbara Hoffer's new Pilates workout helps Golfers and Tennis players. Enroll in Barbara's reformer class, Tues. @ 5pm, or Sun. @ 9:45am, or contact her for one-on-one lessons.
Expert Barbara Hoffer has put together a terrific Pilates workout targeting common weak spots for golfers and tennis players. The benefits of Pilates are well known in the golf community: Check out
americangolf.com/blog
. You will improve your golf swing, your serve, your range of motion and reduce aches and pains. You can work with Barbara one-on-one or take one of her reformer classes on Tuesdays at 5pm and Sundays at 9:45am. You can also pair up with a buddy and train in a duet!

Run with the Best – Caitlin Smith
The Skinny:
Join Caitlin Smith who was recently featured in Runner's World in her next Pilates clinic on Saturday, April 23rd, 10-11am.
Caitlin Smith, Elite Marathon and Ultra Runner offers up advice like nobody else on the benefits of a regular core strength and flexibility routine. Caitlin was recently featured in Runner's World:
runnersworld.com/olympic-marathon.caitlinsmith
. She offers a running clinic and Pilates training program for runners of all levels and works with clients one-on-one. Her next Pilates clinic at the Hills will be held on Saturday, April 23rd, at 10-11am.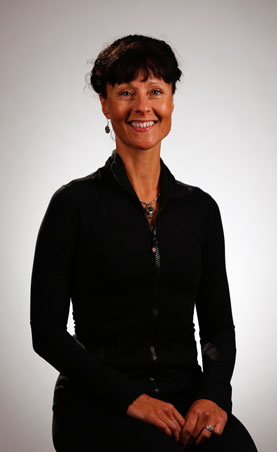 Pilates for Peace of Mind
The Skinny:
Improve your mental strength with Therese – one-one-one or in Zenga.
With her Psychology background, Hills' Pilates Director, Therese Brewitz, specializes in the mind-body aspect of Pilates training. How does deep breathing affect our emotions? Can good posture change our mood? Therese likes to focus on honing our mental strength and resilience to get ready for athletic events and get through life! Work with Therese one-on-one or try the new Zenga class, Mondays at 5pm.
www.Pilatesforyourpeace of mind/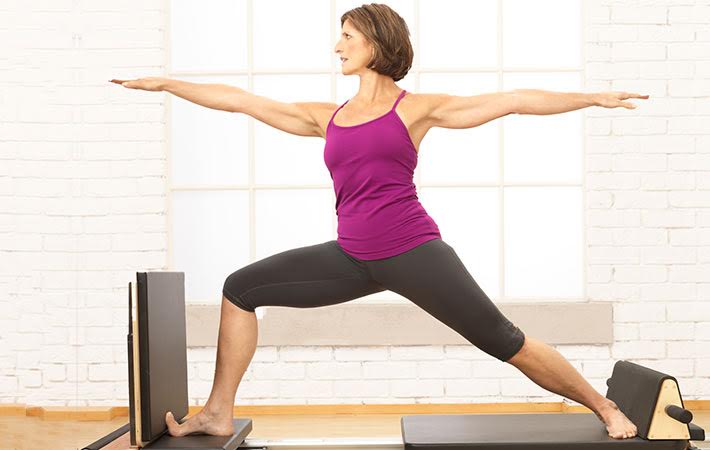 Try our new ZEN•GA™ class and feel amazing!
The Skinny:
Injuries, tension, and weakness, can stem from tight fascial tissue -
ZEN•GA™
focuses on stretching and releasing fascial tissue. Join
ZEN•GA™
on Mondays at 5pm.
ZEN•GA™
is an energizing blend of yoga, Pilates, and breath work, often done on the Pilates Reformer where you work and stretch muscles and fascia (the connective tissue in and between muscles). Fascial fitness is the new frontier in fitness and exercise: Injuries, imbalances, tight muscles, tension and weakness often stem from tight or dehydrated fascia that needs to be moved and released. No previous yoga or Pilates experience required. First class is free! Come try ZEN•GA™ on Mondays at 5pm!
For more info and to sign up for a Pilates session or class, please contact
tbrewitz@caclubs.com
GROUP FITNESS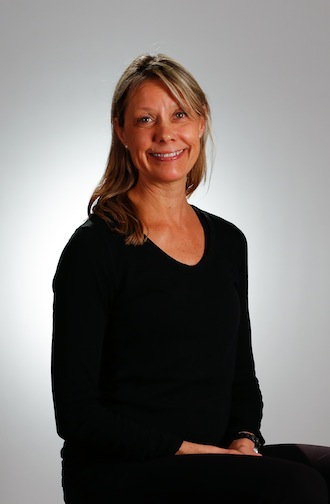 By Birgitte Rohrbach
Group Fitness changes
The Skinny:
Virginia is permanently taking over Luci's Monday, 5:45am spin/sculpt/abs class, Robert will be the sole teacher of Sunday's 9:15am Yoga class (we'll miss you Domonick!), and Jodie is moving and her Strength and Balance class will be taken over by Birgitte.
There are a lot of changes to our Group Fitness schedule of classes and instructors. Unfortunately, Luci McNulty had to give up her Monday morning, 5:45am, spin/sculpt/abs class which will be taken over by Virginia. Virginia has been doing a great job covering this class for a while now and we're excited and grateful that she is taking over the class permanently so that it can continue. We'll miss Luci but she is still here teaching her spin/core class on Wednesdays at 10-11am.
Sunday morning Yoga at 9:15am has, up until now, been shared between Robert and Domonick. Domonick however, is moving on. Robert will be the permanent 9:15 am Sunday morning yoga instructor starting in April. We will greatly miss Domonick teaching every other Sunday!
Strength and Balance on Mondays and Wednesdays, 11-12, will now be taught by Birgitte. Jodie built a fantastic class that helps us all age safely and gracefully, but unfortunately, she will be moving out of the Bay Area. We are hoping that she can come by and teach a couple classes before she leaves Oakland.

Yoga and meditation workshop
The Skinny:
Yoga & meditation workshop, April 9th, 2-4:30pm, $30 per member, $35 per non-member.
Miriam Ani is here on April 9th to lead a yoga/meditation workshop. The workshop will be Saturday, April 9th from 2-4:30pm and cost $30 per member. Non-members are also welcome to attend for $35 per person. This workshop begins with an intelligent asana flow that grounds and anchors the body. A series of relaxing, restorative postures follow in order to calm the nervous system, and are sealed by a special meditation to quiet the mind. Join Miriam to experience your potential!
TENNIS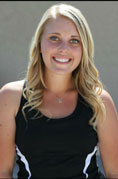 By Lexi Bevins and Eddie Pasternak
FREE Kids' Tennis Clinic
The Skinny:
Tennis clinic for children 5-12 years old on Saturday, April 16th, 10-11am with Lexi Bevins. Sign up at the Front Desk.
Tennis is a great way to teach children social skills and can ease emotional problems such as stress and depression, while promoting physical fitness. To help create more opportunities for your children to grow and learn, Instructor Lexi Bevins will be hosting another FREE kids' tennis clinic. The event will be held on Saturday, April 16th, 2016, from 10-11am. The age limit for the event is 5-12 years old. Tennis rackets can be provided by The Hills if necessary. Lexi would like to remind you to "please wear appropriate close-toed shoes and bring a water bottle!" Sign-ups for this opportunity are at the front desk, or you can call (510) 339-0234.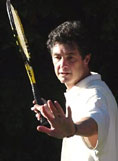 Free Clinics with Eddie
The Skinny:
Free Tennis Clinic with Eddie Pasternak on some Saturdays each month.
Join USPTA Elite Professional Eddie Pasternak for free one-hour tennis clinics at The Hills! Eddie has taught tennis for over 25 years and has been sought after by clubs and resorts across the world, including France and Jamaica where he previously worked as a Tennis Instructor. Eddie has also worked with professional Tennis players, such as former pro Brad Gilbert. Eddie is most thrilled to be a part of a Tennis player's progression, and be able to see the change. Eddie leads clinics each month that address all ages and skill levels. If it's raining on one of the Clinic dates, the clinic will be held either the next day or the following weekend.
Saturday, March 19th at 12pm, Intermediate/Advanced Clinic
Saturday, March 26th at 12pm, Beginner's Clinic
AQUATICS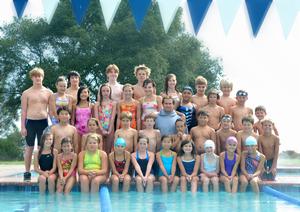 By Erin Lucas
Support our swim team at our Annual Swim Meet
The Skinny:
Swim meet at Campolindo on March 19th and 20th.
The Hills' Hurricane Swim Team is hosting its' annual swim meet March 19th and 20th at Campolindo High School in Moraga. Our coaches, parents, and swimmers have been working very hard, preparing to host over 900 swimmers from around the Bay Area. You are welcome to join in the fun or wish them luck as you see them around the Club.