UPDATE FROM OUR GENERAL MANAGER

Dear Members,

Summer is almost upon us and with that, now is the time to get those summer camp registrations in. Our Camp Director Anthony Lum has put together an exciting line up of themes and activities. This year the format will include swim lessons and tennis lessons throughout the week. Also this year, you can sign-up for camp by logging into your member account. Hurry! We're offering a 10% discount off summer camp registrations until May 22nd.

With the summer months being our busiest time of year, our upcoming May 13th music event will be our last one until the fall. Our very own Hills members, Frank & Rebecca Faiola, with their band JetBlacq, will be leading us in a fun night called "Strictly Sinatra". There are a limited amount of spots available so purchase your tickets now by calling the front desk. Entry into the event plus dinner is only $30 for members and $35 for non-members.

On another note, we had our grand prize drawing for our "90-days around the club" passport event. For the second year in a row, let's congratulate Christine Ferreira. With this luck, maybe you should have her buy you a lottery ticket! Christine has such a great spirit and is a thrill to see around the club. Make sure you stop by to congratulate her.

Finally, I would like to thank you all for your patience as we have been going through a roller coaster ride with our expansion process. We have meetings scheduled for this coming Monday to sit down with the city and with the county to finalize what we need to do in order to move forward with our parking lot expansion, which will then give us the approval for our building expansion and tennis court lights. Stay tuned for more details in the next newsletter.

Until next time, to your health and happiness,

Derek


PROGRAMS & ANNOUNCEMENTS
By Amelia Broadhurst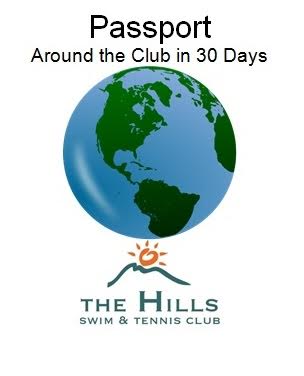 Passport Potluck
The Lowdown: Congratulations to our Passport $250 credit Grand Prize winner Christine Ferreira!

Our Passport Potluck last Thursday night was a great success! We had a small group bring some wonderful dishes including: gourmet macaroni, a mixed salad, and brownies with a kick of cinnamon and some spices, and delicious glazed chicken. We also had an assortment of red and white wine to pair with the fabulous meal and company. Congratulations, Christine Ferreira on winning the $250 credit grand prize! Read the "Member Spotlight" article below for more about Christine. We can't wait for next year for more passport programs, potlucks, and prizes.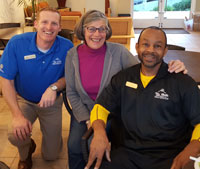 Member Spotlight
Our lucky winner of the Passport Program's grand prize $250 credit last week was a long-time member of ours, Christine Ferreira. We thought it fitting to put her in the spotlight this month! Christine and her husband Richard have been members of The Hills for over 20 years. They've enjoyed The Hills along with their five, now adult, children: Matthew, 38; James, 34; Emerald "Emi", 24; Andrew "Drew", 22; and Jade, 22. Over the three-month period, Christine participated in many of the classes offered on the passport program, including: Yoga, Zumba, TBC, NIA, swim class, circuit, strength and balance, Body and Soul, and Pilates Party. Next time you see Christine, ask her which class was her favorite, and don't forget to congratulate her on her winnings!



Strictly Sinatra with JetBlacq
The Skinny: JetBlacq will be performing for us once again on May 13th at 6:30pm. Tickets are $30 for members, $35 for non-members and include dinner. Reserve your spot at the Front Desk.

JetBlacq's "Strictly Sinatra" show is coming up on Friday, May 13th. You may remember the "Jingles with JetBlacq" event from December 4th featuring our member Rebecca Faiola as the enchanting vocalist. We can't wait for their upcoming "Strictly Sinatra" show to grace our clubhouse next week. Shout out to Eric Reynolds who works the sound system and does the lighting and music for our special events! You can find more information on Eric here. Join us for a rat-pack style evening of music, food, drinks, and socializing. Only 60 spots available so be sure to sign-up ASAP! Tickets are $30 (excluding tax) for members and $35 for non-members and include entrance to the show and dinner. Dinner will be served at 6:30pm and the show starts at 7. You're welcome to BYOB and a complimentary wine tasting may be provided. To reserve your spot, call the front desk at (510) 339-0234, email abroadhurst@caclubs.com, or sign-up at the Front Desk on your next visit! We look forward to seeing you all there - which is of course here.


UPCOMING EVENTS & HOLIDAYS:
Thursday, May 5th, ALL DAY HAPPY CINCO DE MAYO
Sunday, May 8th, ALL DAY HAPPY MOTHER'S DAY
Friday, May 13th, 6:30pm JetBlacq's "Strictly Sinatra" show
Monday, May 16th, 4pm Children's Intro to Dance Recital
Monday, May 30th, ALL DAY HAPPY MEMORIAL DAY

Happy Birthdays!
Last month we celebrated the birthdays of Barbara Roessler, Barbara Hoffer, Angelique Pine, and Rosalia Lerner. This month we're celebrating the following people:

Licia Padham, Ian Madulara, Ann Livingston
Kelly Fujimoto, Robin Rosario, Birgitte Rohrbach

Thank you for all your hard work here at The Hills!



SUMMER CAMP
By Anthony Lum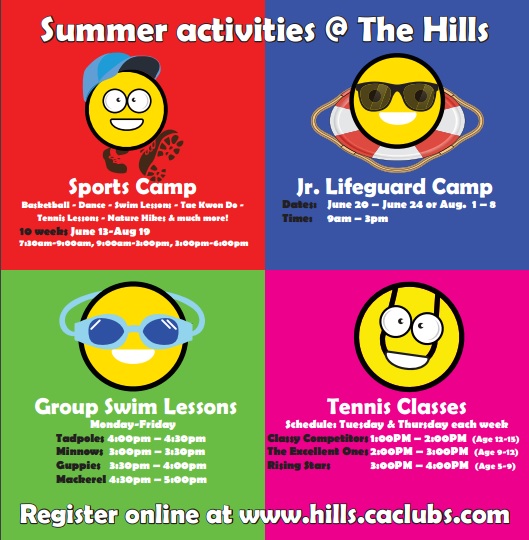 Sign your kids up for Summer Camp!
The 411: Summer Camp will run June 13th- August 19th. Sign-up now through May 22nd and receive a 10% discount. Email alum@caclubs.com for details.

Summer Camp 2016 is finally here! Our Summer Camp director, Anthony Lum, will be running the camp, as he's done since 2011, from June 13th through August 19th of this year. He is looking forward to another adventurous summer! You can find Anthony assisting members and staff wherever he can until summer camp starts. He wants you to know that you're "free to contact [him] with any questions or concerns" you may have regarding summer camp at alum@caclubs.com. Due to high enrollment, summer camp will be for members only. Please login to your online members' services account and find the camp icon for registrations. Sign up before May 22nd to receive a 10% discount on each registration


AQUATICS
By Shad Wojtala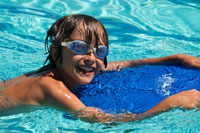 Pre-Competitive Swim Team
The Scoop: Wed & Fri through June 10th, and Tue & Thurs. from June 13th - Aug 25th, Manta Rays is for beginning swimmers age 4-8 from 4-4:30pm, and Tidal Waves is for intermediate swimmers, age 6-10 from 4:30-5pm.

Our popular Manta Rays and Tidal Waves continue through spring. This introduction to swim team is the best option for kids age 4-10 new to swimming. The coaches work in and out of the water teaching everything from basic swimming skills to full stroke technique, all while introducing the kids to swimming terminology. The two levels are thirty minutes in length and use the recreation pool and diving well. Classes fill up fast.

Manta Rays (Pre-Swim Team) AGE 4-8, 4 - 4:30pm
Swimmers will learn the basics of all four swimming strokes. Team activity skills and group swim safety is introduced. Swimmers will learn to swim in, and jump or dive into, deep water. Instruction will be conducted in and out of the water. Contact our Aquatics Director, Shad Wojtala, at swojtala@caclubs.com for more info.

Tidal Waves (Novice Swim Team) AGE 6-10, 4:30 - 5pm
Swimmers must pass the following prerequisites for swim team: *50 yards of freestyle with side breathing, *25 yards of back swimming, *treading water for 30 seconds, and *streamlining off the wall for 5 yards. This group will prepare swimmers for competitive swim team and will incorporate on-deck coaching with minimal in water instruction. Contact Shad Wojtala at swojtala@caclubs.com for more info.
Session 5: May 4th - 27th
Session 6: June 7th - 30th
Session 7: July 5th - 28th
Session 8: August 2nd - 25th

Register Here!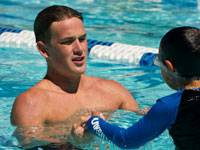 Group Swim Lessons
The Story: Evan Woods will be teaching group swim lessons for our Summer Camp program this season from June 13th through August 19th.

Our Group Lessons are back this summer, June 13th - August 19th! Swim instructor Evan Woods has returned this summer and will be teaching the camp swim lessons as well as the afternoon group swim lessons. Evan brings his enthusiasm and swim experience into his lessons. He also enjoys watching the kid's progress over the weeks. Evan is actively looking to fill his classes up so that they are not only productive but very fun as well. He is also teaching private swim lessons and assisting with swim team. Contact our Aquatics Director, Shad Wojtala, at swojtala@caclubs.com for more info.

Click here to read more about group swim lessons and to sign up!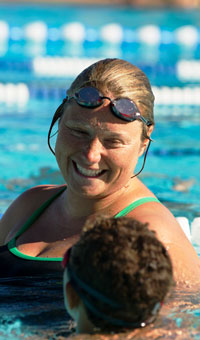 Private Swim Lessons
We have the instructors so take advantage of their availability this season. Our lead instructor, Erin Lucas, is booking up fast so we have enhanced your Hills experience by attaining more instructors. We have instructors available every single day of the week. For more information about private and semi-private lessons click here.

Here are our instructors:
Erin Lucas » Erin's Schedule!
Shannon Coskran »
Mat Lacounte » Mat's Schedule!
Daniel Camozzo »
Evan Woods »
Samantha Hull »
Torrey Hart »

Jr. Lifeguard Camp
The Lowdown: Dates: June 20th – June 24th, and, Aug. 1st – 8th
Time: 9am – 3pm
Register here! Cost: Members = $235 Non-Members = $295

This program is designed as a community-based water safety program for youths 10–15 years old. The Junior Lifeguard Training Program has been developed to serve many purposes with water safety being our primary goal. Along with water safety activities we engage in CPR Certification and First Aid training. A secondary benefit is the establishment of a foundation for good work skills, responsibility, certification, skill development, competition, and leadership skills. In providing a well-rounded training experience, we include 30-minute daily fitness, lectures, demonstrations, and team building activities. Participants who successfully complete the program may apply for lifeguard positions at The Hills. However, successful completion is not a guaranty of employment. An additional two hours per week of volunteering may be required by each JR guard. Course Pre-Requisite: 50 yards of freestyle or breaststroke. Retrieve a 10 LB. brick from a depth of 12 feet. Swim underwater 15 feet. Contact Shad Wojtala at swojtala@caclubs.com for more info.


GROUP FITNESS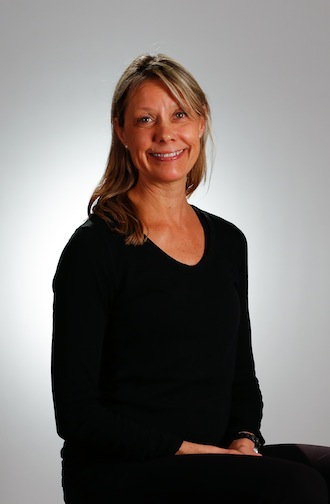 By Birgitte Rohrbach

Zoom away in Zumba
The Skinny: Zumba now offered at a second time, 7-8pm on Thursdays.

Zumba is now offered at a second time on Thursday evenings from 7 to 8pm. For those of you who are too busy during the day to attend our AM Zumba class, this is a great opportunity for you to join the fun! Thursday night Zumba will feature a different instructor each week for a great variety of inspiration. Please join us in burning calories, laughing, and sweating (or for the ladies, leaking awesome)!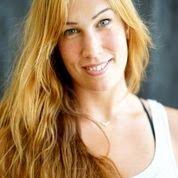 Get your Morning Jolt
And we don't mean coffee. Starting today, Thursday, May 5th, we're offering the very popular Morning Jolt class twice a week: every Tuesday and Thursday morning from 5:15 to 6:15am with Megan! Start off your day with a great workout!

Mother's Day Group Fitness Schedule
We have a Special Mother's Day schedule for Group Fitness. Please note that Sunday, May 8th, there will be NO YOGA class at 9:15am, however, there WILL be an extra-long SPIN/SCULPT class with Virginia from 9:30-11am.

Welcome Back Bz!
We are so happy that Bz is back to teach her Aqua class on Wednesdays. With this nice, sunny spring weather, splash into fitness in our pool!

Aquaerobics
Elaine is now incorporating a few minutes of Tai Chi into the Aqua aerobics class on Mondays. We're hoping this will add a little something extra to an already great class. Let us know what you think a bjuhlr@caclubs.com!


PILATES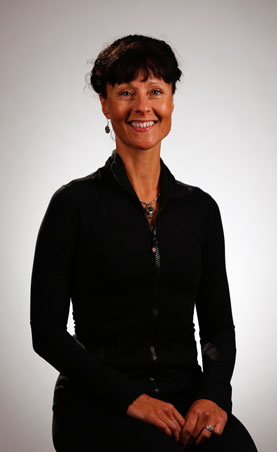 By Therese Brewitz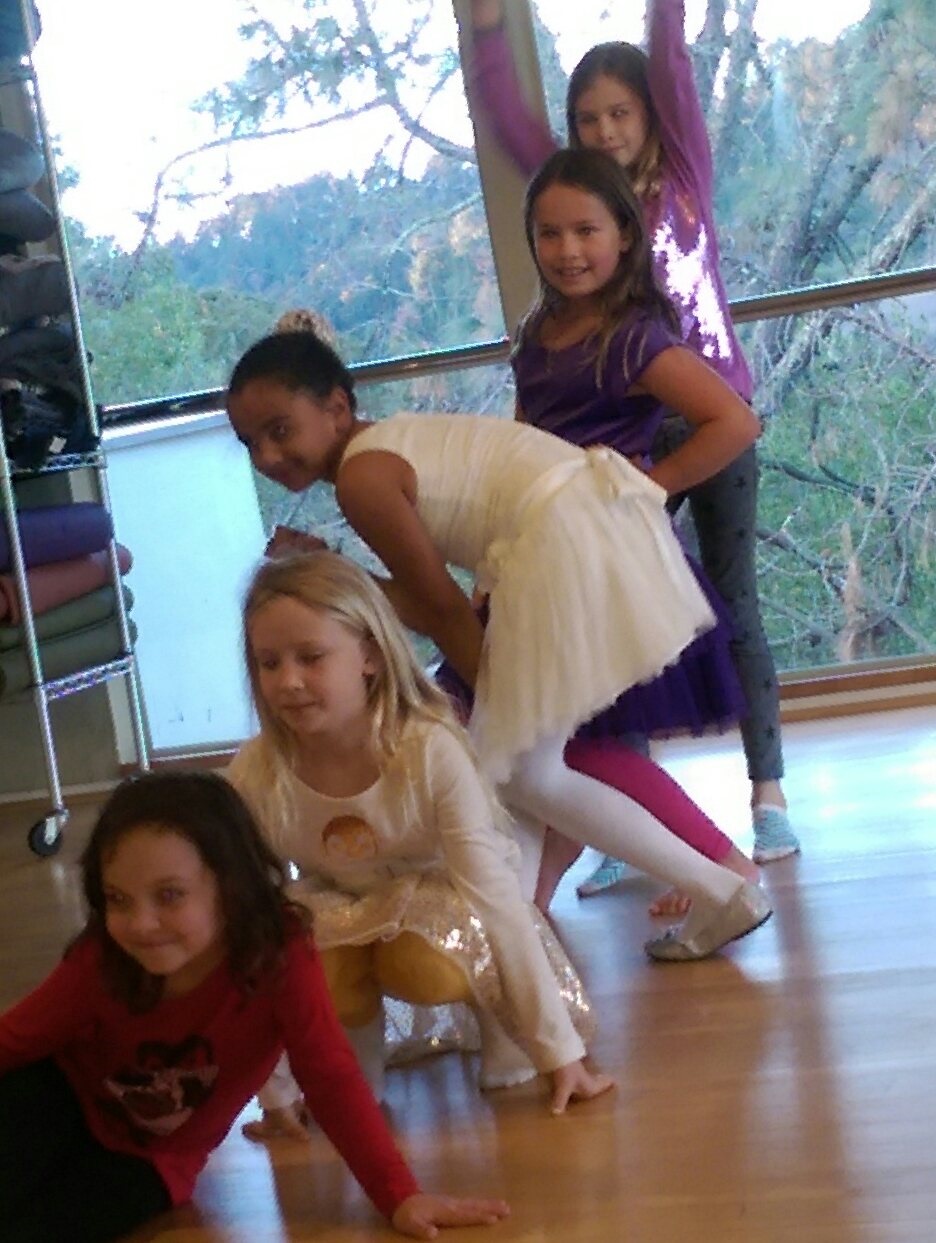 Children's Intro to Dance Recital May 16
The 411: Children's Intro to Dance Recital at 4pm on May 16th. All parents encouraged to attend.

We welcome everyone to come and enjoy our Dance recital on Monday May 16 at 4pm.
Our Intro to Dance group will perform pieces from Classical Ballet, Modern Dance, Musical Theater and Hip Hop, led by Dance instructor and professional ballerina Rosalia Lerner.

Are you curious about the Hills' Children's Dance program? This is a great way to learn more about our curriculum. Our Fall semester is starting on Monday, September 12th, with Pre-Ballet at 3:15-4pm (3-5 year olds) and Intro to Dance at 4-5pm (6 years old-and up).
For more info and to register, please contact Therese Brewitz at tbrewitz@caclubs.com


Pilates – the perfect Mother's Day Gift:
Give a Gift Card for Pilates along with some dark chocolate for Mother's Day and you're giving a gift that is healthy and enjoyable. Gift Cards start at $85 and can be used for both reformer classes and for private Pilates sessions. For more info, please contact our studio: tbrewitz@caclubs.com. Book sessions online and buy Gift Cards here: Hills Pilates Studio scheduler. Or book on your phone at MindBody.com.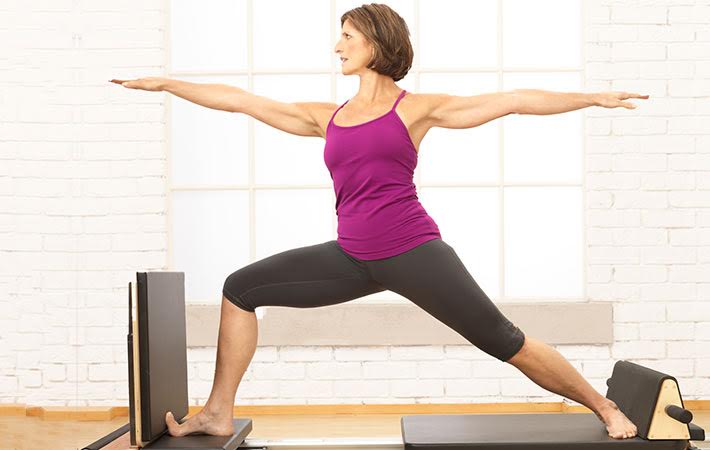 Haven't tried ZEN•GA™ yet?
The Scoop: Zenga aids in preventing injuries, releases tight muscles and tension, and prevents weakness. Join Zenga on Mondays from 5-6pm.

ZEN•GA™ is an energizing blend of yoga, Pilates, and breath work, often done on the Pilates Reformer where you work and stretch muscles and fascia (the connective tissue in and between muscles). Zenga is a fun and surprisingly effective workout! Fascial fitness is the new frontier in fitness and exercise; injuries, imbalances, tight muscles, tension and weakness often stem from tight or dehydrated fascia that needs to be moved and released. No previous yoga or Pilates experience required. First class is free! Come try ZEN•GA™ on Mondays at 5-6pm! For more info and to register, please contact tbrewitz@caclubs.com
PERSONAL TRAINING
By Jeff Allen

New youth programs coming up! Check out the flyers below.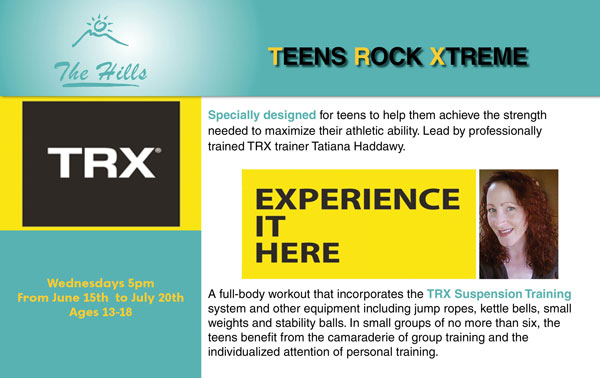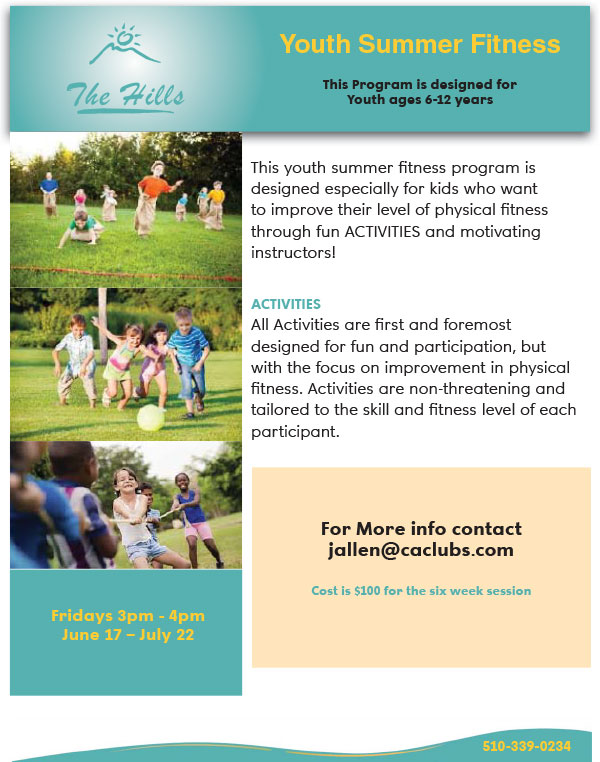 Free Tennis Programs
Intermediate/Advanced The second Saturday of each month at noon
Introduction for Beginners The fourth Saturday of each month at noon