UPDATE FROM OUR GENERAL MANAGER

Dear Members,
Summer is almost here but the cool weather keeps sticking around. I won't complain as long as there's more rain to combat our drought. Still, as we prepare for the summer, we will be sending out more emails with specific topics such as: pool rules and member/guest policies, to ensure everyone is up to date and safety is kept at the forefront.
Speaking of safety, we ask that members refrain from parking across the street along the curve; it can be tricky to maneuver around. Especially with the constant foot traffic, the curve becomes narrow and hard to compensate for oncoming traffic and pedestrians.
On the topic of traffic, with the traffic through The Hills picking up, we want to remind you that the free guest passes are blacked out June-August and we don't book any parties or special events from May-September. Also, there is a maximum of 4 guests per day per membership. With these policies in place, we had a very fun and enjoyable summer last year according to feedback from our members.
With summer around the corner, I'd like to remind you that the May 22nd deadline for the 10% discount for summer camp is fast approaching. We have a great lineup of events, and this year swim and tennis lessons are included in the camp registration costs. We guarantee that your kids will be worn out from the fun activities, and will fall asleep as soon as their heads hit the pillow.
Finally, last Monday we met with the City of Oakland as well as Contra Costa County to discuss our expansion. We are waiting to solidify a meeting date with the neighbors to address their concerns before finalizing the project. In the meantime, we are moving forward with the resubmittal of plans to the various agencies, as it has been done once before, but this time, with the addition of the new expanded parking plan. We are hoping that with prior submittal and the support of the neighbors, the process will move along quickly and we can look forward to construction starting in the winter of this year. I will update you all as soon as more news arises. Thanks again for your patience as we continue to press onward.
Until next time, to your health and happiness,
Derek
PROGRAMS & ANNOUNCEMENTS

By Amelia Broadhurst
In case you missed it
The Lowdown:
Celebrating employee birthdays, JetBlacq's show rescheduled, and summer camp starting June 13th with 10% enrollment discount through May 22nd.
The last few weeks have been, thankfully, uneventful, however there are a lot upcoming events. As mentioned in the previous newsletter, this month we're celebrating the birthdays of Licia Padham, Ian Madulara, Ann Livingston, Kelly Fujimoto, Robin Rosario, and Birgitte Rohrbach! Wish them a "happy birthday" if you see them. Also from the last newsletter, JetBlacq's "Strictly Sinatra" show has been rescheduled for September . We apologize for any inconvenience the reschedule may have caused but the show will go on! We will be sure to update you prior to the event, and we hope to see all your lovely faces there (which of course will be here).
Coming up, we have Summer Camp starting June 13th and the 10% early enrollment discount has been extended until May 22nd. Register now and take advantage of that discount! As part of Summer Camp, Swim Lessons and our Manta Rays and Tidal Waves, will also be starting June 13th. Read more about swim lessons and teams in the "Aquatics" section below, and for more about Summer Camp, checkout the "Summer Camp" section below.
SUMMER CAMP

By Anthony Lum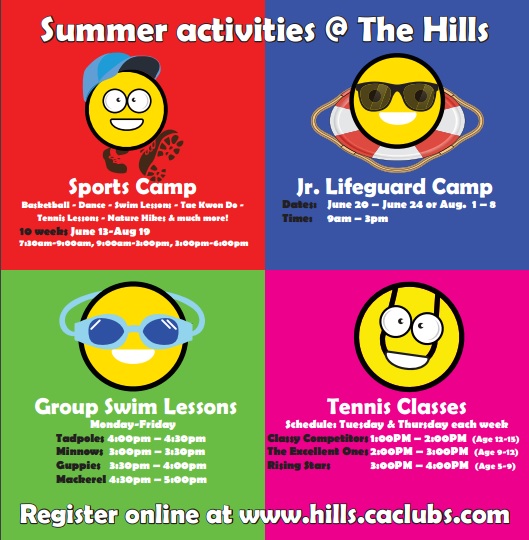 Sign your kids up for Summer Camp!
The 411: Summer Camp, June 13th- August 19th. Sign-up now through May 22nd and receive a 10% discount. Email alum@caclubs.com for details.

Summer Camp 2016 is here and will run from June 13th to August 19th. Sign up before May 22nd and receive a 10% discount. If you have any questions, please contact Summer Camp Director Anthony Lum at alum@caclubs.com. Feel free to pick-up one of our summer camp brochures at the Front Desk. Happy Summer!



GROUP FITNESS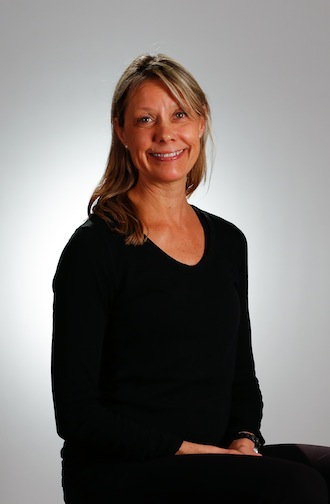 By Birgitte Rohrbach
SPECIAL MEMORIAL WEEKEND SCHEDULE
SATURDAY 5/28
● 9-10am Body and Sole w/Kathleen
● 10-11am TBC w/Angelique
SUNDAY 5/29
● 9:15-10:15am Yoga w/Robert
● 10:30-11:30am Spin/sculpt w/Virginia
MONDAY 5/30
● 9:15-10.15am Aqua w/Elaine
● 9:30-10:30am Spin and Abs w/Virginia
● 11am-12pm Functional fitness w/Brenda
PILATES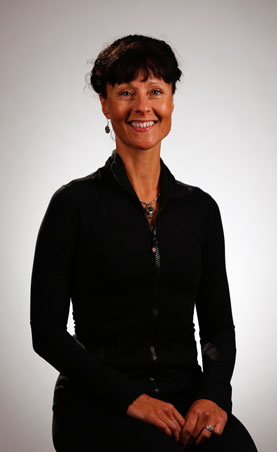 By Therese Brewtiz



Don't miss our first FREE Pilates TED talk: Unlocking the true secret of a strong CORE!
The Skinny: Tuesday June 14th, 6-7pm, free TED Talk by our own Patricia Brown.

Strengthening the core, doing planks, developing a Pilates practice is all the rage right now. But does it work? What is the key to engaging the core? Why do people with superior core strength and overall conditioning still suffer from back pain? Does it have to do with something as simple as insufficient breathing?
In this talk you will learn about the true relationship between breathing and core!
Many common aches and pains, particularly around the head, neck and shoulders, may be caused in part by inefficient breathing. There is a strong correlation between improper breathing and back pain. This can be a difficult problem to understand, let alone repair. We all know how to breathe, right? The good news is that strengthening the core using proper breathing techniques is usually a lot less stressful and straining than doing sit-ups.
Learn more in our talk. To register for this FREE event, please email tbrewitz@caclubs.com.
About our lecturer: Patricia Brown is a certified STOTT PILATES Instructor and an ACE-certified personal trainer. She has studied bodywork, Neuromuscular Reprogramming, Intuitive Training, Mattes Active Isolated Stretching, and is a Thai massage practitioner. She currently teaches our Monday afternoon Better Back Reformer at 1pm and offers Private Pilates and Thai Massage at the Hills.


AQUATICS
By Shad Wojtala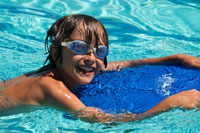 Pre-Competitive Swim Team
The Scoop:
Wed & Fri through June 10th, and Tue & Thur from June 13th - Aug 25th, Manta Rays is for beginning swimmers age 4-8 from 4-4:30pm, and Tidal Waves is for intermediate swimmers, age 6-10 from 4:30-5pm.
Our popular Manta Rays and Tidal Waves continue through spring. This introduction to swim team is the best option for kids age 4-10 new to swimming. The coaches work in and out of the water teaching everything from basic swimming skills to full stroke technique, all while introducing the kids to swimming terminology. The two levels are thirty minutes in length and use the recreation pool and diving well. Classes fill up fast.
Manta Rays
(Pre-Swim Team) AGE 4-8, 4 - 4:30pm
Swimmers will learn the basics of all four swimming strokes. Team activity skills and group swim safety is introduced. Swimmers will learn to swim in, and jump or dive into, deep water. Instruction will be conducted in and out of the water. Contact our Aquatics Director, Shad Wojtala, at
swojtala@caclubs.com
for more info.
Tidal Waves
(Novice Swim Team) AGE 6-10, 4:30 - 5pm
Swimmers must pass the following prerequisites for swim team: *50 yards of freestyle with side breathing, *25 yards of back swimming, *treading water for 30 seconds, and *streamlining off the wall for 5 yards. This group will prepare swimmers for competitive swim team and will incorporate on-deck coaching with minimal in water instruction. Contact Shad Wojtala at
swojtala@caclubs.com
for more info.
Session 5: May 4th - 27th
Session 6: June 7th - 30th
Session 7: July 5th - 28th
Session 8: August 2nd - 25th
Register Here!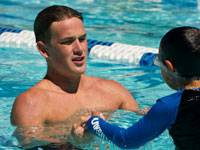 Group Swim Lessons
The Story:
Evan Woods will be teaching group swim lessons for our Summer Camp program this season from June 13th through August 19th.
Our Group Lessons are back this summer, June 13th - August 19th! Swim instructor
Evan Woods
has returned this summer and will be teaching the camp swim lessons as well as the afternoon group swim lessons. Evan brings his enthusiasm and swim experience into his lessons. He also enjoys watching the kid's progress over the weeks. Evan is actively looking to fill his classes up so that they are not only productive but very fun as well. He is also teaching private swim lessons and assisting with swim team. Contact our Aquatics Director, Shad Wojtala, at
swojtala@caclubs.com
for more info.
Click here to read more about group swim lessons and to sign up!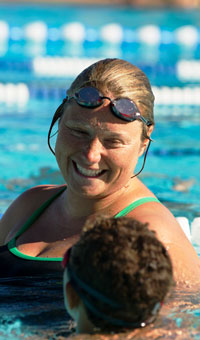 Private Swim Lessons
We have the instructors so take advantage of their availability this season. Our lead instructor,
Erin Lucas
, is booking up fast so we have enhanced your Hills experience by attaining more instructors. We have instructors available every single day of the week. For more information about private and semi-private lessons
click here
.
Here are our instructors:
Erin Lucas
»
Erin's Schedule
!
Shannon Coskran
»
Mat Lacounte
»
Mat's Schedule
!
Daniel Camozzo
»
Evan Woods
»
Samantha Hull
»
Torrey Hart
»
Jr. Lifeguard Camp
The Lowdown:
Dates: June 20th – June 24th, or, Aug. 1st – 8th
Time: 9am – 3pm
Register here!
Cost: Members = $235 Non-Members = $295
This program is designed as a community-based water safety program for youths 10–15 years old. The Junior Lifeguard Training Program has been developed to serve many purposes with water safety being our primary goal. Along with water safety activities we engage in CPR Certification and First Aid training. A secondary benefit is the establishment of a foundation for good work skills, responsibility, certification, skill development, competition, and leadership skills. In providing a well-rounded training experience, we include 30-minute daily fitness, lectures, demonstrations, and team building activities. Participants who successfully complete the program may apply for lifeguard positions at The Hills. However, successful completion is not a guaranty of employment. An additional two hours per week of volunteering may be required by each JR guard. Course Pre-Requisite: 50 yards of freestyle or breaststroke. Retrieve a 10 LB. brick from a depth of 12 feet. Swim underwater 15 feet. Contact Shad Wojtala at
swojtala@caclubs.com
for more info.
PERSONAL TRAINING
By Jeff Allen
New youth programs coming up! Checkout the flyers below.