UPDATE FROM OUR GENERAL MANAGER

Dear Members,
I would like to notify you of the updates for our various departments, as well as events that are going on at the club. I do this because many members have mentioned that they rarely will read through the entire newsletter. If something in my letter piques your interest, please know that you can read more about it below.
This month we have great member and employee spotlights that showcase the incredible members and staff that we have around us everyday. Our member spotlight introduces Jose Maestre, a long-time member who has been very involved with The Hills. For our staff spotlight, we present Rosalinda Mendoza who works hard to make sure that your day at The Hills gets started right, as soon as you walk in the door. Find out more about these amazing people and their involvement with The Hills in the programs and announcements section below. Also mentioned below is our staff birthdays for September. Make sure to read who we're celebrating this month so you can send happy birthday wishes.
As a reminder, The Hills will be closing early on September 21st at 8pm for a staff meeting. Our staff meetings are necessary to ensure you're getting excellent customer service. Please plan your workout accordingly.
Our first Jazz event of the season is coming up on September 30th. It's not too late to sign up, but it may be too late soon - spots are filling fast. We only have a few spots left and you will be amazed at the menu we have made up for this great event. You can see the full menu and details about the event in the programs and announcements section below.
You may not consider group fitness when you think of cross-training, but we offer a wide variety of classes that make group fitness a great option! Try a new class and see the results for yourself. You can find our group fitness schedule on our
Hills website
.
In other news, Monday morning spin/sculpt class will now be a 1 hour spin/sculpt class starting at 6am. Also new, are some Pilates classes that we've added, including a Sunrise Barre class. Don't forget that our kid's dance program has started up again, but it's not too late to enroll. See the Pilates section below for more details.
For Aquatics, our pre-swim teams, Manta Rays and Tidal Waves, continue. The next session starts September 28th, but it's already full! If you want to enroll your kid's in pre-swim team, session 11 starts October 26th, but spots are filling up fast so enroll ASAP. Although pre-swim team may be full, we always have swim lessons available, for kids and adults. You can find our swim instructors and their schedules in the Aquatics section.
Lastly, Eddie Pasternak offers two free Tennis clinics each month for various skill levels. His Intermediate/Advanced clinic will be on the 17th this month, and his Beginner's clinic will be on the 24th. You can find more information in the Tennis section.
As for the construction update, we have received notice that the county anticipates a public hearing sometime in October following the close date for public comment which is September 26th. Based on the support of the neighbors and the county, it looks like the permitting process should proceed to go smoothly. I will continue to give you updates as they come in.
Until next time, to your health and happiness,
Derek
PROGRAMS & ANNOUNCEMENTS

By Amelia Broadhurst

The Hills closing early!
The Hills will be having a staff meeting on Wednesday, September 21st, and will close at 8pm. Please plan your workout accordingly! Thank you for your cooperation.

Wine and dine at our next Jazz event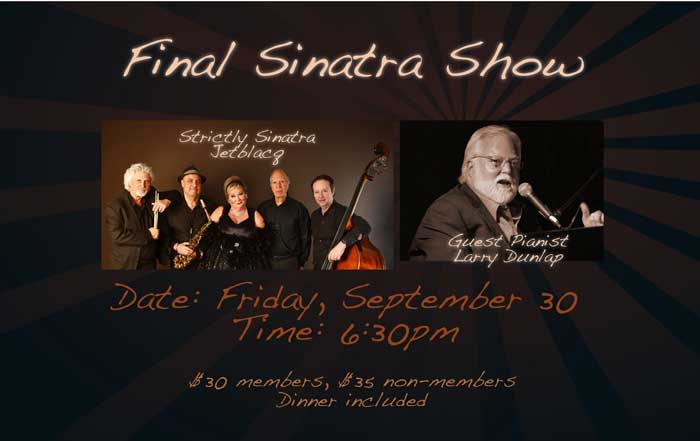 The Hills is pleased to announce that JetBlacq will be performing for us again on Friday, September 30th. You may remember the "Jingles with JetBlacq" event from December 4th featuring our member Rebecca Faiola as the enchanting vocalist. We can't wait for their upcoming "Strictly Sinatra" show to grace our clubhouse next month. Join us for a rat-pack style evening of music, food, drinks, and socializing. Dinner will include grilled salmon with chorizo and cherry tomatoes, tomato pesto crusted chicken breast, ratatouille provençal, garlic rosemary roasted fingerling potatoes, spiced pumpkin, lentil and goat cheese salad, dinner rolls, and for dessert a quick strawberry cheesecake. Sign-up at the front desk or by calling (510) 339-0234. Only 60 spots available so be sure to sign-up ASAP! Tickets are $30 (excluding tax) for members and $35 for non-members and includes entrance to the show and dinner. Dinner will be served at 6:30pm and the show starts at 7pm. You're welcome to BYOB and a complimentary wine tasting may be provided. More details will follow in the next newsletter so keep an eye out! We look forward to seeing you all there.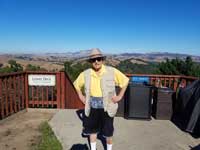 Member Spotlight: Jose Maestre
This month for our member spotlight, we'd like to introduce you to Jose Maestre. Everyone at the club knows Jose as a dedicated, passionate, and caring member. He has been a member of The Hills since 1968, almost 50 years, and it's our pleasure to tell you more about him.

Jose's story begins in Allentown, PA, where he was born and spent his youth. He later relocated to the West Coast for work and found a house in San Pablo, where he and his wife, Thea, lived for a number of years before they decided to move to Oakland. Jose hasn't left Oakland since moving here.

Once settled, Jose became dedicated to staying healthy, so he ventured no more than a mile up the hill to find our facility: The Hills Swim and Tennis Club. Jose signed up for a membership and never looked back.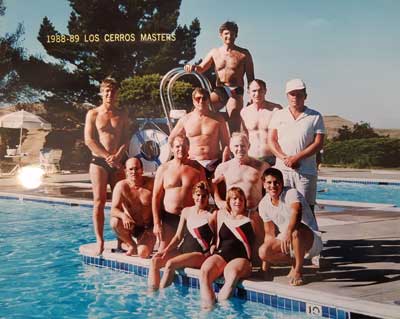 His typical regimen after joining in 1968 was running, swimming, walking, or any other cardio workout. In 1988 he was even an active part of the swim team, which you can see for yourself in the swim team photo below. Nowadays, you can find Jose swimming 20 lengths each night at the club.

Aside from working out at The Hills, Jose also wrote our newsletters for us for 10 years. His ability to balance a full-time job and family, with daily workouts and writing newsletters shows that Jose is a dedicated and hardworking individual. He found the time to create interesting articles each month for all of our members.

As a valued member for the last 48 years, Jose still remembers the transformation our club has gone through since he first joined. There are few members who have been here as long as he has. Deena Tounger and Phil Mead are just a couple that make the list.

Jose has been married to his wife Thea for 54 years now and she has been an integral part of his life. Thea has been by his side through various obstacles over the course of 60 years since they met. Through thick and thin, Jose and Thea have been committed to our club and continue to use the club daily. You can find them at night doing their same workout routine: Jose swims laps while Thea walks around the club.

Otherwise known to our staff as the "Chocolate Whisperer", Jose takes the time out of his busy schedule to bring chocolate for our entire Hills staff to show his appreciation. He buys a variety of chocolates to suit the tastes of every staff member. We can't thank him enough for his generosity. It's not often we find a member like Jose, who demonstrates his care for all of our staff.

If you do see Jose around the club, please take a moment to acknowledge him for his dedication, hard work, and care for our club. Thank you for being a valued member of The Hills Swim and Tennis Club for the last 48 years and counting, Jose. Keep up the good work!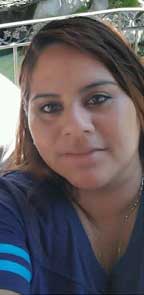 Employee Spotlight: Rosalinda Mendoza
Where in the world is Rosalinda Mendoza? The answer to that is pretty simple: wherever help is needed. Front desk, maintenance, café - you name it and you can find Rosalinda assisting there. Though she's been on maternity leave for the last 3 months, Rosalinda recently returned as our Front Desk Manager, and we couldn't be more thrilled to have her back. Her ability to juggle the amount of hard work she puts in full-time here at The Hills, with taking care of her 3 children made her a no-brainer for this month's employee spotlight.

Rosalinda Mendoza was born and raised in Oakland, California. She and her husband have three children: Adrian, Ixlali, and Yaretzi. Each of her children's names were chosen for their special meanings. Adrian is a common name for popes and rulers, Ixlali means "goddess of fire" and Yaretzi means "always going to be loved". Rosalinda and her immediate family all still reside here in Oakland. On occasion, they travel to Mexico to visit other relatives outside of Rosalinda's immediate family.

Being family-oriented, Rosalinda spends much of her free time with her family. One of her hobbies in her spare time is roller skating. When she's not helping our members or hanging out with the family, you can find Rosalinda roller skating down the streets of Oakland. Watch out!

We came to learn about Rosalinda when she started working for The Hills almost eight years ago in our Childcare center. Since then, she's worked her way up to the position of Front Desk Manager. Her goal on the job is to bring a smile to each of our member's faces. She takes the time to greet each member as they enter, and say goodbye to them when they leave as well. Fellow staff members have said: "Rosalinda brings a lot of positive energy to the club and is very well liked amongst her peers and members".

If any other departments need help, Rosalinda is the first to offer up her services. What keeps her here all this time? Rosalinda stated it's because she "loves the environment and being able to interact with the members on a daily basis". One memorable moment for her is receiving our customer service award last year. The department heads at The Hills made the ultimate decision to choose her for this award. She deserves it. Congratulations, Rosalinda!

As Rosalinda continues her career at The Hills, take a moment to stop by the front desk and tell her what a fabulous job she is doing. Rosalinda deserves the acknowledgement for the excellent customer service she provides, the hard work it takes to be Front Desk Manager, and most importantly, being a part of The Hills community.

UPCOMING EVENTS:
September 17th (Saturday), 12pm FREE Intermediate/Advanced Tennis Clinic
September 21st (Wednesday), 8pm All-Call Meeting - club closing early!
September 24th (Saturday), 12pm FREE Beginner's Tennis Clinic
September 28th (Wednesday), 6:30pm CPR training
September 28th (Wednesday), Pre-Comp Swim Team session 10 starts
September 30th (Friday), 6:30pm "Strictly Sinatra" by JetBlacq jazz event

Celebrate September Birthdays!
This month we're celebrating the following employee for her birthday:

Leova Juarez

Please join us in wishing Leo a "happy birthday" as a thank you for all of her hard work.
GROUP FITNESS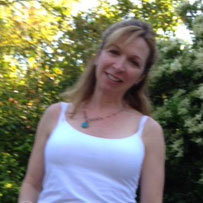 By Angelique Pine
Cross Train with Group Fitness!
Welcome back from your summer vacations! Hopefully your schedule is returning to normal and you are ready to tackle your fitness goals. One great way to reach those goals or break out of a plateau is to cross train. Come join the group fitness department in a class you haven't tried! We have a variety of classes to offer and some work different muscle groups than what you might be used to. Cross training enables your body to work in different ways and keeps your workout exciting. We look forward to seeing you in our classes and assisting you with your fitness goals.

Try Monday Morning Spin!
Starting this month, please note that the Monday morning spin/sculpt class will now be a 1 hour spin/sculpt class starting at 6am.
Watch your October Group Exercise schedule for exciting changes!
See you in class!
PILATES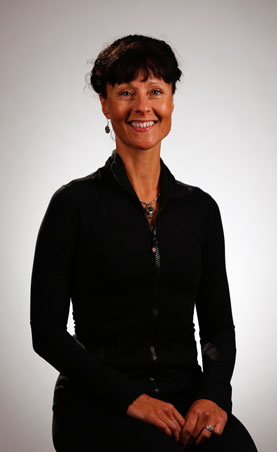 By Therese Brewitz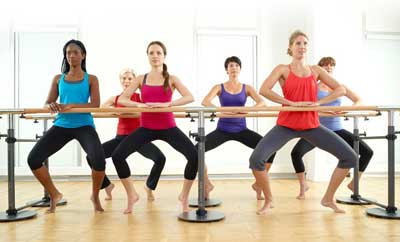 Start the day right with our new and exciting Pilates programs!
Sunrise Bar: Want to get fit fast? Try our Sunrise Barre Workout on Mondays at 6-7am. Barre training involves core, cardio, ballet conditioning, planks, strength training, and stretching, using small range movements and lots of repetitions. You develop muscle tone, flexibility, core strength and great posture. Learn more about the benefits here: http://www.fitnessmagazine.com/workout/pilates/benefits-of-barre/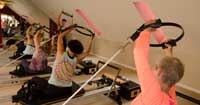 Intro to Reformer: New to reformer? Come to our Intro to Reformer class and learn the ropes - literally! This is a safe yet fun and challenging workout where you get introduced to the Pilates reformer equipment. Reformer training has numerous benefits for strength and core control. Come and see for yourself on Mondays at 7-8am.

Sign up for our classes online at: Hills Pilates Studio scheduler
For more info, please contact our Pilates Director: tbrewitz@caclubs.com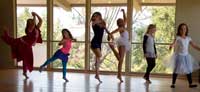 Enroll now in the Hills Kids Dance Program
Pre-Ballet for children 3-5 on Mondays at 3:15-4pm
This program is geared towards our youngest dancers. We use simple ballet steps, storytelling, and rhythm exercises to develop a love for dance and movement.

Intro to Dance for children 6­+ (or younger with previous experience). Mondays, 4-5pm.
Dancers 6 and up get introduced to the world of dance through the exploration of classical ballet, jazz, hip hop, and musical theater.

Cost: Try the first class for $16. Full semester for $196. Non-­members welcome for $224.
Register online: Hills Pilates Studio scheduler

Download our Dance Registration form from The Hills' website; under the Services tab, click on "Kids" and then click "read more" under Children's Dance.
Fall semester starts Monday, September 12th, and ends on Monday, December 12th, with a recital. Classes are taught by Dance Instructor and professional Ballet Dancer, Hannah Westbrook.
AQUATICS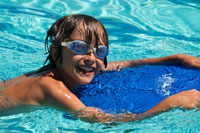 By Shad Wojtala

Register for pre-swim team's fall season
Manta Rays and Tidal Waves continue through Fall. These introductory classes are best for kids ages 4-10 new to swimming. The coaches work in and out of the water teaching everything from basic swimming skills to full stroke technique, all while introducing the kids to swimming terminology. The two levels are thirty minutes in length and use the recreation pool and diving well. Classes fill up fast.

Session 9 Aug 30 - Sept 23 (Session Full)
Session 10 Sept 28 - Oct 21(Manta Rays Session Full)
Session 11 Oct 26 - Nov 18

Manta Rays (Pre-Swim Team) AGE 4-8, 4 - 4:30pm, Wednesdays & Fridays
Swimmers will learn the basics of all four swimming strokes. Team activity skills and group swim safety is introduced. Swimmers will learn to swim in, and jump or dive into, deep water. Instruction will be conducted in and out of the water.

Tidal Waves (Novice Swim Team) AGE 6-10, 4:30 - 5pm, Wednesdays & Fridays
Swimmers must pass the following prerequisites for swim team: *50 yards of freestyle with side breathing, *25 yards of back swimming, *treading water for 30 seconds, and *streamlining off the wall for 5 yards. This group will prepare swimmers for competitive swim team and will incorporate on-deck coaching with minimal in water instruction.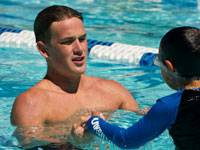 Take a private swim Lesson\
We have the instructors so take advantage of their availability this season. We have instructors available every single day of the week. For more information about private and semi-private lessons click here.

Evan Woods » Evan's Schedule!
Mat Lacounte » Mat's Schedule!
Alexandra Spencer-Wong »
Shannon Coskran »
Daniel Camozzo »



PERSONAL TRAINING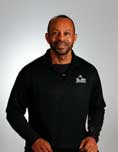 By Jeff Allen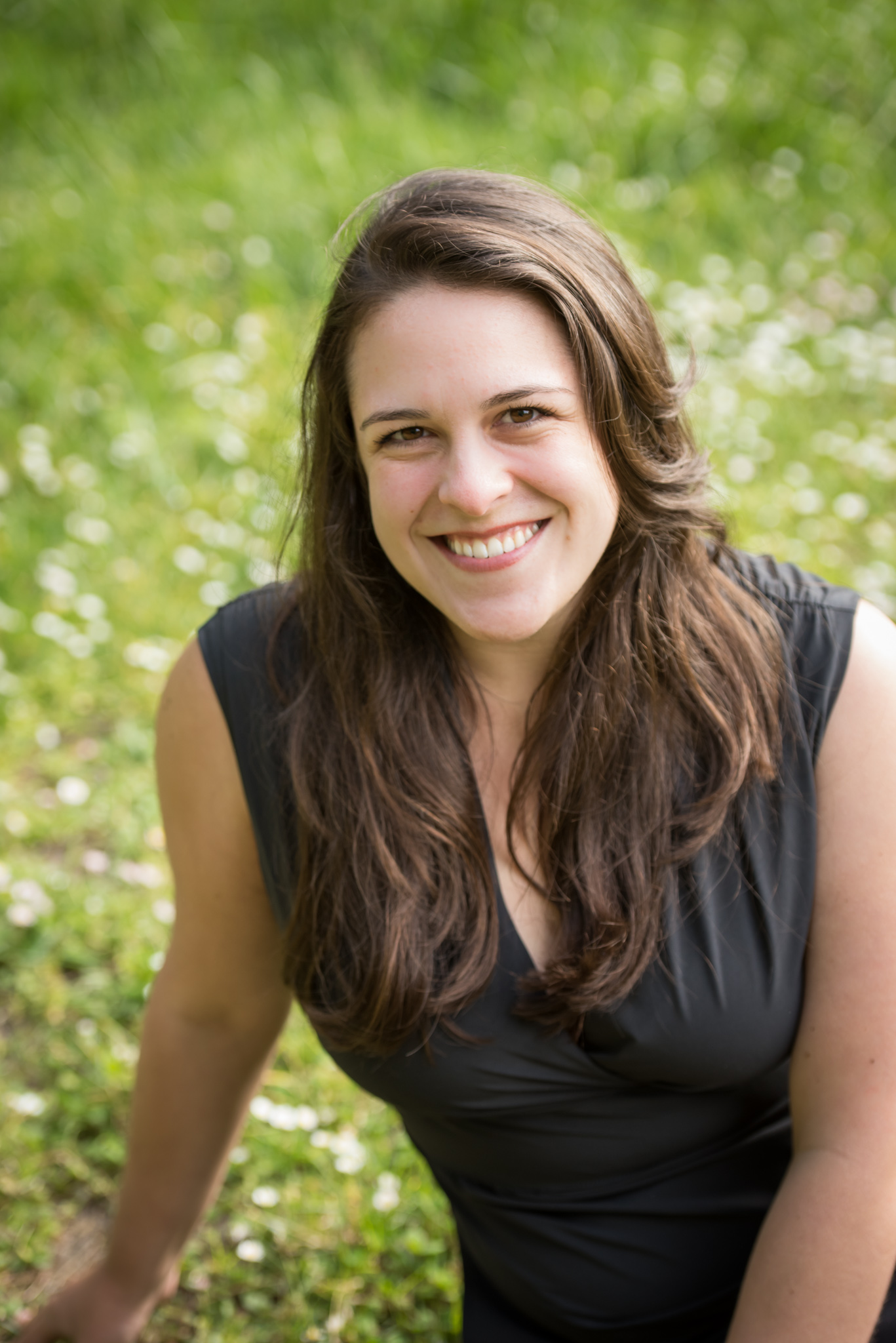 A Recipe from Rachel, Our Nutritionist
Dear Members,

If you missed the Fitness Fair this past weekend, then you also missed tasting my recipe for Brownie Energy Truffles! Fear not because you can easily make them yourself at home. Brownie Energy Truffles are a nutritious are a good after-workout snack, dessert for your kid's lunch box or even a healthy after-dinner treat. This recipe makes a saltier truffle, but add less salt or more dates for a sweeter one. They freeze well or last a week in the refrigerator…if they'll last that long.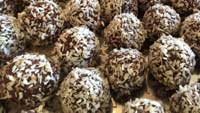 Brownie Energy Truffles
Serving size is about 2 truffles. Makes about 10 servings.

Ingredients:
1 cup almonds
1 cup walnuts
1 cup pitted dates (be sure to check each dates individually for pits)
2 tablespoons coconut oil
2 tablespoons almond butter
¼ cup dutched cocoa powder
½ teaspoon sea salt
¼ teaspoon ground cinnamon
Unsweetened shredded coconut

Procedure:
Pulse almonds and walnuts in a food processor until medium chopped. Add dates and blend. Add coconut oil, almond butter, cocoa powder, salt, and cinnamon; be sure to distribute evenly in the food processor and blend. When the mixture balls up into a single ball in the food processor, you know it's ready. Roll about a tablespoon of the mixture into balls and finish by rolling in shredded coconut.

Hope you enjoy the recipe! Warm regards,

Rachel Barach
TENNIS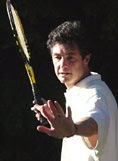 By Eddie Pasternak

Free Clinics with Eddie
Join USPTA Elite Professional Eddie Pasternak for free one-hour tennis clinics at The Hills! Eddie has taught tennis for over 25 years and has been sought after by clubs and resorts across the world, including France and Jamaica where he previously worked as a Tennis Instructor. Eddie has also worked with professional Tennis players, such as former pro Brad Gilbert. Eddie is most thrilled to be a part of a Tennis player's progression, and be able to see the change. Eddie leads clinics each month for adults that address all skill levels. Clinics are held at 12pm on Manzanita court. If it's raining on one of the Clinic dates, the clinic will be held either the next day or the following weekend.

Saturday, September 17th Intermediate/Advanced
Saturday, September 24th Beginner's