UPDATE FROM OUR GENERAL MANAGER
Dear Hills Members,

The club has been reopened for nearly two months now and, under the current pandemic circumstances, I honestly don't know if the reopening could have worked out any better. I do have to continue to praise the remarkable staff that we have here. As General Manager, I am spoiled and incredibly grateful for the employees who work so hard each day and night. Similarly, members have been understanding, patient and mindful when following new club policies and procedures. All programs offered continue to be by reservation or sign up. This is for everyone's safety and helps us as a staff provide the necessary cleanliness to all places and equipment being used.
During the month of July the following was available:
We launched the Outdoor Gym with six different stations, one in each of the six cabanas. Members can make a 30-minute reservation per day and have been awesome at using the provided gym wipes to clean all equipment they use. Staff continues to frequently clean all equipment each hour.
Lap Lane and Family Pool reservations continue to be in high demand. The current swim reservation policies will remain in place this month.
Our Group Exercise Outdoor Class schedule expanded to double-digit offerings throughout the week. These class offerings include Spin, Bootcamp, HIIT, Piyo, and Yoga. In addition, we continue to offer a wide variety of virtual classes online via Zoom.
Tennis and Pickleball courts continue to be available and have been getting much more use. Reminder that under the current county guidelines, singles play can be done with members of different households, but doubles play remains only available to people of the same household.
Summer Camp has worked out extremely well the past eight weeks! As kids gear up to begin their online schooling soon, we are working on plans to continue offering afternoon camps. Stay tuned as Anthony will be sending out information regarding this very soon.
Personal Training sessions are available outdoors. Feel free to reach out to Nick (

[email protected]

) or Jeff (

[email protected]

) if you need more information.
Tennis lessons are available, either private or semi-private. Please reach out to Maaria (

[email protected]

) or Eddie (

[email protected]

) for more information.
Pilates private sessions are being held outside by Therese and staff on the balcony of the Peak Fit Studio. For more information email Therese (

[email protected]

).
Swim lessons are available as well, either private or semi-private. Feel free to reach out to Aquatics Director, Shad Wojtala (

[email protected]

) for more information.
The club is operating as best and with as much available as possible during these challenging times. For the month of August we will be billing 85% of monthly member dues. We will continue to think and plan creatively to ensure that your Hills experience remains first class.

Thank you for your continued loyalty and support to the club. Stay safe, healthy and happy!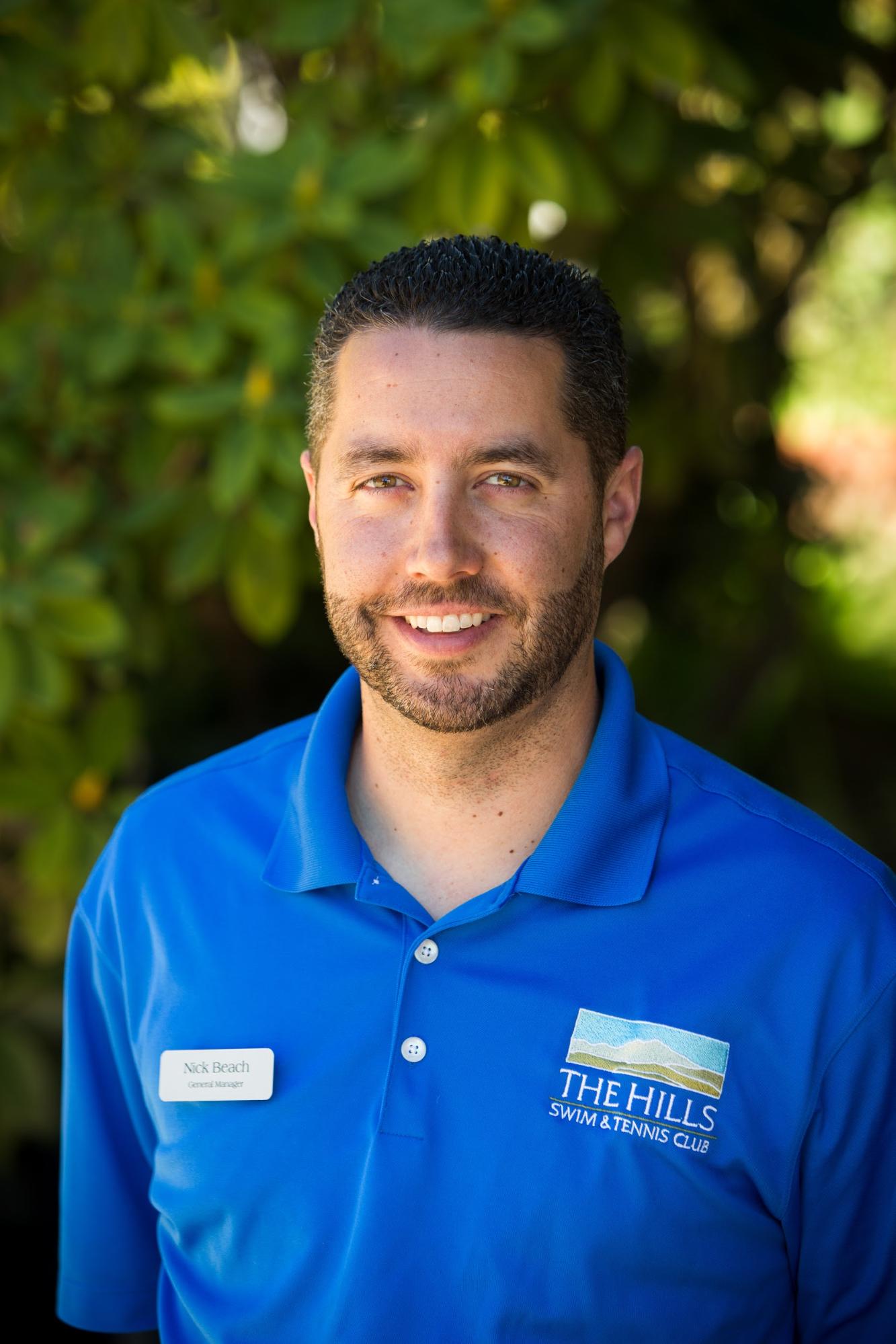 -Nick

Available: *Current Contra Costa County Guidelines continue to apply
Lap Lane Swimming by reservation (reserve through the front desk, online, or on our app) Family/Recreational Pool by reservation (reserve through the front desk, online, or on our app)
Outdoor Gym in the six Cabanas by reservation (reserve through the front desk, online, or on our app)
Tennis Courts by reservation (reserve through the front desk, online, or on our app)
Pickleball by reservation (reserve through the front desk, online, or on our app)
Kids Summer Camps contact Camp Director Anthony Lum for more information [email protected]
Outdoor Tae Kwon Do Classes contact Jeff Allen for more information [email protected]
Hills Hurricane Swim Team Camps contact Aquatics Director Shad Wojtala for information [email protected]m
Outdoor Group Exercise Classes (Virtual Zoom classes continue to be provided as well)
Virtual Peak Fit Class Contact Peak Fit Coordinator Jennie Votel [email protected]
Outdoor Private Pilates Training contact Pilates Director Therese Brewitz for more info [email protected]
Outdoor Personal Training contact Nick [email protected] or Jeff Allen [email protected]
Swim Lessons private and semi private, contact Aquatics Director Shad Wojtala for information [email protected]
Manta Rays and Tidal Waves Swim Classes contact Aquatics Director Shad Wojtala for information [email protected]
Unavailable: *County is yet to lift restrictions
Indoor Gym (Fitness Center)
Peak Fit Studio
Locker Rooms Available for toilet and sink use only. Please inform the front desk if you need to get something from your locker.
Showers
Hot Tubs
Saunas
Cafe
Child Care
Basketball
Ping Pong
Guests
Back Deck
Wrapping Up a Successful Summer Camp

Hard to believe there are only 2 weeks remaining of our Summer Camp 2020. A huge thank you to all of the families that trusted we would offer a safe, clean and fun camp during this pandemic. Under the strict county guidelines, we had to make major modifications this summer, and I appreciate all of you adhering to them. Your kids deserve credit for listening to the directions of myself and the counselors. Together we will get through this pandemic and return to our normal daily operations soon.

We have a limited amount of slots still available for the remaining 2 sessions. Please email me directly to reserve a slot for your child/children at [email protected]. We are working on possibly extending our camp sessions, so stay tuned. Look forward to seeing you around the club.

Stay safe and healthy,
- Anthony, Summer Camp Director & Assistant Front Desk Manager
Hills Aquatics Makes Full Use of The Pool

Lap Lane Swimming Rules:
Children ages 10+ can share a lane with a parent or household guardian for a 30-min reservation
If you arrive early for your reservation and a lane is free, feel free to start swimming early. Similarly, if your reservation ends and a lane is still available, feel free to swim a little longer. Both occurrences need to be cleared by the pool monitor before beginning.
Making a reservation and then not showing up and/or failure to cancel the reservation could be subject to a penalty fee on the account if it continues to happen.
Family Rec Pool Rules:
30-minute maximum per day per person/family
All children under 14 years old needs a parent or guardian present and attentive to them
Please show courtesy and respect to whomever has the opposite side reservation
Swim toys, floaties, noodles can be brought and used, so long as they are used appropriately and are not shared with others
Please Note: Hills Hurricane Swim Team will be using no more than 4 lanes from 4-8pm, Monday-Friday.
Swim Lessons Available
Swim Instructor Koung works on stroke technique with Hills member
Swim lessons are available for all members, either private or semi private. Currently, the swim lessons are taught by an instructor that remains on the pool deck (county guidelines). We cannot offer in-water instruction at this time. We are allowing a guardian to be in the pool with beginner swimmers that might need assistance during the lesson. If interested, please contact Aquatics Director Shad Wojtala, [email protected] or visit our website hills.caclubs.com/aquatics/private-lessons for rates and more.
Eddie Pasternak Shares His Tennis Expertise

USPTA Elite Pro Eddie Pasternak has been heading up the tennis program at The Hills for 25+ years. He also operates as a private instructor worldwide, having taught tennis in Jamaica, Barbados and France. In 2002, he was part of a 7-week tennis teaching tour of the Philippines, guiding local teachers both in their careers as tennis instructors as well as obtaining their USPTA licensing and building blocks for developing players.

This month, Eddie shares his thoughts on the sport with Hills members...In the past few years the USPTA has required updates, so we continue growing with the game and realize it's evolution, modernity of sport science considerations, and greater understanding of relationship responsibilities.

We now have the internet and a wealth of other sources supplying us with video analysis and materials to help us move along at a rapid pace. I keep on top of this information so that much of my service of late is operating as a filter so you can confidently move forward. It's important to realize that what's working for a touring pro, as fantastic as it is, might send you to the doctor's office or hospital.

There are significant differences in approach depending on one's goal/age. For adults, simply hitting well, relaxed and breathing might be more than worthwhile. I like to compare it to a walk in the park except, we're playing tennis. On the other hand, a competitive teen moving up their school ladder requires navigating on a different path. This student needs a more focused approach and technique, of which physical, mental, strategic development matter!

Whatever your tennis path, I hope we can be of some guidance with our lesson offerings.We look forward to the day we can bring our clinics back, but as of now we do not know when that will happen.

- Eddie Pasternak, Hills Director of Tennis & USPTA Elite Pro
[email protected]
Tennis Lessons Back in Full Swing

Hills Tennis Pro Maaria works on beginner drills with 5-year-old Riley
It's been one month since officially joining The Hills staff and community, and I am excited to see the high level of interest in tennis. Whether it's your first time playing or brushing up on old skills, the excitement to get out and play tennis is one of the best things a tennis pro can hope for...but it is not lost upon me that these are not normal times. With reports of increasing COVID cases in the county, we want to remind you of required safety precautions. As a reminder, we are still prohibited from doubles play until the county updates their guidelines. For this reason, I want to share our "safe lesson" guidelines (strongly recommended to also practice while playing leisurely with your family and friends). We want everyone to enjoy tennis while also playing safe and responsibly. Hope to see all of my tennis players on the court soon!

- Maaria Husain, Hills Tennis Pro
[email protected]
Safe Lesson Guidelines for Tennis During COVID

Lessons will be limited to private or semi-private until further notice.
All social distancing protocols must be followed at all times. Masks are not necessary on court but please wear when you enter and exit the tennis court.
Tennis pro (me) will wear a mask when within 6 feet of students.
Wash/sterilize your hands before and after you play, avoid touching your face while playing, before and after eating, after going to the restroom, sneezing and coughing.
Bring a water bottle with you to lessons.
Cover coughs and sneezes and dispose of any used tissue immediately.
If you should touch any part of the court with your hands, immediately use hand sanitizer.
Leave the court at the end of lesson time to allow for court cleaning and limit interaction between students arriving/departing.
Wash hands or use hand sanitizer after exiting court.
Clean all personal tennis items with alcohol-based disinfectant including racquets, towels, and grips after play.
Pilates Training with a View...and More!

Members are loving their private Pilates sessions on our Peak Fit deck!
Summer is in full swing and so is our Pilates program. Every day is a learning experience, but we are happy to see many of our regular students and some new students come and train in the beautiful outdoors as well as on Zoom.

Here how to navigate the Zoom class world and how to get ready to train on our Pilates deck:

For Zoom classes: Gear up!
Get your list of recommended Pilates props here that you can use in class and on our own: http://pilates-props

For Private Pilates training:
Contact our studio to learn more and to book a session: [email protected]

Please note our Pilates training safety guidelines:http://pilates-safety-guidelines
Our Zoom Pilates Program:
Pilates Instructor Barbara Hoffer is offering a fun and creative chair Pilates class on Tuesdays at 5pm. Don't be fooled, this is a real workout! 45-min class, $15.
This month Pilates Instructor Anne Mawdsley is starting a class that is sure to hit home for all of us computer addicts: "Happy Shoulders and Core" starts on Tuesdays Aug 11 at 9 am, 55-min class, $20. This class will dedicate 20 minutes to careful shoulder rehab, plus core strengthening to support correct alignment. Small props: 1-2 lb hand weights, flex band, and a foam roller.
"Pilates Fun-damentals" with Colleen McLarnon, starts on Thursday, Aug at 6pm, 60-min class, $20. Participants will find this power Pilates class not only fun but one that reminds us of the Pilates fundamental principles: breathing, core awareness, and spinal alignment. This class is a great replacement for our regular reformer workout.
Enroll in our Zoom studio classes online. Once enrolled, you will receive a Zoom link. Please contact our studio with any questions: [email protected]

Follow us on Instagram: https://www.instagram.com/hillspilatesandwellness/

Be safe and enjoy summer!
- Therese Brewitz and The Hills Pilates and Wellness Studio Staff
Outdoor Fitness Classes Going Strong

Jana teaches an Outdoor PiYo Class!
Great news from the Group Exercise department! In July we added outdoor fitness classes to our Group Fitness program, and it is going strong. Thank you to all the participating members. You have shown great patience while we worked out the logistics in order to provide a safe, effective and fun experience. For the month of August we have lifted the maximum two class restriction, so feel free to take the classes you want. We do have an official waitlist, so please utilize it, as spaces often become available. If you need to cancel a reservation, we ask that you do so within 24 hours of the class. Last minute cancelations or "no shows" will be charged $20 per class.
- Angelique Pine, Group Exercise Director
Outdoor Personal Training Sessions Now Available

Outdoor personal training sessions are now available. Feel free to reach out to Nick, [email protected] or Jeff Allen, [email protected] for rates or to set up an appointment.
Peak Fit Director Helps "Roll Out" Creative Workouts

Mix up your workout routine with Fitness Dice!
Peak Fit has come to a super slow roll since the Pandemic started. We still have a Saturday Zoom class at 8:30am for anyone who is interested. I have also started teaching the 7am boot camp class outdoors at the club on Monday mornings. The class is fun, outdoors and socially distanced - a great workout to begin a new work week!

Personally, we just finished renovating our backyard. I never wanted a pool, but am sure thankful for it this summer. I've been making myself dizzy swimming laps in it; 100 laps is only about a half mile, but it is something! And it's been a really nice alternative workout in the warmer weather.

Hope you are all hanging in there and making the most of your days and finding time to get in some exercise. We are all human, so if some days are harder to get motivated than others, know that you are not alone. Might I suggest "Fitness Dice" to mix up your workout. It's a bit of a personal "plug" since it's a project that I worked on last year for Chronicle Books. With more than 45,000 options when you roll the dice, it makes for a fun way to mix up your workout routine AND gives you yet another way to get creative during this unprecedented time!

Take care and stay healthy!
- Jennie Votel, Peak Fit Director
510-316-3529
[email protected]
Celebrate August Employee Birthdays

Please join us in wishing each of them a happy birthday and thanking them for all of their hard work!

Elaine Hofmann, 08/04
Muriel Reiley, 08/04
Shauna Barnard, 08/19
Miriam Ani, 08/22
Drew Swartz, 08/24
Jenny Hu, 08/29
Danny Camozzo, 08/31