UPDATE FROM OUR GENERAL MANAGER
Dear Hills Members,

Hard to believe we'll be entering a new decade next month! Please be on the lookout within the next couple weeks for my email concluding the 2019 year and addressing the upcoming 2020 year. This email will also include information from Accounting Manager Stefani McDermott regarding the billing option to prepay annual dues for the year.

I want to take this time to thank the entire staff here at The Hills. There is a lot of behind-the-scenes hard work that goes into everything we provide, and the club would not be successful without the effort and dedication that the staff puts in day in and day out–and in some cases night in and night out.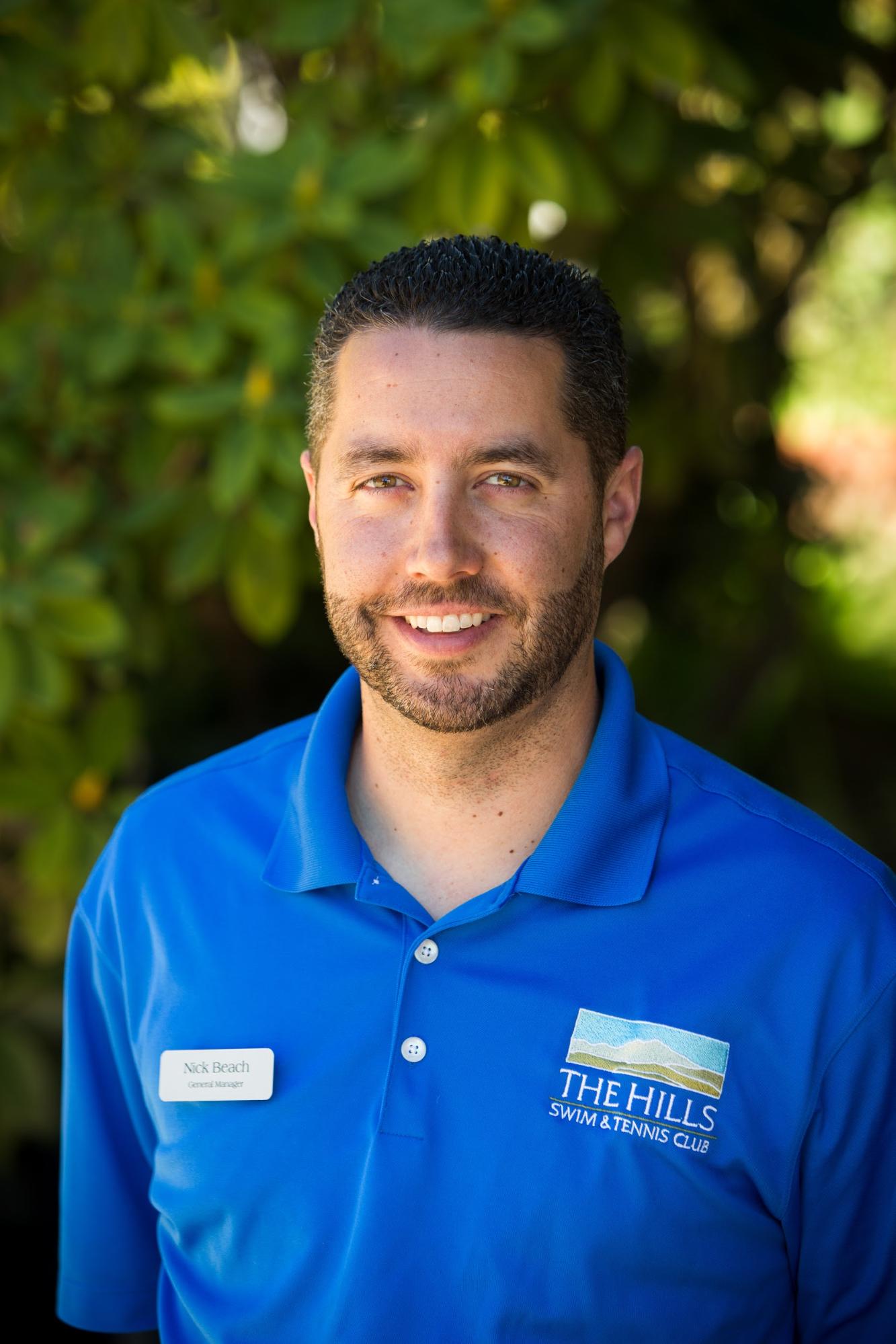 I hope everyone has a safe, happy and healthy holiday season!

-Nick
HOLIDAY HOURS
December 24: Club closes at 4pm
December 25: Club closed
December 26: Club opens at 8am
December 31: Club closes at 4pm
January 1: Club closed
January 2: Regular hours (5am-10pm)
UPCOMING EVENTS
December 9: Free Beginner/Novice Tennis Clinic 6-7pm
December 9: Intermediate/Advanced Tennis Clinic 7-8pm (Please call the front desk to sign up)
Childcare Schedule:
Mondays 9am-2pm/4-6pm
Tuesdays 9am-2pm/4-6pm
Wednesdays 9am-2pm/4-6pm
Thursdays 9am-1pm/4-6pm
Fridays 9am-2pm/4-6pm
Saturdays 9am-1pm
Sundays 9am-1pm

We value your feedback and are doing our best to accommodate childcare requests. Feel free to contact our Operations Manager, Rosalinda [email protected] with questions/concerns.
Aquatics
Private Swim Lessons in Winter Months

Year-round private and semi-private swim lessons continue. We encourage both children and adults to take lessons regularly, and our qualified swim instructors can help you regardless of your age or experience level. You are never too old to learn how to swim or to improve your stroke!

Book lessons with one of our great swim instructors/coaches here!
Pre-Competitive Swim Team Continues in 2020

Classes meet Wednesdays and Fridays
Session 1 Jan 8-31
Session 2 Feb 5-28
Session 3 March 4-27

Register Here!
Manta Rays (Pre-Swim Team) AGES 4-8; 4-4:30pm
Prerequisite: Swimmers must be able to tread in deep water for 30 seconds. Swimmers must be able to swim unassisted for 10 yards. Swimmers will learn basic swimming skills of all four strokes. Team activity skills and group swim safety is introduced. Instruction will be conducted in and out of the water. We do not hold tryouts or offer make up classes.

Tidal Waves (Novice Swim Team) AGES 6-10; 4:30pm-5pm
Swimmers must pass the prerequisite for swim team: *50 yards of freestyle with side breathing *25 yards of back swimming *Treading water for 30 seconds *Streamline off wall for 5 yards. This group will prepare swimmers for the swim team. This class will incorporate on-deck coaching with minimal in-water instruction. We do not hold tryouts or offer make up classes.

Register Here!


Hills Hurricane Swim Team

The competitive team is year round. Our next round of tryouts will begin in late January.
Full swim team info here!
Pilates

A Holiday Card from the Hills Pilates Studio
Self care is a loaded expression. Some may associate it with self indulgence or luxury. Others may feel that we are worthy of self care once all the chores are done and other people's needs are met. There may be guilt attached to self care. As we enter into the season of giving, let's think for a minute about the gifts we offer to others AND to ourselves.

My guess is you are thinking I would suggest that you give Pilates training to a loved one and that is a nice idea. But I want to suggest the following instead, because the best gifts we give may not actually have any material value. In today's fast-paced world, the best gift we can offer to anyone, including ourselves, is the gift of time and undivided attention. Putting the phone down, taking a breath, making eye contact, asking how the day was, and reflecting on the answer. For ourselves the best gift of self care may be staying in on a weeknight, leaving the dishes undone, missing a workout (there, I said it!), or going to a class if that is what we really need to feel good.

From where I sit in the cozy nest of the Hills Pilates Studio, I feel that the world has been a little hard on many of us this year. My hope has always been and continues to be that the gentle, deep, and somewhat mysterious training that is the Pilates method can offer ultimate self care and healing. Recently we added Reiki, an ancient Japanese healing practice to our studio offerings. Both of these practices are as powerful as they are understated, subtlety being another entity our bodies and minds may be yearning for.

Whether you decide to come in and train with us, give a gift certificate of Reiki or Pilates to a loved one, or simply to breathe and take time–I wish you a wonderful holiday and a glorious 2020!

In Health,

Therese Brewitz and The Hills Pilates Studio Team
Contact our Pilates Studio: [email protected]

Coming to our studio in 2020:
Weekend Mixed Level Reformer class returns, please stay tuned for days and times
Reiki I & II Training and Attunement – Saturday, February 8 and Sunday, February 9
Group X

The clubhouse will be closed Tuesday, December 24th through Thursday, December 26th while the walls & ceiling get a fresh coat of paint for the new year!

Group Exercise Holiday Schedule

Tuesday, December 24
no classes, clubhouse closed
Wednesday, December 25
club closed
Thursday, December 26
no classes, clubhouse closed
Tuesday, December 31
Club closes at 4pm
4:30pm Yoga - cancelled
7:45pm Spin Express - cancelled
Wednesday, January 1
club closed
Thursday, January 2
regular schedule



Since many of your regular instructors travel during the holidays, you may see some new faces teaching your classes. Or possibly, the same face a lot! We appreciate your patience and kindness with the substitutes. We also thank the instructors that work so hard to help their teammates. Please check the online schedule if you would like to see who is teaching. We do our best to stick with the original class format whenever possible.

Happy Holidays!
-Angelique Pine, Group Ex Director
Peak Fit

Peak Fit classes in November were packed with tons of energy and effort. Here's to finishing 2019 strong and welcoming 2020 with new fitness goals!

If you haven't tried a class and would like to, first class is free; please contact me or register online..

Our holiday schedule will be modified a bit, so it's best to check the schedule online to confirm that the class you plan to attend is happening. Also, keep in mind that if no one has signed up/registered for class 12 hours prior to the start, class will be cancelled.

Peak Fit Holiday schedule:
12/24 6 am class
12/27 9 am class
12/28 6 am class
12/31 6 am class
1/2 6 am class
1/3 9 am class
1/4 8 am class

Hope to see you in class soon!!

- Jennie Votel, Peak Fit Director
510-316-3529
[email protected]
Celebrate December Employee Birthdays
Please join us in wishing each of them a happy birthday and thanking them for all of their hard work!

Ruby Kennedy, 12/01
Melanie Perez, 12/08
Shannon Coskran, 12/13
David Siu, 12/26