UPDATE FROM OUR GENERAL MANAGER
Dear Hills Members,

Somehow we're in the final month of 2021! I wanted to let all members know that I'll be sending the "State of The Hills" email a little later this month. It will include a conclusion of this year, a preview of next year, and any changes in rates or policies going forward into 2022. Accounting Manager, Stefani McDermott, will also be including information on options for paying annual dues.

I feel this is a good time to reflect on just how much we've gone through this past year. We began this year with continued strict health order mandates set forth by the county. The indoor gym was closed and all activities and programs here at the club were by reservations only. Covid-19 vaccinations were just starting and there was still so much uncertainty about the future. Fast forward to today where we have limited reservations in place, we have an organized vaccination program for members and staff, indoor areas are open and recently we've been able to fully participate indoors without masks. We've come a long way and it would not have been possible without the cooperation, patience and understanding of each and every one of you. So, THANK YOU!

I hope everyone has a safe, fun, healthy and Happy Holiday season this December!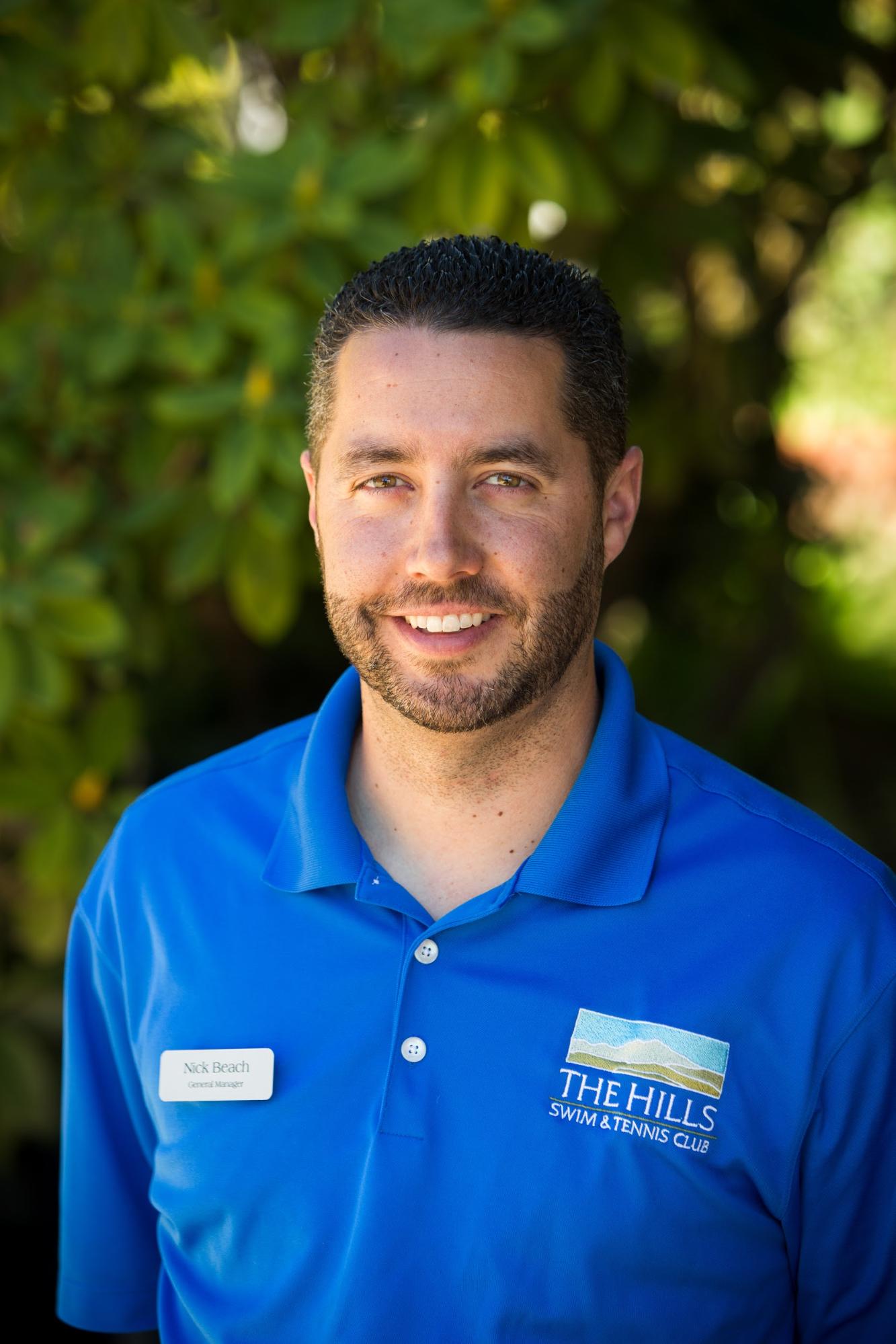 -Nick

Fri, 12/24 (Christmas Eve): Club closes at 4pm
Sat, 12/25 (Christmas Day): Club closed
Sun, 12/26: Club opens at 8am
Fri, 12/31 (New Year's Eve): Club closes at 4pm
Sat, 1/1 (New Year's Day): Club closed
Sun, 1/2: club opens at 8am
UPCOMING EVENTS
December 13: Free Beginner/Novice Tennis Clinic 6-7pm
December 13: Free Intermediate/Advanced Tennis Clinic 7-8pm
Jenn's Nutrition Tips to Get You Through the Holidays!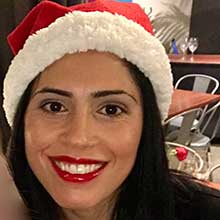 The holiday season is a time for gathering with friends and family and your favorite foods should be a part of it. We are all on our own fitness journey and a few days of indulging is prescribed.
Indulge without overindulging!
Fill your plate with colors:
1/2 of your plate should be colorful vegetables. These high fiber veggies will fill you up without the extra calories.
1/4 of your plate should be some carbohydrates: candied yams, rice, bread, potatoes with gravy.
Make sure you have some protein with your meal. Protein is how you fill the last 1/4 of your plate: turkey, ribs, tofu, beans. After your main course, you should feel satisfied without feeling overly full.
Therefore less tempted to consume large amounts of high calorie desserts. Enjoy them but in smaller portions.
Portion size:
A portion of protein should be the size of the palm of your hand.
A serving of potatoes, rice or other carbohydrates is 2/3 of a cup, the size of your fist.
Keep serving sizes in mind to avoid the extra calories and overeating.
The extras!
Calories easily add up in holiday meals. Here are some easy tips to follow. If you're the one cooking, try steaming, grilling or broiling instead of frying. Watch the extras: replace the butter, heavy sauce and sour cream with some fresh herbs, lemon juice, spices, garlic and low sodium broths to add to your potatoes, veggies and meats. If turkey is on the menu, choose white meat versus dark meat and don't eat the skin.
Moderate alcohol consumption!
We all know that alcoholic beverages contain empty calories. One glass of wine (4oz) contains 100 calories, one regular beer contains 151 calories. When we drink alcohol, it increases our appetite, so we end up eating more than we anticipated. Have some sparkling water before your meal and a glass of wine or a beer with your meal.
No fasting! No dieting!
Fasting and dieting puts your body in a state of deprivation and survival, where it slows its metabolism. To make matters worse it increases your desire for EVERYTHING you have been avoiding, especially high energy foods.
For example, if you fast or eat very little food before a holiday gathering, you'll be starving by dinnertime and end up over indulging, consuming way more food than you usually do. Instead of eating less, have 2 healthy meals and snacks if you're hungry, this will calm your cravings and help you avoid overeating at dinnertime.
Be well rested and try to minimize stress!
Stress and sleep deprivation increase appetite and decrease the control we have over what we eat. Plan ahead so that you have time to rest and actually enjoy the holidays.
Be active!
Increase the time you spend being active. If you usually workout 2 times per week then try 3-4 times per week during the holiday season. Instead of dieting to create a calorie deficit: exercise and increase your metabolism! Exercising helps relieve stress and makes us feel AMAZING. Have fun with it by doing the things you love whether it's coming up to the club to take a class with our awesome instructors or going for a run or a walk. Everything counts!

So now you know what to do: be active and eat healthy, most of the time, and enjoy this wonderful time of the year!

Happy Holidays!
Jenn Nasab,
Registered Dietitian
Fitness Department Coordinator
Group Exercise News

As the holidays near, our group exercise schedule will be modified in order to allow instructors time to travel and reset. So please keep an eye on the online schedule for class updates. Also, as our class sizes increase, it is even more important to keep registering for classes. Registered members will always be given priority over drop ins.

Some things to know about registering...

There is NO charge for late cancellation. We have eliminated this practice now that we are able to offer more than 40 classes a week! However, please unregister if you can't make it as a courtesy to the instructor, the club and your fellow members.

As of December 6, most classes have a 30-day registration window! So, for example, if you always take Tuesday night yoga, feel free to register for the month! It's a real time saver. There are a few exemptions. If a class is regularly over subscribed, then that registration opening will remain 7 days prior to class. It bears repeating though, please take the time to unregister if your schedule changes.
Thank you so much for participating in our program.

Happy holidays and best wishes in the new year!
- Angelique Pine, Group Exercise Director
Small Group Training in Our Peak Fit Studio

For those members that have not yet ventured up to the Peak Fit studio, it's an incredible facility with great equipment. Small group training takes place in this studio, and it's the participants and instructors that make each class unique.

The format of these small group classes change day to day, and with limited class size, the workouts will have you burning calories, shedding pounds and gaining muscle! Get ready for a variety of exercises that include a mix of cardio, strength, core and flexibility. We will use bodyweight, dumbbells, TRX straps, kettlebells, medicine balls, bands and more.

TRX suspension training makes gravity your resistance, so adjusting the level of difficulty is as easy as moving your hands or feet, and progression is limitless. It can be used for all levels and the bonus is that your core is constantly engaged.
Peak Fit Studio December Schedule:
Mondays: 6:30am (Mixed Format)
Tuesdays: 7:30am (TRX)
Wednesdays: 6:30pm (SOLD OUT SPECIAL HOLIDAY FIT SERIES)
Thursdays: 7:30am & 8:30am (Back-to-Back TRX classes)

We currently offer four Peak Fit classes per week (with the hopes of adding more in 2022) and your first class is FREE! Come find out for yourself why small group training is so effective!

A note about registration for our small group training classes. Please use the app or website to register for class. Classes are cancelled if no one has registered 12 hours prior to the start of class. Class sizes are limited*, so please sign up if you plan to come. The drop-in rate per class is $18; 10-pack is $150.

*Maximum capacity is 8* per mixed format class/6 per TRX class

Questions? Email Jenn Nasab, Hills Fitness Coordinator, [email protected].
'Tis the Season - Gift Suggestions - Healthy & Balanced in 2022

Happy holidays from all of us in the Hills Pilates and Wellness Studio Program!

We would like to offer some great gift suggestions for you. You can shop locally right here at The Hills Pilates and Wellness Studio and get gift certificates for:

*Pilates Classes
*Private Pilates lessons
*Reiki Treatment sessions

Gift Cards start at $85

Onward to 2022! Are you ready to hit the ground running? Or are you looking to slow down, reflect, and recharge? We have a program for everyone:
Have a restful and fun holiday season and we'll see you in 2022!

Therese, Anne, Barbara,Yulia and Colleen

Follow us on Instagram and get inspired to do Pilates:
https://www.instagram.com/hillspilatesandwellness/
Weekend Tennis Classes Continue

Our Saturday tennis classes continue to be such a "smash" that we decided to offer more of the same throughout December (weather permitting)! *
*No class on December 25 due to club closure

10-10:45am (Manzanita Court): "LIttle Stars" Junior Tennis (small group)
Our goal is to introduce the game of tennis to our youngest players through a fun environment, while also learning tennis basics.
This is a beginner level program for the 6-8 yr old age group
Max of 6 kids per class
Cost per player is $35 ($40 for non-members)
Please have your kids wear tennis/running shoes, junior tennis racquet and water bottle
Masks are required by both coach and kids during the class
11am-12:30pm: (Manzanita Court): Intermediate Adult Doubles Clinic

The doubles clinic is for players who have been playing tennis and looking to elevate their doubles game.
This is intermediate level (3.5-4.0 player ratings) where players know how to keep score and have previous match experience
Max of 6 players per class
Cost per player is $40 ($45 for non-members)
A few of the themes we will cover during practice:
- Doubles formation/strategy
- Doubles specific drills focused on serving and volley, approach shots and transition volleys
- Point play scenarios and match practice
To register for either tennis class, go to your member portal and in the left-hand column, click "Register for Classes." You can also register via The Hills Swim & Tennis Club app by clicking on "Classes" but just be sure to change/select the specific date on the calendar and there you will find both offerings in the list of classes for that particular Saturday. For any questions, please email [email protected].
For those adults new to tennis or looking to improve your backhand, join us on the second Monday of each month for our complimentary Adult Tennis Clinics! No sign-up necessary. This monthly event is free, and open to members only and is taking place on Monday, November 8. From 6-7pm, beginners get an hour of instruction; 7-8pm is for intermediate/advanced players.

And for those members wanting to meet up for a friendly match or even a competitive doubles, you can book a 1-hour court reservation per day either on our Manzanita Court or Diablo Court. If you are interested in nighttime tennis, you can reserve Diablo Court after dark as this court has lights.
Tae Kwon Do for Kids

Looking for a new activity for your child that will focus on both body and mind? Sign him/her up for our popular Tae Kwon Do classes! This is a year-round program for kids ages 5-17. Each session involves kicking, punching and self defense, but most of all, we encourage the kids to have fun. Students will learn the five tenets which include Courtesy, Integrity, Perseverance, Self-Control and Indomitable Spirit. The goal of the program is to instill confidence, teach respect, and focus on raising self esteem.

Days/Times: Tuesdays & Thursdays 3:30–4:45pm (Beginner)
Tuesdays & Thursdays 6–7:15pm (Advanced)
Member cost: $85 per month
Non-member: $100 per month

For more information contact:
Jeff Allen - [email protected]
510-339-0234 x18
Hills Aquatics

Lap Lane Swimming Rules:
Lap Lane reservations remain weekdays from 9am-2pm in lanes 4, 5, & 6. All other lanes and times are available for shared member swimming.
Please Note: Hills Hurricane Swim Team will be using no more than 4 lanes from 4-8pm, Monday-Friday.
Hot Tub Rules:
Adult hot tub is for ages 18 years and up
Only 9 people allowed in adult hot tub as well as family hot tub at any time
Children younger than 14 years old must have an adult guardian within arm's reach
Flotation devices, toys, kickboards and horseplay are not allowed
No food or drinks in or near the hot tubs
Year Round Swim Lessons

Swim lessons continue year round. With less distractions on the pool deck and more space in the pool this is the best time of year to learn to swim better! We have instructors with ample availability.
There will be a slight price increase for our swim lessons starting January 1.

Instructors book their own lessons.
Learn more about our offerings here!
Aqua Fitness Classes

Aqua fitness classes are a great low-impact group exercise class included with your membership! Join the class for a fun workout that will help you get stronger. It is especially wonderful as a cross training exercise. Using the natural resistance of water, our aqua fitness classes allow you to build muscle and increase cardiovascular fitness without putting extra stress on your joints.
Our aqua fitness classes are typically a fun and social atmosphere, so if you haven't yet given it a try, grab a friend and come up to the club for a morning aqua fitness class! Our aqua fitness classes are offered 3 days a week from 9-10am: Tuesdays with Bz; Thursdays with Sandra; Sundays with various instructors (please refer to the online schedule for the specific instructor for each Sun class). Our aqua fitness classes are popular, so please register in advance if you plan on participating.
Hills Hurricane Swim Team

The competitive team is currently fully subscribed. Full information such as practice times, and season dates is located here on the team website. We are not holding tryouts at this time.
Congratulations Silas Carpenter

Silas won the 11-year-old boys 50 yard Freestyle at the Pacific Swimming Junior Olympic Championships held December 4th & 5th. His time of 25.53 ranks him #10 nationally. Silas also placed 2nd in the 100 Freestyle, where his 56.05 time ranks him #9 nationally. His teammate, Jeffrey Latronica, also 11 years old, placed well in all six of his events. Jeffrey's top place was 4th in the 200 Backstroke, 2:29.59. Great job, Hills Swimmers!
2022 Pre-Comp Program

2022 SESSION DATES & TIMES
Session 1: WED/FRI Jan 5-28
Session 2: WED/FRI Feb 2-25
Session 3: WED/FRI Mar 2-25
SAT Mar 5-26

Register Here!
Non-Members must submit this form prior to registration and email or deliver it to the Aquatics office. An email notification will then be sent with directions how to register online.

Cost Member: W/F $115, SAT $90 Cost Non-Member: W/F $155, SAT $120

Due to high demand, there are NO REFUNDS or PRO-RATING for these classes for any reason. Swimmers are expected to meet the prerequisite on day one of the class. Classes meet near the diving well. Classes meet month to month. Sign ups for each session will open a few weeks prior to the beginning of each session. Instructions on how to register online or App here.

Manta Rays (Pre-Swim Team) AGE 4 - 8 W/F 4-4:30pm or Sat 9:30-10:15am
Prerequisite: Swimmers must be able to tread in deep water for 30 seconds. Swimmers must be able to swim unassisted for 10 yards. Swimmers will learn basic swimming skills for all four strokes. Team activity skills and group swim safety are introduced. Instruction will be conducted in and out of the water.

Tidal Waves (Novice Swim Team) AGE 6 - 10 W/F 4:30-5pm or Sat 10:15-11am
Swimmers must pass the prerequisite for swim team: *50 yards of freestyle with side breathing *25 yards of back swimming *Treading water for 30 seconds *Streamline off the wall for 5 yards. This group will prepare swimmers for the swim team. This class will incorporate on-deck coaching with minimal in water instruction.
Masters Swimmers: A Group of Comrades

Whatever cares woes or burdens sit at water's edge,
We share a sublime weightless pause
Immersed in our element with finned and endorphined friends.
- Photo & Poem Shared by Masters Swimmer Don Margolis
Our Masters Swim program meets three times a week at 6am and is run by three coaches: Koung on Mondays, Shannon on Wednesdays and Drew on Fridays. This program is part of your Hills membership and is open to mixed levels and abilities. Members can expect an hour of a structured workout tailored to fit each swimmer's skill level, and for those looking for a bit more stroke technique, the coaches hold a 30-minute session immediately following. Camaraderie in the pool while the sun begins to rise over the hills...what better way to start your day?
Open Court, What's Your Sport?

Members are welcome to get a friendly pickleball or basketball game going on the weekday afternoons/evenings and weekend days. If you don't have your own equipment, you can ask the front desk staff for the pickleball bag (complete with paddles and balls) and/or basketballs. Please remember to return any borrowed equipment to the front desk when you are finished playing.

Our court is reserved exclusively for pickleball from 11am to 1pm on weekdays. Games during the "open" weekday hours are friendly, social games with some accommodations made for beginning players. You'll see people of all ages and athletic ability having fun on our court. If you are not familiar with pickleball, it's easiest to learn the rules of play and scoring and the order of serving if you play with someone who already knows them, so mark you calendar and head up to the club to join in on the fun!

We have 2 ping pong (or table tennis) tables just outside of our enclosed court. Both kids and adults can improve eye-hand coordination and fine motor skills by playing ping pong.The front desk also has paddles and balls for members to borrow. Either way, you're bound to have fun and maybe even start some friendly competition! Again, all we ask is that you return any borrowed equipment to the front desk when you are finished playing.
Celebrate December Employee Birthdays

Please join us in wishing each of them a happy birthday and thanking them for all of their hard work!

Shannon Coskran, 12/13
Robert Mooring, 12/29