UPDATE FROM OUR GENERAL MANAGER

Dear Members,

We have a wide range of great things happening around the club to get you started on the right foot for 2017. An example is our Club Passport program, which many of you have already picked up from the front desk in order to start participating in the variety of free activities we have to offer. One member recently asked, "you mean you will pay me to participate in free classes and activities around the club?" Yes, it is that simple! We have a great team of fitness staff to help you with any and all of your goals; such as our nutritionist, Rachel Barach.

Rachel is running a January promotion that can't be turned down: a free 30-minute consultation. Many spend too much time working out and too little time focusing on nutrition. Rachel can help show you some simple habits and foods that will have you running on all cylinders. No matter your health conditions, she can help you with weight loss, overeating/binge eating, emotional eating, digestion, bone health, athletic nutrition, blood sugar regulation & sugar cravings, and more.

Once you've signed up for your free nutrition consultation, sign up for a free fitness assessment/orientation with one of our Personal Trainers. We have a great PT staff that will inspire you to new heights for 2017.

By now everyone should have received notification of the payment options for membership dues for 2017. If you would like to take advantage of the discounts for choosing the annual prepay option, you can receive 5% by check or 3% by credit card. Please get in contact with Amelia in accounting to get this setup before the end of January.

Last but not least, the last family and friends movie night, which was our first, was such a hit that we are doing it again on Saturday, February 11th, at 6pm. We will be showing "The Secret Life of Pets". It will be a fun night with refreshments and popcorn. Be sure to sign up at the front desk for this free event.

Until next time, to your health and happiness,
Derek
PROGRAMS & ANNOUNCEMENTS

By Amelia Broadhurst

Join January Jump-start to reach your goals NOW!
Looking to start 2017 Strong & Motivated? Do you want to lose weight & get healthy but aren't sure where to start? What you get:
4 Weeks of Custom Workouts
Exclusive Nutrition E-Book & Grocery Guide
Accountability Check-ins
Motivation & Fitness Resources
Easy-to-use exercise videos
This program uses fitness expertise to burn fat and build muscle! Commit to 4 weeks of fine tuning your exercise and nutrition habits to make 2017 your year. $99 value is free for the month of January lead by Lily Fontas. [email protected] to register or sign-up at the Front Desk.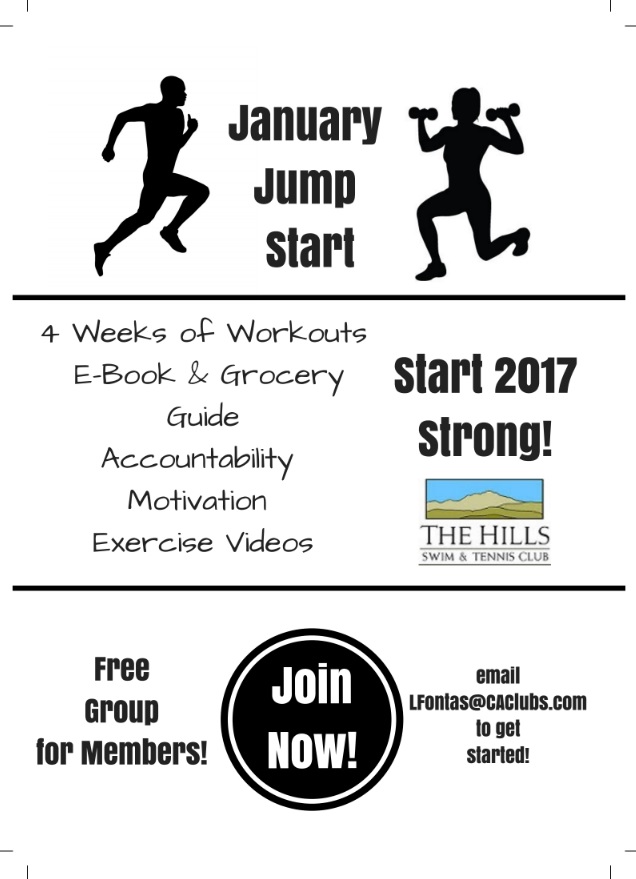 Don't Miss this New Year Nutrition Special!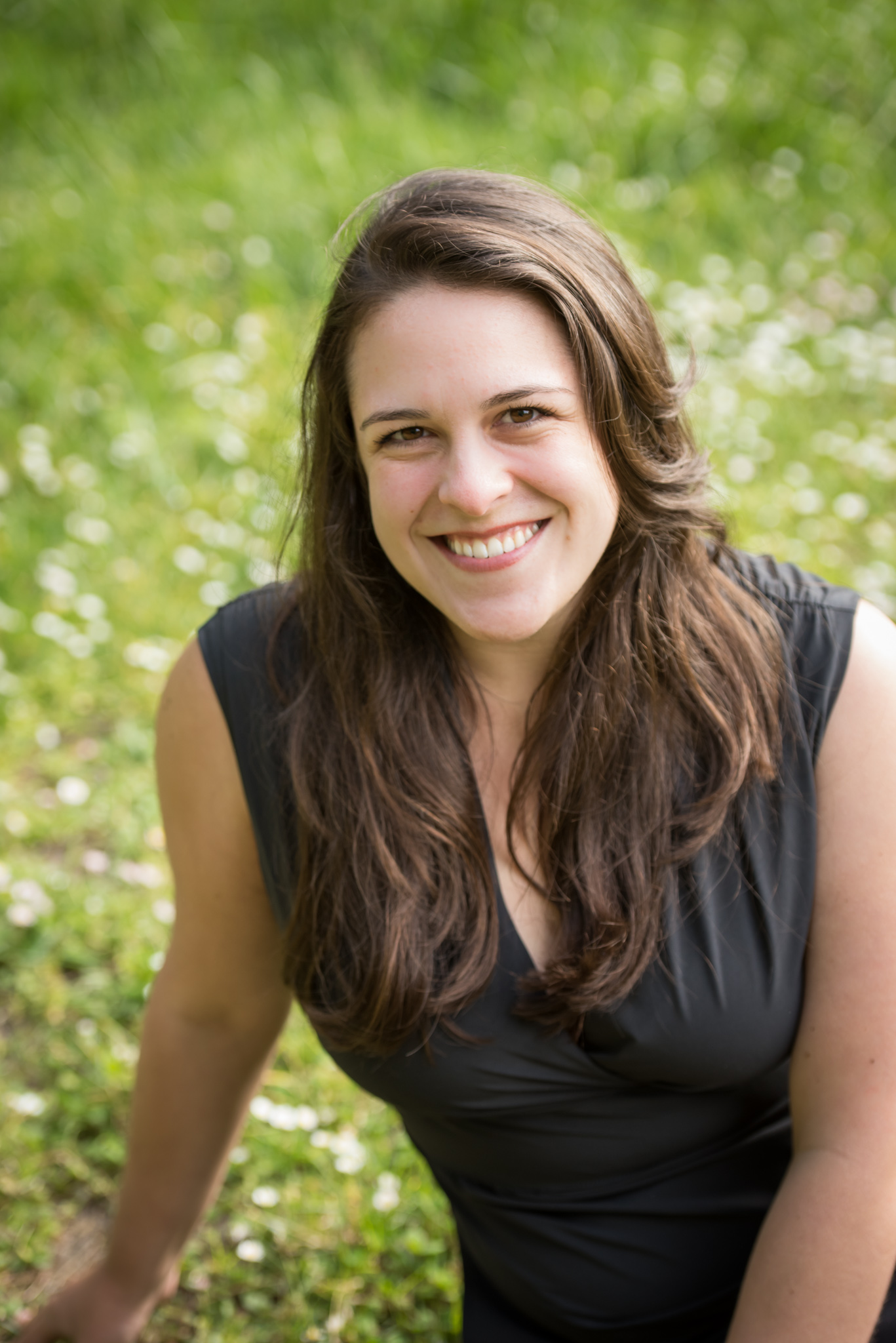 Get a free 30-minute consultation with our nutritionist, Rachel Barach
Schedule your free appointment by January 31st to join in this month!

Dear Members,

This time of year, in between all the parties and Christmas cookies, we start to look forward to our health goals for next year. Often the "what" of the goal is the easy part, but the "how" requires a bit more thought. I draw upon my experience as a Certified Nutrition Consultant, Eating Psychology Coach and trained chef, to guide my clients in finding sustainable strategies that work for them. Check out the Nutrition Page at http://hills.caclubs.com/nutrition for more info.

In our free 30-minute consultation, I'd like to learn about your goals and challenges, and offer some initial suggestions and ideas. I've been working with Hills members since 2015 and look forward to meeting those of you I haven't met yet!

This special offer is only for new clients within the month of January 2017, so be sure to get in touch by Jan. 31st to reserve your spot! To schedule please email me at [email protected].

Wishing you and your family the very best Holiday Season,
Rachel


Get your January 90-Day passport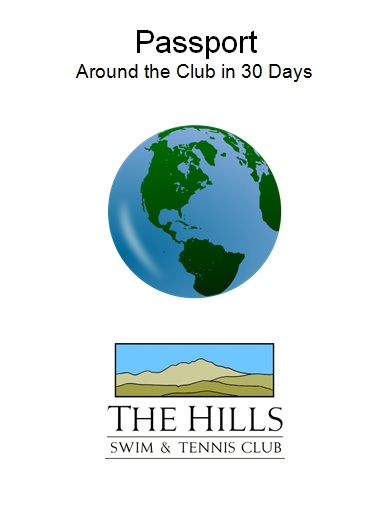 It's that time of year again! The 90-day passport program has started but it's not too late to join. For those that are new to the club, our Passport program is an incentive-based program that encourages you to try some new activities in the New Year! Complete at least 12 different activities in any of the next three months and receive a $20 credit for each month (up to $60) on your account. Complete 12 activities during each of the three months and you will be entered to win the Grand Prize of a $250 account credit. Staff members will date and initial completed activities, one per visit. Ask the front desk for your Passport and get started today!


2017 Dues
Just in case you missed it, the dues increased in the slight amount of 1.7% this year from $178 to $181 for single memberships, and from $285 to $290 for family memberships starting January 1st. The moderate increase is due to an increase in operating costs: Measure FF is increasing the minimum wage again this year to $12.85, and PG&E is increasing some of their fees by 6%-18%. These increases do not affect those with senior memberships. You should've also received an email and/or letter detailing our billing options for 2017. You can prepay your dues in the month of January and receive a 5% discount via check and 3% discount via credit card. Don't let this discount slip away as it expires January 31st.
SCHEDULE OF EVENTS
ALL MONTH - JANUARY JUMPSTART
ALL MONTH - NUTRITION SPECIAL
ALL MONTH - PASSPORT PROGRAM
Saturday, January 14th, 12pm - FREE Int/Adv Tennis Clinic
Thursday, January 26th, 12-2pm - Clubhouse closed
Saturday, January 28th, 12pm - FREE Beginner's Tennis Clinic
Saturday, February 11th, 6pm - FREE Family Movie Night
Celebrate December Birthdays!
This month we're celebrating the following employees for their birthdays:
Brenda Rodriguez, Cafe Manager
Mark Duval, Personal Training
Lucille McNulty, Group Fitness Instructor
Jana Ramirez, Group Fitness Instructor
Bing Yu Lu, Maintenance
Therese Brewitz, Pilates Director
Please join us in wishing them a "happy birthday" as a thank you for all of their hard work.
PILATES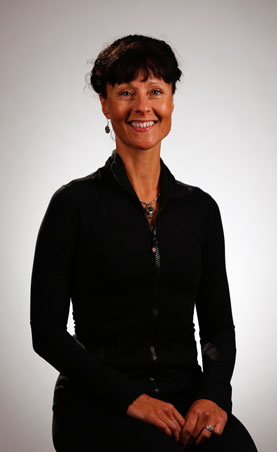 By Therese Brewitz
Happy New Year! Come see us in the Pilates Studio:
Want to gather some points on your Hills Passport?
Try our Barre class: Barre training borrows movements from the incredible rigor of ballet training and we blend it with core training on the mat, weight training for the upper body and of course, deep, elongating stretches! NO dance experience required! Perfect for your New Year's Fitness Goals! Mondays 6-7am
Or attend any two Pilates reformer classes in 30 days!
Or come to class and ask a Pilates Instructor about the Basic Principles of Pilates
It's that easy!
Heads-up for a great workshop:
"It's cool to be Neutral!" We are referring to the spine in this case. Learn powerful moves that build a strong core and help you
better stabilize your natural alignment to prevent injury and feel better.
Tuesday February 21, 6-7:30pm
Cost: $50.
For more info, please contact our studio: [email protected]
To see our schedule and to sign up for classes and services, visit Hills Pilates Studio scheduler



GROUP FITNESS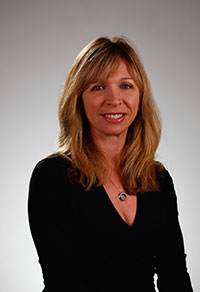 By Angelique Pine

Welcome to 2017!
Whether you have made New Year's resolution goals, or are just trying to stay active through the cold months - we have you covered. Here are a few new classes for inspiration:
Sculpt Express on Wednesday morning at 7am taught by our newest Personal Trainer, Lily. This class is a great way to start your day. Please come a bit early to warm up and be ready to work.
Circuit on Thursday night at 6pm. An old favorite with a new time, instructor, and space. Come join Virginia in the Clubhouse for a complete workout.
Nia on Friday mornings at 8am. What a great way to get your weekend started. Lorna will lead you through a Nia workout to improve your mobility, flexibility, and strength while having fun.
Also, our Thursday evening Spin/ Stretch class is canceled effective January 5th.
Happy New Year, see you in class



TENNIS
By Eddie Pasternak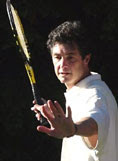 Free Clinics with Eddie
Join USPTA Elite Professional Eddie Pasternak for free one-hour tennis clinics at The Hills! Eddie has taught tennis for over 25 years and has been sought after by clubs and resorts across the world, including France and Jamaica where he previously worked as a Tennis Instructor. Eddie has also worked with professional Tennis players, such as former pro Brad Gilbert. Eddie is most thrilled to be a part of a Tennis player's progression, and be able to see the change. Eddie leads clinics each month for adults that address all skill levels. Clinics are held at 12pm on Manzanita court. If it's raining on one of the Clinic dates, the clinic will be held either the next day or the following weekend.
Saturday, January 14th Intermediate/Advanced clinic
Saturday, January 28th Beginner's