eNews from The Hills February 1
Update from Our General Manager
Dear Members:

The weather continues to be dry and sunny for the most part, so we all need to focus on saving water. Thank you for doing your part to reduce water consumption while you're here at The Hills and also at home and in the garden.

Related to the dry weather, I am prompted to remind members that absolutely no smoking is allowed at The Hills. This is obviously a common sense regulation at a health club. Smoking is prohibited everywhere on the property, even outside and on the back decks. Smoking in these areas also presents a real fire danger and liability.

Thank you for all of the enthusiastic comments about our plan to expand our gym facility this year. I will keep you posted as news develops on this project.

Also, you've probably noticed that we've been working to create additional parking behind the club, in the woodsy area below the members' lower parking lot. Generally, these new spaces will be assigned for staff parking. This will free up spaces in the existing lots for our members to use. On really busy summer days, we can also use this new parking area for "overflow" guest parking, so we avoid parking in front of our neighbors on Manzanita.

Finally, please observe our one-way rule in the upper lot. Do not exit through the front driveway. Instead, please exit the upper lot through the back driveway. This regulation is clearly marked with arrows and a sign. It is another traffic safety issue for us and our neighbors.

Thanks for your feedback and cooperation.

To your health,
Ernesto Chamorro
General Manager


Programs & Announcements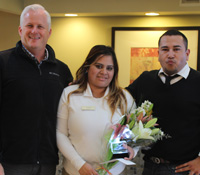 Congratulations Rosalinda!
This month, Hills GM Ernesto Chamorro and California Athletic Club President Eric Schmitz presented the Customer Service Excellence Award to Rosalinda Mendoza. Based on members' positive feedback and staff input, Rosalinda is recognized for her positive contributions to membership service and satisfaction at the front desk and as Manager on Duty. Be sure to stop and say congratulations!



Swimming: Manta Rays and Tidal Waves
Manta Rays and Tidal Waves group lessons are back starting February 5. Wednesdays and Fridays through April. This is a pre-swim team atmosphere that teaches kids how to prepare to be ready for the swim team and competitive swimming. For more information, please visit the Aquatics section of our website.

Group Fitness News
Our early spin class on Mondays adds an extra 30 minutes of strength and abs work with Luci.
> Mondays, 5:45-7:15am
New Aqua Aerobics Class with Robin starts February 7.
> Fridays, 9-10am
Due to low enrollment, we cancelled the "Piloxing" class on Tuesday mornings. We have many other options on the schedule, so we hope you will try something new!
The start date of our Barre Works class has been put on hold as we purchase and install the necessary equipment. Look for this new class in March.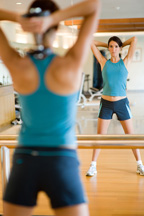 Personal Training for Young People
Our Personal Training Director, Jeff Allen, has introduced several new programs aimed at improving young people's fitness and sports performance. Contact Jeff at [email protected] with questions about fees and schedules -- he can offer more flexible "per session" pricing in many instances.

Sports Cross-Training for Kids
Led by some of the Bay Area's top sports trainers, this program meets three times a week and covers the fundamentals of several different sports. Get your kids (ages 6-10) ready for spring sports with expert coaching and conditioning from our pro trainers:
Ryan Head, collegiate football player and trainer for the Oakland Raiders and Cal Bears
Robin Hood, pro basketball player and instructor at several clubs around the Bay Area
Jeff Allen, The Hills' training leader, proven motivator, and Tae Kwon Do sensei
> Tuesdays, Wednesdays, Thursdays; 4-5pm
$150 per month ($10 discount for additional children)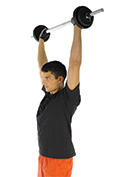 Strength & Body Shaping for Teens
Focus on body sculpting for 15 to 17-year olds. Add definition and strength to muscles and reduce body fat. Work on that six pack and sculpt an enviable physique. Intense and rewarding!

> Mondays and Wednesdays, 6-7pm
Through March 26
$180 per month
$510 for three months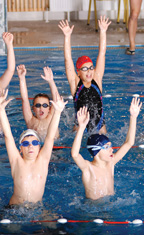 Swim-Fit Program for Youth
Full-body, cross-training exercises to reduce fatigue and injuries. Under the supervision of our swim coaches, strengthen the muscles needed to handle the rigors of competitive swimming. Also build conditioning needed for peak performance in other sports.

> Tuesdays and Thursdays, 5-6pm (Two 30-minute sessions)
Through March 27
$90 per month
$250 for three months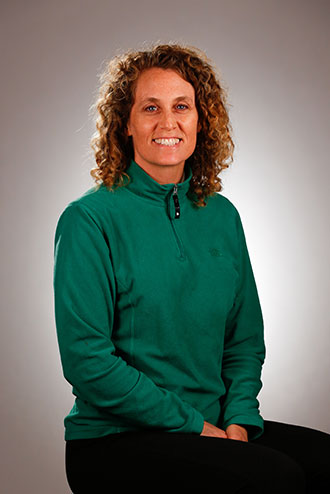 Tip from The Hills' Nutritionist
Did you know that drinking water helps with weight loss? Drinking at least 64 oz of water a day allows the liver to burn fat most efficiently, increasing our metabolism. Also, when you're dehydrated, the brain confuses thirst for hunger, which can lead to overeating. In addition, water consumption has been shown to increase energy levels, combat joint pain, and prevent illness and disease. A good rule of thumb is to drink a glass of water or tea every hour throughout the day. Your health is worth it! To schedule a nutritional consultation with Bronwyn Schweigerdt, email her at [email protected].