UPDATE FROM OUR GENERAL MANAGER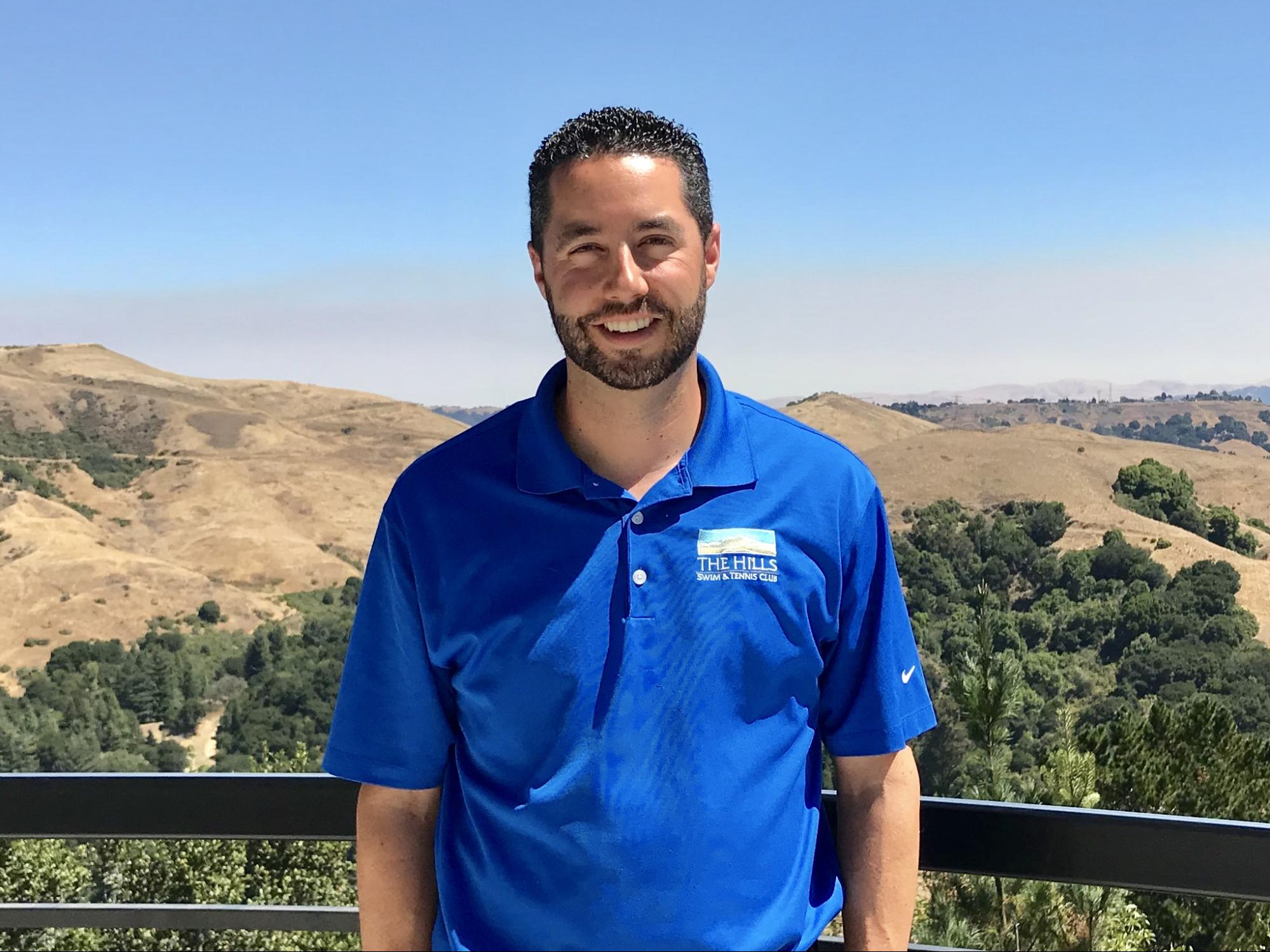 Dear Hills Members,

It's been a wet and chilly February thus far. And for those who missed it, a little bit of snow fell here at The Hills on the night of 2/4. The following morning I was able to snap this photo what had accumulated on a table outside in front of the lap pool.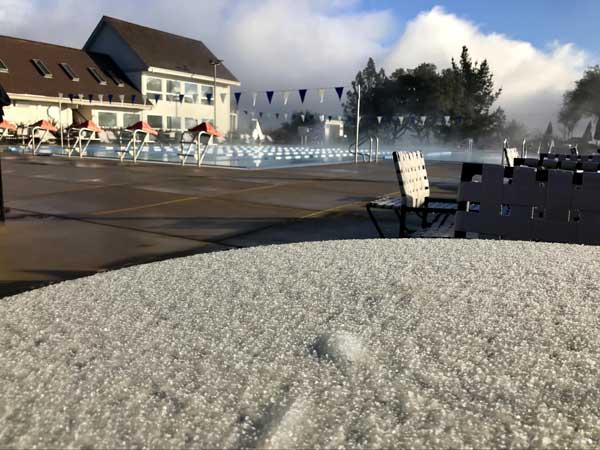 This was nothing compared to the snow that fell on Mt Diablo that night. Longtime Hills member Ann Rapson captured an incredible photo taken from The Hills that was published by a local website. Feel free to click the link to view her photo: https://patch.com/california/livermore/winter-storm-covers-east-bay-mountains-snow

A few things I want to touch on:
It has been brought to my attention that there have been a few fender benders in our parking lots over the last few months. I understand that these type of instances happen, but please do the due diligence of leaving a note if you accidently bump into a car.
Please remember that cell phone usage is not allowed in the locker rooms out of respect of members privacy. This includes any and all functions of the phone. If you need to use your phone, please do so outside of the locker room.
This month we continue a tradition of members expressing their appreciation to the staff. This is the third year of our "Spread the Love" campaign. Grab a piece of the heart-shaped paper, jot down a note of encouragement to a staff member, and drop it into one of the many red and pink boxes scattered around the club. Our staff truly loves serving the members here and they love to hear that you appreciate their service. A little note or kind words can go such a long way for a staff member.
Happy Valentine's Day to everyone!

-Nick



90-Day Passport Program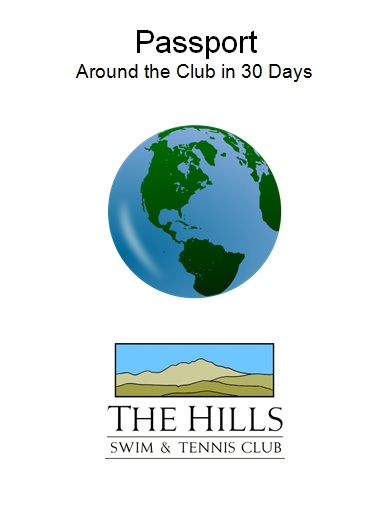 The second month of the 90-day Passport Program started February 1, 2019. For those that are new to the club, our Passport Program is an incentive-based program that encourages you to try some new activities in the New Year. Complete at least 12 different activities in February and receive a $20 credit on your account for the month. Staff members will date and initial completed activities, one per visit. Ask the front desk for your February Passport and get started today!


UPCOMING EVENTS
February 11: Free Beginner/Novice Tennis Clinic 6-7pm
February 11: Intermediate/Advanced Tennis Clinic 7-8pm (Please call the front desk to sign up)
Every Monday 11am: Pickleball on the basketball court



Childcare Schedule:
Mondays 9am-2pm/4-6pm
Tuesdays 9am-2pm/4-6pm
Wednesdays 9am-2pm/4-8pm
Thursdays 9am-1pm/4-8pm
Fridays 9am-2pm/4-6pm
Saturdays 9am-1pm
Sundays 9am-1pm

We value your feedback and are doing our best to accommodate childcare requests. Feel free to contact our Operations Manager, Rosalinda [email protected] with questions/concerns.


Aquatics
Pre-Competitive Swim Team Manta Rays and Tidal Waves - Winter 2019
Register here!

Classes meet on Wednesdays and Fridays

Session 1 Jan 9 - Feb 1 (Wed/Fri)
Session 2 Feb 6 - Mar 1 (Wed/Fri)
Session 3 Mar 6 - 29 (Wed/Fri)

Manta Rays (Pre-Swim Team) AGES 4-8, 4-4:30pm
Pre Requisite: Swimmers must be able to tread in deep water for 30 seconds. Swimmers must be able to swim unassisted. Swimmers will learn basic swimming skills of all four strokes. Team activity skills and group swim safety is introduced. Instruction will be conducted in and out of the water.

Tidal Waves (Novice Swim Team) AGES 6-10 4:30-5pm
Swimmers must pass the prerequisite for swim team: *50 yards of freestyle with side breathing *25 yards of back swimming *Treading water for 30 seconds *Streamline off wall for 5 yards. This group will prepare swimmers for the swim team. This class will incorporate on-deck coaching with minimal in water instruction.

Competitive Swim Team
Full information about how to try out and join the year round competitive team is here!

Private Lessons
Remember that we have an 86-degree warm recreation pool and we offer year-round swim lessons. We have numerous instructors open to take private lessons. Bookings are done directly with an instructor. Much more information and info about instructors is here!



Pilates
Reformer/Cardio Fun with Colleen*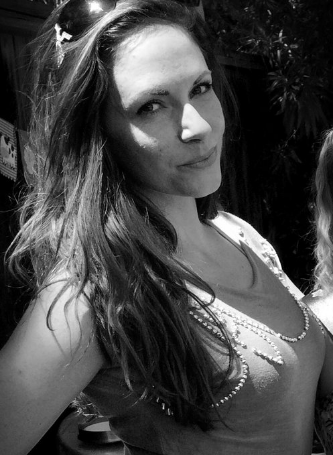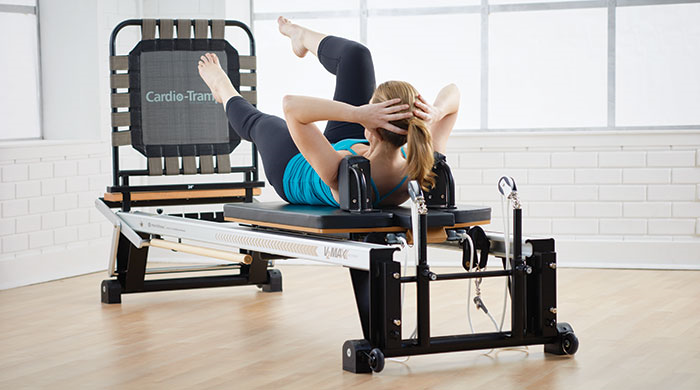 Whoever said that "Pilates is mostly stretching and not a real workout" has probably never been on a reformer, or taken a class with Colleen McLarnon, one of our great STOTT® Pilates Instructors.
Our Reformer/Cardio Fun class, Saturdays 10-11am in our Pilates Studio, is a brand new, all-level class, specially designed for those of us with busy lives (everyone) who want to sweat, but not get injured. Expect a hard, yet safe Pilates workout with some great results including increased muscle tone, a strong core, and improved stamina. *this class is on this month's Hills Passport!

Rates: Drop in $40, 4-pack $140, 10-pack $325 (Packages good towards any Pilates studio class)
The class is on the Hills website and app. New to the Pilates studio?
Contact us for more info and to purchase discounted class passes: [email protected]
Be my Valentine!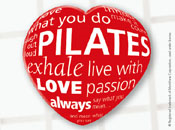 Looking for the perfect Valentine's gift? Get a gift card for Pilates.
Want to spend some more time with your spouse, daughter, or your best friend? Sign up for Pilates Duets in our studio. It's personalized Pilates training at reduced cost AND you get to spend quality time together.
Contact our studio for more info and to purchase packages and gift cards: [email protected]
-Therese Brewitz, Pilates Director
Group X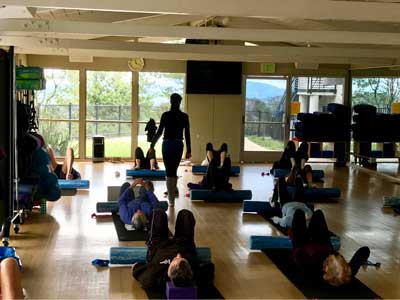 As we dive into 2019, the turnout for the majority of our group exercise classes has been fantastic. Thank you for taking the time to join in. Of course, sometimes the higher participation results in crowding at times. We are working on solutions, but I'd like to take a moment to gently remind everyone of basic Group Exercise etiquette.
Do your very best to be on time. If you arrive late, please be courteous to other members as you join the class. Always modify your moves until properly warmed up and ready to safely join the class at 100%. Classes with an element of meditation, such as yoga and pilates, may prohibit admittance once class has begun.
During class, please restrict conversations as they may make it harder for other members to hear the instructor.
Wipe down and put away equipment.
At the conclusion of class, please take conversations outside or to the lobby. If we are mindful and vacate the studio in a timely manner, it will help ensure the next class can begin on time.
I am excited to announce that we have a new instructor Tori for the Wednesday 10am Spin class. Drop in, introduce yourself and give her a class a try. Thank you for your cooperation in helping make our Group Exercise studio an enjoyable workout space for all members. I look forward to seeing you in class!

-Angelique Pine, Group X Director

Peak Fit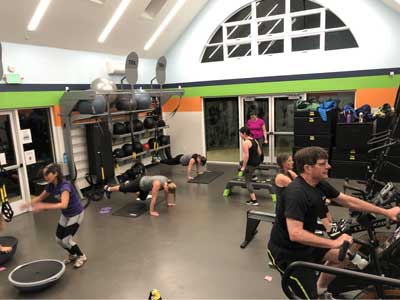 I'm so impressed with the dedicated members that start their day with my 6am class! If you haven't already tried a "small group training" class, your first one is free--either reach out to me or sign up at the front desk. There are classes available everyday but Sunday, and every exercise in every class can be modified to your ability. Whether you are an elite athlete or even coming back from an injury, we can make this class work for you. With limited class size, I create workouts that will challenge each and every one of you!

Weekly Schedule:
Mondays 9am
Tuesdays 6am and 6:30pm
Wednesdays 6am (TRX class) and 9am
Thursdays 6am
Fridays 9am
Saturdays 8am

For questions or to reserve your space in class, contact Jennie Votel at [email protected] or 510-316-3529.

Hope to see you there soon!

- Jennie Votel, Peak Fit Director

Please feel free to email me with questions or concerns [email protected]



Celebrate February Employee Birthdays
Please join us in wishing each of them a happy birthday and thanking them for all of their hard work!

Eden Golshani, 02/09
Megan Herrick, 02/10
Noemi Arias, 02/17
Matt Lacounte, 02/18
Debora Pulver, 02/19
Stephanie Murray, 02/19
Andrea Scott, 02/19
Wendi Robinson, 02/22
Anthony Lum, 02/23
Alma Coytl, 02/24
Andrea Sakr, 02/25
Registration is Open for Summer Camp 2019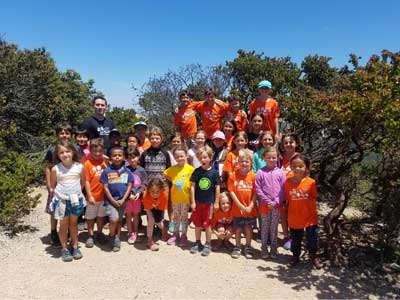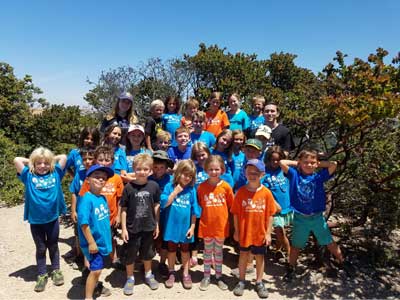 With our new software system, registration for Summer Camp 2019 is a bit different from last year. There is no longer a link on the website; instead you will need to log into Club Automation and register your child(ren) through your member profile.The directions are fairly simple, but I will guide you through this step by step.
Log onto your Club Automation account (cachstc.clubautomation.com)
Click on "Register for Programs" from list on left and it will bring you to "Programs" page
In "Programs" use the "All Events" drop-down menu and choose "Summer Activities"
Click on any of the camps/activities listed under "Program Name" for more details
Scroll through list and choose desired camp week(s)
Click "Sign Up" and you will be prompted to "add family member"
Click "Add to Cart"
Another easy way to register for camp is through The Hills App:
Select "Programs"
Under "Category" scroll until you find "Summer Activities"
Under "Program" scroll until you find "Summer Sports Camp"
Tap "Show Programs"
Scroll through list and choose desired camp week(s)
Tap "Sign Up" and select participants (family members listed on your account)
The next screen will list out the details of the chosen week with times and price
Tap "Confirm"
Tap "Pay"
If for some reason you are having difficulty trying to register, I will be available at the club on Tuesdays and Wednesdays from 5-7pm. We have a laptop available to guide you through the registration process. You can always reach me via email at [email protected] for any questions you may have regarding Summer Camp 2019. Look forward to seeing your children this coming summer.
-Anthony Lum, Summer Camp Director