UPDATE FROM OUR GENERAL MANAGER
Dear Hills Members,

Once again, this month of February we continue a tradition of members expressing their appreciation to the staff. This is the fourth year of our "Spread the Love" campaign. Grab a piece of the heart-shaped paper from the front desk, jot down a note of encouragement to a staff member, and drop it into one of the many red and pink boxes scattered around the club. Our staff truly loves serving the members here and they love to hear that you appreciate their service. A little note or kind words can go such a long way for a staff member.

A friendly reminder of the Sauna Rules:
Sauna users must be 16 years of age or older. Use by underage persons is a violation of health code standards.
Pregnant women and persons with respiratory or cardiopulmonary problems should not use sauna.
Do not use sauna while under the influence of alcohol or drugs.
Please shower before using the sauna. Soaps, lotions, creams and oils are not permitted.
Prolonged use of the sauna may be dangerous.
Maximum recommended use is 10 minutes.
Do not place suits or towels in the sauna to dry.
Do not pour water on rocks.
Remove all metal jewelry before using the sauna.
Patrons must sit on a towel when using the sauna.
No street shoes are permitted in the sauna at any time (shower footwear allowed).
Towels, clothing, newspapers or any other flammable articles may not be left unattended in the saunas. This is a fire danger and also inconsiderate of other members who want to relax without sitting around wet socks, bathing suits, towels and other personal belongings. Unattended items will be removed and placed in the lost and found.
We appreciate your assistance in making the use of the sauna a healthy, relaxing and pleasurable experience for all members and guests.

Thank you and Happy Valentine's Day to everyone!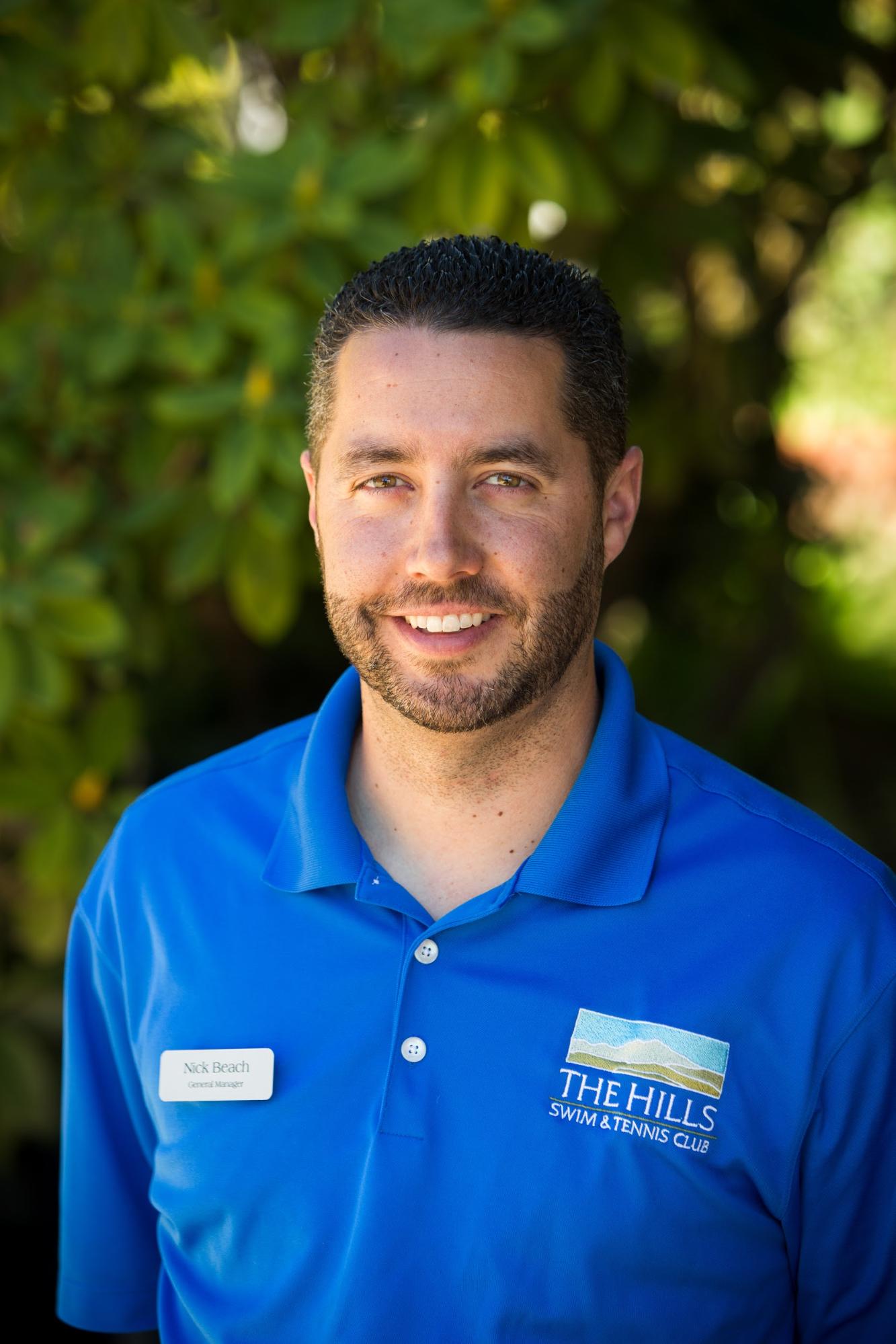 - Nick
UPCOMING EVENTS
February 11: Free Beginner/Novice Tennis Clinic 6-7pm
February 11: Intermediate/Advanced Tennis Clinic 7-8pm(Please call the front desk to sign up)
Weekdays 11am-1pm: Pickleball on the basketball court
Childcare Schedule:
Mondays 9am-2pm/4-6pm
Tuesdays 9am-2pm/4-6pm
Wednesdays 9am-2pm/4-6pm
Thursdays 9am-1pm/4-6pm
Fridays 9am-2pm/4-6pm
Saturdays 9am-1pm
Sundays 9am-1pm

We value your feedback and are doing our best to accommodate childcare requests. Feel free to contact our Operations Manager, Rosalinda [email protected] with questions/concerns.
Aquatics
Private Swim Lessons Continue in Winter Months

Year-round private and semi-private swim lessons continue. We encourage both children and adults to take lessons regularly, and our qualified swim instructors can help you regardless of your age or experience level. You are never too old to learn how to swim or to improve your stroke!

Book lessons with one of our great swim instructors/coaches here!
Pre-Competitive Swim Team

Classes meet Wednesdays and Fridays

Session 2 Feb 5-28
Session 3 March 4-27

Register Here!


Manta Rays (Pre-Swim Team) AGES 4-8; 4-4:30pm
Prerequisite: Swimmers must be able to tread in deep water for 30 seconds. Swimmers must be able to swim unassisted for 10 yards. Swimmers will learn basic swimming skills of all four strokes. Team activity skills and group swim safety is introduced. Instruction will be conducted in and out of the water. We do not hold tryouts or offer make up classes.

Tidal Waves (Novice Swim Team) AGES 6-10; 4:30pm-5pm
Swimmers must pass the prerequisite for swim team: *50 yards of freestyle with side breathing *25 yards of back swimming *Treading water for 30 seconds *Streamline off wall for 5 yards. This group will prepare swimmers for the swim team. This class will incorporate on-deck coaching with minimal in-water instruction. We do not hold tryouts or offer make up classes.

Register Here!
Hills Hurricane Swim Team

The competitive team is year round. Our next round of tryouts will begin in late January.
Full swim team info here!
Pilates

Meet Bruce – our newest member of The Hills Pilates Team!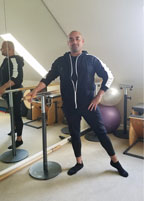 New Barre Fitness class, starting Wednesday, February 12 at 9:15am in the Pilates studio*
Bruce Arana is joining the Hills Pilates team and bringing his Pilates and Barre training expertise to our club. Trained and certified in Barre fitness through Merrithew (or STOTT, the Ivy League of Pilates), Bruce has studied ballet and has a background in different sports, including soccer, football, and baseball. His class offers a fun-filled, challenging barre workout that is guaranteed to leave you sore and wanting to train more. This combination of Barre training and basic ballet is a full body sculpting workout that targets glutes, thighs, and overall core strength. Barre is a fusion of traditional ballet training, Pilates, weight training, and functional movement that creates long, lean muscles and taller posture. Be prepared to sweat, work hard and have fun in this new small group class!

Long leggings, or long socks or leg warmers recommend as there will be Barre work that requires free flowing movement and sliding on the ballet barre. Open to all fitness levels.

*This is part of our Pilates studio small group training program, and you can use your Reformer Pilates packages towards this class! Drop-in: $40/class, 10-pack: $32.50/class, 4-pack: $35/class
This class earns you points on your Hills Passport!
Free Reiki Seminar

Tuesday, February 18, 6-7:30pm (there's still room to register!)
We live in busy and often anxious times. Our health and wellbeing struggle to keep up with the onslaught of real and perceived stressors in our lives. There has never been a better time to learn the art of Reiki. Reiki is a gentle and powerful tool for restoring balance and health.
In this seminar we will discuss:
What Reiki is and how it works
How learning and using Reiki can improve your life and your health
Attendees will also receive a brief Reiki treatment
Contact our studio to register: [email protected]

Reiki Training and Certification, March 28-29, 9am-6pm
Ready to become a Reiki practitioner? Sign up for our Reiki Training course!
The Reiki training and certification offers tools that we can use, both on ourselves and on others. You will learn the history of Reiki, hand placements, the symbols, and much, much more. Furthermore, receiving the Reiki Attunements often generates healing and a peaceful mind.
Cost:
Reiki I, Saturday, March 28, 9am-6pm, $125
Reiki I-II, Saturday, March 28 & Sunday, March 29, 9am-6 pm, $300
Reiki is an ancient Japanese healing art that is based on life energy, the name comes from the Japanese words "rei" (universal) and "ki" (life energy). Reiki aims to help the flow of energy and remove blocks in a similar way to acupuncture or acupressure. Improving the flow of energy around the body can enable relaxation, reduce pain, speed healing, and reduce other symptoms of illness. Reiki has been around for thousands of years and is currently used in many hospitals and cancer centers.

In Health,

- Therese Brewitz and The Hills Pilates Studio Team
Group X

It's been great to see so many members participating in the Passport Program. For the group exercise department, the goal of this year's passport program is to promote cross-training by participating in something from each category every week: Cardio, Strength, Mind/Body, and Misc or Aqua. Some of the benefits to cross-training include avoiding injury, improving coordination and boosting mental health. Many of our classes fall into more than one category, so we welcome you to check out this promotion. It's never too late to start!
See you in class!
- Angelique Pine, Group Ex Director
Peak Fit

Have you tried TRX?

TRX suspension training makes gravity your resistance, so adjusting the level of difficulty is as easy as moving your hands or feet, and progression is limitless. It can be used for all levels and the bonus is that your core is constantly engaged.

Our Wednesday 6am class combines TRX with Pilates and stretching for a full body workout.

Try this class for FREE through February. In order to receive the class for free, you must register online, register at the front desk or email [email protected] by 7pm on Tuesday evening (the night prior to class). Space is limited to 7 students.

Peak Fit February schedule:
Tuesdays & Thursdays 6am
Tuesdays 6:30pm
Wednesdays 6am TRX only
Wednesdays & Fridays 9am
Saturdays 8am

Hope to see you in class soon!

- Jennie Votel, Peak Fit Director
510-316-3529
[email protected]
Celebrate February Employee Birthdays
Please join us in wishing each of them a happy birthday and thanking them for all of their hard work!

Megan Herrick, 02/10
Noemi Arias, 02/17
Mat Lacounte, 02/18
Stephanie Murray, 02/19
Wendi Caitlin Robinson, 02/22
Anthony Lum, 02/23
Alma Coytl, 02/24
Andrea Sakr, 02/25
Rich Sanchez, 02/27
Registration is Open for Summer Camp 2020

If you would like to get a jump start on registration for Summer Camp 2020 log into Club Automation and register your child(ren) through your member profile.The directions are fairly simple, but below are the step-by-step instructions.
Log onto your Club Automation account (cachstc.clubautomation.com)
Click on "Register for Programs" from list on left and it will bring you to "Programs" page
In "Programs" use the "All Events" drop-down menu and choose "Summer Activities"
Click on any of the camps/activities listed under "Program Name" for more details
Scroll through list and choose desired camp week(s)
Click "Sign Up" and you will be prompted to "add family member"
Click "Add to Cart"
If for some reason you are having difficulty trying to register, you can always reach me via email at [email protected] for any questions you may have regarding Summer Camp 2020. I look forward to seeing your children this coming summer!

- Anthony Lum, Summer Camp Director