UPDATE FROM OUR GENERAL MANAGER
Dear Hills Members,

Today marks one month since we were able to reopen our doors, and I have to say that I am so humble, grateful, and thankful for the amazing staff we have here at The Hills! Identically, the same can be said for the members who belong to this beautiful club. The past month hasn't run perfectly; there have been bumps in the road, hiccups here and there, but ultimately I feel really good about how the club has been operating these past 30 days. It is impossible to predict what the next 30 days has in store for us. We were hopeful that the county was going to let us reopen our gym doors on 7/1, then they retracted that decision and for now it is TBD.

Here is what we were able to launch within the past 30 days that has been working out really well:
We launched a reservation system for use of our lap lanes and Family pool. We made adjustments to certain rules and policies within that system to try to make it run even better and give as many members as possible the opportunity to use the pools.
We launched outdoor group exercise classes this week and plan to continue adding more to that schedule as soon as possible.
We began Summer kids camp under the county guidelines with a morning cohort of 12 kids and a different afternoon cohort of 12 kids. Midway through the month we were able to add an additional afternoon cohort of 12 kids, and based off of child and parent feedback, Anthony and his team are doing a remarkable job!
Our Hills Hurricane Swim Team was able to get back into the pool, in separate cohorts of 12, and it looks like those swimmers are getting back to form. A big credit to Head Coach Shad Wojtala and his staff of coaches for putting together such a well-organized training program.
Tennis and Pickleball courts can be reserved for one hour per membership per day. Members can play "Singles" matches with people from different households but the only "Doubles" matches currently available, per the county, have to be with people in the same household.
We have a weekly schedule of Virtual Zoom Group Exercise classes, including some Pilates and Peak Fit, and will continue to do so throughout this month. We have also coordinated with the sister clubs of CAC and continue to offer all members the opportunity to take their Virtual classes as well, giving you a wide variety of group exercise classes to choose from.
The entire staff continues to work tirelessly to ensure that the club is clean and safe during this pandemic time. I have received dozens of emails, calls, and members telling me while they're here, that they're extremely happy and feel safe with all that has been put in place.

Looking forward to the remainder of July and am hopeful that we can provide even more outdoor services in the very near future.

Thank you for so much support throughout this and welcome back to your Hills Swim & Tennis Club!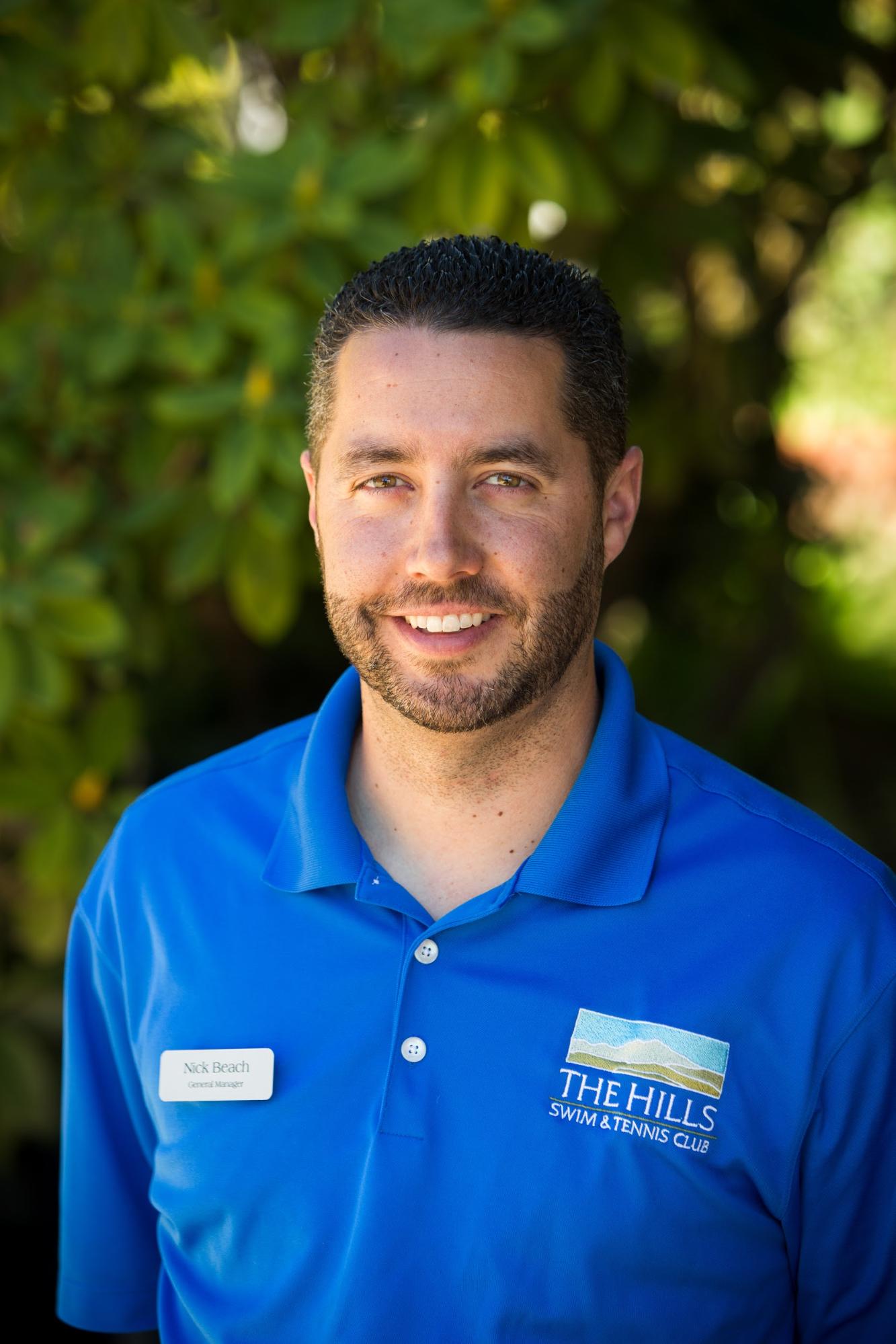 -Nick


Available: *Current Contra Costa County Guidelines continue to apply
Lap Lane Swimming by reservation (reserve through the front desk, online, or on our app) Family/Recreational Pool by reservation (reserve through the front desk, online, or on our app)
Tennis Courts by reservation (reserve through the front desk, online, or on our app)
Pickleball by reservation (reserve through the front desk, online, or on our app)
Kids Summer Camps contact Camp Director Anthony Lum for more information [email protected]
Hills Hurricane Swim Team Camps contact Aquatics Director Shad Wojtala for information [email protected]
Outdoor Group Exercise Classes (Virtual Zoom classes continue to be provided as well)
Virtual Peak Fit Class Contact Peak Fit Coordinator Jennie Votel [email protected]
Outdoor Private Pilates Training contact Pilates Director Therese Brewitz for more info [email protected]

Unavailable: *County is yet to lift restrictions
Gym (Fitness Center)
Peak Fit Studio
Locker Rooms Available for toilet and sink use only. Please inform the front desk if you need to get something from your locker.
Showers
Hot Tubs
Saunas
Cafe
Child Care
Basketball
Ping Pong
Guests
Back Deck
Nothing Will Stop Our Summer Campers From Having Fun

Hello Hills Members!

It's crazy to think that our summer camp has already reached its half way point. With five more weekly sessions left, we still have a few slots available for the remainder of the summer camps. For those children that start school later in August, I am currently taking down slots for the week of August 10th, which will be the last week of camp. Please email me directly at [email protected] so I can reserve your slot for this week. I can take up to 24 children as we have 2 sessions. I cannot thank you enough for signing your children up this summer. Although it has been different than usual, this has been a learning experience each week. My hope for next summer is that we can run camp for the entire day, but only time will tell!

Stay safe and healthy,
- Anthony, Summer Camp Director & Assistant Front Desk Manager
Hills Aquatics

Lap Lane Swimming Rules:
Children ages 10+ can share a lane with a parent or household guardian for a 30-min reservation
If you arrive early for your reservation and a lane is free, feel free to start swimming early. Similarly, if your reservation ends and a lane is still available, feel free to swim a little longer. Both occurrences need to be cleared by the pool monitor before beginning.
Making a reservation and then not showing up and/or failure to cancel the reservation could be subject to a penalty fee on the account if it continues to happen.
Instructions to Book a Lap Lane Online:
Log in to your Hills member profile
Click on RESERVE A COURT
Go to MAKE A RESERVATION section
Select WHAT SERVICE and choose SWIMMING
Select WHO WILL HOST and enter the family member's name who is using the lap lane
Choose the date and times
Click SEARCH
Select your lap lane and time and confirm
Family Rec Pool Rules:
30-minute maximum per day per person/family
All children under 14 years old needs a parent or guardian present and attentive to them
Please show courtesy and respect to whomever has the opposite side reservation
Swim toys, floaties, noodles can be brought and used, so long as they are used appropriately and are not shared with others
Please Note: Hills Hurricane Swim Team will be using no more than 4 lanes from 4-8pm, Monday-Friday.
Tennis Pro Maaria Joins The Hills Family

I'm Maaria Husain and I'm excited to join the Hills Swim & Tennis community.

A little about my tennis background: I grew up in Ohio, where I competed in the USTA Juniors program, ranked top 10 in the Midwest region and top 100 at the national level. I went on to play Division I tennis at Penn State University, earning MVP, All-Big Ten team and qualified for All-American doubles and singles during my collegiate career.

Tennis took a back seat as I went on to a career in marketing. I received my USPTA professional certification in 2019, and left my desk job to pursue the passion to coach and reconnect to the tennis community.

I am a strong believer in cross-training, and spending as much time and effort on mental fitness as physical fitness. I integrate these aspects into my coaching and playing style. Agility, balance, strength and mind are the foundations of a strong game, for beginner or advanced players alike.

I am also a mother to two active boys, Ari (5 yo) and Kais (16 months). We live here in Montclair, so you will see me around with the boys and racquets in hand!
Outdoor Pilates Training on Our Peak Fit Deck

Pilates Director Therese is ready for outdoor private Pilates sessions on our Peak Fit deck!
Happy Summer and Happy 4th of July! We hope you are staying safe and healthy this summer.
Despite the many difficult challenges we are facing locally and globally, the sun is shining and there are some great things we can do. One thing we are absolutely thrilled about is:
Private Pilates training is now approved and available on the beautiful Peak Fit deck overlooking the East Bay Hills and Mount Diablo. This deck is big enough for 6 feet of distancing and it will fit a reformer and more. It is also a lovely spot with spectacular views and it offers some privacy.
New to Pilates? You will love it. Pilates training works out the kinks in the body, opens up the airways, improves muscle tone, and it is a serious stress buster.

Contact our studio to learn more and to book a session: [email protected]

Your safety is our first priority and all Pilates equipment and areas are being cleaned and disinfected after each use. Masks are required at all times.

Please see our guidelines for Pilates training outside for more info:
https://docs.google.com/document/d/1scOEFaWT8OtZTccXVBjPOW-aGc09gR5yP213pzlEM28/edit?usp=sharing

We will continue to offer private Zoom Pilates sessions to those clients who prefer to train in the safety of their own home.
DON'T MISS: PILATES SPECIALTY PROGRAMMING on ZOOM - CHAIR PILATES w/ Barbara

Our specialty programming is designed for members who are looking for more focused small group training and injury rehab and prevention. This month, join Pilates Instructor and Movement Expert Barbara Hoffer over Zoom in her popular class Chair Pilates.

Here's what some students had to say about Chair Pilates with Barbara: "Body Genius! Your gift is dispelling pain through movement while bringing joy!" -Diana O. "Though I'd been going to PT for some time, I was still having pain in my hip. After showing me simple moves to do at home~~no more pain. Thank you~ Your Chair Pilates classes are so much fun!" -Georgene Q.

Our specialty programming classes start at $15 per class.
Please email us for date, time and link to these classes: [email protected]

Follow us on Instagram to get news and updates and to get inspired to do Pilates:
https://www.instagram.com/hillspilatesandwellness/

Be safe and enjoy summer!
- Therese Brewitz and The Hills Pilates and Wellness Studio Staff
Outdoor Fitness Classes Now Happening

Dear Members,

We are excited to announce that registration for outdoor fitness classes is now officially happening! Class registration is available on The Hills app, your online member portal, or contact the front desk to add your name to the list. Space is limited. We ask that you limit your selections so that members have a chance to attend a class. If you would like to be added to the waitlist for additional classes, feel free to email [email protected] and we can accommodate you. As demand rises, more classes will be added. Registration closes 36 hours before the start time. If you register and need to cancel, please do so within 48 hours of the class in order to give another member the spot. Contact the front desk by calling (510) 339-0234.

Here was our schedule for the first week's outdoor classes:
Monday, 7/6, 6:30am Spin w/ Tori
Tuesday, 7/7, 8am Spin w/ Birgitte
Wednesday, 7/8, 6:30am Spin w/ Jena
Friday, 7/10, 7:45am Spin w/ Angelique
Saturday, 7/11, 9am Bootcamp w/ Angelique
And since all classes were at capacity, we hope to add more to the schedule in the upcoming weeks!
We look forward to seeing you soon!
-Angelique Pine, Group Exercise Director
Yoga Instructor Miriam Ties The Knot

Happy news from the Group Exercise Department...our wonderful yoga instructor, Miriam got married! She was kind enough to share some memories with us. I am sure everyone joins me in sending her best wishes.

Where did you get married?
Fairfield, CA, about 45 minutes north, in the gorgeous backyard of my now husband's brother's wife's mother!

Who was able to attend in person?
Pretty much no one. There were just 9 people present, including Brandon and myself. Susan & Murray Woolf, our hosts; two friends who acted as our camera crew; a good friend of Brandon's, who was our 2nd witness; a good friend of mine; and our wonderful photographer, Éli Zaturanski. But we had more than 200 friends and family join us via Zoom!

Did you have a honeymoon? Or are you delaying?
Not yet! We'd desperately love to escape to the beach for at least a week if we can find a safe and affordable way to do so, but have both lost an enormous amount of work the last several months due to COVID-19 (not to mention all those lost deposits!— we were supposed to get married on May 31st on the east coast at Brandywine Manor House in Honey Brook, PA)—fingers x'ed we can get away!

Any special moment you want to share?
It was truly heart wrenching to surrender our beautiful in-person wedding back east as planned, but in the end our celebration turned out to be a surprisingly joyous and radiant day. It was especially sweet to have our 14-year-old corgi mix, Sadie as our flower-pup! Susan also went out of her way to bake an exact replica of our wedding cake and order our wedding flowers—so many special details!
Peak Fit Group Joins Jennie for her Zoom Workouts

Members taking Jennie's Peak Fit Zoom Workout!
Hard to believe it's already July. The Peak Fit group on Saturday mornings are still going strong with their Zoom workouts. These classes will continue for the month, but I look forward to the day when we can workout together in person.

If you would like to join us on Saturday at 8:30am, send me an email or text and I can send you the Zoom link.

Looking forward to seeing you all soon!!!!

- Jennie Votel, Peak Fit Director
510-316-3529
[email protected]
Celebrate July Employee Birthdays

Please join us in wishing each of them a happy birthday and thanking them for all of their hard work!

Sara Deslierres, 07/05
Sandra Franklin, 07/10
Lorrie Chao, 07/14
Evan Walpert, 07/28
Eddie Pasternak, 07/30
Hills Aqua Instructor & Longtime Members Quarantined on the Big Island

Hills Aqua Instructor Elaine Hoffman shares her "quarantine diary" from the Big Island of Hawaii, where she and Grant, along with longtime Hills members Bill and Nancy Gage have been "stuck" since early March:

We arrived March 1 for a 2-week stay and here we are, halfway through week 20 of quarantine on the now-deserted pacific island. The tourists and snow birds have left. I feel like the characters on Gilligan's Island. We are making the best of it.

Nancy is a huge help in the garden and kitchen. She also enjoys photography and has captured photos of the Saffron finches, Nene goose, Mina birds and Francolin birds. All of these birds and a bright sunrise over Mauna Kea wake up our household at about 5:30am.

I enjoy cooking, gardening and being the helper on most projects. The grocery stores run out of things quickly, but there are several local farms and butchers. Costco remains the main source of supplies, but since it's 25 miles from our home, we only go every 2 weeks. This "new" way of shopping has us exploring other food options such as breadfruit and poi.

We start the day with tropical fruits and coffee. Grant is great at cooking his favorite breakfast, pancakes. The daily choice of activities has nothing to do with the tropical paradise you may be thinking of.

In March, we helped our contractor build a stone wall. Bill and I carried lava rocks while Grant mixed cement. Our native hawaiian wall builder did the skilled part of placing the stones. We fixed pool pipes 4-feet underground and filled in the pit (that was a dirty job).

In April, we finished the irrigation system and landscaping. The plants and front lawn are filling in nicely, as you can see in the photo above.

In May, we replaced the pool pump, started building the wood deck, installed a new bathtub,and repaired and replaced numerous plumbing fixtures, light switches and ceiling fans. Bill installed a 240-V car charger so we can now take more than one car trip per day in the Leaf. Bill and Grant both are installing door handles, ordering supplies, fixing whatever mechanical thing has broken and problem solving anything that is not right.

In June, we continued to work on the deck. We were told that the decking wood will arrive by ship soon, but with "island time" now extended even longer due to COVID, there's a chance it might not arrive until late July. A container ship tipped over in Hilo Bay a few days ago. Hopefully our load is not at the bottom of the bay.

Together we celebrated Nancy and Bill's 33rd wedding anniversary on June 28 with dinner at an outdoor restaurant.

Since we've been here, Bill has had some health issues, but all is fine now. It's safe to say that we have visited every medical facility on the island! And for those of you wondering why all four of us are not featured in the photo, it is because Grant is camera shy. He is here, working hard and hopes to take a much-needed vacation to the mainland soon. The governor has promised flights will resume August 1st.

In quarantine I have learned a new kind of patience. I have learned to roll along with the Hawaiian vibe, see the beauty in others, not look at the clock or the calendar, and enjoy this period in my life.

Mahalo and we are thinking of you all,
Elaine