UPDATE FROM OUR GENERAL MANAGER
Dear Hills Members,

We're back! This pandemic, shelter in place, physical distancing, all of it has not been easy for any of us. As we slowly start to venture back towards normalcy, I think we can all agree that the new normal will be different than old normals. In many ways regarding the club, I feel that a lot of the changes and updated policies in place will be for the better. We will be adjusting temporary policies as Contra Costa County continues to lift more and more restrictions in relation to the pandemic. The entire Hills staff will do its absolute best to enforce all current guidelines and restrictions, and we ask for your patience and understanding. Having said all of that, we are beyond elated that we will be reopening our doors Monday, June 8th at 6am!

Changes happen quickly as we have all learned throughout this pandemic, so here is an update on what will be available and what is still unavailable as of Sunday, June 7th while I am typing this.

Available: *Current Contra Costa County Guidelines continue to apply
Lap Lane Swimming by reservation (reserve through the front desk, online, or on our app)
Recreational Swimming will be monitored by Hills staff
Tennis Courts by reservation (reserve through the front desk, online, or on our app)
Pickleball for now will be managed by the front desk and staff managers
Kids Summer Camps contact Camp Director Anthony Lum for more information [email protected]
Hills Hurricane Swim Team Camps contact Aquatics Director Shad Wojtala for information [email protected]

Unavailable: *County is yet to lift restrictions
Gym (Fitness Center)
Group Exercise Classes Virtual Zoom classes continue to be provided
Peak Fit Studio Virtual Zoom class will continue per Peak Fit Coordinator Jennie Votel [email protected]
Pilates Classes Virtual Zoom classes continue to be provided, contact Pilates Director Therese Brewitz for more info on private Zoom sessions [email protected]
Locker Rooms Available for toilet and sink use only. Please inform the front desk if you need to get something from your locker.
Showers
Hot Tubs
Saunas

*As soon as we can, we will be reopening the cafe and child care. Stay tuned!

As a reminder, D&S stands for Disinfecting and Sanitizing, and will be a main focus during reopening here at The Hills. The Hills and California Athletic Clubs are very proud to have such a solid working relationship with Greg Brown from Hillyard Inc. Hillyard is our vendor for most of our cleaning products and they've been instrumental in our training and preparation for everything related to Covid-19 and beyond. We have ordered some of the same cleaning products we've always been using, but there will be some new ones as well that will help with the D&S around the club.

Please remember to wear a mask once you leave your vehicle and continue to wear it as much as possible around the club. The Hills staff will be doing the same.

I will be walking around the club as much as possible beginning this week. It will be amazing to see some familiar faces around the club! As much as I was starting to embrace the wildlife during the closure, we really couldn't communicate and relate as much as I prefer. Having daily human interaction will be a very welcome experience once again, albeit still at six foot distances.

Thank you for so much support throughout this and welcome back to your Hills Swim & Tennis Club!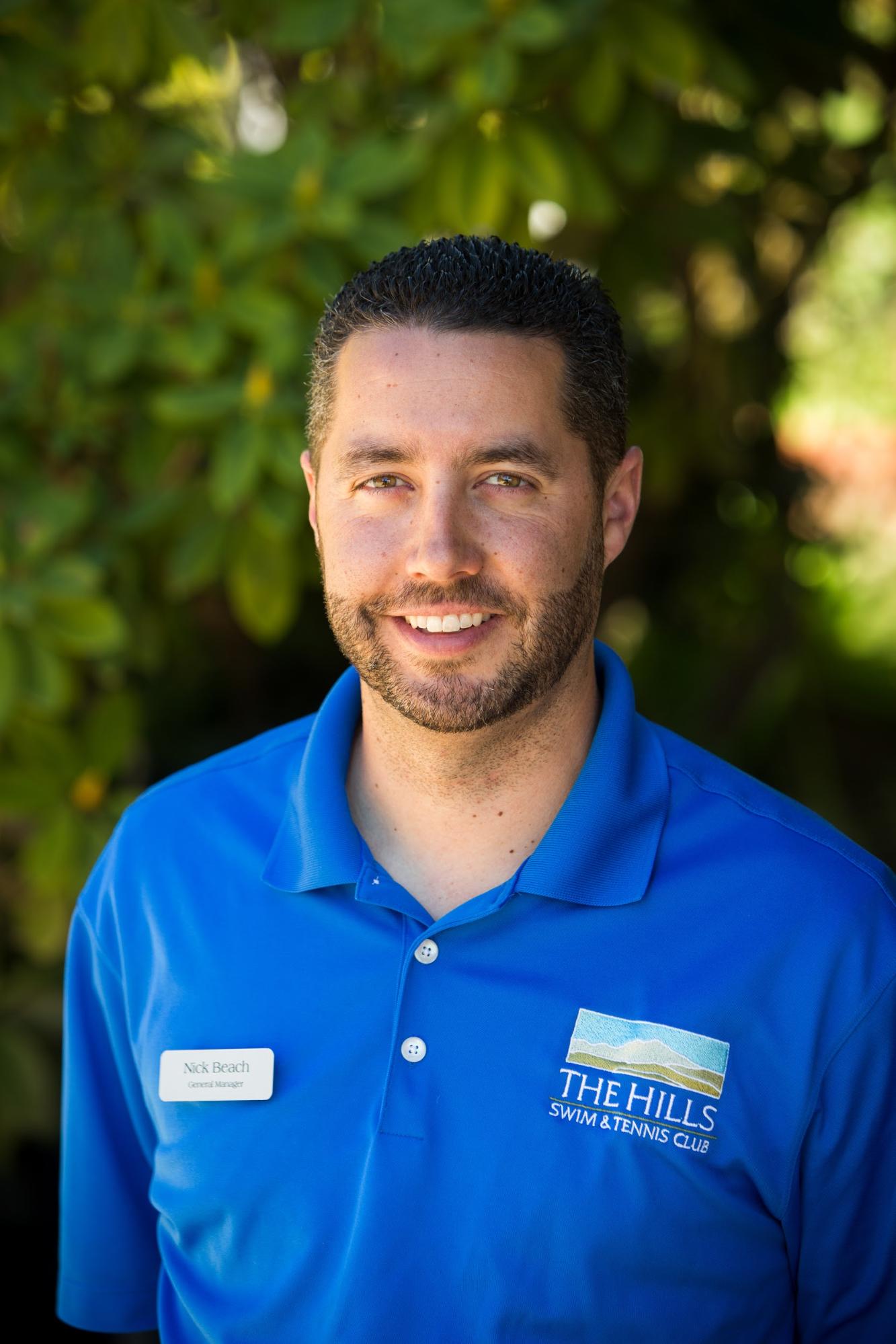 -Nick
Gearing Up for Hills Summer Camp

Camp Director Anthony Lum
Hello Hills Members!

Hills Summer Camps will return on Monday, June 8th. We will have two half-day sessions available, a morning session from 8am-12pm and an afternoon session from 1pm-5pm. Each session will be for cohorts of 12 campers and no camper is allowed to attend both sessions. Families can choose between the morning session or the afternoon session. Each weekly session will cost $200/camper. We will not be able to provide food at this time. We recommend that your camper has been fed before the beginning of his/her session, and bring their own water bottle labeled with their name.

For those of you who have already pre-registered your child or children for any camps this summer, you will receive credits to your accounts and those credits can be applied toward these new camp sessions. The good news is that swimming has been an approved activity per the county, so please make sure your camper brings a swimsuit and towel with them each day. We will also have a more focused agenda that includes hands free and physical distancing activities and games.

With the county's guidelines in place, this will be somewhat of a different camp from years past, but you can rest assured that we will do everything it takes to ensure the safety of our staff and your kids. Any additional questions regarding camps, or to register, please email me at [email protected]

I look forward to seeing your kids' smiling faces this summer!

Stay safe and healthy,
Anthony, Summer Camp Director & Assistant Front Desk Manager
Reflecting on Things That Matter

Administrative & Accounting Manager Stefani McDermott and her family
Let me begin with a shout out to all of the parents juggling homeschooling while simultaneously problem solving and innovating new ways to keep our economy going and food on the table. Be strong and keep pushing. I feel as if we're at the homestretch and we can do it!

Two of my kids are finished with their school year, and one of those two experienced an 8th grade graduation that she will never forget! Next week, all three will be on summer break; one that will look and feel a bit different for them.

The shelter in place completely changed our family routine, and I'm sure many of you can relate. We no longer are headed in five different directions, picking kids up from school, getting one to/from practice, one to a doctor or dentist appointment. Weekdays were always rush, rush, rush with school, homework, practice, dog walk, dinner, shower, bed.

We are a family that likes to exercise, so our typical gym workouts or team practices have been replaced by garage workouts. We've all gotten creative and figured out new ways to keep moving. In the beginning, the change was hard and took a little getting used to, but it has taught our kids the importance of being flexible and mixing things up.

We now have no excuse to gather together for dinners every night. We even have time to play a board game or go for a bike ride or post-dinner walk as a family. The weekends that once were chock full of soccer games, lacrosse and baseball are now replaced with long hikes, trying out new recipes with the kids, sitting around our firepit making s'mores, telling stories and playing games. My daughter Riley and I began a "SIP tradition" where we bake a cake for the family nearly every Sunday during quarantine. I've always dreamed of owning my own bakery (a dream Riley has as well), so this helped channel our inner bakers. As you can imagine, my husband and boys are liking this tradition and the entire family now looks forward to Sunday and the surprise dessert.

Yes, this crazy quarantine put a stop to family vacations, big birthday celebrations, dinner parties with friends, nights out, socializing and all of our kids sporting events, but it also made us slow down and appreciate our time together as a family. This is the silver lining of the crazy pandemic that has forever changed all of us as a human race.

-Stefani
Administrative & Accounting Manager
Hills Aquatics

We received the county's permission to open lap lanes for swimmers!

Lap Lane Swimming Rules:
30 min. per day per member (individual members are not yet allowed any longer time)
Only age 14+ can reserve a lap lane
Lanes can be reserved up to THREE days in advance (Example: SAT for TUE, SUN for WED)
Enter the lap lanes from the far side of the pool
Exit the lap lanes from the near side of the pool closest to the lobby
Bag drop designation rules to come
Instructions to Book a Lap Lane Online:
Log in to your Hills member profile
Click on RESERVE A COURT
Go to MAKE A RESERVATION section
Select WHAT SERVICE and choose SWIMMING
Select WHO WILL HOST and enter the family member's name who is using the lap lane
Choose the date and times
Click SEARCH
Select your lap lane and time and confirm
We also received the county's permission to begin Swim Team Camps. The Camps will consist of the same cohorts of 12 swim team members who will be coached by the same coach. Swim team members will be dropped off dressed to swim and will leave the club as soon as their time is done. There will be no socializing or fraternizing of any kind between the swim teamers here at the club. Aquatics Director and Hills Hurricane Head Coach, Shad Wojtala, will oversee the organization and execution of this phase.

Please Note: Hills Hurricane Swim Team will be using no more than 4 lanes from 4-8pm, Monday-Friday.
Greetings from The Hills Pilates and Wellness Studio

Pilates Director Therese teaching her Friday virtual "Zoom" Pilates Party class
It is hard to fathom that 11 weeks have gone by since we closed our doors of The Hills and the Pilates studio. We hope that you are safe and healthy and have managed to stay active during this time. Many of you have taken advantage of our Group exercise classes offered over Zoom. It has been great for us instructors to connect with our students and feel that we are all still part of the Hills community.

In addition to our group exercise classes our Pilates Studio staff will offer continuous Small group Zoom classes especially designed for our reformer and private clients. Check out Colleen's "Reformer" Refresh class every Sunday at 10am:

Topic: "Reformer Refresh" with Colleen
Time: Sundays at 10-11am

Join Zoom Meeting
https://us02web.zoom.us/j/85821257902?pwd=QWNDak5wQlB0YisyQytFSGtNQ2pCUT09

Meeting ID: 858 2125 7902
Password: reformer

Look for more specialty classes in our weekly emails and on our Instagram (link below).

Last Friday, I visited the club for the first time in 11 weeks and taught our group exercise class Pilates Party in the clubhouse space. It was so nice to be up there and so sad at the same time - I miss seeing you all there. I also prepped the studio a bit, moving equipment 6 feet apart, etc. for what we hope will be an upcoming opening date in the near future. Once we do reopen we will have many new cleaning and sanitizing practices in place to ensure your health and safety.

Please note that we are currently open and available to teach privates and duets over Zoom, and we will continue to offer online classes and private sessions once the club reopens. Just send us an email to inquire about sessions.

Follow us on Instagram and get inspired to do Pilates:
https://www.instagram.com/hillspilatesandwellness/

Contact our studio:
[email protected]

Be safe and enjoy summer!

-Therese Brewitz and The Hills Pilates and Wellness Studio Staff
Pilates Instructor Colleen McLarnon Shares a Recipe
I call it the "Double Lemon Surprise." Squeeze the juice of two lemons into a bowl, mash up one banana, cut up a fresh Pear or Apple, add something crunchy like granola (my favorite is Hemp Hearts Cereal), raw sunflower seeds and agave syrup (you can also use honey or maple syrup). This is a delicious way to start your day!
I also wanted to share with you all that my 5-year-old daughter, Frankie May, has been very into Lady Gaga lately and has been putting on some avant-garde, high-energy expressive dance performances for me in our living room which I feel very lucky to witness! I'm sure those of you with young kids are experiencing some of the same!
Group Exercise Update

General Fitness Items for Your Home Gym
Dear Members,

Robert Kennedy once quoted a curse, "May he live in interesting times." While the origin is uncertain (allegedly Chinese, but unproven), I think we can all agree that it is a powerful curse.

Interesting times aside, we hope to get back on track with a modified fitness program soon. I am pleased to report that during the month of May, The Hills offered 95 classes via Zoom and had more than 1,400 attendees. In addition, many members have enjoyed the diverse classes offered by our sister clubs. I am certainly proud of the members and instructors that have embraced this new technology.

We continue to monitor the guidelines placed on us from the health departments, and hope to offer some in- person classes soon. That said, Zoom is here to stay in the immediate future. If you have been putting off purchasing home equipment, I am including a list of items I think will be helpful. Most items can be purchased online through Amazon or Target at a low price. The more equipment that you have, the more robust our instruction can be. I have not included yoga items, but going forward, members will want to have their own blocks, blankets, mats and straps. If you don't already have them, it may be time to check them out.

General fitness items for your home gym:
Two-to-three sets of weights - light weight, medium and heavy.
* The weight depends on your current strength. doubling up two weights can help if you choose to limit the number you wish to purchase.
Resistant Band - flat and/or with a handle - multiple "weights" available
Looped Band
Mini Exercise Ball - 8 or 9 inches; also known as Bender ball, Franklin ball, or Pilates ball
Mat
Stability Ball - the large yoga ball - check size chart against your own height
Roller for stretching and myofascial release
Our instructors have also gotten really creative using just body weight. If you haven't been one of the many members participating in our Zoom classes, we hope to see you soon. Additional evening and morning classes are on the schedule this week, so please check it out.
Take care, and be well.
-Angelique Pine, Group Exercise Director
Q&A with Hills Spin Instructor Jena

Spin Instructor Jena
Group Exercise Director Angelique Pine took a moment to check in with Hills Wed 6am spin instructor, Jena, and ask how she's doing during SIP. Like the rest of our instructors, she's anxious to get back on the bike. Meanwhile, here is what she had to say:

How are you doing? How is your family?
I'm doing well! I'm bummed I missed out on the experience of my marathon in Spain, but grateful to be healthy!! Our kids, all teens, are doing ok- they are happy to have each other through this, but miss the socialization. As we all do! We added a member, a Boxer puppy! And redecorated the house, which was overdue. Overall, this "new normal" has created a foundation and appreciation for our family and home- a silver lining that's very bright:)

What has been keeping you the busiest during SIP?
THE PUPPY! 100% Kids are, of course, needing us to motivate them to keep up with studies and exercise, but the puppy is keeping me on my toes.

Have you taken up any new hobbies?
I'm just scratching the surface on gardening. We are almost done with the repainting and decor on the inside of our house; next is the outside.

How have you been staying fit?
Lifting in the mornings before the kids wake, then running or hiking in the afternoons with my teenage son and/or the dog.

As a spin instructor, do you have any special advice you would like to share?
I'm taking this opportunity to diversify my workouts. Too much spin (6-7 a week) had me lacking the balance of strength training more than 2x a week. I've upped it to 5-6x a week, including lateral exercises to keep balanced for when I get back to spin!
Peak Fit Group Joins Jennie for her Zoom Workouts

13 members joined Jennie for her Peak Fit Mother's Day Zoom Workout!
+
Jennie and her graduating 8th grader at his virtual graduation!
Oh wow! It's already June, and here we are, still sheltering in place. I've really been enjoying connecting with the Peak Fit group on Saturday mornings during our Zoom workout. I will continue these classes while the club remains closed, but look forward to the day when we can workout together in person.

If you would like to join us on Saturday at 8:30am, send me an email or text and I can send you the Zoom link.

Looking forward to seeing you all soon!!!!

- Jennie Votel, Peak Fit Director
510-316-3529
[email protected]
Celebrate June Employee Birthdays

Please join us in wishing each of them a happy birthday and thanking them for all of their hard work!

Ernesto (Tito) Solorzano, 06/13
Kathleen Ostler, 06/24
Kyle Johnson, 06/28
Hills Member Webinar: "Staying Steady During the Storm"

Dr. Deborah Chong and her twins
My name is Deborah Chong MD and I am a holistic physician. The COVID-19 pandemic has inspired me to share with the Montclair community my research to help build the body's immune system and fight viruses, other infections and illness in general.

I have lived in Oakland now for 12 years and I have been a member of The Hills for almost 10 years. I have been practicing OB/GYN for more than 15 years and I have been working at Highland Hospital in Oakland for 10 years. During my time at Highland, I was Chief of Gynecology from 2011-2017, but stepped down to pursue other academic endeavors, including completing my fellowship in Restorative and Herbal medicine.

Further in the past, I started my own non-profit to help women in Tanzania and Jamaica, www.medicineinaction.org and our goal was to deliver medical and surgical care to these resource poor countries. I was an assistant professor at UCDavis and Adjunct Clinical instructor at Stanford University as well.

As a healer, I began feeling like western medicine was no longer serving my patients. Apart from quick surgeries and delivering babies, I felt like I couldn't really help patients afflicted with chronic disease such as pelvic pain, fibromyalgia, irregular bleeding, obesity and other illnesses, and our large hospital system was not supportive of food as medicine and an integrative approach to wellness. I love being in the kitchen and then about 10 years ago during my parents illnesses, I decided to research food as medicine, which started my journey into a more holistic practice.

Since Shelter in place, I have noticed varying reactions all around me from fear, to anger, anxiety and stress, as well as kindness, peace, joy and goodness on the other end. The COVID-19 pandemic inspired me to share my research of holistic medicine combined with my love of culinary medicine and my fellowship in herbs and restorative medicine; and so I created this webinar to help our Oakland community.

Scheduled for Tuesday, June 16 at 12pm, Deborah will share her guide to wellness and immune enhancement during COVID-19. In addition, this one-hour discussion will explore food as medicine, the microbiome, stress reduction, medicinal herbs and mind-body-spirit medicine.

Anyone interested in obtaining the link to view this special webinar should contact Deborah directly at [email protected].