UPDATE FROM OUR GENERAL MANAGER

Dear Members,

Summer is almost upon us and we are all gearing up for some fun times. Remember to get your kiddos signed up for one of our great summer weeks of camp or swim lessons. Anthony is putting together a fun staff and program that will have the kids building memories to keep for the rest of their lives.
Register Now for Camp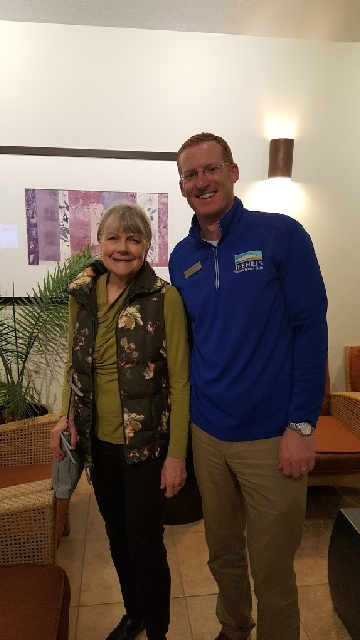 Recently we had our Passport program potluck dinner and grand drawing. Congratulations our winner Judy Kridle! We had a great time listening to all the different stories from the participants' experiences. Please congratulate Judy when you see her around the club.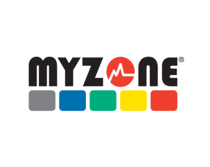 As you may have noticed we have a few tv monitors installed in the Fitness center and clubhouse. We will be launching a new program called MyZone. Here is a great description of Myzone:
"The MYZONE MZ-3 is an interactive physical activity belt that can send users' real-time readings to large screens around the club or to their smartphone if they are exercising outside. Through a series of personalized, colour-coded tiles, users always know precisely what heart-rate zone they are in during their workout, allowing them to put in optimum effort to obtain maximum results."
No more guessing how much you have left in the tank or how well your body is reacting to your workout. MyZone will help you if you are on a spin bike, treadmill, rower, or if you're just lifting weights. You can pickup your MyZone belt at the front desk for a 30-day introductory offer of $80 or for Free with a 10-session Personal Training purchase. More information will be released weekly on our Facebook page. June 1st will be the first 30-day Hills' MyZone challenge where the top prize is a $250 member credit and weekly drawings for towels, water bottles, and other great gifts. Pick your belt up today.
Until next time, to your health and happiness,

Derek
PROGRAMS & ANNOUNCEMENTS
Intermediate/Advanced Tennis clinic May 13 at noon
Introduction for Beginners Tennis clinic May 27 at noon


Member Spotlight: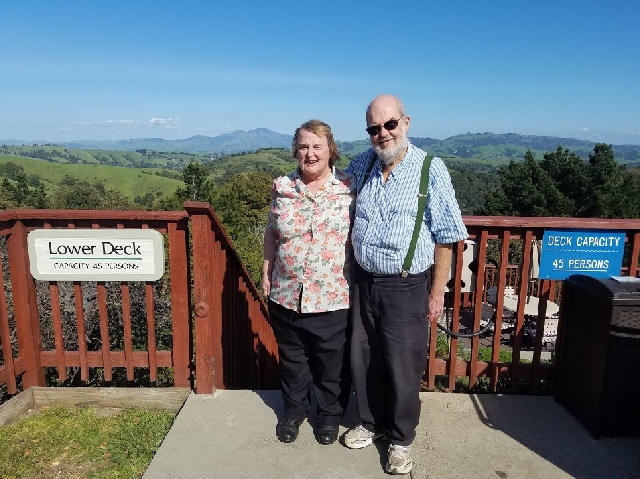 Phil and Gloria Meads

Walking to the club in all kinds of weather is the dedication shown by this month's members in the spotlight, Phil and Gloria Meads. Members of The Hills Swim and Tennis Club for more than 30 years, the Meads enjoy their routines in the pools, hot tub and gym.
Oakland natives, Phil and Gloria have spent most of their time in the Bay Area. However, for the first few years of their marriage, Phil worked overseas, rotating between three weeks in Germany and one week in the States every month. Last year they celebrated their 50th wedding anniversary!
Phil and Gloria enjoy spending time with their three kids, playing flute, going for hikes or walks, and making quilts. They are always sure to make it home in time for the 3pm television news on PBS, an essential part of their day.
Say hello to Phil and Gloria at the club; you can spot Phil wearing his reflective vest!
Celebrate May Employee Birthdays!
Please join us in wishing each of them a happy birthday and thanking them for all of their hard work!
Licia Padham
Ann Livingston
Kelly Fujimoto
Genevieve Krause
Robin Rosario
Birgitte Rohrbach
Employee Spotlight: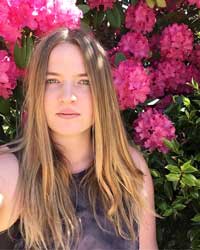 Rose Barkley
Meet Rose Barkley, a relatively new member of our staff. You will find her working at the front desk, helping in child care, or assisting in the café. Certified in Yoga, she is on the Saturday rotation for 8am Yoga.
She grew up in Oklahoma City and Kansas City and then attended the University of Missouri to study photography and fibers before making her way to California.
Rose enjoys relaxing through yoga, hiking, sewing, cooking, and playing with her cats Berry and Tiny. When she's not working at the club, Rose is busy babysitting.
Take a moment to say hello when you see her around the club. Thanks for all of your hard work, Rose!


A Recipe from Rachel, Our Nutritionist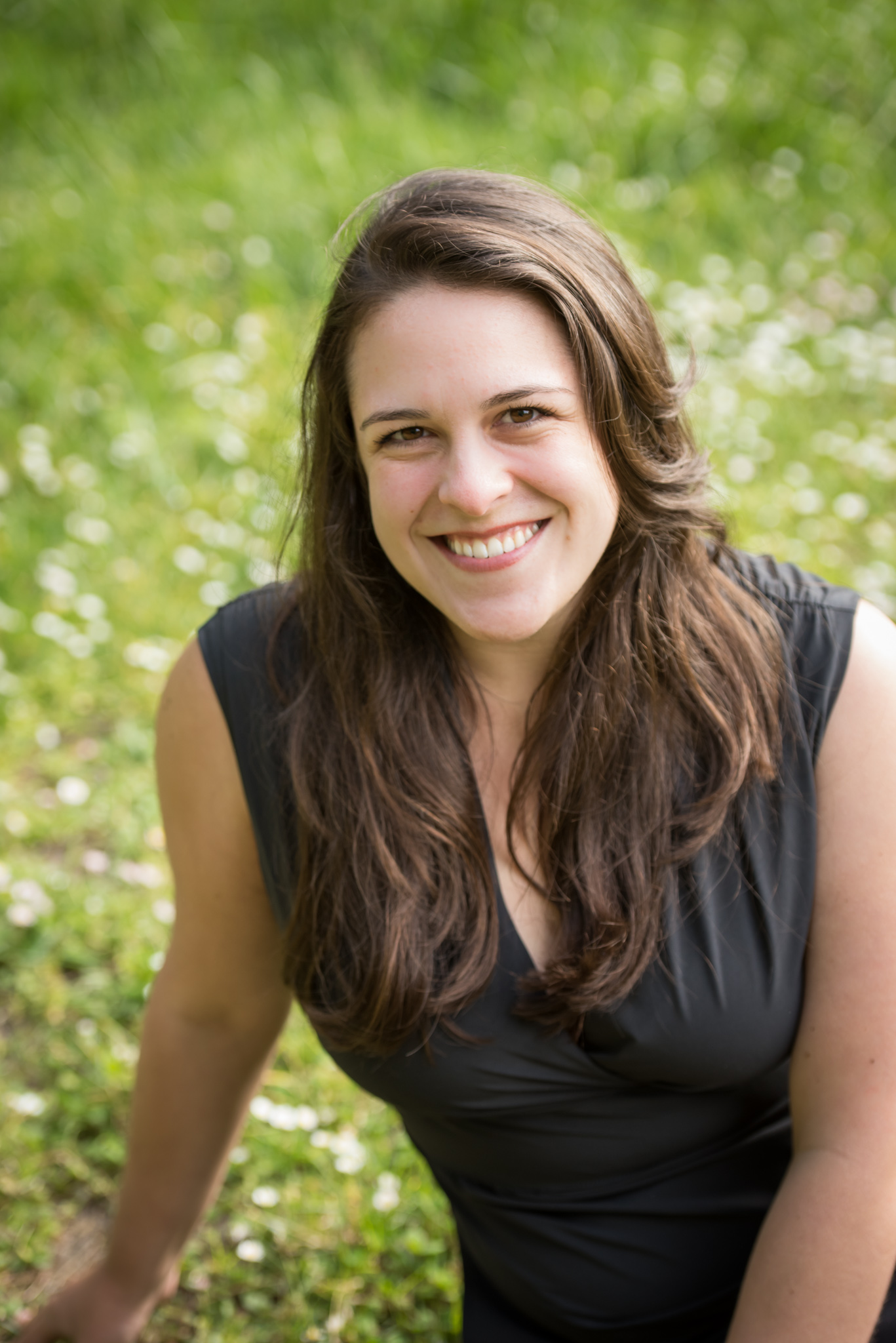 Dear Members,

It's starting to feel like summer! I wanted to share with you one of my favorite warm weather dinners: Edamame Salad with Orange and Avocado. This Japanese-inspired salad packs a nutritional punch and is very filling!

Edamame is a great vegetarian protein source and is rich in fiber. The avocado supports with some creamy richness, while the orange pieces give a juicy pop of sweetness. Nori seaweed is salty and satisfying and contains all the minerals that support human life such as iron. The sesame seeds may be tiny, but are an excellent source of calcium, magnesium and zinc.

Consider adding more protein for a heartier meal such as grilled chicken breast, shrimp, or canned salmon. Other vegetables such as cucumbers, daikon, or jicama are delicious additions as well.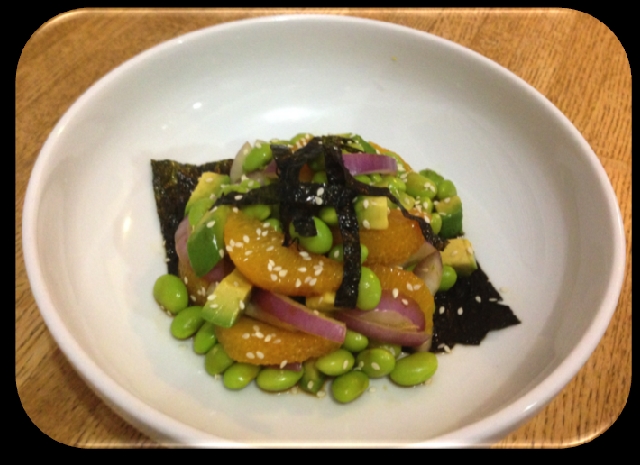 Edamame Salad with Orange and Avocado

Ingredients:
2 cups edamame, shelled
1 avocado, diced
2 oranges, cut into bite-sized pieces
1 large carrot, chopped
1⁄2 small red onion, sliced
2 1⁄2 Tb low sodium tamari or to taste
1 Tb toasted sesame oil or to taste
2 tsp sesame seeds
8 sheets nori, cut or
ripped into strips

Procedure:
Mix all ingredients with tamari and toasted sesame oil. Prep time is about five minutes depending on your knife skills ;)

Want to make nutrition more delicious? Lose some weight the healthy way? Contact our Nutritionist, Rachel, for a free consult at [email protected]


Bone up with Pilates!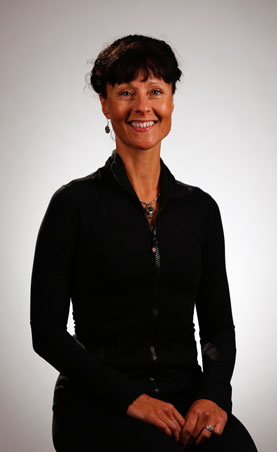 By Therese Brewitz
May is National Osteoarthritis Awareness Month. Did you know that each year about one-third of all people over age 65 will fall? Many of these falls result in broken bones.
It is never too early to start Bone Loss Prevention through exercise. Balance, core strength, and resistance training are components that will aid building bone strength and prevent falls.

Bone up with Pilates is a 3 week series led by Barbara Hoffer, Certified Pilates Instructor with a personal interest in helping others to build stronger bones. After fracturing her wrist and arm within a span of 13 mo., Barbara was diagnosed with osteoporosis. Even when she couldn't work out on the Pilates Reformer, she gained full range of motion of her arm by using the a new "wearable reformer" known as Tye4™.

Each participant in this series will use a Tye4™ as a vital weight bearing tool in the course.

Bone up Pilates Classes:
Sundays May 7, 14, 21 9:45-10:45am
This class will replace our "Weekender" Pilates class for the 3 dates. Future dates TBD.
Only 5 spots available
Cost: $40 drop in, $90 for 3 classes
Non-member: $45 drop in, $100 for 3 classes

To register, please visit: Hills Pilates Studio scheduler
or contact our Studio Director: Therese Brewitz @ [email protected]

For additional questions, please contact Barbara Hoffer,
707-794-BJOY (2569) or
email: [email protected]

If you have osteoporosis, it's advisable to check with your doctor. Barbara is a trained Peer Educator with American Bone Health.



AQUATICS
By Shad Wojtala

Sign-up for one of our Spring through Summer Aquatics Programs!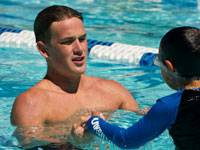 Our pre-competitive swim teams, the Manta Rays and Tidal Waves, are open for registration through August. Sign up as soon as possible, as we have limited space. This introduction to swim team is the best option for all kids ages 4-10 that are new to swimming. The coaches work in and out of the water teaching everything from basic swimming skills to full stroke technique while introducing the kids to swimming terminology. The two levels are thirty minutes in length and make use of the recreation pool and diving well. Classes fill up fast and will meet on Wednesdays and Fridays through May, and Tuesdays and Thursdays starting June through August.

Manta Rays (Pre-Swim Team) AGES 4 - 8, 4 - 4:30pm
Swimmers will learn basic swimming skills of all four strokes.
Team activity skills and group swim safety is introduced.
Swimmers will learn to swim in, as well as jump or dive into, deep water.
Instruction will be conducted in and out of the water.

Tidal Waves (Novice Swim Team) AGES 6 - 10, 4:30 - 5pm
This group will prepare swimmers for swim team and will incorporate on-deck coaching with minimal in water instruction. Swimmers must pass the prerequisites for swim team:
50-yards of freestyle with side breathing
25-yards of back swimming
30-seconds of treading water
5-yards of streamline off the wall
Sign up here!

Try one of our Summer Small Groups Lessons (small group classes are limited to 4 per class.)
Tadpoles (children 3-5 years, 4 - 4:30pm): Absolute Beginners learn to kick with a kickboard. Floating, underwater swimming, and jumping in is introduced.
Minnows (children 3-9 years, 3 - 3:30pm): Learn freestyle stroke technique with side breathing. Introduction to swimming on back, deep water swimming, and kneeling dives.
Guppies (children 5-12 years, 4:30 - 5pm): Focus on freestyle side breathing and backstroke technique. Breaststroke and butterfly kick is introduced.
Mackerel (children 5-12 years, 4:30 - 5pm): Intermediate swimmers learn proper technique for breaststroke & butterfly. Endurance swimming is introduced.
Sign up here (under camp section)

Get certified at our Jr. Lifeguard Camp


Session 1: June 19th-23rd, M-F, 9am-3pm
Session 2: Aug 8th-11th, M-F, 9am-3pm
This program is designed as a community-based water safety program for youths 10– 15 years old. The Junior Lifeguard Training Program has been developed to serve many purposes where water safety is our primary goal. Along with water safety activities we engage in CPR Certification and First Aid training. A secondary benefit is the unique combination of establishing the foundation for good work skills, responsibility, certification, skill development, competition, and leadership skills. In providing a well-rounded training experience, we include 30-minute daily fitness, lectures, demonstrations, and team building activities. An additional two hours per week of volunteering may be required by each JR guard. Course Pre-Requisite: 50 yards of freestyle or breaststroke. Retrieve a 10 LB. brick from a depth of 12 feet. Swim underwater 15 feet.

Sign up here



GROUP FITNESS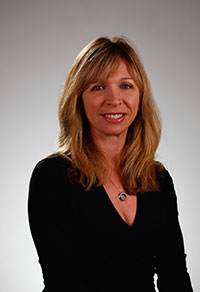 By Angelique Pine

Everyone is talking about the new Sunday lineup! In addition to our fabulous yoga and spin/sculpt classes, we now have Aqua Aerobics at 9am and have had a great turn out! We also had a nice crowd for our 11am Zumba Mix, so we will continue offering it through May. Check The Hills web page for the scheduled instructor or look for the list posted in the club house.
Circuit is back! Tuesday Circuit with Megan starts at 6pm.


TENNIS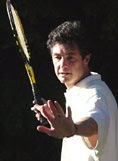 By Eddie Pasternak

Free Clinics with Eddie
Join USPTA Elite Professional Eddie Pasternak for free one-hour tennis clinics at The Hills! Eddie has worked with professional tennis players, such as former pro Brad Gilbert. He is most thrilled to be part of a tennis player's progression and be able to see the change. Read more about Eddie.
Clinics are held each month for adults in all skill levels on Manzanita Court. If it's raining on one of the clinic dates, the clinic will be held either the next day or the following weekend.
Saturday, May 13, 12pm Intermediate/Advanced Clinic
Saturday, May 27th, 12pm Beginner's Clinic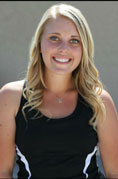 Free Kid's Tennis Clinics with Lexi
Saturday, May 13, 10-11am
Saturday, June 10, 10-11am

Kick off Summer with a 4-week Tennis Session!
Your children will grow, learn, and be healthy in this 4-week, small-group tennis clinic with instructor Lexi Bevins. Please wear appropriate close-toed shoes and bring a water bottle. Tennis rackets can be provided by The Hills if necessary.

4 Wednesdays starting June 7, 5-6pm
4 Mondays starting June 12, 5-6pm

Clinic is $80 per member. Register at the front desk; charge to account (CTA) is gladly accepted as payment.

Minimum 3 children enrolled for session to begin; maximum 6 per session. Held on Manzanita Court.


SUMMER CAMP

By Anthony Lum

Sign-up for Summer Camp 2017 online NOW!
Summer Camp runs weekly from June 12 to August 18

Register online:
log onto your member account
click on the camp icon
select the program of choice
click "register" next to the desired time
click the plus sign next to the session dates you would like
click "Accept & Enroll".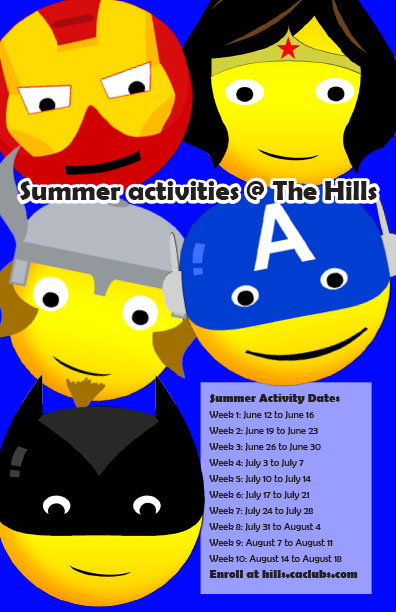 Once you complete the registration for your child, you will need to fill out the Summer Camp Waiver. This needs to be filled out before your child attends Summer Camp.
1. log onto hills.caclubs.com
2. scroll down to guest waivers
3. click guest waiver
4. choose Summer Camp icon
5. fill out information, click submit

If you have any questions, please feel free to contact me at [email protected]. I look forward to seeing you for Summer Camp 2017!