UPDATE FROM OUR GENERAL MANAGER
Dear Members,

Thanks to all the staff for making this year's Halloween party a huge success. If you didn't get a chance to attend you can view an awesome video from Max Fancher highlighting the night.

Club Upgrades
We have some great news that in the coming days we will finally be starting construction on the Fitness Center expansion. We are hoping to have the project completed in five months depending on weather. The current fitness center will be fully functional with the exception of the outdoor TRX area which will be moved to the patio area next to the Aquatic/Fitness offices.
Family movie night is starting up again this month. Please sign up as space is limited in the clubhouse. Popcorn and snacks will be provided and Anthony is currently picking out a movie that the whole family will love.
C.O.R.E (Communities of Oakland Respond to Emergencies) will be conducting training at the Hills. Considering all the recent weather events taking place across our nation, this is important for our community. We need a minimum of 12 participants to hold a training at the club. This will be open to non-members in the neighborhood as well. Please call the front desk to sign up and we will pick two dates for training once the minimum of 12 sign up. Please visit Oaklandcore.com to learn more.
Derek
ANNOUNCEMENTS
The Club will be CLOSED on Thur. Nov. 23, Sun. Dec. 25, and Sun. Jan. 1
The Club will OPEN at 8am on Fri. Nov. 24
The club will close at 4pm on Sun. Dec. 24 and Sun. Dec. 31
Childcare will be closed for the following holidays:
Thanksgiving Day
Christmas Eve Day
Christmas Day
New Year's Eve Day
New Year's Day
UPCOMING EVENTS
November 13 Beginner Tennis 3:30-4:30pm
November 13 Advanced Tennis 4:30-5:30pm
November 17 Family Movie Night
December 15 Family Movie Night


Member Spotlight: The Murphy Family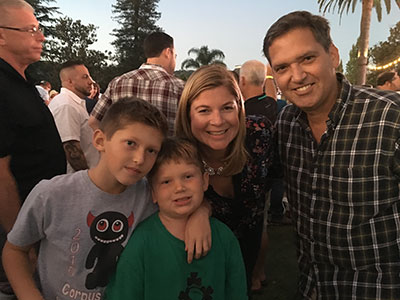 Meet the Murphy family:
Katherine, Tim, Nathaniel, and Tomas. The family schedule is full and fun!Tim always drops both boys to Corpus Christi Elementary School in the morning, while Katherine picks them up to go home. For the last couple of years, the Murphy family has been an active part of the summer programs here. Our member spotlight for this month is the Murphy family: Katherine, Tim, Nathaniel, and Tomas.
Born in Southern California, Tim and Katherine have busy jobs. Nathaniel and Tomas enjoy school and play a wide variety of sports: basketball, baseball, soccer, cross country, kickboxing, and rugby. As a family, they like to spend time running, skiing, and hiking together.
Thank you for sharing your family with The Hills!


Employee Spotlight: Lexi Bevins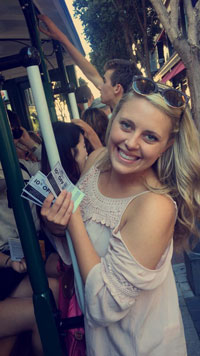 Where is Lexi Bevins? Her schedule is very demanding nowadays. From school to internship to babysitting and to work is a typical day. If there were more than 24 hours in a day, Lexi would keep going. You can find Lexi working the front desk, teaching tennis, and child care here at The Hills.

Born in the Southern California city of Redlands, Lexi received a scholarship to play tennis at Holy Names University. Quite the avid tennis player, you can find her breaking racquets all over the East Bay. She has a mean game, so watch out! Lexi just completed her Bachelor's degree in Biology. Lexi has been accepted to Samuel Merritt School of Nursing.
During the limited time she has to relax, Lexi finds a way to play tennis, hang out with some friends, and visit family back in Redlands. Working with her is amazing, she appeases to all the members and her staff. As her coworker, Lexi always brings a smile to everybody's face at any time of the day.
A pet peeve that Lexi has is making sure everything is organized, whether that being to have all money facing the same direction, getting in her steps on her fitbit, or arriving on time to pick up the kids she babysits.
We're so glad to have Lexi on The Hills team!



Group X
Just in time for the holidays, we are adding Ballet Bootcamp to help keep you in shape. Get your heart rate up and a full body workout with this fun class. Ballet Bootcamp is designed to shape, tone, lengthen and strengthen. The instruction will include exercises based on Ballet and Pilates classes. The 55-minute class will incorporate cardio as well as target all major muscle groups. You will leave feeling stronger, longer and more flexible and with your core on fire. The best way to get a dancer's body without any ballet training necessary. 7:45 am Thursdays.
In other news, Megan has added Spin to her Wednesday night class. Come join her at 6:15 pm for Spin & Circuit.
Finally, for our Aqua Aerobic fans, BZ has moved her 9:00 am class back to 10:00 am for the winter.

See you in class,
Angelique


Pilates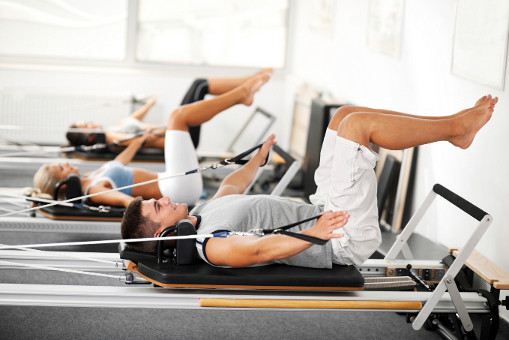 Reformer Pilates Mixed Level - Reformer for everyone!
Upon popular request we have added a new format of Pilates Reformer classes:
Reformer Mixed Level
This class is really perfect for everyone! New students get a little more attention and can watch their more experienced peers. We blend the movements and the difficulty and really set the level to the individuals in the class. The goal is to offer a great core and strength training workout for everyone*.
Best of all, we offer Reformer Mixed Level three days a week:

Mondays at 5 pm
Fridays at 4 pm
Sundays at 11 am

Sign up here:
Hills Pilates Studio scheduler

Hurry, as these classes are filling up quickly!

*Need more personal attention? Do you have a back injury or other ailment and need more personalized training? Our Better Back Reformer class (Wednesdays at 6:15 pm) offers a safe and thorough instruction of Pilates focusing on spinal stabilization and core strength.
Or, try private Pilates training with one of our highly experienced instructors.



Holistic Health with Reiki Master Lynn Owens in our Pilates Studio
Feeling stressed? Many of us are experiencing stressful times, right now, both on a personal and on a more global level. The stress often manifests itself in tension headache, sleeplessness, physical pain, and anxiety. While we can't always change the circumstances of our lives, we can do our best in bolstering our minds, bodies and spirits with exercise, massage, meditation, time with loved ones, and perhaps with a holistic therapy, such as Reiki. The Hills Pilates Studio started offering Reiki a couple of months ago, and we have received a great response.
Lynn Owens is a Master level Reiki and MD and she is bringing her vast training and experience in western medicine and the powerful therapeutic properties of Reiki to the Hills. Lynn is also a long time Hills member and an avid yoga and Pilates practitioner.

What exactly is Reiki? Reiki is a Japanese Healing technique based on the energy life force Qi (similar to Chi in Tai Chi, Chinese Medicine and Acupuncture).
How does Reiki work? All life, all movement, all health is energy. When we get stressed, overwhelmed, sad or sick, we have run low on life energy - Qi.
A session of Reiki involves fully clothed gentle hands on touch. A Reiki practitioner does not "heal" you per se, but simply aids your body in restoring depleted energy and achieving balance. Many massage therapists use Reiki as part of their practice. Reiki is completely safe and can be used in conjunction with other mind/body therapies.
Reiki should never be used to replace conventional treatment of any medical condition.

Book Reiki Therapy sessions here: Hills Pilates Studio scheduler

Contact our Pilates Studio for more information on these programs: [email protected]


Aquatics News
Private Swim Lessons Year Round
The Hills has some of the best instructors around, and we continue to be committed to the client-instructor relationship. Building those bonds with an instructor is very important in the development of learning, especially with children. Please take the time to introduce yourself to an instructor and set up some private lessons. We currently have five swim instructors with a wide range of availability. Our newest instructor, Koung Chaiyasane, has the greatest availability. Here is a little bit about Koung:

Koung learned how to swim in her early 20s at Laney College with her current swim coach. She swam and played water polo with Laney College for two seasons. Koung is also a lifeguard which helped build her confidence as she started her teaching career in swimming.
Koung has worked with the Oakland Undercurrents, City of Oakland, UC Berkeley, Berkeley YMCA, City of Piedmont, Claremont Club and Spa, and Patti's swim school. Koung is currently swimming with a U.S.Masters team and still competing. Her teaching experience ranges from tiny tot, preschool, and youth to adult and special needs.
Koung enjoys open water swimming, scuba diving, and camping. Outside of the pool she is a huge pet lover.
Schedule a lesson with Koung via email: [email protected]
More info about swim lessons options on our website!



Celebrate Employee Birthdays!
WOJTALA, SHAD T. 11/07
PALACIO, GABRIELA 11/08
COLE, SALLY 11/10
ISOLA, JOSEPH 11/12
PELL, VIRGINIA 11/13
BEVINS, ALEXIS 11/23
GONZALEZ, VANESSA 11/24
HADDAWY, TATIANA 11/25
JIMENEZ, JUAN J. 11/29


Please join us in wishing each of them a happy birthday and thanking them for all of their hard work!