UPDATE FROM OUR GENERAL MANAGER
Dear Hills Members,

As we enter into the month of November we're always reminded to give thanks. Thank you to every single one of you! As members you've stuck by us through undoubtedly one of the most challenging years in the near 60 year history of this club. Another thanks for doing your part in wiping down equipment after each use!

Unfortunately, Contra Costa County is moving back to the Red "Substantial" tier effective Friday, 11/13. This means indoor capacities are back to 10 percent. The Indoor Gym (Fitness Center) will be set at a maximum of 6 people and the Peak Fit Studio a maximum of 2 people. We are discontinuing reservations for the Indoor Gym and Peak Fit Studio for now, and if we feel we need to bring those reservations back we will. If you come to the club to use the Indoor Gym or the Peak Fit Studio, you must still check in with Front Desk staff and continue to wear a mask the entire time. Again, a big thanks to everyone for continuing to clean up after themselves and assisting us as a staff to keep our club disinfected & sanitized!!!

With the weather transitioning from season to season, the colder climate brings more of the common cold and flu symptoms. Yet never before in the club's history have we had to include a pandemic during this month. Please be mindful that if you are experiencing ANY COVID-19 symptoms, it is best and safest to stay home until you are symptom free. This will allow you to rest up and simultaneously help prevent any viruses from entering the club.

Thanks to the state of California for recently changing its policy on outdoor hot tubs as we have reopened our hot tubs this month! Both the Adult and Family Hot Tubs will be available to be reserved by One Member or "Family Only" Members. Each reservation is 15 minutes long. Members are allowed one pool reservation (Lap Lane Pool, Family Pool, or Diving Well) as well as one hot tub reservation (Adult Hot Tub or Family Hot Tub) per day. We recently purchased new chemical controllers for the Hot Tubs and lately we have been letting some members use the hot tubs as we test both the new controllers as well as train the staff on how we plan to manage the new hot tub reservations in our system. We plan to stagger "reservation blocks" into each daily schedule for both hot tubs to ensure they are staying chemically balanced as well as getting cleaned on and around their exteriors. If you see staff cleaning at any time please feel free to give them a thank you, it goes a long way!

With the county moving back into the red "Substantial" tier, our locker rooms are open with a maximum capacity of 4 people. The state did change its stance on indoor showers, therefore we have reopened those to be used physically distanced from others. We also have reintroduced the outdoor shower to be used by one person or a family unit.

Always, always, always a HUGE thank you to the staff!!! They are all working so hard to keep the club clean, safe, organized, and operating as smooth as physically possible. Please remember to be patient as you check in, even if you are late to a reservation. To keep you safe, our club check-in system is the best way to monitor who has come in and out of the club on a daily basis.

Now for a coincidence, I promise. On Election Day, The Hills sent out a member poll giving everyone an opportunity to vote for what time reservations should become eligible to reserve. I will be announcing those results soon. Thank you if you casted a vote!

Lastly, a thank you for your patience, and an apology from me. Some of you have reached out via email, voicemail, or through social media. During the past eight months, and since the beginning of shelter in place, there have been times where I didn't respond or have not yet had a chance. Please know that I will try to connect with you all as soon as possible and will continue to do so.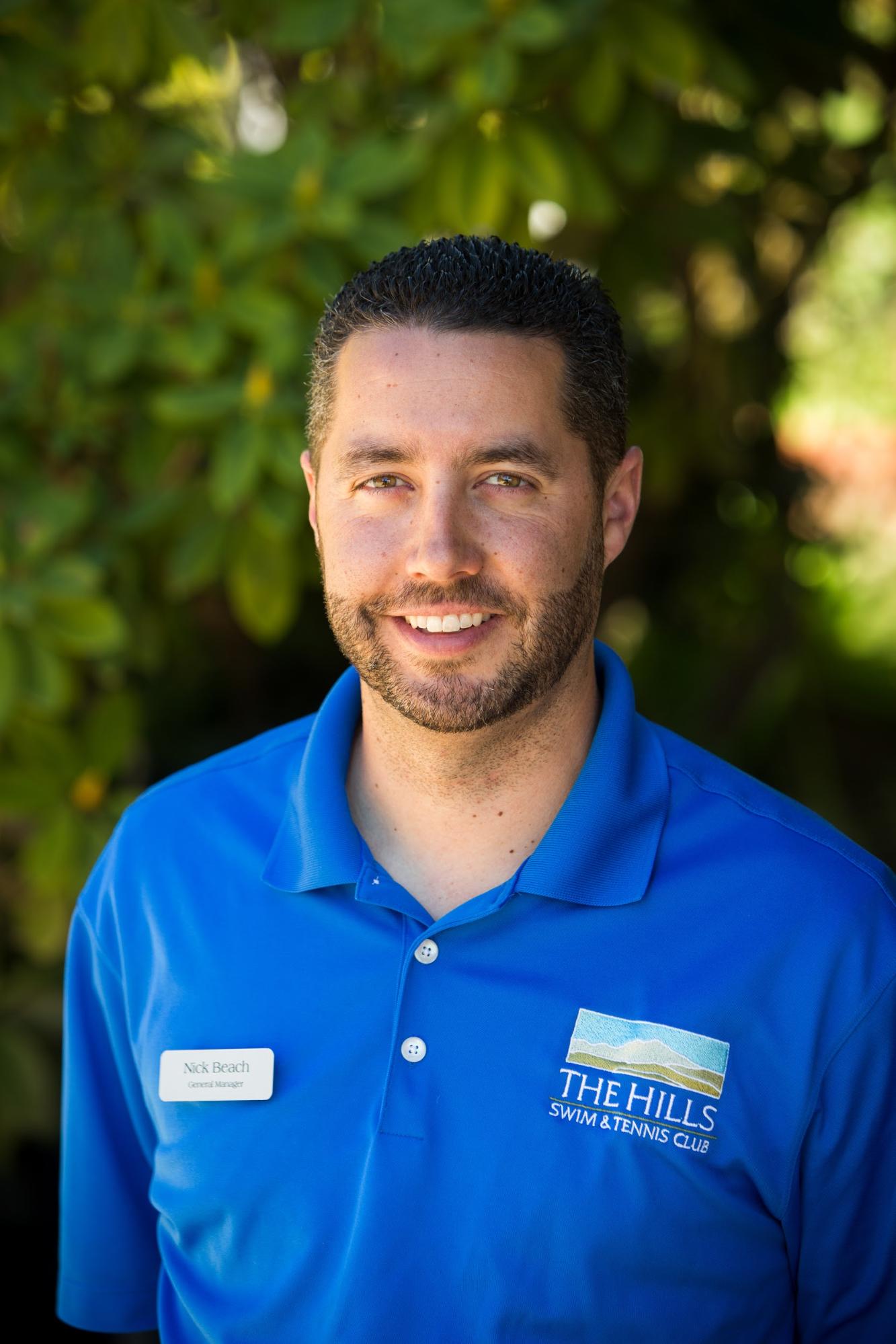 Happy Thanksgiving to all and be healthy!!!

-Nick


Available: *Current Contra Costa County Guidelines continue to apply
Lap Lane Swimming by reservation (reserve through the front desk, online, or on our app) Family/Recreational Pool by reservation (reserve through the front desk, online, or on our app)
Diving Well/Deep End of Lap Pool by reservation (reserve through the front desk, online, or on our app)
Hot Tubs 15-minute increments by reservation (reserve through the front desk, online, or on our app)
Indoor/Outdoor Showers please only 1 person or a family unit. Please practice physical distancing of at least six feet.
Indoor Gym (Fitness Center) maximum 6 people; 30-min or 60-min reservation
Peak Fit Studio maximum 2 people; 30-min or 60-min reservation
Locker Rooms Available for toilet and sink use as well as garment changing. Maximum of 4 people.
Outdoor Gym in the six Cabanas 30-min or 60-min reservation (reserve through the front desk, online, or on our app)
Tennis Courts by reservation (reserve through the front desk, online, or on our app)
Pickleball by reservation (reserve through the front desk, online, or on our app)
Kids Camps contact Camp Director Anthony Lum for more information [email protected]
Tennis Lessons contact Eddie Pasternak [email protected] or Maaria Husain [email protected]
Outdoor Tae Kwon Do Classes contact Jeff Allen for more information [email protected]
Hills Hurricane Swim Team Camps contact Aquatics Director Shad Wojtala for information [email protected]
Outdoor Group Exercise Classes (Virtual Zoom classes continue to be provided as well)
Virtual Peak Fit Class Contact Peak Fit Coordinator Jennie Votel [email protected]
Indoor or Outdoor Private Pilates Training contact Pilates Director Therese Brewitz for more info [email protected]
Indoor or Outdoor Personal Training contact Nick [email protected] or Jeff Allen [email protected]
Swim Lessons private and semi private, contact Aquatics Director Shad Wojtala for information [email protected]
Manta Rays and Tidal Waves Swim Classes contact Aquatics Director Shad Wojtala for information [email protected]

Unavailable: *County is yet to lift restrictions

Saunas
Cafe
Child Care
Basketball
Ping Pong
Guests
Back Deck
Greetings from the Billing Department

If you elected to receive an emailed monthly statement, our apologies for the confusing message included in the body of the email for the November statement. The attached statement/invoice was accurate, but the mention of "April dues" was added back when we were ordered to close the club, so please disregard it as it did not pertain to November billing.

Speaking of monthly statements, rather than wait for a statement (either by regular mail or email), we are now asking members to log in to your member profile to view your current balance.

Here are the instructions to access your member portal. If you follow these steps, you should have no problem logging in...
Go to cachstc.clubautomation.com and click "Member Login" at the top
Click "Access My Account" on the bottom of the screen
Provide your name and email address. It must be the same email address as the club has for you.
Go to your email on your phone or computer and click the link it sent
Provide a password (Note: you may also have to provide an emergency contact or missing info)
Install "The Hills Swim & Tennis Club" App on your phone (Note: before accessing the app on your phone, you MUST set up your online member portal!)
Log in with your email and password (same one you created for your member portal)
Our sincerest apologies for any confusion this might have caused. As we continue to operate as a "reservation-based" club, it is now more important than ever to have online access to your member portal, whether it be for billing issues or reservations!

Kind regards,
Stefani

- Stefani McDermott
Administrative & Accounting Manager
Hills Campers Made the Most of Halloween

Hills kids are loving Fall Camp; and they especially loved dressing in costumes for Halloween! Afternoon camp is a great way to get your kids off their screens and out of the house. Next weekly session will be held November 16-20 and there is still space available! Cost is $200 per child (Monday through Friday, 2-6pm). There will be no camp offered Thanksgiving week, but stay tuned, as December camp weeks will soon be announced.

NOTE: There are currently 12 campers registered. We can handle up to 24 campers, two groups consisting of 12 kids each.

If you are interested in registering your kids for next week's Fall Camp, please go log into your online member portal. In the left hand column, click on the button "Register for Programs" and it is there where you will find Fall Week 12 camp registration.

Please direct any camp questions to Anthony Lum, Camp Director, [email protected]
Hills Aquatics Continue to Offer Safe Swim Time

The demand for the pool is still going strong into the Fall months. The Aquatics Staff appreciates your support for our programs and your compliance with our current safety guidelines. As we head into Winter and the weather cools down, we will be easing back on offerings. We will continue with year round private lessons and bring back our pre-comp group after a month off in December.

Private Lessons
Private lessons are continuing throughout the year. The Fall and Winter session is a great time to sign up for weekly private lessons to keep your kids water safe as well as continuing to improve. Here is more information on how to book a lesson as well as our COVID-19 response.

Swim Team
Pre-Competitive groups will continue through November. Sign ups will be available beginning Oct 16 for our final session of 2020. Full info here!

Competitive Swim Team
We are now in our fifth month of cohort camp groups. Due to the limited number of swimmers that the program is allowed at this time, we are currently not accepting tryouts for the remainder of 2020. The current team practice schedule and full updated information can be found here.

Lap Lane Swimming Rules:
Children ages 10+ can share a lane with a parent or household guardian for a 30-min reservation
If you arrive early for your reservation and a lane is free, feel free to start swimming early. Similarly, if your reservation ends and a lane is still available, feel free to swim a little longer. Both occurrences need to be cleared by the pool monitor before beginning.
Making a reservation and then not showing up and/or failure to cancel the reservation could be subject to a penalty fee on the account if it continues to happen.
Please Note: Hills Hurricane Swim Team will be using no more than 4 lanes from 4-8pm, Monday-Friday.
Family Rec Pool Rules:
30-minute maximum per day per person/family
All children under 14 years old needs a parent or guardian present and attentive to them
Please show courtesy and respect to whomever has the opposite side reservation
Swim toys, floaties, noodles are allowed, so long as they are used appropriately and are not shared with others
Diving Well (Deep End) Pool Rules:
Reservations can be made by an individual or by a family.
No children under the age of 10 can be in the Diving Well. Children ages 10-13 must be accompanied by a parent or adult guardian. Anyone 14 years and older is allowed to be in the Diving Well alone, but we do advise to rent or bring your own float belt.
For information regarding renting a float belt please contact the front desk or Group Exercise Director Angelique Pine (

[email protected]

).
Hot Tub Rules:
15-minute time slots available to be reserved by one member or "Family Only" members
Members can make one pool reservation (lap lane pool, family pool or diving well) as well as one hot tub reservation per day
No one under the age of 18 is allowed in the Adult Hot Tub

Hills Hot Tubs Now Open...just in time for the cooler weather!
Tennis Anyone? Courts Open; Lessons Available

Tennis is fun, social and an all around good workout, and since it's an outdoor sport, it's gained popularity among members during COVID. Reminder that under the current county guidelines, singles play can be done with members of different households, but doubles play remains only available to people of the same household. Members can make a 1-hour court reservation per day.

For those members who are looking for some tennis instruction, please feel free to reach out to Hills Tennis Instructors, Eddie Pasternak, [email protected] or Maaria Husain, [email protected]
Safe Lesson Guidelines for Tennis During COVID
Lessons will be limited to private or semi-private until further notice.
All social distancing protocols must be followed at all times. Masks are not necessary on court but please wear when you enter and exit the tennis court.
Tennis pro will wear a mask when within 6 feet of students.
Wash/sterilize your hands before and after you play, avoid touching your face while playing, before and after eating, after going to the restroom, sneezing and coughing.
Bring a water bottle with you to lessons.
Cover coughs and sneezes and dispose of any used tissue immediately.
If you should touch any part of the court with your hands, immediately use hand sanitizer.
Leave the court at the end of lesson time to allow for court cleaning and limit interaction between students arriving/departing.
Wash hands or use hand sanitizer after exiting court.
Clean all personal tennis items with alcohol-based disinfectant including racquets, towels, and grips after play.
Pickleball: A Fun Sport For All Ages

Similar to tennis, pickleball is another fun way to workout outdoors. For those of you who have not yet given it a try, it is best described as a combination of tennis, badminton and table tennis (or ping pong). The rules are pretty simple and the game is for all ages and skill levels and is easy for beginners to learn. If you are comfortable playing any of the aforementioned paddle sports, the game will most likely become a fast-paced competitive game. It's really up to you; make it fun and social or highly competitive. Bottom line: it's a great excuse to come up to the club and get some exercise. And don't be surprised if you give it a try and find it to be your new favorite sport!

Reminder that just like tennis, under the current county guidelines, singles play can be done with members of different households, but doubles play remains only available to people of the same household. Members can make a 1-hour reservation for pickleball per day.

More Hills Members are enjoying the fast-growing sport of pickleball!
Pilates Studio Promotes Wellness In November

Happy November and Thanksgiving from the Hills Pilates and Wellness Studio,

This month we would like to highlight the word Wellness again! Eight months into a pandemic, with political and social unrest and after a contentious election season, we are all worn to the bone!
It is easy to give in to anger, stress, fatigue and even depression. Many of us have what is referred to as adrenal fatigue from prolonged stress. We want to offer tools to cope with chronic uncertainty and stress. Here are some powerful examples:

Shoulder and Core class on Zoom
Are your shoulders stuck by your ears from tension and too much screen time?
We are all turning a little "Caveman" with so many hours on our phones and laptops.
Try Anne's Shoulder and Core class on Zoom, Mondays at 4pm
register here:https://cachstc.clubautomation.com/

Train one-on-one or as a couple in a duet in our studio
With the weather turning cooler, we are taking our private Pilates training back into our cozy studio. Private Pilates training can be the mindbody "tune-up" you are looking for. Strengthen deep core muscles, improve posture, heal injuries and little irritations, feel better and get toned!
Contact our studio to schedule your session:[email protected]

Reiki Therapy for health and peace of mind
Our Reiki Healing Therapy offerings are resuming again. Reiki is a form of ancient Japanese healing bodywork. Read more about Reiki and its many benefits:/services/massage
Some of the Reiki hand positions have been altered to avoid direct contact with skin or face.
To book a Reiki appointment, please contact: [email protected]

Take breaks for yourself, deep breaths, long walks, naps, whatever is nurturing you today!

Follow us on Instagram: https://www.instagram.com/hillspilatesandwellness/

Be well!
-Therese Brewitz and the Hills Pilates and Wellness Team
Group Exercise Class Options:
Outdoor, Zoom or Both!

Angelique's TBC class on Mondays at 8am is a great overall workout!
Thank you to all the members who took the time to fill out the Group exercise survey last week. It has been very helpful. Unfortunately, the Bay Area news suggests that we will return to the red tier for COVID, which means a more restrictive group exercise schedule. As a result, we are forced to postpone indoor classes. However, we have added additional outdoor classes to help get you through the holiday season.

New outdoor classes for November include Monday TBC with Angelique at 8am. Starting November 18th, we will offer a spin/sculpt class on Wednesday evenings with Jenn at 5:30pm. The class will start with a warm up on the bikes and then move into strength exercises to complete your workout. We also added a Sunday morning Spin class at 9am with Tori.

Also, Aqua aerobics is back! Starting on November 19th we will offer a 9am Aqua aerobics class with Sandra (Tuesdays), and BZ will return on November 24th BZ with her Aqua aerobics class at 9am (Thursdays) as well. Members will need an aqua belt to take these classes; if you do not have one, The Hills will provide a long term rental for a nominal fee. See the front desk for details. As with all of our outdoor classes, we need at least two members signed up in order to offer the class, so please register if you're interested in participating.

Due to the colder weather, Outdoor Yoga is cancelled for the winter, but we hope to bring it back in the spring. In the meantime, an assortment of yoga classes is still available via Zoom, so be sure to check the schedule if yoga is your thing!

- Angelique Pine, Group Exercise Director
Keep Fit Throughout the Holidays with Personal Training

Members now have the option of heading indoors for personal training sessions
Both indoor and outdoor personal training sessions are now available. If you book an indoor session, you can rest assured that it is a clean, safe environment inside the gym while you workout with your trainer. Feel free to reach out to Nick, [email protected] or Jeff Allen, [email protected] for rates or to set up an appointment.
Get (or Stay) in Peak Shape Through Our Peak Fit Program

The Peak Fit studio is open for members to workout. Masks are required at all times. Due to the limited capacity, we still cannot offer indoor classes, but we are excited that this additional space is available to members!



Members are still enjoying Jennie's Saturday morning Zoom workout!
For those members looking for a good home workout, join me Saturday morning 8:30am for a virtual Peak Fit class. It's a high intensity class that includes a mix of cardio, strength, core and flexibility.



Plenty of open space to spread out for Friday morning's outdoor TRX class
Back in September we also added outdoor TRX classes on the pickleball court, Fridays at 8am. These small, specialized classes are limited to a group of 4-6 members with the goal of each participant committing to every Friday session of the month. Classes will continue through December and will be sold on a per-month basis and pricing will vary per month. Please contact me ASAP if you are interested.

Stay fit, stay healthy, and hope to see you soon!

- Jennie Votel, Peak Fit Director
510-316-3529
[email protected]
Celebrate November Employee Birthdays

Please join us in wishing each of them a happy birthday and thanking them for all of their hard work!

Shad Wojtala, 11/07
Gabi Palacio, 11/08
Claudia Gutierrez, 11/10
Virginia Dare, 11/13
Amber Hogue, 11/15
Vanessa Gonzalez, 11/24
Jose Jimenez, 11/29