The Hills Swim & Tennis Club Newsletter
August 2021
UPDATE FROM OUR GENERAL MANAGER
Dear Hills Members,

With a record number of membership transfers over the past three months, we have attracted a lot of new families and attendance has increased dramatically. Combined with great weather and kids' summer activities, the club is operating at full capacity throughout the week. The recurrent theme I need to communicate is "safety first." For safety purposes we have decided to disable the family hot tub jets.

Due to the increase of positive Covid-19 Delta variant cases, the County has mandated masks to be worn in all indoor areas of the club. This includes when passing through the lobby, inside the gym, the Peak Fit studio, the group fitness room and the locker rooms. Please abide by this mandation no matter what your vaccination status is. We hope to be out of this as soon as possible.

I wanted to give a big shout out and thank you to Camp Director Anthony Lum and his camp counselors, Mitch Curtis and Maddie Porras, for a successful 11 weeks of summer camp. Anthony has basically been providing Hills families with camp options for over a year now. We brought camp back last summer when we reopened in June of 2020. At the end of the summer it was apparent that children would not be returning to in-person schools, so Anthony continued to provide afternoon camps where kids had somewhere to go and interact after their virtual schooling had ended. I know many parents have said it, but I wanted to recognize Anthony's continued work ethic to provide such a fun, safe, and enjoyable camp to many of the youngsters here! Anthony you have been, and continue to be, a rockstar here at The Hills!!!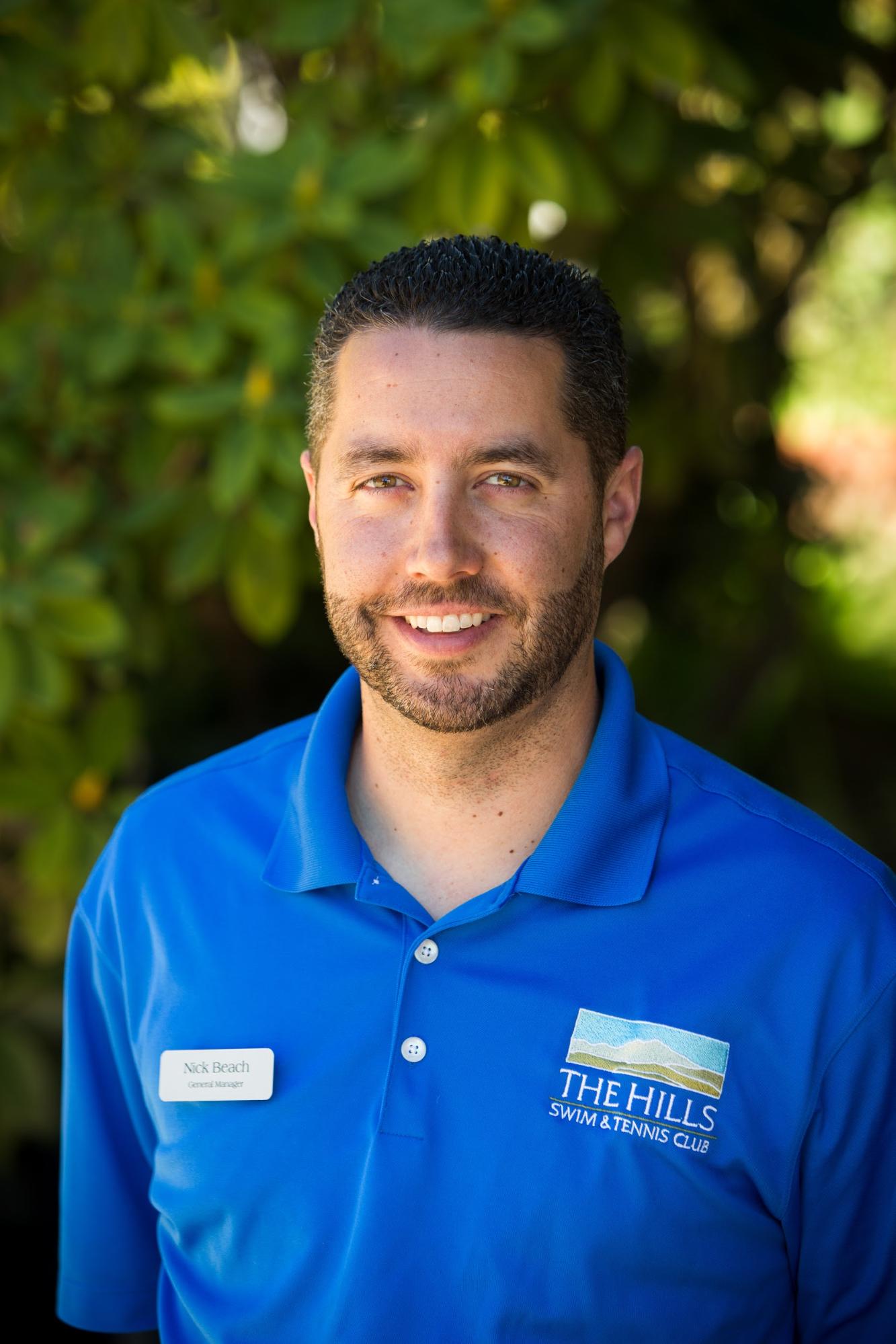 -Nick
Notes from the Billing Department
Now that we no longer require reservations for each and every activity, it's been so nice to see members utilizing the club more--whether it be to workout, socialize, or just to relax and read a magazine in the lobby. And although we have "lifted" the majority of our reservations, it is still extremely important for all members to check in at the front desk upon entry into the club. Reason being: if you are coming up to the club for either a lap lane reservation or tennis court reservation and are not properly checked in for your specific time slot, our club software system will post a "no show" fee on to your account. In other words, if you are coming up for more than just your reservation, it helps to communicate this to our front desk staff so they know to check the reservation schedule.

Thank you in advance for taking this extra step to avoid potential erroneous charges posting to your account. A little extra communication on the front end will hopefully help eliminate additional work on the back end as it relates to billing!

Lastly, to keep the club's front entry clear and to speed up the check-in process, be sure to have each guest in your party complete a Guest Waiver before arriving at the club. The waiver form is available to download on the homepage of our website, and must be completed and signed by the parent of guests under the age of 18.
As always, send me an email, [email protected], if you have any questions/concerns.

- Stefani McDermott, Administrative & Accounting Manager
Hills Cafe Charcuterie Boards

Delicious charcuterie boards are now available at our cafe. BYOB and pair our boards with a 2-hour cabana reservation and your happy hour is set! Just remember to bring your plastic drinkware as no glass is allowed. Small boards are $24 and large boards are $40.
Hills Summer Camp is Wrapping Up

Our summer camp is winding down as kids are preparing to head back to school. The smiles, laughter and energy that the campers have brought to the club this summer was a welcome change once the heavy Covid restrictions were lifted.

For those new members, next week is our final week (Week 11: Aug 9-13) of Summer Camp for kids 5-12 years old. We offer both a morning session, 8am-12pm, or an afternoon session, 1pm-5pm. The cost for the morning session is $220/camper (additional cost to cover an included group swim lesson). The afternoon session cost is $200/camper.

Campers should bring a swimsuit, towel and sunscreen every day. You also might want to pack a hat as well as a second change of clothing, and maybe even a sweatshirt. We are still unable to provide food this summer, so we highly recommend that your camper has been fed before the beginning of his or her session. Please be sure to pack a water bottle labeled with your child's name.

All in all, it's been such a successful summer that Anthony has been approached by multiple Hills parents asking for the return of our "After School" camp. Stay tuned as Anthony works out the schedule with his camp counselors, but please be aware that there will be no camp offerings in the month of September.

Any additional questions regarding the final camp week or future camps can be directed to Camp Director, Anthony Lum, [email protected].
Water Safety Reminders

We take water safety very seriously and our staff have some friendly reminders that came to mind when thinking about you and your children's safety around our pools:
"Accidents happen when you feel someone else is watching"
-Lifeguards are never a substitute for a parent's direct supervision.
"Only takes a minute, drowning is preventable"
-The Hills Swim & Tennis Club requires parents to be actively watching their children.
"Arms reach could a safe a life"
-Anyone under the height of 43" must be within an arm's length of a parent.
We care about you!
Club Water Watchers Card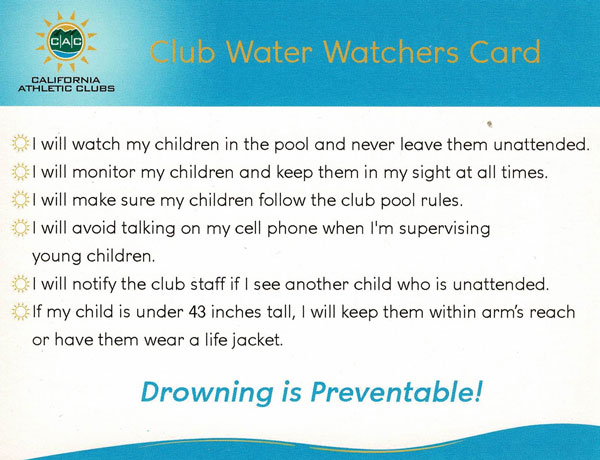 Our "Club Water Watchers Card" is a reminder for all members that even though we have lifeguards on staff throughout the summer, parents need to always keep a close eye on their kids. Safety is our number one priority at The Hills.

It is important that the pool rules are reviewed with the whole family. We have these policies in place for your own personal safety and so those around you can enjoy the pool safely as well. Our lifeguards are trained to use their voices and not blow their whistles all day, so please respect their decisions as they are looking out for the safety of everyone.
Lap Lane Swimming Rules:
Lap Lane reservations remain weekdays from 9am-2pm in lanes 4, 5, & 6. All other lanes and times are available for shared member swimming.
Please Note: Hills Hurricane Swim Team will be using no more than 4 lanes from 4-8pm, Monday-Friday.
Diving Board Rules:
The diving board will be open when at least 3 lifeguards are working
Only one person allowed on the board at a time
Members must wait until the area is completely clear before using the diving board
High Demand for Private Swim Lessons

From basic learning to swim, to adult stroke mechanics, to advanced competitive swimming, our instructors are available to improve your swim experience at The Hills. We are giving full attention to Hills members through the summer as non-members will not be allowed to take lessons until September. We have new swim instructors available!

Instructors book their own lessons.
Learn more about our offerings here!
Members Fill Aqua Fitness Classes

Many members are taking advantage of our larger aqua fitness classes! The class roster size has been increased to 18 members and we still ask that you register in advance. Classes are offered 3 days a week from 9-10am: Tuesdays with Bz; Thursdays with Sandra; Sundays with Sally. Members need an aqua belt to take these classes; if you do not have one, The Hills will provide a long term rental for a nominal fee. Please ask the front desk staff for details. As with all of our outdoor classes, we need at least three members signed up in order to offer these classes, so please register if you're interested in participating.
Hills Hurricane Swim Team Tryouts

August 17 or August 19
5:15-5:45pm
Ages 8-12 only

The competitive team has limited space available and is opening for tryouts. Swimmers must be able to complete the prerequisite requirements to be considered. Swimmers currently enrolled in our pre-competitive groups are not eligible to attend, as they are being reviewed by their coach at practice.
Pre-Registration required
Manta Rays & Tidal Waves Pre-Comp Program

2021 Upcoming Sessions
Session 8: Aug 4-27 (CLASS FULL)
Session 9: Sept 1-Oct 1 (Registration Opens Aug 15, 8am)
Session 10: Oct 6-27 (Registration Opens Sept 15, 8am) (meets Mon, Oct 25 instead of Fri, Oct 29)
Session 11: Nov 3-19 (Registration Opens Oct 15, 8am) (short session)

Manta Rays (Pre-Swim Team) AGE 4 - 8 W/F 4:00pm - 4:30pm Pre Requisite: Swimmers must be able to tread in deep water for 30 seconds. Swimmers must be able to swim unassisted for 10 yards. Swimmers will learn basic swimming skills for all four strokes. Team activity skills and group swim safety are introduced. Instruction will be conducted in and out of the water.

Tidal Waves (Novice Swim Team) AGE 6 - 10 W/F 4:30pm - 5:00pm
Swimmers must pass the prerequisite for swim team: *50yards of freestyle with side breathing *25yards of back swimming *Treading water for 30 seconds *Streamline off the wall for 5 yards. This group will prepare swimmers for the swim team. This class will incorporate on-deck coaching with minimal in water instruction.

Full info and registration link here!
Adult Tennis Clinics Are Back

Come join us for a good time on the courts during our free Adult Tennis Clinics! Meet some new people and keep your feet moving. No sign-up necessary. This monthly event is free, and open to members only and is happening on Monday, August 9. From 6-7pm, beginners get an hour of instruction; 7-8pm is for intermediate/advanced players.

Our two courts have gotten much more usage this past year due to the pandemic. Members can book a 1-hour court reservation per day either on our Manzanita Court or Diablo Court. If you are interested in nighttime tennis, you can reserve Diablo Court after dark as this court has lights.

For those members who are looking for some tennis instruction, we offer lessons for both kids and adults. Please feel free to reach out to Hills Tennis Instructors, Eddie Pasternak, [email protected] or Maaria Husain, [email protected]
Pickleballers Looking for New Players

Pickleball is the fastest growing sport in the US and no wonder, it's fun for people of all ages and athletic ability and it's good for you, improving your cardiovascular condition, working memory and reaction time. Compared to tennis, the court is about 1/3 the size so there is less running and more strategy, especially in doubles where two people can easily cover the width of the court. Also the ball is a lightweight plastic ball with upwards of 40 holes that restrict the speed of the ball when hit.

So how do I get started playing, you ask? You can get an idea of how pickleball is played by watching some videos online; just search for pickleball videos. However, it's better to watch some of us amateurs play on the court at the club. We usually have a group of players on the pickleball/basketball court from 11am to 1pm on weekdays, the club's open pickleball times. To play with us, the only requirement is a pair of rubber soled shoes firmly attached to your feet. Playing in sandals or loose fitting shoes invite a sprained ankle or worse. We also recommend a hat or visor to shade your eyes from the sun. Pickleball paddles and balls are available in the pickleball bag at the front desk. It's easiest to learn the rules of play and scoring and the order of serving if you play with someone who already knows them. Over time you'll pick them up. Our games during the open pickleball times are friendly, social games with some accommodations made for beginning players.

See you on the court!
- Hills Members (and resident pickleballers) Bill Gage and Elaine Hofmann
Outdoor Family Fun Activities

Our enclosed basketball court is a great place to grab some friends for a pick-up game or to practice your shot. Basketballs are available at the front desk. Or maybe ping pong (or table tennis) is more your game? If so, the front desk also has paddles and balls for members to borrow. Either way, you're bound to have fun and maybe even start some friendly competition! All we ask is that you return any borrowed equipment to the front desk when you are finished playing.
Pilates Summer of 2021

It's August and the Pilates studio is open, so we invite you to book a reformer session. We offer privates, duets and small group classes. Just please remember to wear your mask in our studio!

We are told that we need to stretch more to combat tight muscles and overall tension. But stretching a muscle group may not necessarily lead to improved flexibility. Muscles and connective tissue respond to different activities. Stretching a cold muscle may even lead to injury. A tight muscle or area of the body may indicate a different problem, such as a weak muscle group, or an injury.

Pilates training has the unique ability to both work our muscles and release them simultaneously. Using spring-loaded training, the Pilates reformer and other equipment allows us to contract and release the muscle and safely lengthen it at the same time.

In other words, you build strength and improve flexibility in a short period of time. It feels great, too! Read more about our popular reformer classes as well as our Zoom training programs below.

- The Hills Pilates and Wellness Studio Team
Anne, Barbara, Colleen, Patricia and Therese

Follow us on Instagram: https://www.instagram.com/hillspilatesandwellness/
Lengthen & Strengthen with Reformer Classes

Our popular Reformer Pilates program is in session during the summer and more classes will be added in September. Regular reformer training builds core strength and long, lean muscle tone and is a great tool for rehabbing and preventing injuries.

New to reformer? Contact our studio to get an introduction and get assigned to the appropriate class: [email protected]
Get Fit through Zoom Pilates

Zoom fitness has some great benefits, it is convenient and you can take it with you when you travel. We have people training with us over Zoom all the way from Vermont, Texas and in the South Bay. Try our Keep it Moving Wednesdays at 5pm on Zoom. We do our best to cover
Yoga, strength, balance, cardio, Pilates, barre training, agility, HIIT training, all in an hour! Get moving, get energized, get fit on Zoom!

Register online for your class here:
https://cachstc.clubautomation.com/
Early Morning Yoga is Back!

Early morning yoga is back! Our newest instructor, AnneSophie began teaching her 6:45am yoga class on Thursday, August 5th. AnneSophie Leary has been teaching yoga for nearly a decade. With over 500 hours of training in the field, she stems primarily in the Vinyasa lineage with a background in Forrest, therapeutics and power yoga. Her intent in teaching yoga is to help give the tools one needs to heal themselves by listening to the body as this is what yoga has done for her. She seeks to inspire people through her love and passion by igniting powerful strong classes yet finding joy and release throughout the process. Due to the return of the indoor mask mandate, AnneSophie will teach her class outdoors so if you plan to attend, please wear layers. Since all classes will again be outdoors this month we ask that you bring your own mat and water. We are also continuing to ask that you register for classes. Registration opens 7 days in advance for all group fitness classes.

- Angelique Pine, Group Exercise Director
Options for Keeping Fit

After months of only being able to workout outdoors, more members have been heading back into the gym and Peak Fit studio. There is an ample amount of space for members to feel safe while working out indoors.
Members also have the option of heading upstairs to our Peak Fit. Whether it's a TRX workout you're looking for, or a quiet, calm space to stretch, this is a beautiful space for Hills members to utilize.

And for those still looking for an outdoor workout, a variety of cardio equipment as well as a selection of dumbbells can be found in Cabanas 1, 2 & 3. No reservations are required for these cabanas (only for our "lounging" cabanas).

No matter where you choose to workout, we kindly ask that you please continue to wipe down equipment after each use. Lastly, shirts and closed toed shoes MUST be worn when using inside AND outside fitness equipment.
Relax in Our Cabanas

It's no surprise that members have been enjoying the return of the 2-hour cabana reservations, especially on the weekends and warm weekday afternoons/evenings. Reservations open at 8am 3 days in advance. For example, on Tuesday morning at 8am, members can log in and book a cabana reservation for Friday. Please be aware that families can only make one 2-hour reservation per day. We ask that members tidy up the cabana at the end of each use.
Small Group Outdoor TRX

Want to step up your fitness level but still have fun? If so, check out our outdoor Tuesday morning TRX classes. Each class is different, to push you harder than you would push yourself. We want to keep your body guessing -- and challenge you with every class! There is no doubt you will burn calories, build muscle strength, and wonder where the time went!

We invite you to come on out and join us on Tuesdays from 8-8:50am on the pickleball court. The class is open to all levels and is lots of fun; the cost for each class is $15. We would like participants to commit to a month of classes (1x per week). If you are interested in trying TRX, please reach out to me.

My hope is to add more in-person PeakFit classes in the Fall!!

Happy August!!

- Jennie Votel, Peak Fit Director
510-316-3529
[email protected]
Summer Campers' Artwork Featured in Hills Lobby

Next time you walk through the front doors of the club, take a moment to enjoy the latest artwork on the lobby walls. This month we decided to feature our own resident summer campers work and it is certainly brightening up the club! Who knew we had so many young aspiring artists here at The Hills?!
New Book Release for Longtime Hills Member & Author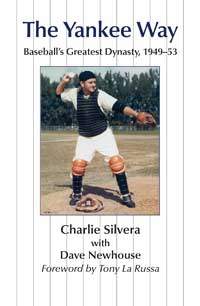 The Hills longtime member Dave Newhouse has written a new book titled: "The Yankee Way, Baseball's Greatest Dynasty, 1949-53".

In this latest paperback, he shares his thoughts on how the New York Yankees are the greatest dynasty not only in baseball, but in all sports. The Yankees, in fact, embody a series of dynasties, from Ruth-Gehrig through Jeter-Rivera. But the absolute greatest Yankees were the 1949-1953 pinstripers, winners of an unprecedented five consecutive World Series titles. "The Yankee Way", Hall of Fame manager Tony LaRussa writes in the book's foreword, is "full of Yankee winning keys, star-studded competitions, and insights about one of baseball's historically fascinating periods." Key contributors to this dynasty, including Joe DiMaggio, Mickey Mantle, Yogi Berra, Billy Martin, Phil Rizzuto, and manager Casey Stengel, are remembered in this book by their teammate, Charlie Silvera, catcher and co-author.

Newhouse was an award-winning sportswriter/columnist for the Oakland Tribune before his retirement. He then continued his work as an author, and "The Yankee Way" is his eighteenth book. You can find his book on Amazon.com, at your local bookstore or by ordering directly from www.stjohannpress.com.
Celebrate August Employee Birthdays

Please join us in wishing each of them a happy birthday and thanking them for all of their hard work!
Elaine Hofmann, 08/04
Drew Swartz, 08/24
Lucien Regnier, 08/24
Aidan McDermott, 08/25
Erik Everett, 08/28
Danny Camozzo, 08/31