UPDATE FROM OUR GENERAL MANAGER
Dear Hills Members,

Somehow December is here! This 2020 year at times has felt like it's been (at least) three years long. The new decade started way back in January. In March we were forced to completely close for two+ months. In June we were allowed to reopen some of the club. Since then it has been a roller coaster ride as COVID numbers have risen and fallen. Through it all there have been some frustrations and challenges that the pandemic has brought on The Hills. Yet, there has also been much more humbleness and gratitude, praise and thanks received, that we all get to experience this amazing health club so frequently together. If this year has taught me anything, it's that the soul of this club is stronger than ever and the future looks bright toward 2021 and beyond.

As a reminder, December typically causes more of the common cold and flu symptoms. Yet never before in the club's history have we had to include a pandemic during this month. Please be mindful that if you are experiencing ANY COVID-19 symptoms, it is best and safest to stay home until you are symptom free. This will allow you to rest up and simultaneously help prevent any viruses from entering the club.

Please, please, please make sure we have an updated email address linked to your member profile. I will be emailing my "State of The Hills" letter within the next few days which will have a good amount of information for what's to come next year. This email will also contain information from the Accounting Department in regards to paying annual and monthly dues in 2021.

I hope everyone had an enjoyable Thanksgiving last week, even under the unusual circumstances of a pandemic.

Happy Holidays to you and your loved ones!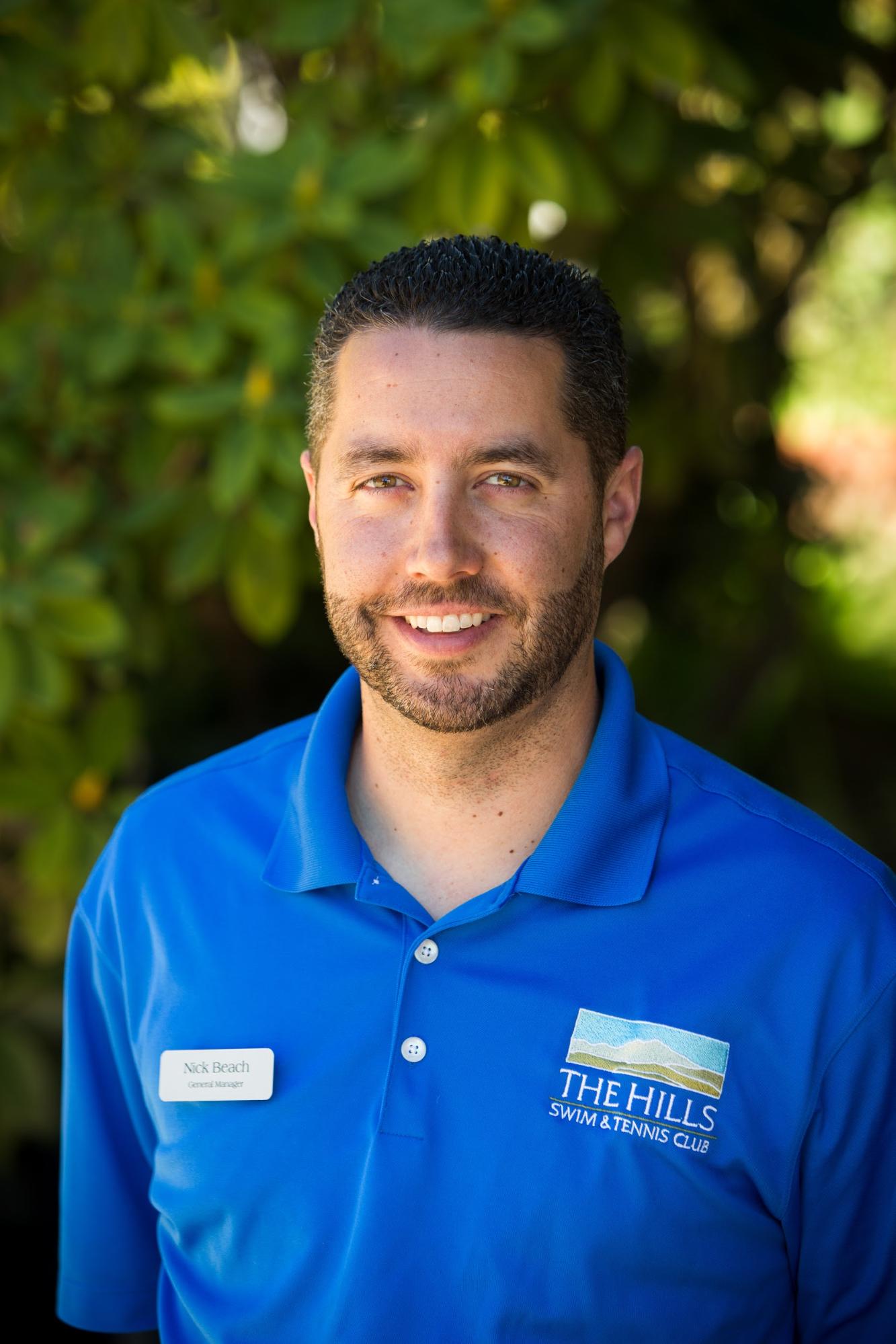 -Nick

Christmas Eve, Club closes at 4pm
Christmas Day, Club closed
New Year's Eve, Club closes at 4pm
New Year's Day, Club closed

Available: *Current Contra Costa County Guidelines continue to apply
Lap Lane Swimming by reservation (reserve through the front desk, online, or on our app) Family/Recreational Pool by reservation (reserve through the front desk, online, or on our app)
Diving Well/Deep End of Lap Pool by reservation (reserve through the front desk, online, or on our app)
Hot Tubs 15-minute increments by reservation (reserve through the front desk, online, or on our app)
Indoor/Outdoor Showers please only 1 person or a family unit. Please practice physical distancing of at least six feet.
Locker Rooms Available for toilet and sink use as well as garment changing. Maximum of 4 people.
Outdoor Gym in the six Cabanas 30-min or 60-min reservation (reserve through the front desk, online, or on our app)
Tennis Courts by reservation (reserve through the front desk, online, or on our app)
Pickleball/Basketball by reservation (reserve through the front desk, online, or on our app)
Kids Afternoon Camps contact Camp Director Anthony Lum for more information [email protected]
Tennis Lessons contact Eddie Pasternak [email protected] or Maaria Husain [email protected]
Outdoor Tae Kwon Do Classes contact Jeff Allen for more information [email protected]
Hills Hurricane Swim Team contact Aquatics Director Shad Wojtala for information [email protected]
Outdoor Group Exercise Classes (Virtual Zoom classes continue to be provided as well)
Outdoor/Virtual Peak Fit Class Contact Peak Fit Coordinator Jennie Votel [email protected]
Private Pilates Training contact Pilates Director Therese Brewitz for more info [email protected]
Indoor or Outdoor Personal Training contact Nick [email protected] or Jeff Allen [email protected]
Swim Lessons private and semi private, contact Aquatics Director Shad Wojtala for information [email protected]
Manta Rays and Tidal Waves Swim Classes contact Aquatics Director Shad Wojtala for information [email protected]

Unavailable: *County is yet to lift restrictions

Indoor Gym (Fitness Center)
Peak Fit Studio
Saunas
Cafe
Child Care
Ping Pong
Guests
Back Deck


Happy Holidays from the Billing Department

Signage asking all members to kindly remember to check in to the club AND to check in for ALL reservations
I have received many emails regarding erroneous no show fees posting to member accounts. In an effort to avoid these fees showing up on your account, we are kindly asking all members not only to check in upon arrival to the club, but also to be sure to check in for each and every reservation for the day. If you are checking in and another family member's name is listed on the reservation, this could cause a reservation "check in" to be overlooked. If this is the case, please be sure to communicate that important detail with the staff. We realize that sometimes the front desk staff is busy with another member or on the phone when you arrive. If that's the case, you can always take care of this "final step" on your way out. Although there is no guarantee that this will solve all of the problems related to these fees, I believe it will definitely help!

We also plan to make the switch to fully paperless statements in 2021. Whether or not you are currently set up for emailed statements, you always have the option of logging in to your member profile to view your current balance.

Instructions to access your member portal.
Go to cachstc.clubautomation.com and click "Member Login" at the top
Click "Access My Account" on the bottom of the screen
Provide your name and email address. It must be the same email address as the club has for you.
Go to your email on your phone or computer and click the link it sent
Provide a password (Note: you may also have to provide an emergency contact or missing info)
Install "The Hills Swim & Tennis Club" App on your phone (Note: before accessing the app on your phone, you MUST set up your online member portal!)
Log in with your email and password (same one you created for your member portal)
As we continue to operate with a no show fee policy, it is now more important than ever to have online access to your member portal, whether it be for billing issues or reservations!

Happy Holidays,
- Stefani McDermott, Administrative & Accounting Manager
Kids Camp Continues Through December

Anthony and his happy campers!
Wow, what a year to remember! 2020 has brought me both joy as well as sadness. Over the last 8 months, the pandemic has taken a toll on the entire world, but with safe practices, we are slowly starting to get the upper hand on it. Hopefully the vaccine will be useful and many people can be cured. My hope for 2021 is that the pandemic ends and we can return to our normal lives. Overall, I learned the true meaning of two words: patience and resilience.

For those of you who did not yet hear, I am officially a married man! My wife and I have finally tied the knot after many years of delays. We went back to our home city of Chicago and had a virtual "Zoom" wedding in front of 150 screens filled with our friends and family. Our initial wedding date was set for April, but COVID pushed it back a few months.

As far as The Hills Kids Camp, thankfully we were able to offer it this summer to all members, but with strict policies and procedures, were limited to a smaller number of kids per session than in the past. I am happy to say that it was such a huge success that we carried it into the fall (and now winter) months as an "afternoon/after school" camp. Under the guidance of myself and camp counselor Mitch Curtis, we created a fun-filled weekly environment for the kids. There are two sessions remaining in December, and a few spots are still available, so please contact me if you are interested in registering your kid(s). A big thanks goes to all the families for understanding our policies regarding social distancing and face masks.

Despite my busy national guard schedule, I was able to remain calm, cool, and collected during this past year. Whether it was fighting the wildfires, assisting in demonstrations with law enforcement, or being in the front line for COVID-19, I was able to do it without question.

Looking back, the two things that went wrong this year for me as it relates to the pandemic were not being able to go on my honeymoon to Iceland with my wife and not having the opportunity to run a full day of kids camp.

I am glad 2020 is coming to an end as this has been a year full of surprises. Hopefully in 2021, we can go back to normalcy. This year has been like no other. Happy holidays, stay safe and look forward to seeing all of you up at the club.

-Anthony, [email protected]
Aquatics/Swimming Continue as Most Popular Hills Offering

The demand for the pool is still going strong into the winter months. The Aquatics Staff appreciates your support for our programs and your compliance with our current safety guidelines.

Lap Lane Swimming Rules:
Children ages 10+ can share a lane with a parent or household guardian for a 30-min reservation
If you arrive early for your reservation and a lane is free, feel free to start swimming early. Similarly, if your reservation ends and a lane is still available, feel free to swim a little longer. Both occurrences need to be cleared by the pool monitor before beginning.
Making a reservation and then not showing up and/or failure to cancel the reservation could be subject to a penalty fee on the account if it continues to happen.
Please Note: Hills Hurricane Swim Team will be using no more than 4 lanes from 4-8pm, Monday-Friday.

Family Rec Pool Rules:
30-minute maximum per day per person/family
All children under 14 years old needs a parent or guardian present and attentive to them
Please show courtesy and respect to whomever has the opposite side reservation
Swim toys, floaties, noodles are allowed, so long as they are used appropriately and are not shared with other
Diving Well (Deep End) Pool Rules:
Reservations can be made by an individual or by a family.
No children under the age of 10 can be in the Diving Well. Children ages 10-13 must be accompanied by a parent or adult guardian. Anyone 14 years and older is allowed to be in the Diving Well alone, but we do advise to rent or bring your own float belt.
For information regarding renting a float belt please contact the front desk or Group Exercise Director Angelique Pine (

[email protected]

).
Hot Tub Rules:
15-minute time slots available to be reserved by one member or "Family Only" members
Members can make one pool reservation (lap lane pool, family pool or diving well) as well as one hot tub reservation per day
No one under the age of 18 is allowed in the Adult Hot Tub


Book a 15-minute reservation in one of our hot tubs before or after a workout!
Private Lessons Offered Throughout Winter

Coach Koung helps a member with her stroke
Private lessons are continuing throughout the year. The Fall and Winter session is a great time to sign up for weekly private lessons to keep your kids water safe as well as continuing to improve. Here is more information on how to book a lesson as well as our COVID-19 response.
Aqua Aerobics Classes Return to The Hills

Our popular aqua aerobics classes started back up last month
Aqua aerobics is back! 9am class Tuesdays with Bz; Thursdays with Sandra. Members will need an aqua belt to take these classes; if you do not have one, The Hills will provide a long term rental for a nominal fee. See the front desk for details. As with all of our outdoor classes, we need at least three members signed up in order to offer the class, so please register if you're interested in participating. Registration opens 5 days in advance and class size is limited to 6 participants.
Competitive Swim Team Update

Our youth swimmers have been training since we reopened the club back on June 8th. On November 20th the swimmers had an opportunity to have their racing times actually count. In the 212 total races, altogether the team posted 147 lifetime-best times. This is a great accomplishment for these swimmers as we have had to scale back their practice training time. The following seven team records were broken:

Ellie Hunter (12yo)
50 free 26.17, 100 free 57.56, 200 free 2:05.83
Joshua Hunter (15yo)
50 free 22.63, 100 free, 48.66, 200 free 1:47.40
Ashley Yorozu-Suttle (16yo)
100 back 1:00.76

Each Hills Hurricane Cohort had great success in the freestyle races. And to top off each session, the swimmers competed in a few fun team relays. Having the opportunity to race and show their progress was the greatest success most of them have had all year. Full results can be found here!

Hills Hurricanes will continue to run Cohort Camp style during the current health order and we are 100% fully subscribed!
PRE-COMP SWIM TEAM
Manta Rays & Tidal Waves
Winter Sessions Opening for Registration

2021 Sessions Open
Session 1: JAN 6 - 29 (Opens Dec. 7, 8AM)
Session 2: FEB 3 - 26 (Opens Dec. 7, 8AM)

Manta Rays (Pre-Swim Team) AGE 4 - 8 W/F 4-4:30pm Pre Requisite: Swimmers must be able to tread in deep water for 30 seconds. Swimmers must be able to swim unassisted for 10 yards. Swimmers will learn basic swimming skills of all four strokes. Team activity skills and group swim safety is introduced. Instruction will be conducted in and out of the water.

Tidal Waves (Novice Swim Team) AGE 6 - 10 W/F 4:30pm-5pm
Swimmers must pass the prerequisite for swim team: *50yards of freestyle with side breathing *25 yards of back swimming *Treading water for 30 seconds *Streamline off wall for 5 yards. This group will prepare swimmers for the swim team. This class will incorporate on-deck coaching with minimal in water instruction.

Full info and registration link here!
Tennis Offers Members an Active Outdoor Workout

Tennis is fun, social and an all around good workout, and since it's an outdoor sport, it's gained popularity among members during COVID. Reminder that under the current county guidelines, singles play can be done with members of different households, but doubles play remains only available to people of the same household. Members can make a 1-hour court reservation per day.

For those members who are looking for some tennis instruction, please feel free to reach out to Hills Tennis Instructors, Eddie Pasternak, [email protected] or Maaria Husain, [email protected]
New racquet or new strings?
'Tis the season for treating yourself or loved ones to possible tennis equipment upgrade. Most people spend hours trying different racquets, but neglect figuring out which strings work best for them.

Why are strings important? Because they are the first thing a tennis ball touches. This greatly determines what you feel and has a huge impact on how you swing your racquet. Your racquets should be stored inside your house, where the temperature is more controlled and there is less moisture. When we are on the courts, most quality bags have thermal compartments, to help protect your racquets from the elements. There's a reason why the top level pros change their racquets every eight games. They want to ensure the same feel when the new balls are rotated in. Unfortunately, most of us can't afford to restring our racquets that often, so a good rule of thumb is to restring your racquet every two to six months, depending on the type of strings. This will help maintain a similar feel and won't compromise your strokes. So when you think it may be the racquet, you may just need a new string job.

Here is a cheat sheet for different types of strings. A good stringer will know about the right gauge, tension and hybrid blend.

Synthetic gut: All-around playability | Value | Ideal for beginners
Multifilament: Comfort | Power | Feel
Natural Gut: Maximum Comfort | Power | Feel | Tension Maintenance
Polyester: Maximum Control | Spin | Durability
Grab the Family for an Hour of Pickleball Fun

Similar to tennis, pickleball is another fun way to workout outdoors. For those of you who have not yet given it a try, it is best described as a combination of tennis, badminton and table tennis (or ping pong). The rules are pretty simple and the game is for all ages and skill levels and is easy for beginners to learn. If you are comfortable playing any of the aforementioned paddle sports, the game will most likely become a fast-paced competitive game. It's really up to you; make it fun and social or highly competitive. Bottom line: it's a great excuse to come up to the club and get some exercise. And don't be surprised if you give it a try and find it to be your new favorite sport!

Reminder that just like tennis, under the current county guidelines, singles play can be done with members of different households, but doubles play remains only available to people of the same household. Members can make a 1-hour reservation for pickleball per day.

Hills Members enjoying the fast-growing sport of pickleball
Pilates Studio Promotes Healthy Mind and Body

Dear Hills Members and Pilates community:

We hope that you and your family are able to enjoy this holiday season that is sure to be unlike any other.

We are doing things a little differently in the Pilates studio, too! This month we're rolling out new Zoom classes with unique formats:

- A Keep It Moving class, a total fitness buster with fun and different choreography
- And our Better Back- Better Life class that takes deep core training to a new level. Who said that you need a reformer to strengthen your core? Not Joe Pilates!

Acupuncturist Elizabeth Howe, MS., L.Ac. shares her thoughts (below) on how we all can strengthen our immune system this winter―something that is on everyone's mind.

We are also offering one-on-one Pilates training in our studio as well as small group classes online.

Join us and let's end 2020 on a high note and ring in the new year with a healthy mind and body! Whatever you choose to do, we hope that you "Keep It Moving" and wish you a Happy and Healthy Holiday!

-Therese Brewitz and the Hills Pilates and Wellness Team

Contact our studio: [email protected]


Safety
Your health and safety is our number one priority and we take every precaution to keep our clients, our staff and our space protected at all times.
Please read our COVD-19 safety guidelines here:
PILATES_STUDIO_COVID-19_GUIDELINES
New and returning programs:
Keep It Moving - Get Pilates Fit on Zoom

Therese teaching her Keep It Moving "Virtual" Class
I have created this class with inspiration from two of my own fitness gurus, famed Choreographer Twyla Tharp, who wrote the book "Keep it Moving" and Celebrity Trainer Dmitri Tkatchev. Dmitri says:
"Think of your workout as a time to be physical, mindful, and spiritual!"
In this class we sweat, kick, lift, focus and breathe, using simple and powerful cardio moves, Pilates, Ballet Barre training, yoga, with weights, resistance bands and a mat, all to a great soundtrack. Fans of the Pilates Party class will love this class.
Please stream on a laptop or desktop for best viewing. You need light weights, a resistance band, a mat and a small towel. Dress to sweat in layers and have water available.
Wednesdays at 5pm with Therese Brewitz
Cost: $15 per class
Sign up online: cachstc.clubautomation.com
or contact our studio to learn more:[email protected]
Better Back - Better Life on Zoom
Train your deep core stabilizers and reduce chronic back pain and stiffness, using gentle and powerful Pilates moves and principles.
In this class we will break down movements and muscle origin of each exercise and discover how a correct breathing pattern and a relaxed neutral spine is truly the basis of back health.
This class is perfect for our Better Back reformer students as well as for new students with chronic back pain.
Please stream on a laptop or desktop for best viewing. You will need a stable chair with a back, a flat surface (mat or firm bed), light weights, resistance band and a mini stability ball or firm pillow.
Thursdays 5pm
Cost: $20 per class, limited to 6 students
Sign up online: cachstc.clubautomation.com
or contact our studio to learn more: [email protected]

To schedule a private or semi-private Pilates appointment, please contact our studio:[email protected]


Reiki Therapy for health and peace of mind
Did you know that Reiki Healing Therapy can be done online? Reiki is a form of ancient Japanese healing bodywork. Read more about Reiki and its many benefits:/services/massage

Sessions are available in our studio and on Zoom. Some of the Reiki hand positions have been altered to avoid direct contact with skin or face.
To book a Reiki appointment, please contact: [email protected]

Follow us on Instagram: https://www.instagram.com/hillspilatesandwellness/

Be well!
-Therese Brewitz and the Hills Pilates and Wellness Team
Acupuncture Can Help Keep Your Immune System Strong This Winter

Acupuncturist Elizabeth Howe, MS., L.Ac shares her advice on how to stay healthy during the upcoming months.

Our immune system has been on everyone's mind amidst the pandemic, and now, with the cold weather here, keeping our immune system healthy is more important than ever. As seen through the lens of Chinese medicine, good health means that your Qi or "vital energy," is strong, and your body is in balance. If you have healthy Qi, you will be able to regulate your body's internal environment and defend itself against illness.
Some ways that your body can fall out of balance and how Qi becomes depleted come from prevalent lifestyle factors, such as high stress levels, poor diet, not enough quality sleep, and lack of exercise. Improving these areas in your life will increase your ability to stay healthy or to have only mild symptoms if you do get sick.
Winter is a season for going within and slowing down and resting from fall's harvest energy. Winter is a time for storing your Qi energy. Keeping your work and personal life in balance, with this in mind, conserves your Qi and enables you to have enough of it to keep your immune function up.
One way to improve overall health and give your Qi a boost is by eating more warming and easy-to-digest foods this winter. In Chinese medicine theory, digestion works much more efficiently when your stomach is warm. Every person's body is different; however, a generally accepted practice is to decrease your intake of cold and raw foods like salads, smoothies, and iced drinks. Doing so will enable your body to expend its energies on keeping you warm and fighting off pathogens, rather than trying to digest these cold items. Eating a warm breakfast and having soups and stews for your main meals are great for your digestion and overall health this winter.
If you have any nagging health concerns, such as chronic aches and pains, toothaches, digestive problems, or sleep issues, promptly taking care of these problems will improve your overall health. These chronic symptoms decrease your Qi over time, making you more susceptible to both injury and illness.
The good news is that acupuncture can help alleviate your symptoms and also boost your immune function. Acupuncture has a long history of treating a myriad of health issues. Studies have shown that it can also increase your immune system by boosting white blood cell counts, specifically T-cell counts, which play an important role in your immune system. Receiving acupuncture treatments can help you stay healthy this winter and all year long!
I wish you an abundance of health and peace this holiday season.
Elizabeth Howe, MS., L.Ac., sees patients in her Oakland clinic, located at 4283 Piedmont Ave. Ste. E-2.
You can reach Elizabeth at [email protected].
Ph. (510) 902-2266. For more information, please go to Elizabeth's website at RedbirdAcuClinic.com.good health means that your Qi or
Make Time for Group Exercise Classes This Holiday Season

Our outdoor spin classes are now under the tent!
As we head into the final month of 2020, I'd like to take a moment to show my appreciation to our spirited Group Exercise team. Following the shutdown, many area clubs ended their group programs but not us. Our instructors understood the importance of staying connected to the members and striving for health. They devoted extra time and effort to learn new technology and formatting, and as a result, we were able to offer online/virtual "Zoom" classes within two weeks of closing our doors.

Soon after reopening (and once the county gave us the "green light"), we introduced a limited outdoor class schedule composed of new procedures and protocols. Through ever-changing weather conditions, power outages and air quality issues, our team kept a positive attitude and learned to handle whatever came their way. Through it all, our members have shown such kindness and support, and for that we are truly thankful.

With county restrictions and experts' recommendations to exercise outdoors, we wanted to create a space where members would feel safe. We now have a new open-air tent and hope to increase our outdoor class schedule in 2021. Our newest additions of Aqua aerobics and evening spin/sculpt have been a great success. If we have learned anything from 2020 it's to take life as it comes.

On behalf of the Group Exercise team we wish you all the Happiest of Holidays!

- Angelique Pine, Group Exercise Director
One-on-One Personal Training: Indoors or Out

Members still have the option of heading indoors for personal training sessions
Both indoor and outdoor personal training sessions are still available. If you book an indoor session, you can rest assured that you and your Hills personal trainer will be the only people in the gym as we are following guidance from recent communication with the county. Masks are mandatory whether you are indoors or outdoors. Feel free to reach out to Nick, [email protected] or Jeff Allen, [email protected] for rates or to set up an appointment.
Keep Moving with Help From Our Peak Fit Program

Friday morning's outdoor TRX class is very popular with Hills members
The holidays are always a challenging time to keep up your exercise routine, but this year it shouldn't be that hard:) The one positive of the COVID-19 pandemic might be that you now have more time to keep yourself moving! I'm committed to exercising everyday in December, even if it is just a short walk. We can all make time for that this year. If you have some extra time on Saturday mornings, join us for our Peakfit Zoom class at 8:30. It's open to all fitness levels, it's FREE, and you'll get a great sweat in at home to kick off your weekend!

Reach out to me if you'd like to join us! I am looking forward to more fitness fun in 2021. Whether it's in person or via Zoom, let's keep moving!

Happy Holidays!

- Jennie Votel, Peak Fit Director
510-316-3529
[email protected]
Celebrate December Employee Birthdays

Please join us in wishing each of them a happy birthday and thanking them for all of their hard work!

Melanie Perez, 12/08
Shannon Coskran, 12/13