UPDATE FROM OUR GENERAL MANAGER
Dear Hills Members,

I sure hope everyone had an enjoyable and safe 4th of July! There are more exciting announcements for this month.

We are happy to announce that guests are welcome back at the club beginning Monday, 7/12. All memberships have 15 free guest passes that they can use throughout the remainder of the year. Members can use a maximum of 4 free guest passes per day per membership. During the summer, free guest passes are not allowed to be used on the weekends or holidays. This does not mean guests aren't allowed, just that they are subject to guest fees. As a reminder, guest fees are $25 for adults 18 and older, $15 for kids ages 2-17 years old, and any guest under 2 years old is free. All guests do need a waiver signed to enter the club.

Also beginning July 12, our six "lounge" cabanas (Cabanas 4-9) will be reservable for 2-hour blocks of time. Please be aware that families can only make one 2-hour reservation per day. We ask that members tidy up the cabana at the end of each use. The cabanas are a great way to relax and enjoy the beauty of the club!

BBQ grills have been cleaned, propane has been filled, and members are now welcome to use the grills. The grills can be used on a first come first use basis as they were in the past. Please be mindful of other members who may want to use the grills as well. Do not forget to bring your own utensils to use when grilling and clean up when done using.

A big reminder that glassware of any kind is prohibited at The Hills.

Lastly, with more kids in and around the pools please keep a watchful eye on all children. The very last thing we ever want here is a drowning that could've been prevented.

It's been so great seeing so many enjoying the summer weather and the club in all it's beauty!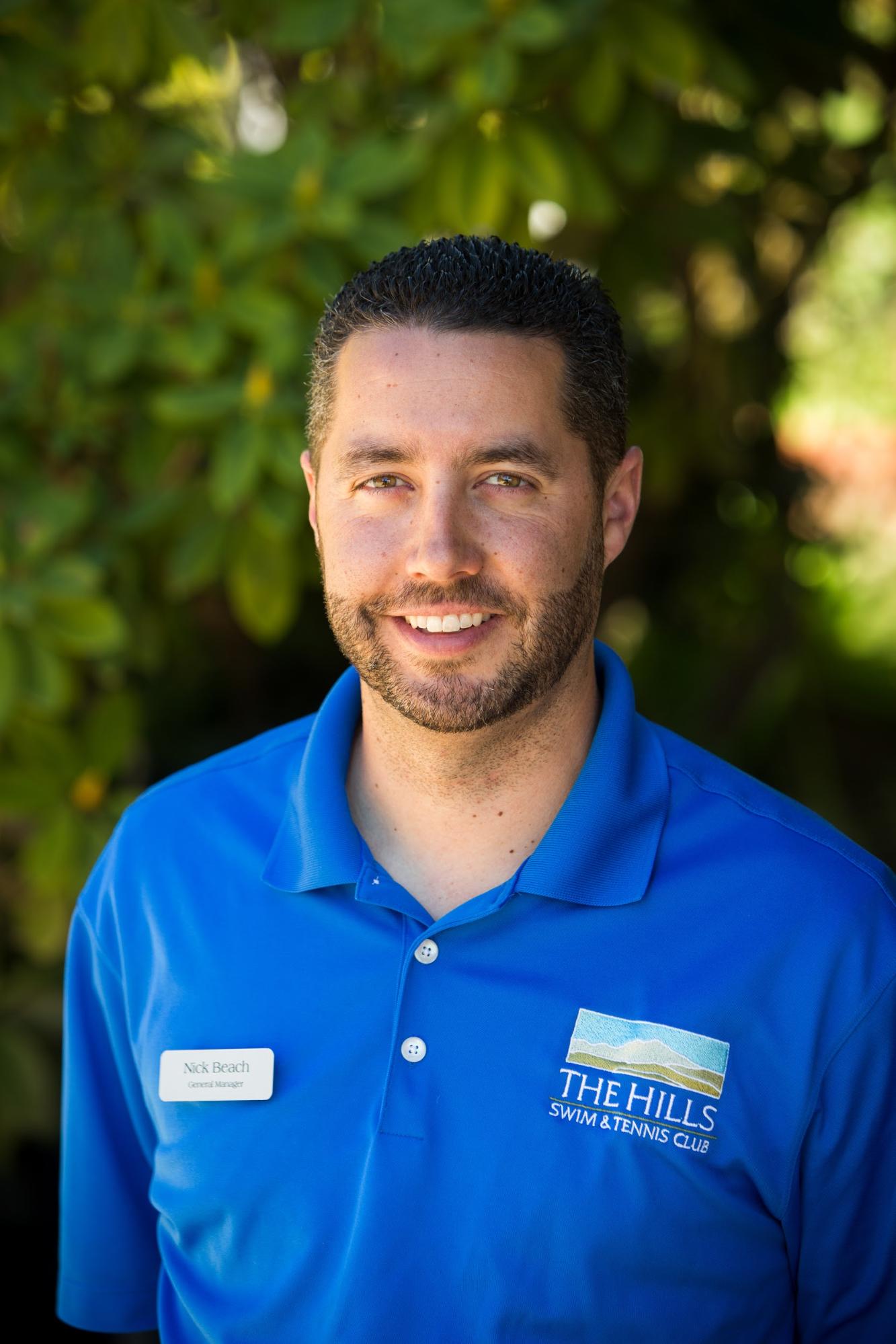 -Nick
Notes from the Billing Department
You should have received the following text message from us on Thursday, June 24: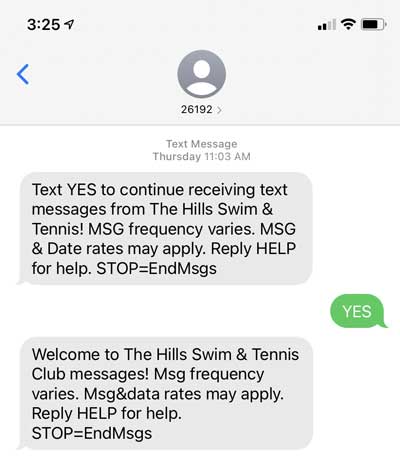 This update requires you to "opt-in" to receiving texts from The Hills. We believe a text alert is often read/received more quickly than an email. Going forward, we plan to use this feature to alert members about important club announcements. If you did not receive this text, chances are you need to update your profile.

Instructions to access your member portal:
Go to cachstc.clubautomation.com and click "Member Login" at the top
Click "Access My Account" on the bottom of the screen
Provide your name and email address. It must be the same email address as the club has for you.
Go to your email on your phone or computer and click the link it sent
Provide a password (Note: you may also have to provide an emergency contact or missing info)
Install "The Hills Swim & Tennis Club" App on your phone

(Note: before accessing the app on your phone, you MUST set up your online member portal!)

Log in with your email and password (same one you created for your member portal)
Once you have logged into your portal, click on "View My Info" on the left side column and then "edit" in the Personal Information section. You can also update your profile information via The Hills app in the "Account" section.
As always, send me an email, [email protected], if you have any questions/concerns.

- Stefani McDermott, Administrative & Accounting Manager
Hills Campers Keep Busy

It's hard to believe that only 5 weeks remain of our summer camp! Between the arts & crafts time, hikes, tennis and diving board fun, the kids seem to be loving their camp days! Anthony, Mitch and Maddy are full of energy and do a great job of keeping the kids entertained.

For those new members, we are offering 1 morning session, 8am-noon, and 2 afternoon sessions, both from 1pm-5pm for kids 5-12 years old. Each session consists of cohorts of up to 14 campers. The cost for the morning session is $220/camper (additional cost to cover an included group swim lesson). The afternoon session cost is $200/camper.

WEEK 1: MAY 31 TO JUNE 4
WEEK 2: JUNE 7 TO JUNE 11
WEEK 3: JUNE 14 TO JUNE 18
WEEK 4: JUNE 21 TO JUNE 25
WEEK 5: JUNE 28 TO JULY 2
WEEK 6: JULY 5 TO JULY 9
WEEK 7: JULY 12 TO JULY 16
WEEK 8: JULY 19 TO JULY 23
WEEK 9: JULY 26 TO JULY 30
WEEK 10: AUG 2 TO AUG 6
WEEK 11: AUG 9 TO AUG 13
Campers should bring a swimsuit, towel and sunscreen every day. You also might want to pack a hat as well as a second change of clothing, and maybe even a sweatshirt. We are still unable to provide food this summer, so we highly recommend that your camper has been fed before the beginning of his or her session. Please be sure to pack a water bottle labeled with your child's name.

Any additional questions regarding camps can be directed to Camp Director, Anthony Lum, [email protected].
Summertime = Pooltime Fun!

As the weather heats up, the pools will become a bit more crowded. The good news is that our lifeguards are back on duty! The Aquatics Staff appreciates your support for our programs and your compliance with our current safety guidelines. Our "Club Water Watchers Card" is a reminder for all members that even though we have lifeguards on staff throughout the summer, parents need to always keep a close eye on their kids. Safety is our number one priority at The Hills.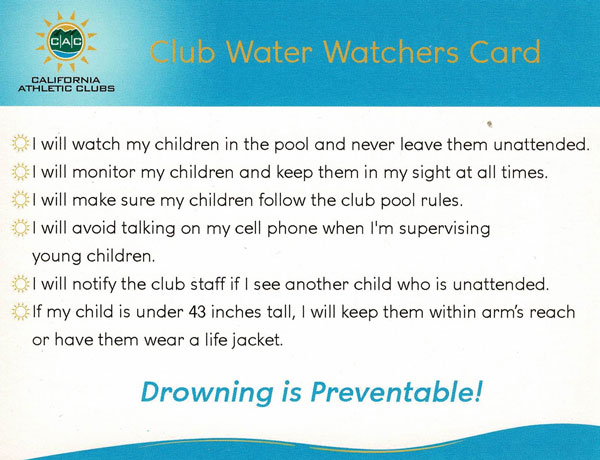 It is important that the pool rules are reviewed with the whole family. We have these policies in place for your own personal safety and so those around you can enjoy the pool safely as well. Our lifeguards are trained to use their voices and not blow their whistles all day, so please respect their decisions as they are looking out for the safety of everyone.

Lap Lane Swimming Rules:
Lap Lane reservations remain weekdays from 9am-2pm in lanes 4, 5, & 6. All other lanes and times are available for shared member swimming.
Please Note: Hills Hurricane Swim Team will be using no more than 4 lanes from 4-8pm, Monday-Friday.
Diving Board Rules:
The diving board will be open when at least 2 lifeguards are working
Only one person allowed on the board at a time
Members must wait until the area is completely clear before using the diving board


How To Share a Lane
When asking to share a lane, it is good etiquette to wait until the swimmer currently in the lane is resting at the wall to ask them to share the lane before jumping in. Confirm with the other swimmer whether you will be splitting the lane or circle swimming (more on that below). Occasionally you'll get a swimmer who does not stop and does continuous swimming. In those instances, I usually will jump into the lane and make sure they see me before starting my swim.

There are also two different methods to sharing a lane. In most cases at The Hills, you will be splitting the lane. This is when there are 2 swimmers in a lane. Each swimmer stays on opposite sides of the lane for the duration of their swim. In the rare instance you need to share a lane with more than 2 swimmers, you will need to circle swim. Circle swimming is when each swimmer stays on the right side of the lane and swims in a counter-clockwise direction (diagram below).

Unfortunately you may occasionally encounter someone who is unwilling to share their lane when the pool is full. Politely remind them it is required to share a lane at The Hills and if you continue to get pushback, go speak with the front desk.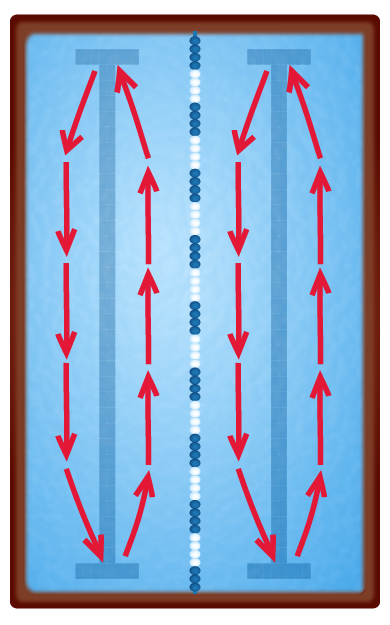 Diagram of circle swimming when sharing a lap lane





Both the Adult & Family Hot Tubs are now open without reservations!
High Demand for Private Swim Lessons

From basic learning to swim, to adult stroke mechanics, to advanced competitive swimming, our instructors are available to improve your swim experience at The Hills. We are giving full attention to Hills members through the summer as non-members will not be allowed to take lessons until September.

Instructors book their own lessons.
Learn more about our offerings here!
Bigger Class Size for Aqua Aerobics

Many members are taking advantage of our larger aqua aerobics classes! The class roster size has been increased to 18 members and we still ask that you register in advance. Classes are offered 3 days a week from 9-10am: Tuesdays with Bz; Thursdays with Sandra; Sundays with Sally. Members need an aqua belt to take these classes; if you do not have one, The Hills will provide a long term rental for a nominal fee. Please ask the front desk staff for details. As with all of our outdoor classes, we need at least three members signed up in order to offer the class, so please register if you're interested in participating.
Junior Lifeguard Camp
New Week Open: July 12 - 16 (minimal spots available)

This program is designed as a community-based water safety program for youths 10–15 years old. The Junior Lifeguard Training Program has been developed to serve many purposes where water safety is our primary goal. Along with water safety activities, we engage in CPR and First Aid training. A secondary benefit is the unique combination of establishing the foundation for good work skills, responsibilities, skill development, competition, and leadership skills. In providing a well-rounded training experience, we include 30-minute daily fitness, lectures, demonstrations, and team-building activities. An additional two hours per week of volunteering may be required by each JR guard. Course Prerequisite: 50 yards of freestyle or breaststroke. Retrieve a 10-lb. brick from a depth of 12 feet. Swim underwater 15 feet.

Members: $325 per session. Non-members add a $30 guest fee.

Registration link and additional information!
Pre-Comp Program for Younger Swimmers

2021 Upcoming Sessions
Session 7: July 7 - 30 (CLASS FULL)
Session 8: Aug 4 - 27 (OPENS JULY 15, 8am)

Manta Rays (Pre-Swim Team) AGE 4 - 8 W/F 4:00pm - 4:30pm Pre Requisite: Swimmers must be able to tread in deep water for 30 seconds. Swimmers must be able to swim unassisted for 10 yards. Swimmers will learn basic swimming skills for all four strokes. Team activity skills and group swim safety are introduced. Instruction will be conducted in and out of the water.
Tidal Waves (Novice Swim Team) AGE 6 - 10 W/F 4:30pm - 5:00pm
Swimmers must pass the prerequisite for swim team: *50yards of freestyle with side breathing *25yards of back swimming *Treading water for 30 seconds *Streamline off the wall for 5 yards. This group will prepare swimmers for the swim team. This class will incorporate on-deck coaching with minimal in water instruction.
Full info and registration link here!
Adult Tennis Clinics Are Back

We are happy to announce that our free Adult Tennis Clinics are back! Monday, July 12, 6-7pm, beginners get an hour on instruction; 7-8pm is for intermediate/advanced players. These clinics are open to all members, so if you are interested, show up with your racquet and be ready for some fun!Our two courts have gotten much more usage this past year due to the pandemic. Members can book a 1-hour court reservation per day either on our Manzanita Court or Diablo Court. If you are interested in nighttime tennis, you can reserve Diablo Court after dark as this court has lights.For those members who are looking for some tennis instruction, please feel free to reach out to Hills Tennis Instructors, Eddie Pasternak, [email protected] or Maaria Husain, [email protected] Lessons are available for both kids and adults.
Make Time for Pickleball

Known as one of the fastest growing sports, pickleball is a fun way for the entire family to workout outdoors together. For those of you who have not yet given it a try, it is best described as a combination of tennis, badminton and table tennis (or ping pong), so if you have ever played any of the aforementioned, you're going to be a good fit for the game. The rules are pretty simple and the game is for all ages and skill levels and is easy for beginners to learn. You can make it fun and social or highly competitive. Bottom line: it's a great excuse to come up to the club, get some exercise and maybe even make new friends. Don't be surprised if you give it a try and find it to be your new favorite sport! Members can make a 1-hour reservation for pickleball per day, and the court is reserved exclusively for pickleball play weekdays 11am-1pm.
Basketball Court Open for Pickup Games

Members can book the court for basketball OR pickleball for either 30- or 60-minute reservations. Our enclosed court is a great place to grab some friends for a friendly game or to practice your shot!
Pilates Summer of 2021 - Let's have some FUN!

Therese is having fun using the Pilates Magic Circle and the Spine Corrector,
both strange looking and wonderful Pilates tools for fitness and wellness.
Summer tends to be the best time of year and it is probably more true than ever now that we are finally able to resume activities again, be it by the pool, in the Pilates studio, and around the club. Doesn't it feel like the clouds have lifted a bit?!

For devoted Pilates instructors, our idea of "fun" may differ from other people's idea of fun. This is a popular joke among our students; when we say that we have a "fun" workout planned, they tell each other to run the other way!

But seriously, training and exercise should be fun! Doing new and quirky movements, moving to a great soundtrack to your workout, taking an outdoor class, training with a buddy, learning and mastering difficult movements on gorgeous-looking equipment, taking care of your body, getting back together with your reformer class friends, laughing and goofing off a bit after this challenging time.
That can be fun!!

Read more about our popular reformer classes, barre classes and our Zoom training programs below.

We invite you to have fun with us in the Pilates studio this summer!

The Hills Pilates and Wellness Studio Team
Anne, Barbara, Colleen, Patricia and Therese

Follow us on Instagram: https://www.instagram.com/hillspilatesandwellness/
Get Fit through Zoom Pilates

Are you getting on the Road again? Try our Zoom Pilates program
When we all started Zooming in March of 2020 nobody could have imagined that we would still be here a year later. But Zoom fitness has some great benefits, it is convenient and you can take it with you when you travel. We have people training with us over Zoom all the way from Vermont, Texas and in the South Bay. Try one of our Zoom classes on your next trip!
Nagging Back or Hip Issues?

Anne Mawdsleyis offering a Hip and Back class on Mondays at 5pm on Zoom, the perfect remedy for too much sitting be it in a Zoom meeting, or in the car.

On Wednesdays we Keep it Moving at 5pm on Zoom and do our best to cover
Yoga, strength, balance, cardio, Pilates, barre training, agility, HIIT training, all in an hour! Get moving, get energized, get fit on Zoom!

Register online for your class here:
https://cachstc.clubautomation.com/

Follow us on Instagram: https://www.instagram.com/hillspilatesandwellness/

Outdoor AND Indoor Group Exercise

We can now offer both outdoor AND indoor classes to our members!
June's return of morning Master Swim has been a big hit! We are so glad to have Shannon, Drew and Koung back on deck. We also are seeing a steady rise in participation for our three Zumba classes taking place every Tuesday, Thursday and Sunday. If you haven't made it out to dance, come join the fun!
The lighter county restrictions have also allowed us to open up class sizes, and welcome more members to participate. We still ask that members register for classes and do so for several reasons. The registration enables us to gauge member interest in classes, it gives us a method to communicate with the members who are intending to take the class, and it allows us to cancel classes when necessary. The registration for all classes opens up a week in advance.
Attached please find the current Group Exercise class schedule for The Hills. These are only the classes that take place in person at our club, and the schedule is subject to change. Please check your app for the most recent information. Our Zoom schedule continues to be sent out weekly. Currently, The Hills offers 10 weekly Zoom classes, however, California Athletic Club's "team" offers nearly 50 classes, so feel free to join in!

- Angelique Pine, Group Exercise Director
Workout Options Both Indoors & Out

After months of only being able to workout outdoors, more members have been heading back into the gym and Peak Fit studio. There is an ample amount of space for members to feel safe while working out indoors.
Members also have the option of heading upstairs to our Peak Fit. Whether it's a TRX workout you're looking for, or a quiet, calm space to stretch, this is a beautiful space for Hills members to utilize.

And for those still looking for an outdoor workout, a variety of cardio equipment as well as a selection of dumbbells can be found in Cabanas 1, 2 & 3. No reservations are required for these cabanas (only for our "lounging" cabanas).

No matter where you choose to workout, we kindly ask that you please continue to wipe down equipment after each use.
2-Hour Cabana Reservations Return!

Beginning July 12, our six "lounge" cabanas (Cabanas 4-9) will be reservable for 2-hour blocks of time. Please be aware that families can only make one 2-hour reservation per day. We ask that members tidy up the cabana at the end of each use. The cabanas are a great way to relax and enjoy the beauty of the club!
Get Motivated with a Personal Trainer

Our trainers have many options, both indoors or outside, to help you with your fitness routines!
New Hills members looking for an orientation and/or guidance on how to properly use the equipment in the gym should contact either Master Trainer Jeff Allen at [email protected] or Personal Trainer Chris Miano at [email protected]. Our personal trainers are also available to reacquaint long-time members with proper form on the equipment, "kickstart" your gym routine or set you up on a new fitness program. Jeff is certified in Youth Training, Flexibility, Senior Fitness, Strength Training, Nutrition, Martial Arts (Tae Kwon Do, Self Defense) and more. Please reach out to one of our trainers for rates (discount packages available) or to set up an appointment for yourself, and/or a family member.
Outdoor TRX Continues in July

Our outdoor TRX class is still going strong. Come on out and join us on Tuesdays from 8-8:50am on the pickleball court. The class is open to all levels and is lots of fun; the cost for each class is $15. We would like participants to commit to a month of classes (1x per week). TRX is a great complement to running, swimming, cycling and even weight lifting, as you are using your bodyweight, especially your core, for every exercise on the TRX. If you are interested in trying TRX, please reach out to me.

Looking forward to adding more in person PeakFit classes in mid-August!!

Enjoy your summer!!!

- Jennie Votel, Peak Fit Director
510-316-3529
[email protected]
Bill Hogan's Photography Featured in Hills Lobby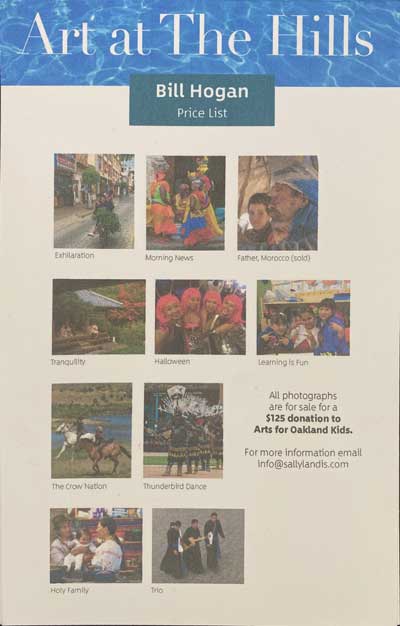 Spoken from the mouth of the photographer himself, "I've always loved taking pictures.Photography has been a great aid to me in concentrating on the vivid present. Often an expression, a movement, a swirl of fog, or a sudden illumination will appear for just a split second. And one has to be lucky enough, and paying attention, to capture it. As an early morning swimmer at the Hills, most often joining the Masters Swim Group for the 6am swim (lane 5!) I've been so fortunate to be able to experience that magic moment when the sun first appears over the horizon, one of Mother Nature's most precious gifts. It's been a delight sharing these sunrise photographs over the years with the swim group and others."

Bill Hogan will be greatly missed at the Hills, as he and his wife relocate this summer to join family.
Celebrate July Employee Birthdays

Please join us in wishing each of them a happy birthday and thanking them for all of their hard work!
Sara Deslierres, 07/05
Sandra Franklin, 07/10
Evan Walpert, 07/28
Patricia Brown, 07/30
Eddie Pasternak, 07/31