UPDATE FROM OUR GENERAL MANAGER
Dear Hills Members,

Whew, what a challenging past 15 months we've dealt with! With the state reopening and ending many restrictions come 6/15, here is a list of changes that will transpire here at The Hills Swim & Tennis Club beginning Wednesday, 6/16.
Lap Lane reservations will remain weekdays from 9am-2pm in lanes 4, 5, & 6. All other lanes and times will be available for shared member swimming.
The Family Pool, Diving Well, Adult Hot Tub and Family Hot Tub will no longer require reservations.
Cabanas 1, 2, & 3 will remain Outdoor Gym cabanas but will no longer require a reservation and can be shared.
Cabanas 4, 5, 6 as well as the addition of new cabanas 7, 8, & 9 will be for Family Lounging and remain reservation based.
The Back Deck will be available to use.
Saunas will be available to use.
Mask wearing will be optional for members.
We know that you like to share The Hills with your friends and families. However, club usage for members is top priority and our no guest policy will remain in place at this time.
Members will be able to use the BBQ grills soon. I will send a separate email once we have them available.
There will be more changes to come throughout the rest of the month. Obviously we don't expect all changes to run smoothly and anticipate some hiccups along the way. Please be patient and understand that we as a staff are doing our absolute best to provide you the most valuable club experience possible. And thanks again for sticking with us through the toughest stretch we've encountered in our 60-year history here at The Hills.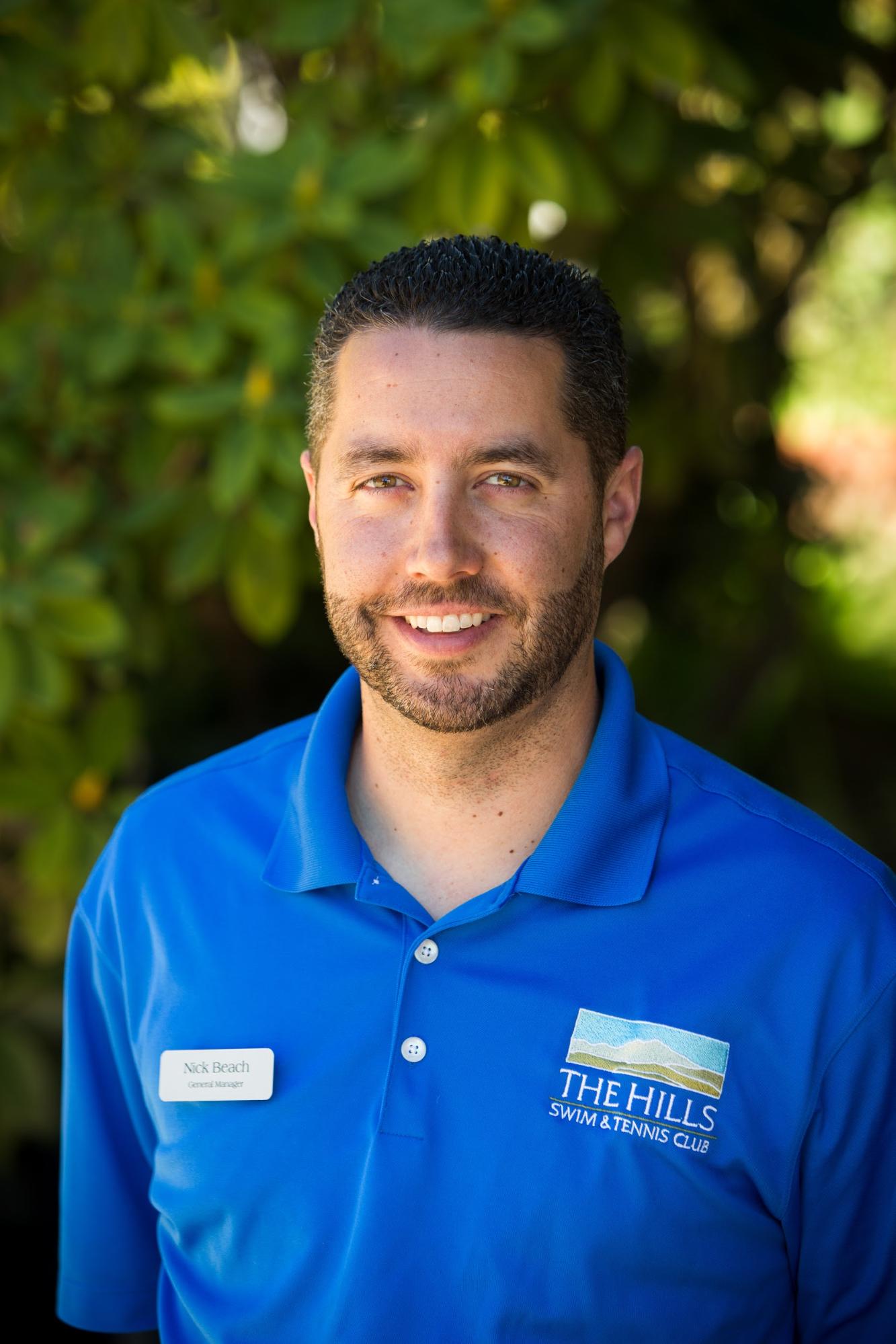 -Nick
Notes from the Billing Department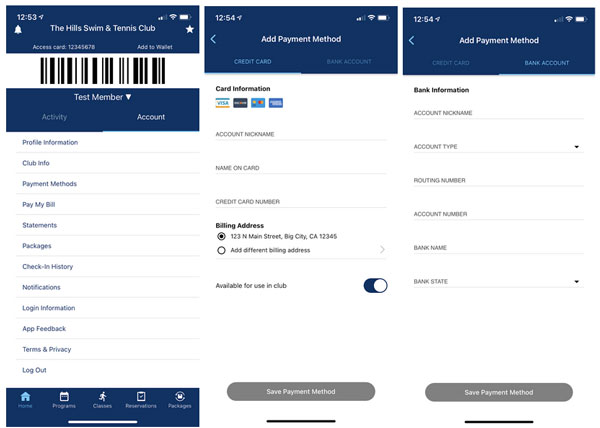 View statements, add a new payment method and/or pay bills via The Hills App
If you are the primary account holder of your membership, you can access your combined monthly statements (which means you can view charges for all family members) and pay your bill by logging in to your member portal and clicking on "view my statement" or "pay my bill" found in the left-hand column. That said, many members have found that The Hills app is even easier to navigate than the portal. From the app, under "account" members have access to payment methods, statements, account balances.

Instructions to access your member portal:
Go to cachstc.clubautomation.com and click "Member Login" at the top
Click "Access My Account" on the bottom of the screen
Provide your name and email address.

It must be the same email address as the club has for you.

Go to your email on your phone or computer and click the link it sent
Provide a password (Note: you may also have to provide an emergency contact or missing info)
Install "The Hills Swim & Tennis Club" App on your phone

(Note: before accessing the app on your phone, you MUST set up your online member portal!)

Log in with your email and password (same one you created for your member portal)
- Stefani McDermott, Administrative & Accounting Manager
Hills Summer Camp Kicks Off with a Splash

Our summer camp is in full swing! We are offering a morning session, 8am-noon, and 2 afternoon sessions, both from 1pm-5pm for kids 5-12 years old. Each session will be for cohorts of 14 campers. NOTE: Your child/children are not allowed to attend both morning and afternoon sessions in the same week. The cost for the morning session is $220/camper (additional cost to cover an included group swim lesson). The afternoon session cost is $200/camper.
WEEK 1: MAY 31 TO JUNE 4

WEEK 2: JUNE 7 TO JUNE 11

WEEK 3: JUNE 14 TO JUNE 18

WEEK 4: JUNE 21 TO JUNE 25

WEEK 5: JUNE 28 TO JULY 2

WEEK 6: JULY 5 TO JULY 9

WEEK 7: JULY 12 TO JULY 16

WEEK 8: JULY 19 TO JULY 23

WEEK 9: JULY 26 TO JULY 30

WEEK 10: AUG 2 TO AUG 6

WEEK 11: AUG 9 TO AUG 13
Campers should bring a swimsuit, towel and sunscreen every day. You also might want to pack a hat as well as a second change of clothing, and maybe even a sweatshirt. We are still unable to provide food this summer, so we highly recommend that your camper has been fed before the beginning of his or her session. Please be sure to pack a water bottle labeled with your child's name.

Any additional questions regarding camps can be directed to Camp Director, Anthony Lum, [email protected].
Summertime Means More Swimmers in The Pools

As the weather heats up, so will the demand for pool reservations. The Aquatics Staff appreciates your support for our programs and your compliance with our current safety guidelines.

Lap Lane Swimming Rules:
Children ages 10+ can share a lane with a parent or household guardian for a 30-min reservation
If you arrive early for your reservation and a lane is free, feel free to start swimming early. Similarly, if your reservation ends and a lane is still available, feel free to swim a little longer. Both occurrences need to be cleared by the pool monitor before beginning.
Making a reservation and then not showing up and/or failure to cancel the reservation could be subject to a penalty fee on your account.
Please Note: Hills Hurricane Swim Team will be using no more than 4 lanes from 4-8pm, Monday-Friday.

Family Rec Pool Rules:
60-minute maximum per day per person/family
All children under 14 years old need a parent or guardian present and attentive to them
Please show courtesy and respect to whomever has the opposite side reservation
Swim toys, floaties, noodles are allowed, so long as they are used appropriately and are not shared with others
Diving Well (Deep End) Pool Rules:
Reservations can be made by an individual or by a family.
No children under the age of 10 can be in the Diving Well. Children ages 10-13 must be accompanied by a parent or adult guardian. Anyone 14 years and older is allowed to be in the Diving Well alone, but we do advise to rent or bring your own float belt.
For information regarding renting a float belt please contact the front desk or Group Exercise Director Angelique Pine (

[email protected]

).
Hot Tub Rules:
15-minute time slots available to be reserved by one member or "Family Only" members
Members can make one pool reservation (lap lane pool, family pool or diving well) as well as one hot tub reservation per day
Families can currently reserve the adult hot tub; please be aware that the temperature is 3-4 degrees hotter than the family hot tub

Book a 15-minute reservation in one of our hot tubs before or after a workout!
Private Swim Lessons Popular for Both Young & Old

From basic learning to swim, to adult stroke mechanics, to advanced competitive swimming, our instructors are available to improve your swim experience at The Hills. We are giving full attention to Hills members through the summer as non-members will not be allowed to take lessons until September.

Instructors book their own lessons.
Learn more about our offerings here!
Sunday Addition to Aqua Aerobics

You asked and we listened! A new 9am Sunday class has been added to the schedule. We continue to offer 9am AND 10am classes Tuesdays with Bz; 9am class Thursdays with Sandra. Members will need an aqua belt to take these classes; if you do not have one, The Hills will provide a long term rental for a nominal fee. See the front desk for details. As with all of our outdoor classes, we need at least three members signed up in order to offer the class, so please register if you're interested in participating. Registration required and class size is limited.
Hills Hurricane Swimmers Break Team Records

Our competitive swim team is currently fully subscribed. We are currently running seven cohort swim team camps with a large waiting list.

Santa Clara Senior Meet: Last month, six Hills swimmers swam at a long course meet and performed well. Together, the swimmers broke 23 team records. Congratulations to the finalists, Ellie Hunter (12), Shelby Resnick (17), Josh Hunter (15), and Nathan Rogers (16). Josh Hunter was the top performer of the group with his best placing at 3rd place in the 100M Fly. Josh also qualified for numerous sectional time standards.

Team records here.
Younger Swimmers Love Our Pre-Comp Program

2021 Upcoming Sessions
Session 6: June 9 - July 1 (Current Groups Full)
Session 7: July 7 - 30 (Opening soon, updates posted regularly)

Manta Rays (Pre-Swim Team) AGE 4-8 W/F 4-4:30pm Pre Requisite: Swimmers must be able to tread in deep water for 30 seconds. Swimmers must be able to swim unassisted for 10 yards. Swimmers will learn basic swimming skills of all four strokes. Team activity skills and group swim safety is introduced. Due to the pandemic, instruction will be conducted out of the water.

Tidal Waves (Novice Swim Team) AGE 6-10 W/F 4:30-5pm
Swimmers must pass the prerequisite for swim team: *50yards of freestyle with side breathing *25 yards of back swimming *Treading water for 30 seconds *Streamline off the wall for 5 yards. Led by on-deck coaches, this group will prepare swimmers for the swim team.

Full info and registration link here!
Tennis: A Smashing Sport

Our two courts have gotten much more usage this past year due to the pandemic. Members can book a 1-hour court reservation per day either on our Manzanita Court or Diablo Court. If you are interested in nighttime tennis, you can reserve Diablo Court after dark as this court has lights.

For those members who are looking for some tennis instruction, please feel free to reach out to Hills Tennis Instructors, Eddie Pasternak, [email protected] or Maaria Husain, [email protected] Lessons are available for both kids and adults.
Get Hooked on Pickleball

Known as one of the fastest growing sports, pickleball is a fun way for the entire family to workout outdoors together. For those of you who have not yet given it a try, it is best described as a combination of tennis, badminton and table tennis (or ping pong), so if you have ever played any of the aforementioned, you're going to be a good fit for the game. The rules are pretty simple and the game is for all ages and skill levels and is easy for beginners to learn. You can make it fun and social or highly competitive. Bottom line: it's a great excuse to come up to the club, get some exercise and maybe even make new friends. Don't be surprised if you give it a try and find it to be your new favorite sport! Members can make a 1-hour reservation for pickleball per day, and the court is reserved exclusively for pickleball play weekdays 11am-1pm.
Hoops Anyone?

Members can book the court for basketball OR pickleball for either 30- or 60-minute reservations. Our enclosed court is a great place to practice your shot!



Pilates Summer of 2021 - Let's have some FUN!

Therese is having fun using the Pilates Magic Circle and the Spine Corrector,
both strange-looking and wonderful Pilates tools for fitness and wellness.
Summer tends to be the best time of year and it is probably more true than ever now that we are finally able to resume activities again, be it by the pool, in the Pilates studio, and around the club. Doesn't it feel like the clouds have lifted a bit?!

For devoted Pilates instructors, our idea of "fun" may differ from other people's idea of fun. This is a popular joke among our students; when we say that we have a "fun" workout planned, they tell each other to run the other way!

But seriously, training and exercise should be fun! Doing new and quirky movements, moving to a great soundtrack to your workout, taking an outdoor class, training with a buddy, learning and mastering difficult movements on gorgeous-looking equipment, taking care of your body, getting back together with your reformer class friends, laughing and goofing off a bit after this challenging time.
That can be fun!!

Read more about our popular reformer classes, barre classes and our Zoom training programs below.

We invite you to have fun with us in the Pilates studio this summer!

The Hills Pilates and Wellness Studio Team
Anne, Barbara, Bruce, Colleen, Patricia and Therese

Follow us on Instagram: https://www.instagram.com/hillspilatesandwellness/
Reformer classes - bigger class size starting June 15

The Hills reformer program has had an overwhelming response and we are working to accommodate new and returning students. Following the guidelines prompted by state and local government agencies, we hope to add our 5th reformer to our studio classes again. Stay tuned for more information as the day approaches.

Here is more info on our classes with the current schedule:
/pilates/small-group

Please note that most classes are currently sold out, however, do try the waitlist as we get cancellations. When using the waitlist function, please make sure that your email settings are opted in for waitlist notifications. Please contact our studio for any questions: [email protected]

The following classes currently have 1 opening:
Reformer II Zoom/in studio Mondays at 12:30pm with Therese *
Reformer level II with Barbara, Tuesdays at 5pm *

Your safety is our top priority and we want everyone to be familiar with our Covid guidelines:https://Pilates StudioCovidGuidelines
Guidelines include: please wear a mask at all times, please bring your own filled water bottle and wear sticky socks to your class. These will remain in effect and will be updated following county and state guidelines.
Barre with Bruce, Tuesdays at 9am

Get fit at the barre with Ballet Barre Master Bruce Arana. Did you know that one of the best ways to strengthen your core is by doing standing exercises and balance work? Try it for yourself on Tuesdays at 9am in our Peak Fit area. Please wear a mask and ballet slipper or sticky socks and get ready for a great workout.
Cost: $30 per 60-min class
Get Fit through Zoom Pilates

Are you getting on the Road again? Try our Zoom Pilates program
When we all started Zooming in March of 2020 nobody could have imagined that we would still be here a year later. But Zoom fitness has some great benefits, it is convenient and you can take it with you when you travel. We have people training with us over Zoom all the way from Vermont, Texas and in the South Bay. Try one of our Zoom classes on your next trip!
Nagging Back or Hip Issues?

Anne Mawdsley is offering a Hip and Back class on Mondays at 5pm on Zoom, the perfect remedy for too much sitting be it in a Zoom meeting, or in the car.

On Wednesdays we Keep it Moving at 5pm on Zoom and do our best to cover
Yoga, strength, balance, cardio, Pilates, barre training, agility, HIIT training, all in an hour! Get moving, get energized, get fit on Zoom!

Register online for your class here:
https://cachstc.clubautomation.com/

Follow us on Instagram: https://www.instagram.com/hillspilatesandwellness/
Outdoor Group Exercise

Strength & Balance and Core & More (pictured above) are just 2 of the many outdoor group exercise classes
The new class additions are steadily growing in participation. Thank you to everyone who has come out and joined the outdoor program. During the month of May the lighter restrictions allowed us to expand some class sizes, and it has been wonderful to see so many members. We look forward to more classes, and bigger groups as the state of California moves out of the tier system later this month.

As the weather warms up, members enjoy yoga under the tent
In June we are adding more yoga classes at The Hills. The first new addition will be a Thursday 1pm Intro to yoga class with Lindsay. This class is perfect for those who are new to yoga, however, all levels are welcome and encouraged to attend. In addition, we will be offering evening, early morning and weekend classes. As the month progresses, you will see them return, so keep an eye on the schedule. For the most up to date changes, check the schedule through your account or your phone app. We will continue to require registration, and while group exercise classes are complimentary, no-shows may incur a fine.

- Angelique Pine, Group Exercise Director
Indoor Gym, Peak Fit Studio Open Without Reservations

For those of you who have missed the gym or would just prefer to workout indoors, the entire fitness studio is open without having to book a reservation. Please continue to wipe down equipment after each use.

Until we are able to offer small group training in the Peak Fit studio, this beautiful space is open and available for all Hills members to use. Whether it's a TRX workout you're looking for, or a quiet, calm space to stretch, the studio is available without reservations. Just remember to wipe down all of your equipment after use.
Cabanas for both "work" and "play"

Some of you may have noticed that we made some changes to the cabanas. Cabanas 1, 2 and 3 remain as outdoor gyms with primarily cardio equipment. We made the decision to keep these available to members who prefer working out outdoors without a mask. Cabanas 4, 5 and 6 have been converted back to lounge areas. And we installed additional cabanas (Cabanas 7, 8 & 9) set back behind the Family Hot Tub. These three new cabanas will also be reservable for families to kick back and socialize. Reservations are still required for the "lounge" cabanas (reservations for the "gym" cabanas will be lifted on 06/16), but at least with this change members have more options and a way to come up to relax and enjoy the beauty of the club!

Personal Trainers Help Motivate


Our trainers have many options, both indoors or outside, to help you with your fitness routines!
New Hills members looking for an orientation and/or guidance on how to properly use the equipment in the gym should contact either Master Trainer Jeff Allen at [email protected] or Personal Trainer Chris Miano at [email protected]. Our personal trainers are also available to reacquaint long-time members with proper form on the equipment, "kickstart" your gym routine or set you up on a program to shed those unwanted "Covid" pounds. Jeff is certified in Youth Training, Flexibility, Senior Fitness, Strength Training, Nutrition, Martial Arts (Tae Kwon Do, Self Defense) and more. Please reach out to one of our trainers for rates (discount packages available) or to set up an appointment for yourself, and/or a family member.
Increase Core Strength with TRX

Summer is finally here-yay! I am looking forward to spending much more time with friends and family this year!

There is space available in our Tuesday outdoor TRX class. The group meets every Tuesday from 8-9am on the pickleball court and the cost for each class is $15. We would like participants to commit to a month of classes (1x per week). TRX is a great complement to running, swimming, cycling and even weight lifting, as you are using your bodyweight, especially your core, for every exercise on the TRX. It is for all levels, so if you are interested in trying TRX, please reach out to me.

Saturday Zoom is still going strong. All are welcome to join; I send the Zoom link on Fridays. Class begins at 8:30am sharp and lasts 55 minutes.You'll need a mat and a set of dumbells- come join us!

I'm hoping to add some in-person classes soon and looking forward to working out together again!!

Happy Summer,

- Jennie Votel, Peak Fit Director
510-316-3529
[email protected]
Kids Get a Kick Out of Outdoor Tae Kwon Do

Run by Sensei Jeff Allen, The Hills Tae Kwon Do classes for kids ages 5-17 are taking place under the tent. Tae Kwon Do is a form of martial arts that teaches more than physical fighting skills. It is a discipline that shows ways of enhancing our spirit and life through training our body and mind. The goal of the class is to instill confidence, teach respect, and focus on raising self esteem. This is a year-round program that involves kicking, punching and self defense, but most of all, Sensei Jeff encourages the kids to have fun.

Days/Times:
Tuesday 3–4pm & Thursdays 3:30–4:45pm (Beginner)
Tuesday & Thursdays 6–7:15pm (Advanced)
Member cost: $75 per month
Non-member: $90 per month

For more information contact:
Jeff Allen - [email protected]
510-339-0234 x18
Member Spotlight: Hogan Family Bids Farewell

Daughter Rose and son Tom grew up with The Hills. Rose was on the Hurricanes when Bill Eason coached both the Masters and the young ones. Perhaps the most excitement was when we drove late into the night for an early-morning swim meet in Carson City, Nevada, where the tired Hurricanes shined. Son Tom not only enjoyed swimming here but also worked on his basketball shot and he's a fine player to this day.

The Masters started as an evening group, and bride Laura was first to swim with this merry gang. Jerry Lowden, Sally Landis and Ron Scrivani were three of the original members who joined Laura in encouraging me to give it a try - even though due to my asthma I was swimming with a snorkel and could barely make it all the way to the end of the pool. With their encouragement and fabulous coaching, starting with Bill Eason and continuing with Jerry himself through many others, including Coach Preston, Erin and the current stars Shannon, Drew, and Koung, I've loved being a member of the team ever since.

Sally Landis is not only a top swimmer, but also a renowned local artist who teaches a painting class to several Hills members. She is the curator of the club's lobby art gallery, together with my lane-mate Jenny Shears-Teixeira. They have been generous enough to include me with a photography exhibit later this month. The Mona Lisa is probably the most famous Old Master, and therefore Sally and I named the swim team the Mona Lisa Masters way back when. Sally created the team logo, which is that famous Italian Signorina wearing goggles with a fish motif on her flowing garb. A finer group does not exist.

Heidi Tan was the owner when we joined and did a fantastic job improving The Hills and taking care of members. One day the pool's heater broke and the pool was unavailable for the Masters workout. In true Heidi style, she took the team out to dinner. Nick, Stefani, Shad and the current caring staff have maintained this fine tradition, particularly during this latest crisis. Indeed, the club has been a blessing during this period.

The coaches have always inspired us to venture out and do open water swims, as well as jump in the pool at six o'clock in the morning. A group from The Hills always had a ball swimming Lake Berryessa, Lake Del Valle, and even heart-stopping Alcatraz. For many years I partnered on these adventures with Ron and Bob Gils. Bill Eason, Jerry, Jeff Everett, Rico Craft and Don Margolis were the core group that tried their best to train me to swim in the Bay from the South End Club.

As families do, the Masters has its annual holiday festivity, as well as other special celebrations. Memorable parties include one in honor of Jeff's swimming the English Channel, one of his many triumphs; and Jane Long for being California Academy of Sciences Woman of the Year.

A special thanks goes out to Michael Kotton, who helped me through a medical emergency.

In the extended family of The Hills we have cheered Eve Maidenberg, world record-holder; Dave Rapson and Head-Royce baseball; Matt Gabel and Rickey Henderson Field; readings by local authors, including Stewart Florsheim, Dave Newhouse, and Dr. Erica Reischer; and more recently, Mort Landsberg sky-diving on his 88th birthday. During Covid, a group of us have formed a Saturday Zoom family, the Aquaholics Anonymous. You can't keep The Hills folks down.

Not to mention all those sunrises and foggy mornings (captured in the above pics).

It would be impossible to name even a fraction of all the managers, staff, coaches, members of the Masters or The Hills whom we have cherished over the years. But a note about a special pair: Switzerland's own Heidi ("Mrs. Beck") who swam here for 50 years until literally the last day of her long life, and mild-mannered Darlene ("Mrs.Hoffman"). We always deferred to them - and little did we know until long after we met that Mrs. Hoffman was a world famous nuclear scientist.

Indeed a club is at its core is its people, and we have been blessed with the many great friends we have made over the years. We have even been swimming with the children of our original group, from Terry and Megann Young to Steve and Marika Holzman to Susie and Dania Larson. And now Shannon has given us Assistant Coach Harper Mae, featured in the team photo. We swimmers take joy from each other's grandchildren, and therein lies a tale.

Rose, her husband Dylan and their wonder-child Oliver, plus Tom and his love Aki, all live in Los Angeles. We never thought we would leave after 48 years in the Bay Area, or be selling our home or Hills family membership. But Laura and I have decided to move to Los Angeles to be with our loved ones, and to be there for King Oliver as he grows up.

The Hills has always felt like family and will always be in our hearts. Thus we will say farewell and not goodbye.

- Bill and Laura Hogan
Local Artist Brightens Up Hills Lobby

A professional storyteller and spoken word performer, Ruth Halpern is also an avid visual artist, focusing on the medium of watercolor. "In 2018, I took up watercolors seriously and in this latest phase, have been drawn to botanical subjects such as leaves, flowers, and fruit. I use only six colors—a warm and a cool blue, red and yellow—and blend the colors directly on the paper," she says. "That's what creates the vibrant "psychedelic" luminosity of the colors." Ruth has been a Hills member for more than 18 years, and is an avid swimmer and aqua-exerciser.
You can view Ruth's work at the Hills through the month of June, and online at: http://www.art.ruthstory.com/welcome/aboutme/existential-fruits/
Celebrate June Employee Birthdays

Please join us in wishing each of them a happy birthday and thanking them for all of their hard work!

Jenn Nasab, 06/03
Tito Solorzano, 06/13
Jovanni Rodriguez-Cardenas, 06/21
Kathleen Ostler, 06/24
Kyle Johnson, 06/28