UPDATE FROM OUR GENERAL MANAGER
Dear Hills Members,

With June now in full swing, Summer is definitely here. Warmer weather and schools out means more families around and in the pools and hot tubs. Please be sure to keep an eye on your children at all times. Our lifeguards are on duty to keep everyone safe, but they are not responsible for watching the behaviors and actions of children. Safety in and around the pools and hot tubs is the number one priority this summer. Below you will find our Club Water Watchers Card; these cards are available at the front desk and are valuable guidelines to practice each time you bring your kids to the pool.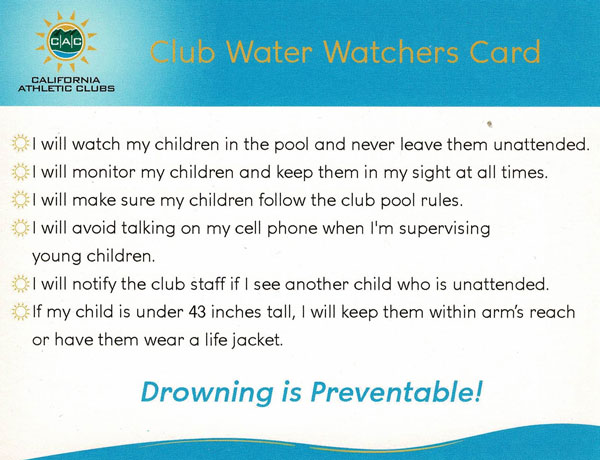 An issue that has been brought to my attention is the use of water toys in the Family Pool. The Hills does not allow water guns or large inflatables, and if it appears to be too crowded in the Family Pool, we ask that children and parents restrain from throwing any toys that could potentially hurt another member.

We're excited to announce that we will be receiving new outdoor furniture later this month! Please let me know if you or if you know anyone who may be interested in purchasing some of our current outdoor furniture. Our goal is to replace as much new furniture as quickly as possible as it gets delivered throughout the summer.

Just in time for the warm weather, the Splash Pad has been fixed and is available for use so feel free to ask for it to be turned on. It is one of the features that the kids really enjoy and is a great reflection of how fun the club can be during the summer.

Have fun, stay safe and enjoy the beauty of The Hills!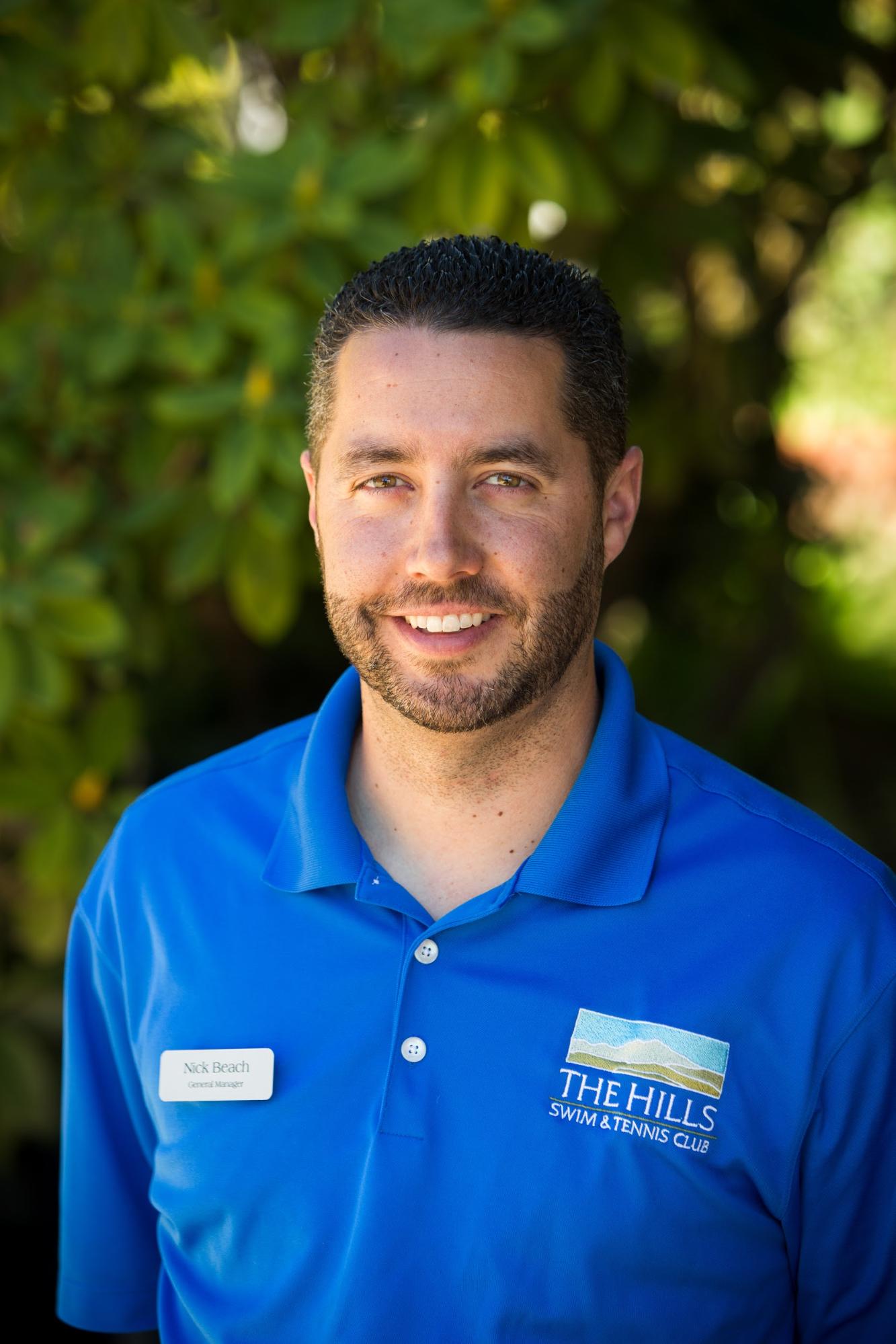 -Nick
Upcoming Events
June 13: Free Beginner/Novice Tennis Clinic 6-7pm
June 13: Intermediate/Advanced Tennis Clinic 7-8pm
Weekdays 11am-1pm: Pickleball on the basketball court
Notes from The Hills Front Desk

You may have noticed a lot of new faces greeting you at the front desk, and that is because we have increased our staff for the summer months. Some of our staffers are "in training" so please be patient as you check in to the club; your friendly smile and welcoming attitude will make the process that much easier for all involved!

Also, if you are a new member and you or a family member (kids included) have not yet had your profile picture taken, please take a moment on your way in or out to stop and let us know. We will be happy to take care of this for you!

Lastly, we want to remind all members that you cannot use your free guest passes on weekends and holidays through Labor Day (September 5). You are welcome to bring guests on these days, but please know that you are subject to the guest fees: Adults (Age 18 & older), $25; Children (Age 2-17), $15; Under 2 years of age, free. Members are allowed to bring 4 guests per membership per day. All guests are required to have a waiver on file. To expedite the check-in process please complete the online waiver prior to your arrival: https://app.waiversign.com/e/60f6023e1db8ff0019c5faae/doc/60f6040e1db8ff0019c5fe48?event=none
This Month's Lobby Art: "Earth Alive!"

As you walk through our lobby doors take a moment to admire this month's featured artist's exhibit, Art of the Desert by Cathy Luchetti.

"The desert is my muse. It grounds me in space and stillness. It works its elemental forces on my imagination. It never rests, it is a living thing to me, always has been. To capture its effect, I spent my early years writing books about the pioneers who came west, crossing the desert, trying to escape its lonely desolation. During my years as an author I hiked and backpacked in the desert, exploring remote canyons, dry falls, bajadas and salt flats. In the last three years I've tried to capture the desert in paint, inspired by the workshop of Sally Landis and companion artists from The Hills. I'm deeply satisfied to render geography into shape and form. In doing so, it becomes a form of prayer. "

Are you an artist or photographer who would like to exhibit your work at The Hills? If so, please email Sally Landis at [email protected].
Hills Kids Love Our Summer Camp

Two weeks in, and Hills kids are loving this year's summer camp thus far! Next week (Week 3) is sold out, but the remaining 8 weeks still have space available.
Our camp is a full day, 8:30am-5:30pm. Campers participate in a variety of activities each day including (but not limited to) swimming, other outdoor sports, hikes, games, arts and crafts and theater. All pool activities are supervised by a certified lifeguard.
Week 3: June 13 to June 17
Week 4: June 20 to June 24
Week 5: June 27 to July 1
Week 6: July 4 to July 8
Week 7: July 11 to July 15
Week 8: July 18 to July 22
Week 9: July 25 to July 29
Week 10: August 1 to August 5
Week 11: August 8 to August 12
Registration is open. Cost: $500 per week* per camper
*$400 for Week 1 since it will only be a 4-day camp
Please reach out to Hills Summer Camp Director Anthony Lum via email at [email protected] for any questions you may have regarding Summer Camp 2022.
Group Exercise Offers a Variety of Classes

It's summertime, a great time to stay active. Why not take a group exercise class? We currently offer 50 complimentary classes at The Hills. All of our options are open to any fitness level with the exception of our 6am Master Swim class. So feel free to join in, first time participants are welcome.

Not only do we offer a wide variety of classes, from Tai Chi and yoga to boot camp and dance, but we also have a variety of venues. Members can take classes indoor, outdoor or check the weekly Zoom class schedule and exercise from home.

Summer is also a big month for travel for both members and instructors. While we do our best to cover every scheduled class with a substitute, occasionally a class gets canceled. The best way to stay informed is to register for the classes you plan to attend. There are no fees attached to complimentary group exercise class registration. You can even register a month in advance in most cases.

Enjoy the wonderful weather and I hope to see you in class!
- Angelique Pine, Group Exercise Director, [email protected]
Aqua Fitness is a "Cool" Workout

What better way to escape the heat than by jumping in and taking one of our aqua fitness classes! Held in the diving well, these "water" classes are a great low-impact group exercise class that is included with your membership and are offered 9-10am, 4 days a week (Tuesdays w/ Bz, Thursdays w/ Sandra, Fridays w/ Ellen and Sundays w/ various instructors. NOTE: if any of these instructors are sick or on vacation, one will be sure to step in). It's important to note that these classes are well attended and therefore we kindly ask that you register in advance if you plan on participating.

Aqua fitness workouts are designed to burn fat, increase cardiovascular fitness, and range of motion and muscle tone. Another benefit is that it's a great cross training exercise. Participants will use flotation belts, noodles, styrofoam barbells and more to perform a variety of motions including water walking/running, abdominal work and toning exercises.

The atmosphere of these classes are fun and social, so why not grab a friend this summer and come up to the club for a great water workout!
Push Your Limit with Peak Fit

Vacation season is upon us and hopefully you are already enjoying it! I hope you're also enjoying the club and the many classes and amenities offered, including the Peak Fit studio small group classes. We currently offer 4 classes per week and hope to offer more in the future. We made a small change to the schedule, as Rich's Saturday 9:15am class will become a Mixed format class beginning June 18. Everything else will remain the same.

Our Mixed Format class blends a variety of exercises and training methods that will challenge your endurance, your strength, your power and your cardiovascular system. We utilize a variety of equipment including, but not limited to, kettlebells, dumbbells, battle ropes, boxes and TRX straps. This class will definitely help you push your limits.

TRX uses your body weight and gravity as resistance to build strength, balance, coordination, flexibility, core and joint stability. Our classes allow you to work at your own pace and our coaches will challenge you as well as make the workout attainable for all participants.

This is a friendly reminder to register for our classes and to cancel in a timely manner as our classes are limited in capacity: 6 for TRX classes and 8 for Mixed Format classes. We're offering a 10 class package at $150 and your drop in fee is $18 per class. Your first class is free, so there's no excuse not to register and come try a class on us!

Peak Fit Studio June Schedule:
Mondays: 6:30am (Mixed Format)
Tuesdays: 7:30am (TRX)
Thursdays: 7:30am (TRX)
Saturdays: 9:15am (Mixed Format)

If you have any questions or concerns, please reach out to me.
- Jenn Nasab, Hills Fitness Coordinator, [email protected]
Further Your Fitness with a Personal Trainer

Bring on the summer!!! Although this time of year tends to throw us off of our routine, the weather makes it easier to stay active, even if it's not at the gym. The goal is to keep moving, whether it's walking your dog, swimming in the ocean or going for a leisurely family bike ride. If your activities are a little more sedentary than you would like, try to include 1-2 outdoor activities per week and build from there. Live in the present and enjoy our beautiful Bay Area weather. If you have further fitness goals, our team of certified personal trainers are here to help! If you are a new member or need to get "reacquainted" with the TechnoGym machines, feel free to email me at [email protected] to schedule a complimentary fitness orientation.

- Jenn Nasab, Hills Fitness Coordinator
Pilates Studio News

Summer is here and summer is truly the best time of year at the Hills. From our birds nest that is the Hills Pilates studio we can hear all the noise and laughter from the pool and even get mouthwatering whiffs from the barbeques on the deck.

Here are some exciting things happening in the studio:
Pain Seminar Series: Feeling Better from Head-to-Toe, starting June 29
Keep it Moving on Vacation - don't forget to pack your flex band and stay fit on your travels with our popular Zoom class
The Pilates studio is staying open all summer with a special summer class schedule that we hope will meet all your exercise and wellness needs.

And for those of you wondering how last month's competition played out, no, I didn't become the new MsHealthandFitness, BUT I did finish the Escape from Alcatraz triathlon on June 5 in treacherous conditions and with a new Personal Best. Thank you all SO MUCH for your support, for donating to the MsHealthandFitness cause (building homes for veterans), and for showing up to class in the studio and on Zoom with smiles and cheers. And yes, I credit my Pilates training for being able to finish Escape.

In Health,
Therese Brewitz
Pilates Director with Anne, Barbara,Yulia, Colleen and Elizabeth

Contact our studio:
[email protected]

Follow us on Instagram and get inspired to do Pilates:
https://www.instagram.com/hillspilatesandwellness/
Pain Seminar Series; Feeling Better from Head-to-Toe

Wednesdays 6:30-7:30pm in the Pilates Studio and on Zoom

Register online: https://cachstc.clubautomation.com/

Cost: $25/class

Do you have pain that is preventing you from enjoying your favorite activities or participating fully in your most loved sport? If so, help is available!
Please join Elizabeth Howe, Acupuncturist and Chinese medicine practitioner and Pilates instructor at the Hills for an informative monthly seminar on understanding pain and how to manage it from head to toe. Each month, pain located in a particular region of the body will be covered. We start on Wednesday, June 29 with headaches, facial pain and jaw pain.

You will learn common causes of pain symptoms, as well as how to recognize red flags and when to seek urgent care. Proper body mechanics, and self-care practices, such as specific exercises and self-applied acupressure will be introduced to help you get back to doing your favorite pursuits, with less pain. Sign up today!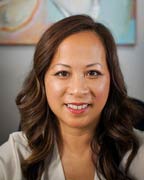 Elizabeth Howe, MS, L.Ac. teaches Pilates Cardio-trampoline on Wednesdays at 9:30am. She also has an acupuncture practice located on Piedmont Avenue; Red Bird Acupuncture and Chinese Medicine. Elizabeth focuses her practice on treating patients with pain conditions, helping patients with stress management and also giving facial enhancement treatments using cosmetic acupuncture. Please visit her website at RedbirdAcuClinic.com.
Keep It Moving on Vacation..on Zoom!

Time off and vacation is so important for body and mind, however, we also want to stay strong and avoid soreness from long hours in the car on a plane. We just have to "Keep it Moving" and that is exactly what we do in our small group training, led by Therese Brewitz, Pilates Instructor and Movement Specialist, where we connect on Zoom and improve our fitness with music, dance, strength training, and lots of Pilates!

For this class you will need a flexband (long elastic exercise band), a small Pilates ball or pillow, hand weights or soup cans (optional). You can either Zoom in on Wednesdays at 5:15pm, or simply receive the link to the most recent recording. Jump in any time and get your workout in.

Sign up online at: https://cachstc.clubautomation.com/
Cost: $20/class
Contact our studio to receive recording(s) of past classes: [email protected]
Cardio Pilates & More

Reformer training is fun and Cardio trampoline and jumpboard training on the reformer is even more fun! This is a safe workout for beginners and experienced Pilates students. Cardio trampoline Pilates is also a terrific rehab tool for knee replacement and other lower extremities. This hour-long, weekly class is held on Wednesdays at 9:30am. Sign up online: https://cachstc.clubautomation.com/
Reformer Pilates Classes

There is a reformer Pilates class for everyone, beginner to expert. Are you new to Pilates and/or to the reformer? Contact our studio today to receive a postural assessment, discuss any injuries and your exercise goals: [email protected]

Sign up for class online: https://cachstc.clubautomation.com/

You find our updated class schedule here: PILATES STUDIO SCHEDULE JUNE 2022
Partner Up with Your Own Pilates Coach!

Our Pilates Instructors have decades of experience in Pilates, wellness, fitness, and exercise
science. We offer Pilates training for injury rehab and "prehab", athletic conditioning, cancer
treatment, recovery and more. You can train with us over Zoom, too. Contact our studio to learn more and to sign up: [email protected]
Reserve a Court for Tennis

For those adults new to the club, new to tennis or looking to improve your backhand, we welcome you to join us on the second Monday of each month for our complimentary Adult Tennis Clinics! No sign-up necessary. This monthly event is free, and open to members only. From 6-7pm, beginners get an hour of instruction; 7-8pm is for intermediate/advanced players. Eddie Pasternak leads these clinics each month for adults with all skill levels. If rain is in the forecast, the clinic will be held the following week.

And for those members wanting to meet up for a friendly match or even a competitive doubles match, you can book a 1-hour court reservation per day either on our Manzanita Court or Diablo Court. If you are interested in nighttime tennis, you can reserve Diablo Court after dark as this court has lights.

Just a reminder, that we now have a Tennis Ball Machine available for members to use! It is located on the Manzanita Court, in the corner near the stairs. For those who would like to use it, simply reserve the court for an hour as usual. The brand of machine is Spinshot and the instructions can be found with the machine inside the storage container. So far I have received very positive comments from some of the members who have had a chance to try it out. They recommend downloading the app and using it to control the settings of the machine, which does have its own wifi signal. Please, please, please, handle the ball machine with care, and always remember to plug the battery charging cord back into it when done using so that it charges for the next member.
Kids Learn Discipline Through Tae Kwon Do

If you're looking for a new activity for your kids, check out our exciting Tae Kwon Do program. It introduces kids to this ancient Korean art of self defense and teaches courtesy, integrity, perseverance, self-control, and indomitable spirit! Tae Kwon Do can help kids ease emotional problems such as stress and depression, while promoting physical fitness. This is a year-round program for kids ages 5-17. Each session involves kicking, punching and self defense, but most of all, we encourage the kids to have fun. The goal of the program is to instill confidence, teach respect, and focus on raising self esteem. Currently there are nine students enrolled ranging from 6 years old to 12 years old.

Days/Times: Tuesdays & Thursdays 3:30–4:45pm (Beginner)
Tuesdays & Thursdays 6–7:15pm (Advanced)

Member cost: $85 per month
Non-member: $100 per month

For more information or to register your child, please contact:
Jeff Allen - [email protected]
510-339-0234 x18
Splashing into Summer with Hills Aquatics

Lap Lane Swimming Rules:
Lap Lane reservations remain weekdays from 9am-2pm in lanes 4, 5, & 6. All other lanes and times are available for shared member swimming.
Please Note: Hills Hurricane Swim Team will be using no more than 4 lanes from 4-8pm, Monday-Friday.
Hot Tub Rules:
Adult hot tub is for ages 18 years and up
Only 9 people allowed in adult hot tub as well as family hot tub at any time
Children younger than 14 years old must have an adult guardian within arm's reach
Flotation devices, toys, kickboards and horseplay are not allowed
No food or drinks in or near the hot tubs
With Summer Comes Diving Board Fun

Our lifeguards have returned for the summer and work daily through Labor Day weekend. The diving board is very popular in the summer months for both kids and adults alike. To ensure patron safety, the deep end (or diving well) can either be open for the diving board or open to swimming, but not both. Two lifeguards must be on duty when the diving board is open. NOTE: The diving board may be closed based on the pool schedule or at the discretion of the lifeguards.

Please take the time to review the club policies here so you are not surprised by any rule enforcement.
Swim Lessons Exclusive for Members in Summer

Our swim instructors have availability for private and semi-private lessons for members only at this time. Please refer to the link below with our current offerings as things may change soon. Please be mindful that our priority is for the membership and their time in the pool. Programming will not take up any more space than is currently taking place. Lessons will only be offered at times that do not encroach on membership experience in the pool(s). Please follow the directions when requesting a lesson and have a high level of flexibility. Instructors may not respond if directions are not followed properly.

Learn more about our offerings here!
Hills Hurricane Swim Team

We are currently fully subscribed, but we may have spots open beginning in the fall for swimmers age 10 & under. Stay tuned for possible TRYOUT date(s) in August.

Full information such as practice times, and season dates is located here on the team website.
Manta Rays & Tidal Waves Pre-Comp Program

Our popular Manta Rays and Tidal Waves pre-comp program is a great introduction to swim team and the best option for 4-10 year olds new to swimming. Our coaches focus on teaching everything from basic swimming skills to full stroke technique, all while introducing the kids to swimming terminology. We use the diving well for these programs and classes meet month to month.

JULY & AUGUST opening at the same time.

Session 7: July 5-28, Tuesdays and Thursdays
Session 8: Aug 2-25, Tuesdays and Thursdays

Cost Member: $125 Non-Member Guest Fee: +$40

Due to high demand, there are NO REFUNDS or PRO-RATING for these classes for any reason. Swimmers are expected to meet the prerequisite on day one of the class. Classes meet near the diving well. Classes meet month to month. Register Here! Instructions on how to register online or App here.

**We are currently not accepting any NEW non-club members at this time.

Manta Rays (Pre-Swim Team) AGE 4-8 T/Th 4-4:30pm

Prerequisite: Swimmers must be able to tread in deep water for 60 seconds. Swimmers must be able to swim comfortably in deep water. Swimmers will learn basic swimming skills of all four strokes. Team activity skills and group swim safety is introduced.

Tidal Waves (Novice Swim Team) AGE 6-10 T/Th 4:30-5pm

Swimmers must pass the prerequisite for swim team: *50 yards of freestyle with side breathing *25 yards of back swimming *Treading water for 30 seconds *Streamline off the wall for 5 yards. This group will prepare swimmers for the swim team.
Outdoor Family Activities

If you are looking for a fun way for the entire family to workout outdoors together, we have options! Reservations for our pickleball/basketball court have returned. Members can book an hour "block" of time to use the court. This does not mean that the court has to be used solely by one family unit during the hour; feel free to welcome and/or challenge other members to a friendly pickleball or basketball game. If you don't have your own equipment, you can ask the front desk staff for the pickleball bag (complete with paddles and balls) and/or basketballs.

Our court is reserved exclusively for pickleball from 11am to 1pm on weekdays. Games during these "open" weekday hours are friendly, social games with some accommodations made for beginning players. You'll see people of all ages and athletic ability having fun on our court. If you are not familiar with pickleball, it's one of the fastest growing sports and easiest to learn the rules of play and scoring and the order of serving if you play with someone who already knows them, so mark your calendar and/or book a reservation and head up to the club to join in on the fun!

Just outside of our enclosed court, we have 2 ping pong (or table tennis) tables. Both young and old can improve eye-hand coordination and fine motor skills by playing ping pong. The front desk has paddles and balls for members to borrow, so take a break from the pool and start some friendly competition with other members. The bottom line is that any of these three activities are a great excuse to come up to the club, get some exercise and maybe even make new friends!

All we ask is that you kindly return any borrowed equipment to the front desk when you are finished playing.
Cool Off in a Cabana

When the weather heats up, so does the demand for cabanas. It's great to see members gather with family and friends for a casual lunch or dinner in the cabanas. If you haven't already noticed, our barbecues are ready for grilling season, so book a cabana, load the cooler and take advantage of this great perk of your membership!

Reservations for our cabanas open at 8am 3 days in advance. For example, on Tuesday morning at 8am, members can log in and book a cabana reservation for Friday. Please be aware that families can only make one 2-hour reservation per day. We kindly ask that members tidy up the cabana at the end of each use.
Celebrate June Employee Birthdays

Please join us in wishing each of them a happy birthday and thanking them for all of their hard work!
Jenn Nasab, 06/03
Tyler Johnson, 06/09
Ian Moloney, 06/11
Tito Solorzano, 06/13
Ellen Klima, 06/14
Jovanni Rodriguez-Cardenas, 06/21
Kathleen Ostler, 06/24
Kyle Johnson, 06/28