UPDATE FROM OUR GENERAL MANAGER
Dear Hills Members,

As more and more vaccines are administered in the Bay Area, it appears that more and more counties/Covid numbers are beginning to decline. Our county continues to be in the Purple tier, but we are expecting to be moved to the Red tier at some point this month. This is exciting news because once that happens we will be allowed to reopen the indoor gym (Fitness Center) and the Peak Fit Studio at 10% capacity! Specifically, this means no more than 6 people in the downstairs gym, no more than 2 in the Peak Fit Studio. Mask wearing will be mandatory the entire time in these two indoor locations as well as mandatory wiping down of equipment used within each space. The only way we'll continue to keep The Hills a Covid-free club is if these two policies are executed by all involved.

It's really mind boggling to think it has been a full year since Covid forced us to close our doors. We've all gone through so much since March 17, 2020. There have been highs and lows, a lot of new information and then rapid changes to that information. The one thing I wanted to point out is that once we were able to reopen in June, I was never sure if/when we were going to be forced to close down again and am so thankful to still be reopened. It's a credit to the members, the staff, California Athletic Clubs, the community, everyone.

I wish you all a Happy St. Patrick's Day and look forward to seeing you soon!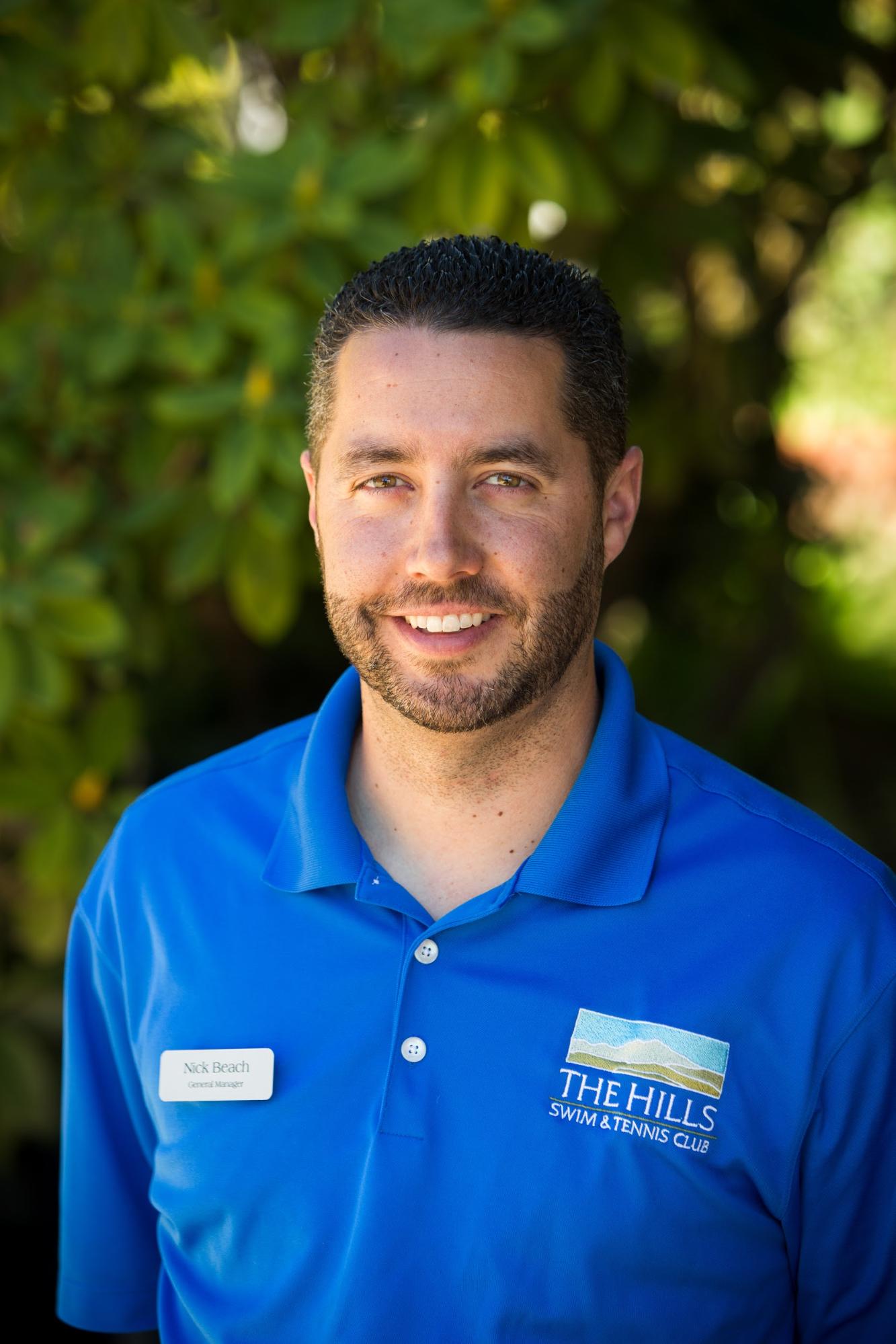 -Nick

Available: *Current Contra Costa County Guidelines continue to apply
Lap Lane Swimming by reservation (reserve through the front desk, online, or on our app) Family/Recreational Pool by reservation (reserve through the front desk, online, or on our app)
Diving Well/Deep End of Lap Pool by reservation (reserve through the front desk, online, or on our app)
Hot Tubs 15-minute increments by reservation (reserve through the front desk, online, or on our app)
Indoor/Outdoor Showers please only 1 person or a family unit. Please practice physical distancing of at least six feet.
Locker Rooms Available for toilet and sink use as well as garment changing. Maximum of 4 people.
Outdoor Gym in the six Cabanas 30-min or 60-min reservation (reserve through the front desk, online, or on our app)
Tennis Courts by reservation (reserve through the front desk, online, or on our app)
Pickleball/Basketball by reservation (reserve through the front desk, online, or on our app)
Kids Afternoon Camps contact Camp Director Anthony Lum for more information [email protected]
Tennis Lessons contact Eddie Pasternak [email protected] or Maaria Husain [email protected]
Outdoor Tae Kwon Do Classes contact Jeff Allen for more information [email protected]
Outdoor Group Exercise Classes (Virtual Zoom classes continue to be provided as well)
Outdoor/Virtual Peak Fit Class Contact Peak Fit Coordinator Jennie Votel [email protected]
Private Pilates Training contact Pilates Director Therese Brewitz for more info [email protected]
Indoor or Outdoor Personal Training contact Nick [email protected] or Jeff Allen [email protected]
Hills Hurricane Swimming Competitive Swim Team CURRENT OFFERINGS
Private Swim Lessons FULL INFORMATION (no group lessons at this time)
Manta Rays & Tidal Waves Pre-Competitive Swim Team INFORMATION & REGISTRATION

Unavailable: *County is yet to lift restrictions

Indoor Gym (Fitness Center)
Peak Fit Studio
Saunas
Cafe
Child Care
Ping Pong
Guests
Back Deck
Greetings from the Billing Department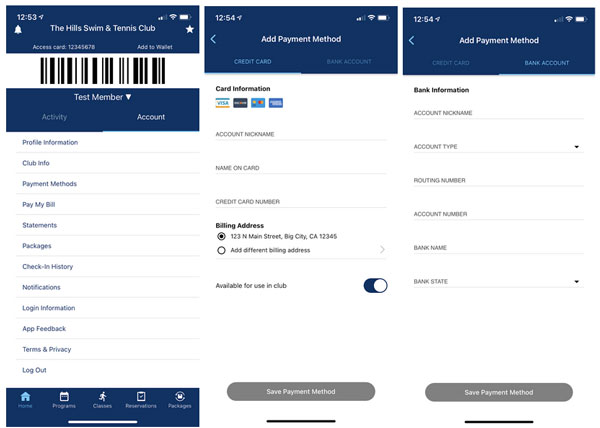 Members can make "Payment Method" changes in the "Account" area on the Hills App
Now that we are operating as a 100-percent reservation-based club, immediately following each billing cycle in the beginning of the month, I receive numerous emails with regards to erroneous no show fees. Please know that this is an automated system and that these fees are posted to your account if you are not properly checked in for any of your reservations. That said, if you have multiple reservations in one day, it is imperative that you check in for each and every one of them. Simply scanning yourself in at the Front Desk does not ensure that you are checked in for your reservation(s).

Often these "erroneous" no show fees are brought to my attention after your payment has been processed. As frustrating as that can be, and if that's the case, all I ask is for your patience and understanding with the current billing system as it relates to these types of charges and for you to know that they can and will be corrected.

Our no show fee policy ($20 per reservation that is not cancelled in the system prior to the reservation time), was put into place as a way to offer all members the ability to utilize the club in some sort of capacity...especially the lap lanes, as these reservations remain the most popular for Hills members.

Lastly, if for some reason you did not receive a monthly statement via email on March 3, you can access it (or any previous months) by logging in to your member portal.

Instructions to access your member portal.
Go to cachstc.clubautomation.com and click "Member Login" at the top
Click "Access My Account" on the bottom of the screen
Provide your name and email address.

It must be the same email address as the club has for you.



Go to your email on your phone or computer and click the link it sent
Provide a password (Note: you may also have to provide an emergency contact or missing info)
Install "The Hills Swim & Tennis Club" App on your phone (Note: before accessing the app on your phone, you MUST set up your online member portal!)
Log in with your email and password (same one you created for your member portal)
🍀 Happy St. Patrick's Day! 🍀
- Stefani McDermott, Administrative & Accounting Manager
Hills Campers Keep Busy Each Weekday Afternoon

The Hills campers are always on the go and having a fun time. Whether it's a hike, craft or game, the kids are loving their time away from their screens. It's a great way for them to get some fresh air. And when the temperature drops, we've got heat lamps to keep them warm! There are still four more weekly sessions left in March: Week 13 (03/09-03/12), Week 14 (03/15-03/19), Week 15 (03/22-03/26) and Week 16 (03/29-04/02. The cost is $200 per child (Monday through Friday, 2-6pm). April dates will be announced in a couple of weeks.

NOTE: There are currently 8 campers registered for next week's camp (and similar numbers for the other 3 camps). We can handle up to 24 campers, two groups consisting of 12 kids each, so plenty of space is still available for March camps!

If you are interested in registering your kids for any upcoming camp, please go log into your online member portal. In the left hand column, click on the button "Register for Programs" and it is there where you will find Winter Camp Week 9-11 registration.

Please direct any camp questions to Anthony Lum, Camp Director, [email protected]
Pool Reservations Remain Popular for Hills Members

The demand for the pool is still going strong into March. The Aquatics Staff appreciates your support for our programs and your compliance with our current safety guidelines.
Lap Lane Swimming Rules:
Children ages 10+ can share a lane with a parent or household guardian for a 30-min reservation
If you arrive early for your reservation and a lane is free, feel free to start swimming early. Similarly, if your reservation ends and a lane is still available, feel free to swim a little longer. Both occurrences need to be cleared by the pool monitor before beginning.
Making a reservation and then not showing up and/or failure to cancel the reservation could be subject to a penalty fee on the account.
Please Note: Hills Hurricane Swim Team will be using no more than 4 lanes from 4-8pm, Monday-Friday.
Family Rec Pool Rules:
30-minute maximum per day per person/family
All children under 14 years old needs a parent or guardian present and attentive to them
Please show courtesy and respect to whomever has the opposite side reservation
Swim toys, floaties, noodles are allowed, so long as they are used appropriately and are not shared with others
Diving Well (Deep End) Pool Rules:
Reservations can be made by an individual or by a family.
No children under the age of 10 can be in the Diving Well. Children ages 10-13 must be accompanied by a parent or adult guardian. Anyone 14 years and older is allowed to be in the Diving Well alone, but we do advise to rent or bring your own float belt.
For information regarding renting a float belt please contact the front desk or Group Exercise Director Angelique Pine (

[email protected]

).
Hot Tub Rules:
15-minute time slots available to be reserved by one member or "Family Only" members
Members can make one pool reservation (lap lane pool, family pool or diving well) as well as one hot tub reservation per day
No one under the age of 18 is allowed in the Adult Hot Tub

Book a 15-minute reservation in one of our hot tubs before or after a workout!

Private Swim Lessons Popular for Both Young & Old

We are still regularly booking swim lessons during this time of the year. In fact, it's common these days to see Coach Koung on the pool deck giving lessons for hours on end! March is a great month to take advantage of our warm family pool or even have your swim lane pre-booked for your convenience. From basic learning to swim, to adult stroke mechanics, to advanced competitive swimming, our instructors are available to improve your swim experience at The Hills.

Learn more about our offerings here!
Aqua Aerobics Classes in the Diving Well

Our aqua aerobics members are filling the diving well four hours a week, as we continue to offer 9am AND 10am classes Tuesdays with Bz; Thursdays with Sandra. Members will need an aqua belt to take these classes; if you do not have one, The Hills will provide a long term rental for a nominal fee. See the front desk for details. As with all of our outdoor classes, we need at least three members signed up in order to offer the class, so please register if you're interested in participating. Registration opens 5 days in advance and class size is limited to 6 participants.
Hills Hurricane Swim Team

Our youth competitive swim team is fully subscribed at this time. We are currently running seven cohort swim team camps and only have room in our pre-comp levels, age 4-10.
Pre-Comp for Younger Swimmers

Session 3: MAR 3-31 (no classes on 3/26) (Registration opens Feb 8, 8am)
Session 4: APR 7-30 (Registration opens Feb 8, 8am)

Manta Rays (Pre-Swim Team) AGE 4-8 W/F 4-4:30pm Pre Requisite: Swimmers must be able to tread in deep water for 30 seconds. Swimmers must be able to swim unassisted for 10 yards. Swimmers will learn basic swimming skills of all four strokes. Team activity skills and group swim safety is introduced. Due to the pandemic, instruction will be conducted out of the water.

Tidal Waves (Novice Swim Team) AGE 6-10 W/F 4:30-5pm
Swimmers must pass the prerequisite for swim team: *50yards of freestyle with side breathing *25 yards of back swimming *Treading water for 30 seconds *Streamline off wall for 5 yards. Led by on-deck coaches, this group will prepare swimmers for the swim team.

Full info and registration link here
Tennis Serves Up an Hour of Outdoor Activity

Spring months mean longer days and warmer weather; a perfect combination for tennis! The sport is a way for members to stay both physically and socially active while still adhering to social distancing. Reminder that under the current county guidelines, singles play can be done with members of different households, but doubles play remains only available to people of the same household. Members can book a 1-hour court reservation per day either on our Manzanita Court or Diablo Court.

For those members who are looking for some tennis instruction, please feel free to reach out to Hills Tennis Instructors, Eddie Pasternak, [email protected] or Maaria Husain, [email protected] Lessons are available for both kids and adults.
Pickleball is a Family-Fun Sport

Similar to tennis, pickleball is another fun way for the entire family to workout outdoors together. For those of you who have not yet given it a try, it is best described as a combination of tennis, badminton and table tennis (or ping pong). The rules are pretty simple and the game is for all ages and skill levels and is easy for beginners to learn. If you are comfortable playing any of the aforementioned paddle sports, the game will most likely become a fast-paced competitive game. It's really up to you; make it fun and social or highly competitive. Bottom line: it's a great excuse to come up to the club and get some exercise. And don't be surprised if you give it a try and find it to be your new favorite sport!

Reminder that just like tennis, under the current county guidelines, singles play can be done with members of different households, but doubles play remains only available to people of the same household. Members can make a 1-hour reservation for pickleball per day.
Basketball Court is Open to Shoot Around

Members can book the court for basketball OR pickleball for either 30- or 60-minute reservations. The county is still only allowing households or individuals to play basketball, so grab the family and come shoot some hoops! Please remember to bring your own basketball, as we currently are not loaning out balls as we had done in the past.
Pilates Offers a Multitude of Health Benefits

Happy Month of March - looking back and looking ahead in the month of New Beginnings!

On March 16, 2020, at noon, right about one year ago, I was called into our weekly meeting with my fellow Hills managers. As we sat in our meeting, it was announced on the news that the Bay Area was going to enter into Shelter in Place beginning at midnight. A sense of shock, disbelief and great worry struck us all. We had no idea what that meant for the future of the club. We wrapped up our meeting, got to work, and on that night the club closed for nearly 2-½ months.

Since then, hundreds of thousands of people all over the world have passed away while others have suffered tremendous losses, and though we continue to receive good news of vaccinations and declining infection numbers, we are not out of the woods yet.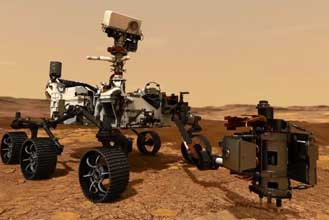 Now a whole year has gone by and we are once again in the month of March. The month March is named after Mars, the Roman god of war, and March used to be the first month in the Roman calendar. A feisty god, for sure, Mars and March also symbolize the start of spring and of new beginnings.

Right now, the Mars rover, so aptly named Perseverance, is sending us new data from our fiery, neighboring planet also named after the god of war. My college friend and fellow musician Jason Achilles Mezilis constructed the microphone used on Perseverance (yes, it blows my mind!), so that we, for the first time ever, can hear the sounds of storms and other events on Mars. You can hear it here:https://www.youtube.com/watch?v=ZBFjpnV9-sg
And watch the Mars Live Cam: https://www.youtube.com/watch?v=6B_6K-splRU

As we hit the one-year mark of Covid, I think that we can all use some exciting news from space, a little fire in our bellies, and hope for a better year ahead.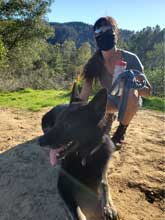 Therese & her dog Moose beat spring fatigue by exercising outdoors
Are you finding yourself struggling with motivation this spring? You are not alone! We have hung tight for a good year, adapted, and adapted again, to new normals and finally, the fatigue may have set in. All of the uncertainty takes a toll, too, as does the prolonged isolation and sheltering in place.

Screen fatigue from hours spent on our computer is a real concept, and scientists talk of the psychological drain we may experience from being slightly overexposed in our Zoom socials. In Sweden there is a term called, "vårtrötthet" that translates as "spring fatigue". It may seem counterintuitive that we can get tired as the days get longer and brighter, but it is real. Spring fatigue refers to the effects of moving through a long winter into spring while our biological clock is struggling to keep up with the changing seasons.

So, what can we do to get fired up and feel good this spring?
As always, movement helps! One of the best remedies for spring fatigue is exercising outdoors where we get a boost of nature, light, and healthy movement. A Zoom class can help, too, seeing others and getting motivated. Our Pilates program offers outdoor Barre/Pilates on the Hills lawn as well as online Zoom classes for everyone. See classes below!
Train with a Pilates instructor and let your coach be your motivator! We are here to offer strategies, give you encouragement and be your cheerleader in your pursuit of health and wellbeing. Contact our studio to learn more:

[email protected]

We may be a little nutrient deficient. Try upping your intake of fresh organic produce with every meal, the more colorful the vegetables and fruits, the better. Fresh herbs and spices also pack a punch of micronutrients; they are nature's own medicine cabinet. Parsley, cilantro, oregano, rosemary, dill, peppermint, to name a few.
Rest and recuperate! The god of war kept busy, but even a warrior must rest. Sleep is essential, but we may also want to rest our eyes from our computer screens, rest our minds from constant social media input, and rest our spirits by spending time with our pets and enjoying nature. Receiving holistic treatment in the form of Reiki can also boost our energy; read more about Reiki below.
Adopt new practices of selfcare. Selfcare is not just about bubble baths and exercise. It can involve working on ourselves and setting good boundaries. Here is a brilliant take on what selfcare can be: review.first.round.makingselfaretactical.ed
We are moving towards brighter days and we look forward to seeing you at the club and in our Zoom sessions.

Much Love and Good Health to you,

Therese and the Hills Pilates and Wellness Studio Team
Contact our studio: [email protected]
Pilates classes and programs:
Barre with Bruce on Tuesdays at 9am at the Hills

Come rain or shine Barre/Pilates Instructor Bruce Arana and his dedicated "core" group are braving the weather outside on the ballet barre. Please wear a mask and bring your own light weights, mini ball, and small loop band.
Cost: $30
60-min class, 6 student max
Reformer on Zoom on Mondays at 12:45pm and on Wednesdays at 6:15pm

Our new online Reformer class is a hit. Do you have access to a Pilates reformer at home? If so, you can try one of our Reformer classes, offered on Mondays at 12:45pm with Therese; Wednesdays at 6:15pm with Colleen. All levels welcome!
Cost: $25
60-min class, 6 student max
Shoulder and Core on Zoom on Mondays at 5pm

This class dedicates 20 minutes to careful shoulder rehab, plus core strengthening to support correct alignment. Great for improving posture and upper body strength.
Cost $20
55-min class, 10 student max
Chair Pilates on Zoom on Tuesdays at 5pm

With great wit and creativity Pilates Instructor Barbara Hoffer is showing us how to get super fit using just a chair and our own core muscles. Don't be fooled, this is a real workout!
Cost: $15
45-min class, 15 student max
Keep it Moving on Zoom on Wednesdays at 5pm

We do it all in 60 min: Pilates, strength training, cardio, stretching and yoga and promise great results and lots of fun.
Cost: $15
60-min class, 15 student max

Sign up for our Pilates classes online: cachstc.clubautomation.com
or contact our studio to learn more: [email protected]
Other programs:
Reiki Online Therapy for Health and Peace of Mind

Read more about Reiki and its many benefits: /services/massage
Reiki sessions are now available on Zoom. To book a Reiki appointment, please contact: [email protected]

Safety
Your health and safety is our number one priority and we take every precaution to keep our clients, our staff and our club protected at all times.
Please read our COVD-19 safety guidelines here:

PILATES_STUDIO_COVID-19_GUIDELINES

Follow us on Instagram: https://www.instagram.com/hillspilatesandwellness/
More Outdoor Group Exercise Classes This Month

Members have options when it comes to outdoor group exercise classes
It's hard to believe a year has passed since our last indoor Group Exercise class. We appreciate your patience while we wait for our County to reach a safer tier. At this time, Contra Costa and Alameda remain in the Purple zone, so we are still unable to offer indoor classes. Outdoor classes are going well though. This month we are trying two new classes. Kathleen returned with a 10:15am Zumba class on Tuesday, and Spin/Core will be offered at 9:30am beginning March 12th. After Kathleen held her first class under the tent she said how thrilled she was to see so many friends return. The atmosphere was joyous. As for the Zoom schedule, participation remains steady. Lindsay and Evan have returned to teach yoga on Zoom while Miriam is out on maternity leave. Miriam and her husband welcomed her daughter on February 24th and both are doing well (see below).
- Angelique Pine, Group Exercise Director
New Addition to the Hills Family

Hills' yoga teacher Miriam and husband Brandon welcomed Raiya Shoshana Adele to the world on Wednesday 02/24/21 at 11:01pm (her great-grandmother's birthday!) after a 46-hour labor. Weighing 6-lbs 9-ozs, Raiya is already in love with both her parents, who are truly over the moon for her.
Up Your Workout Routine with Master Trainer Jeff Allen




Indoors or out, Jeff is available for personal training sessions to help you reach (or revamp) your fitness goals!
Master Trainer Jeff has received both of his Covid shots and is ready to help you shed those unwanted pounds and tone those sedentary muscles! During the pandemic Jeff seized the opportunity to further his expertise in fitness by achieving the highest certified position for personal training. As a Master Trainer, Jeff is now certified in Youth Training, Flexibility, Senior Fitness, Strength Training, Nutrition, Martial Arts (Tae Kwon Do, Self Defense) and more. Currently, training in the gym is only offered on a 1-on-1 basis, meaning no one else is allowed in the gym during your training session. This creates a safer environment for everyone. While you're congratulating Jeff on his achievement, take the time to set up an appointment for yourself, and/or a family member.Masks are still mandatory for personal training sessions whether you are indoors or outdoors. Feel free to reach out to Jeff Allen, [email protected] for rates or to set up an appointment, or if there are any personal training/fitness activities that you would like to see at The Hills and you have a group/several members interested.
PeakFit Continues to Offer a Saturday Zoom Class

Saturday Peakfit Zoom class is fun...and free for all members!
With the sunshine and warmth we've been experiencing lately, it's exciting to see that Spring is coming and the beautiful weather is going to be great for more outdoor workouts! Yay! Our outdoor TRX class on the pickleball/basketball court on Fridays is on hiatus through March, but we plan to start back in mid-April. Please reach out to me if you are interested in joining us next month. Cost is $15 per class and we would like participants to commit to a month of classes (1x per week). TRX is a great complement to running, swimming, cycling and even weight lifting, as you are using your bodyweight, especially your core, for every exercise on the TRX!

Our Saturday Peakfit Zoom workout is about to celebrate a 1-year anniversary. Sad, but true! We have about 8 diehards who get together every weekend for a Saturday Sweat Session. It's fun and free, and all you need is a mat and a pair of dumbbells. I send the zoom link weekly on Fridays for an 8:30am Saturday class, so please reach out to me if you would like to join in on the fun!

Happy SPRING!

- Jennie Votel, Peak Fit Director
510-316-3529
[email protected]
Kids are Loving Tae Kwon Do Under the Tent

The Hills is currently offering its Tae Kwon Do classes for kids ages 5-17 under the tent. According to the World Tae Kwon Do Federation, Tae Kwon Do is one of the most systematic and scientific Korean traditional martial arts, that teaches more than physical fighting skills. It is a discipline that shows ways of enhancing our spirit and life through training our body and mind. Students will learn the five tenets which include Courtesy, Integrity, Perseverance, Self-Control and Indomitable Spirit. The goal of the class is to instill confidence, teach respect, and focus on raising self esteem. This is a year-round program that involves kicking, punching and self defense, but most of all, we encourage the kids to have fun.

Days/Times:
Tuesday 3–4pm & Thursdays 3:30–4:45pm (Beginner)
Tuesday & Thursdays 6–7:15pm (Advanced)
Member cost: $75 per month
Non-member: $90 per month

For more information contact:
Jeff Allen - [email protected]
510-339-0234 x18
Celebrate March Employee Birthdays

Please join us in wishing each of them a happy birthday and thanking them for all of their hard work!

Jeff Allen, 03/07
Rosalinda Mendoza, 03/07
Mitch Curtis, 03/07
Muey Saechao, 03/19
Dea Velazquez, 03/19
Nick Beach, 03/23