UPDATE FROM OUR GENERAL MANAGER
Dear Hills Members,

We're getting there! During the months of May and June we plan to transition back to some normalcy around here. We won't be able to do it all at once, and some programs may still look a little different than they did before. But the one thing to remember is that during the past 14 months we never had a case or an outbreak of Covid. The system that was put in place was effective in keeping the club members and staff safe and healthy, and it's a credit to all of you and the amazing staff we have here at The Hills!

The indoor gym (Fitness Center) and the Peak Fit studio remain open without a reservation requirement. Please be sure to continue wearing masks indoors while working out, practice social distancing, and wipe down all equipment after each use.

We will be moving some of the gym equipment that has been outdoors back indoors and will be transitioning some of the cabanas back to furniture allowing families to reserve "lounge" time. We also plan to provide additional outdoor cabanas in the near future. The idea will be that some cabanas will be exclusively for outdoor lounging and some will continue to be used for outdoor workouts with gym equipment in them.

We plan to alter Lap Lane, Family Pool and Diving Well reservations in the near future and will send out separate emails announcing those changes.

I want to thank each and every one of you for your patience and understanding during such a challenging time and look forward to a more "Hills" type of summer soon.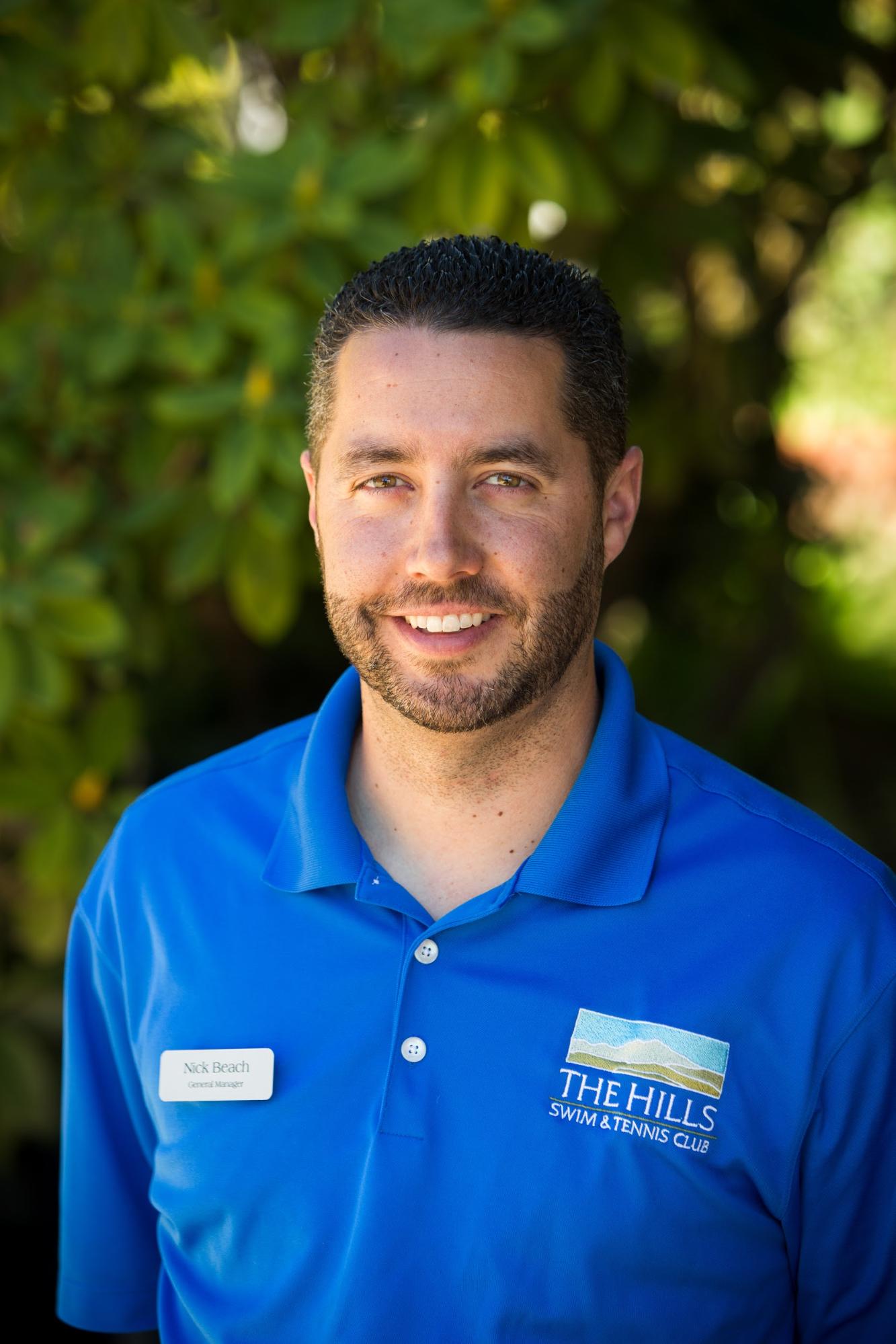 -Nick
Available: *Current Contra Costa County Guidelines continue to apply
Lap Lane Swimming by reservation (reserve through the front desk, online, or on our app) Family/Recreational Pool by reservation (reserve through the front desk, online, or on our app)
Diving Well/Deep End of Lap Pool by reservation (reserve through the front desk, online, or on our app)
Hot Tubs 15-minute increments by reservation (reserve through the front desk, online, or on our app)
Indoor/Outdoor Showers please only 1 person or a family unit. Please practice physical distancing of at least six feet.
Locker Rooms Available for toilet and sink use as well as garment changing. Maximum of 11 people.
Outdoor Gym in the six Cabanas 30-min or 60-min reservation (reserve through the front desk, online, or on our app)
Tennis Courts by reservation (reserve through the front desk, online, or on our app)
Pickleball/Basketball by reservation (reserve through the front desk, online, or on our app)
Kids Afternoon Camps contact Camp Director Anthony Lum for more information [email protected]
Tennis Lessons contact Eddie Pasternak [email protected] or Maaria Husain [email protected]
Outdoor Tae Kwon Do Classes contact Jeff Allen for more information [email protected]
Outdoor Group Exercise Classes (Virtual Zoom classes continue to be provided as well) contact Angelique Pine [email protected]
Outdoor/Virtual Peak Fit Class Contact Peak Fit Coordinator Jennie Votel [email protected]
Private Pilates Training contact Pilates Director Therese Brewitz for more info [email protected]
Pilates Studio Small Group Reformer Classes contact Pilates Director Therese Brewitz for more info [email protected]
Indoor or Outdoor Personal Training contact Nick [email protected] or Jeff Allen [email protected]
Hills Hurricane Swimming Competitive Swim Team CURRENT OFFERINGS
Private Swim Lessons FULL INFORMATION (no group lessons at this time)
Manta Rays & Tidal Waves Pre-Competitive Swim Team INFORMATION & REGISTRATION

Unavailable: *County is yet to lift restrictions

Saunas
Cafe
Child Care
Ping Pong
Guests
Notes from the Billing Department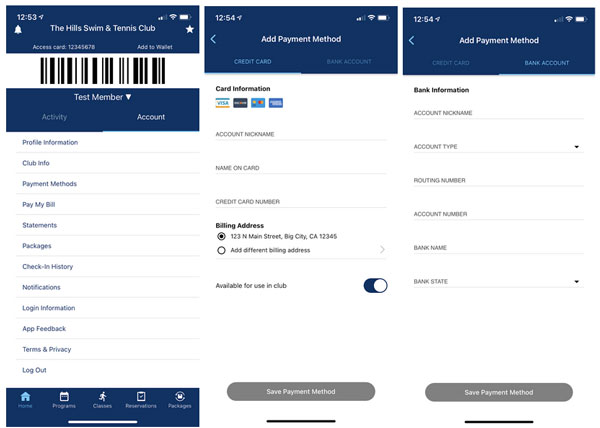 Members can make "Payment Method" changes in the "Account" area on the Hills App
I want to begin by thanking all of you for your patience and understanding as we continue to operate as a reservation-based club. This past month I received much fewer emails or phone calls in regards to erroneous no show fees and I credit this to our fantastic front desk staff, as they are the ones working tirelessly to not only greet every member that walks through our doors, but also to ensure that each and every member is checked in for his/her daily reservation(s). This may not sound like a big deal, but with hundreds of reservations each day for lap lanes, family pool time, diving well spaces, hot tubs, outdoor gyms, tennis courts, pickleball/basketball courts, outdoor group exercise classes, pilates sessions/classes and more, it really is a lot to keep track of...and our staff works hard to ensure that you are checked in AND that your time at the club is safe, clean and enjoyable.

So please remember, if you have multiple reservations back-to-back in one day, it is imperative that you check in for each and every one of them. Simply scanning yourself in at the Front Desk does not ensure that you are checked in for your reservation(s). The front desk will often catch your multiple reservations, but my recommendation is to mention this to them as you check in, especially if you are moving from one area to another (ie. from the tennis court to the pool).

I think I can speak for everyone, staff and members included, that we look forward to the day that we can eliminate reservations and operate as we did pre-pandemic. Until then, please remember to cancel any reservation that you know you will not be able to use to avoid any unnecessary charges to your account.

Our no show fee policy ($20 per reservation that is not cancelled in the system prior to the reservation time), was put into place as a way to offer all members the ability to utilize the club in some sort of capacity...especially the lap lanes, as these reservations remain the most popular for Hills members.

Lastly, if you are the primary account holder of your membership, you can access your combined monthly statements (which means you can view charges for all family members) by logging in to your member portal.

Instructions to access your member portal:
Go to cachstc.clubautomation.com and click "Member Login" at the top
Click "Access My Account" on the bottom of the screen
Provide your name and email address. It must be the same email address as the club has for you.
Go to your email on your phone or computer and click the link it sent
Provide a password (Note: you may also have to provide an emergency contact or missing info)
Install "The Hills Swim & Tennis Club" App on your phone (Note: before accessing the app on your phone, you MUST set up your online member portal!)
Log in with your email and password (same one you created for your member portal)
- Stefani McDermott, Administrative & Accounting Manager
Two New "Masked" Faces Join Our Hills' Team

By now many of you have been greeted at the front desk by Erik Everett or witnessed Tony Tran working hard to keep the club looking its best. Tony joined the maintenance crew back in late January; Erik joined the front desk staff in mid-February. With their willingness to learn new roles and assist in a variety of ways within varying departments, both have proven to be a great fit for our team. Next time you see them at the club, please take a moment to thank them for their hard work and dedication to their job!
Hills Summer Camp Registration Opens Soon!

Summer might be right around the corner, but space is still available for our Spring camps. If you are interested in registering your kids for any upcoming camp this month, please log into your online member portal. In the left hand column, click on the button "Register for Programs" and it is there where you will find Spring Camp Weeks 5-8 registration.

Our afternoon camp is a great way for your kids to get some fresh air, and it's no secret that the Hills campers have been loving their 4 hours of "screen-free" time. Whether it's a hike, some fun in the pool, a craft or a game, the energy they bring to the club is contagious. There are still four more weekly sessions left in our Spring camp sessions: Week 5 (05/03-05/07), Week 6 (05/10-05/14), Week 7 (05/17-05/21) and Week 8 (05/24-05/28). The cost is $200 per child (Monday through Friday, 2-6pm) for kids ages 5-12 years.

Summer camp dates/details will be announced in a separate email blast.

Please direct any camp questions to Anthony Lum, Camp Director, [email protected]
Warmer Weather Means More Demand for Pool Time

As the weather heats up, so will the demand for pool reservations. The Aquatics Staff appreciates your support for our programs and your compliance with our current safety guidelines.
Lap Lane Swimming Rules:
Children ages 10+ can share a lane with a parent or household guardian for a 30-min reservation
If you arrive early for your reservation and a lane is free, feel free to start swimming early. Similarly, if your reservation ends and a lane is still available, feel free to swim a little longer. Both occurrences need to be cleared by the pool monitor before beginning.
Making a reservation and then not showing up and/or failure to cancel the reservation could be subject to a penalty fee on your account.
Please Note: Hills Hurricane Swim Team will be using no more than 4 lanes from 4-8pm, Monday-Friday.
Family Rec Pool Rules:
30-minute maximum per day per person/family
All children under 14 years old need a parent or guardian present and attentive to them
Please show courtesy and respect to whomever has the opposite side reservation
Swim toys, floaties, noodles are allowed, so long as they are used appropriately and are not shared with others
Diving Well (Deep End) Pool Rules:
Reservations can be made by an individual or by a family.
No children under the age of 10 can be in the Diving Well. Children ages 10-13 must be accompanied by a parent or adult guardian. Anyone 14 years and older is allowed to be in the Diving Well alone, but we do advise to rent or bring your own float belt.
For information regarding renting a float belt please contact the front desk or Group Exercise Director Angelique Pine (

[email protected]

).
Hot Tub Rules:
15-minute time slots available to be reserved by one member or "Family Only" members
Members can make one pool reservation (lap lane pool, family pool or diving well) as well as one hot tub reservation per day
Families can currently reserve the adult hot tub; please be aware that the temperature is 3-4 degrees hotter than the family hot tub

Private Swim Lessons Popular for Both Young & Old

Private swim lessons demand is skyrocketing into the summer. As a result, we are actively seeking new and great swim instructors to help us with the demand! We also look forward to restarting in-water teaching at some point in the near future.

From basic learning to swim, to adult stroke mechanics, to advanced competitive swimming, our instructors are available to improve your swim experience at The Hills.

Instructors book their own lessons.
Learn more about our offerings here!
Aqua Aerobics Classes in the Diving Well

Our aqua aerobics members are filling the diving well three hours a week, as we continue to offer 9am AND 10am classes Tuesdays with Bz; Thursdays at 9am with Sandra. Members will need an aqua belt to take these classes; if you do not have one, The Hills will provide a long term rental for a nominal fee. See the front desk for details. As with all of our outdoor classes, we need at least three members signed up in order to offer the class, so please register if you're interested in participating. Registration opens 5 days in advance and class size is limited to 6 participants.
Hills Hurricane Swim Team: Keep Calm & Swim On

Our competitive swim team is currently fully subscribed. We are currently running seven cohort swim team camps with a large waiting list.

Intrasquad Swim Meet: On March 26, the Hurricane swimmers completed their second official swim meet in over a year. Congratulations to the following swimmers who broke a combined 11 team records in our home pool: Jeffrey Latronica, Ellie Hunter, Taylor Rolefson, Joshua Hunter, and Nathan Rogers. The swimmers' hard work over the past year paid off as a remarkable 75% of 211 swims were personal bests. And impressively, twelve of our younger swimmers competed in their very first meet.
Younger Swimmers Make a Splash in our Pre-Comp Program

Session 5: MAY 5 - 28
Session 6: June 9 - July 1
(Future session dates will post monthly)

Manta Rays (Pre-Swim Team) AGE 4-8 W/F 4-4:30pm Pre Requisite: Swimmers must be able to tread in deep water for 30 seconds. Swimmers must be able to swim unassisted for 10 yards. Swimmers will learn basic swimming skills of all four strokes. Team activity skills and group swim safety is introduced. Due to the pandemic, instruction will be conducted out of the water.

Tidal Waves (Novice Swim Team) AGE 6-10 W/F 4:30-5pm
Swimmers must pass the prerequisite for swim team: *50yards of freestyle with side breathing *25 yards of back swimming *Treading water for 30 seconds *Streamline off the wall for 5 yards. Led by on-deck coaches, this group will prepare swimmers for the swim team.

Full info and registration link here!
Junior Lifeguard Camp Returns This Summer

June 14 - 18
July 28 - 30

This program is designed as a community-based water safety program for youths 10–15 years old. The Junior Lifeguard Training Program has been developed to serve many purposes where water safety is our primary goal. Along with water safety activities, we engage in CPR and First Aid training. A secondary benefit is the unique combination of establishing the foundation for good work skills, responsibilities, skill development, competition, and leadership skills. In providing a well-rounded training experience, we include 30-minute daily fitness, lectures, demonstrations, and team-building activities. An additional two hours per week of volunteering may be required by each JR guard. Course Prerequisite: 50 yards of freestyle or breaststroke. Retrieve a 10-lb. brick from a depth of 12 feet. Swim underwater 15 feet.

Lunch/Snacks are not currently provided. Please bring your own as well as a water bottle.

Members: $325 per session. Non-members add a $30 guest fee.

Registration link and additional information!
Tennis Serves Up an Hour of Outdoor Activity

Spring months mean longer days and warmer weather; a perfect combination for tennis! The sport is a way for members to stay both physically and socially active while still adhering to social distancing. Members can book a 1-hour court reservation per day either on our Manzanita Court or Diablo Court.

For those members who are looking for some tennis instruction, please feel free to reach out to Hills Tennis Instructors, Eddie Pasternak, [email protected] or Maaria Husain, mhu[email protected] Lessons are available for both kids and adults.
Casual or Competitive, Pickleball is Fun for Everyone

Similar to tennis, pickleball is another fun way for the entire family to workout outdoors together. For those of you who have not yet given it a try, it is best described as a combination of tennis, badminton and table tennis (or ping pong). The rules are pretty simple and the game is for all ages and skill levels and is easy for beginners to learn. If you are comfortable playing any of the aforementioned paddle sports, the game will most likely become a fast-paced competitive game. It's really up to you; make it fun and social or highly competitive. Bottom line: it's a great excuse to come up to the club and get some exercise. And don't be surprised if you give it a try and find it to be your new favorite sport! Members can make a 1-hour reservation for pickleball per day, and the court is reserved exclusively for pickleball play weekdays 11am-1pm.
Take it to the Net on our Basketball Court

Members can book the court for basketball OR pickleball for either 30- or 60-minute reservations. The county is still only allowing households or individuals to play basketball, so grab the family and come shoot some hoops! Please remember to bring your own basketball, as we currently are not loaning out balls as we had done in the past.
Happy Spring from the Hills Pilates & Wellness Studio!

The Pilates studio is once again buzzing with activity! And we have great news: Reformer Pilates classes are resuming again. With Contra Costa County currently in the Orange Tier we are now able to offer group classes in the studio again with a maximum of 4 students. I am sure that you are eager to return to your favorite class or try Pilates for the first time. All of our reformer classes are fun, creative, safe, and taught by our highly-trained and certified Pilates team.

For more information about our reformer classes, please contact our studio:
[email protected]

Much Love and Good Health to you,
Therese and the Hills Pilates and Wellness Studio Team

Follow us on Instagram: https://www.instagram.com/hillspilatesandwellness/
Reformer (In Studio) Classes: *Space Available

Reformer II Zoom/in studio Mondays at 12:30pm with Therese *
You can take this class in the studio and you can log onto Zoom and do it from home using your own reformer.
(Please note the 2 different times on our schedule, the actual class is at 12:30pm online and in the studio)

Mixed level Reformer, Tuesdays at 9:30am with Anne *

Reformer level II with Barbara,
Tuesdays at 5pm *
and Tuesdays 6pm FULL

Men's Reformer, Wednesdays at 4pm with Therese *

Better Back Reformer, Thursdays at 5pm, with Therese FULL
Reformer level II Thursdays at 6pm FULL

We have already received a huge response from our current Pilates students.
Please contact our studio prior to booking to confirm your enrollment and ensure your space. [email protected]

You can use your new or existing reformer Pilates packages to book your class and you are now able to buy your own package from your account.

Your safety is our top priority and we want everyone to be familiar with our Covid guidelines: https://Pilates StudioCovidGuidelines
They include: Please wear a mask at all times, please bring your own filled water bottle and wear sticky socks to your class.
These will remain in effect and will be updated following county and state guidelines.
Barre with Bruce, Tuesdays at 9am

Ballet barre training and core training taught by Barre Master Bruce Arana.This class has now safely resumed indoors. Barre is a hybrid workout that combines ballet-inspired moves with elements of Pilates, dance, yoga and strength training. The class focuses on high reps of small range movements. Please wear a mask and ballet slipper or sticky socks and get ready for a great workout.
Cost: $30 per 60-min class
Get Fit through Zoom Pilates

You can now book your class online using your club account:
https://cachstc.clubautomation.com/

Our Zoom Pilates classes are very popular and we will continue some of our Zoom Pilates program for those clients who prefer this format.
Nagging Back or Hip Issues?

Anne Mawdsleyis rolling out a new, great workout, "Better Back & Hips" on Mondays at 5pm on Zoom. This class will focus on stabilizing the lumbar and strengthening the muscles throughout the pelvis and upper back. This is a great class for garden-variety aches and pains, (rather than excruciating pain). This class will leave you feeling restored and equipped to do the things you love. Bring: a foam roller, flex band(s), and two light hand weights (soup cans work in a pinch).

Cost $20
55-min class, 10 student max

We are still "Keeping it Moving" on Wednesdays at 5pm through this year and beyond. Get moving, get energized, get fit on Zoom!

We are also offering private training, both in the studio and on Zoom.
Contact our studio to book your own Private training:
[email protected]
Reiki Therapy for Healing of Self and of the World

The ancient healing practice of Reiki seeks to offer health to the individual but also to the world. We live in a fractured time, but if there is one thing this past year of Covid has taught us, it is that we all yearn for a sense of belonging and togetherness. We have also been taught the lesson of how we have to look out for each other in order to look out for ourselves. The simple acts of wearing a mask and of getting a vaccine both illustrate this point.

Reiki fits in with these values; it is a healing art that offers abundant energy. When we give or receive Reiki we multiply it and expand upon its positive effects into all our areas of life and beyond.
You can read more about Reiki here:
/services/massage
Reiki sessions are available in person and on Zoom. To book a Reiki appointment, please contact: [email protected]

Follow us on Instagram: https://www.instagram.com/hillspilatesandwellness/
Outdoor Group Exercise Offers Up More Options in May

Members have a variety of classes to choose from when it comes to outdoor group exercise classes
Our Group Exercise program is expanding! With the warmer weather, outdoor class participation reached an all time high in April, and we received lots of positive feedback. Last month we welcomed back Virginia and Kathleen to the Hills property. This month our goal is to balance continued interest in the Zoom program with the growing enthusiasm for outdoor classes. In addition to new Aqua, Spin and Pilates classes, we will be transitioning some favorites from Zoom. Please check out the schedule through your account or online. Also, attached is a PDF of outdoor offerings. Please note, this schedule is subject to change; looking for classes online is your best option.
Here are some Housekeeping notes
Zoom classes. In order to determine continued interest we will be refreshing the registrations for the remaining Zoom classes. If you attend a lot of Zoom classes you may get a lot of emails. I apologize in advance. To re-register simply click on the hyperlink and it will take you to the registration for that class.
Class spacing. For your safety and to avoid crowding, classes are spaced a minimum of 15 minutes apart. Therefore, please do not congregate after exercising. Thank you for moving your conversations away from the class spaces.
Waitlists work! But only if your settings are correct. Open your account and click on settings, scroll to the bottom and check the box that says you would like to receive a notification if you are offered a space in class.
No shows and very late cancelations are subject to a fine.
Classes with less than three sign ups will be canceled 24 hours in advance. Class space is limited, so our goal is to bring back classes that have the most member interest.
Due to continued restrictions not all classes are back. Please remain patient. We are continuing to consider solutions and reviewing CDC guidelines. We will bring back your favorite class as soon as we can
- Angelique Pine, Group Exercise Director
Reservations No Longer Required for Indoor Gym

For those of you who have missed the gym or would just prefer to workout indoors, the entire fitness studio is open. Reservations are not required for this space, but the indoor mask rule remains in effect. Please continue to wipe down equipment after each use. Our outdoor gyms will continue to be reservable for 30 or 60 minutes each day. Since these areas are outdoors, masks are not required. The bottom line is that members have many options when it comes to working out at The Hills.
Peak Fit Studio Open Without Reservations

It's been over a year that we have been able to offer small group training in the Peak Fit studio. This beautiful space is open and available for all Hills members to use. Whether it's a TRX workout you're looking for, or a quiet, calm space to stretch, the studio is available without reservations. Just remember to wipe down all of your equipment after use. Indoor mask rule remains in effect for this space as well.
Reach Your Fitness Goal with a Hills Personal Trainer


Master Trainer Jeff Allen will work with you to reach (or revamp) your fitness goals...indoors or outside!
Many of you know Jeff Allen. He is one of the longest-tenured employees of The Hills and has helped countless members reach their fitness goals. And for those of you new to The Hills who are looking to "kickstart" your gym routine or shed those unwanted "Covid" pounds, contact Jeff at [email protected] for rates or to set up an appointment for yourself, and/or a family member. As a Master Trainer, Jeff is certified in Youth Training, Flexibility, Senior Fitness, Strength Training, Nutrition, Martial Arts (Tae Kwon Do, Self Defense) and more. You should talk with Jeff if there are any personal training/fitness activities that you would like to see at The Hills and you have a group/several members interested.
Outdoor TRX is Back This Month!

Peak Fit Saturday Zoom is still going strong! It's been exactly one year since we began our weekly Zoom classes; that is 52 workouts that this amazing group of people have completed. I love it!! Looking forward to adding in some in-person classes in the coming weeks. Speaking of in-person classes, there is a new outdoor Tuesday TRX class at 8am on the pickleball/basketball court being taught by Virginia. If you are interested in joining the class, please contact me!

Cost is $15 per class and we would like participants to commit to a month of classes (1x per week). TRX is a great complement to running, swimming, cycling and even weight lifting, as you are using your bodyweight, especially your core, for every exercise on the TRX!

Happy SPRING!

- Jennie Votel, Peak Fit Director
510-316-3529
[email protected]
Lots of Space for Outdoor Tae Kwon Do

The Hills is currently offering its Tae Kwon Do classes for kids ages 5-17 under the tent. According to the World Tae Kwon Do Federation, Tae Kwon Do is one of the most systematic and scientific Korean traditional martial arts, that teaches more than physical fighting skills. It is a discipline that shows ways of enhancing our spirit and life through training our body and mind. Students will learn the five tenets which include Courtesy, Integrity, Perseverance, Self-Control and Indomitable Spirit. The goal of the class is to instill confidence, teach respect, and focus on raising self esteem. This is a year-round program that involves kicking, punching and self defense, but most of all, we encourage the kids to have fun.

Days/Times: Tuesday 3–4pm & Thursdays 3:30–4:45pm (Beginner)
Tuesday & Thursdays 6–7:15pm (Advanced)
Member cost: $75 per month
Non-member: $90 per month

For more information contact:
Jeff Allen - [email protected]
510-339-0234 x18
Member Spotlight: Jan Scott

Member for 56+ years, Jan says "goodbye" to her Hills membership
Jan Scott and her family became members of The Hills in February of 1965, just four years after the club had officially opened. Her husband Richard, along with their children Cliff and Pam, frequented the club throughout much of the following decades. Both Jan and Richard were avid swimmers while at the club, but their story, and in particular Jan's story, started much earlier than their days here.

Jan was born and raised on 55th Street in Oakland. During her school years she enjoyed the likes of drama and journalism, but realized early on that she had a passion for teaching and this passion stuck throughout her life. In 1949, a year after Jan and Richard married, they both graduated from Cal Berkeley, Jan with a degree in Social Welfare. As luck would have it, just as she was preparing to get a job as a teacher, she became pregnant with the first of their two children, and so she focused more time on being a mother and made the choice to raise her kids and put her career on the back burner for the time being. She reminisced that her son Cliff loved the pool water here at The Hills, but her daughter Pam occasionally refused to get near the pool because she did not want to get her face wet. Swimming in the pools surrounded by the rolling hills was Jan's favorite activity here, and she always tried to carve out 30-45 minutes for her swim workouts. She recalled one day when she swam a mile, but laughed that once was good enough for her.

In 1966, at the age of 40, Jan went back to school at Holy Names to get her teaching credential. She taught at workshops and at her local church for many years. Another notable passion of hers is singing. As a result, she was a regular singer at her church as well as at home, and I would assume in the car a time or two well before any of us knew what satellite radio was.

In 2006 her visits to the club were less frequent as she was not only diagnosed with cancer, but she was also caring for Richard who was battling Parkinson's. Last year, during the first few months of the pandemic, she along with her daughter Pam, contacted me to inquire about selling her membership. It was such a pleasure to talk with them both about their memories and experiences at The Hills, and how this club was a staple in their lives for more than five decades! A huge thank you to Jan for sharing her story with me and allowing me to write about it in the newsletter to share it with all of you!
Local Artist Brightens Up Hills Lobby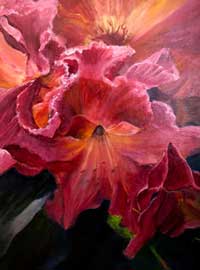 Flows and Flowers, Reflections of the Natural World
The Art of Jane Long

The art of Jane Long is a bright spot in the Hills' lobby right now. Jane took up painting 10 years ago after retiring from Lawrence Livermore Lab where she worked on energy and the environment. She focuses her art on the natural world around her. Her collection hanging on the lobby walls features paintings of reflections on rivers and lakes she has known. Studying art in the Landis Studio also led her to paint some of the flowers shown here.

If any members have interest in displaying their artwork or photography in our lobby, please reach out to club member and superb artist Sally Landis [email protected]. Again, thank you Sally for spearheading this project for The Hills this year!
Celebrate May Employee Birthdays

Please join us in wishing each of them a happy birthday and thanking them for all of their hard work!

Mia Elliott, 05/03
Alex Holtzman, 05/06
Ann Livingston, 05/07
Robin Rosario, 05/14
Sara Kimball, 05/23
Birgitte Rohrbach, 05/27