UPDATE FROM OUR GENERAL MANAGER
Dear Hills Members,

May is here, which means the kickoff to summer, known to many as Memorial Day weekend, will be here before we know it! The beautiful days and warm nights bring more people up to the club, which in turn creates the possibility of parking congestion. We take pride in our family-friendly Hills community, and therefore we ask that everyone remembers to be patient and understanding with other members and their guests, as well as the staff, on these busy days. We want your club experience to be the best it can be each and every time you walk through our doors!

Speaking of summer, we are hoping to fill some seasonal positions here at the club, so if you or a family member is looking for a job this summer, stop by the front desk and ask for an application.

I'd like to take a minute to remind members of some important club policies. Please remember that all children under the age of 14 must be supervised by an adult or guardian (at least 18 years of age) at all times and in all areas of the club. This is a California State law.

Glassware is not allowed beyond the lobby doors, specifically wine and beer bottles. If shattered glass enters any of the pools or spas, the pool or spa will need to be closed for an extended period of time. Please bring alternative plastic beverage containers or ask the front desk for some if needed.

Leak-proof swim diapers are mandatory for the little ones that are not potty trained. Even if the child is newly potty trained, I plead with you to keep them in swim diapers a while longer. All too often pools/spas have to be cleared and shut down for an extended period of time due to a potty accident.

As for changes or updates in and around the club, don't be surprised if you see a Theragun station set up in the center/stretching area of the gym in the next couple of weeks. Theraguns are becoming a popular form of percussive massage therapy to treat muscle soreness and relieve pain and are used by everyone, not just professional athletes. Ask our certified personal trainers about percussive therapy and how you can benefit from working this into your daily routine. We are confident that you will find this amenity, if used properly, to be very valuable and will help improve your overall wellness.

I want to wrap up by wishing each and every mom a very Happy Mother's Day. Lastly, let's never forget that Memorial Day weekend is a tribute to honor those who died in the United States Armed Forces serving this great country. Lots to celebrate in May!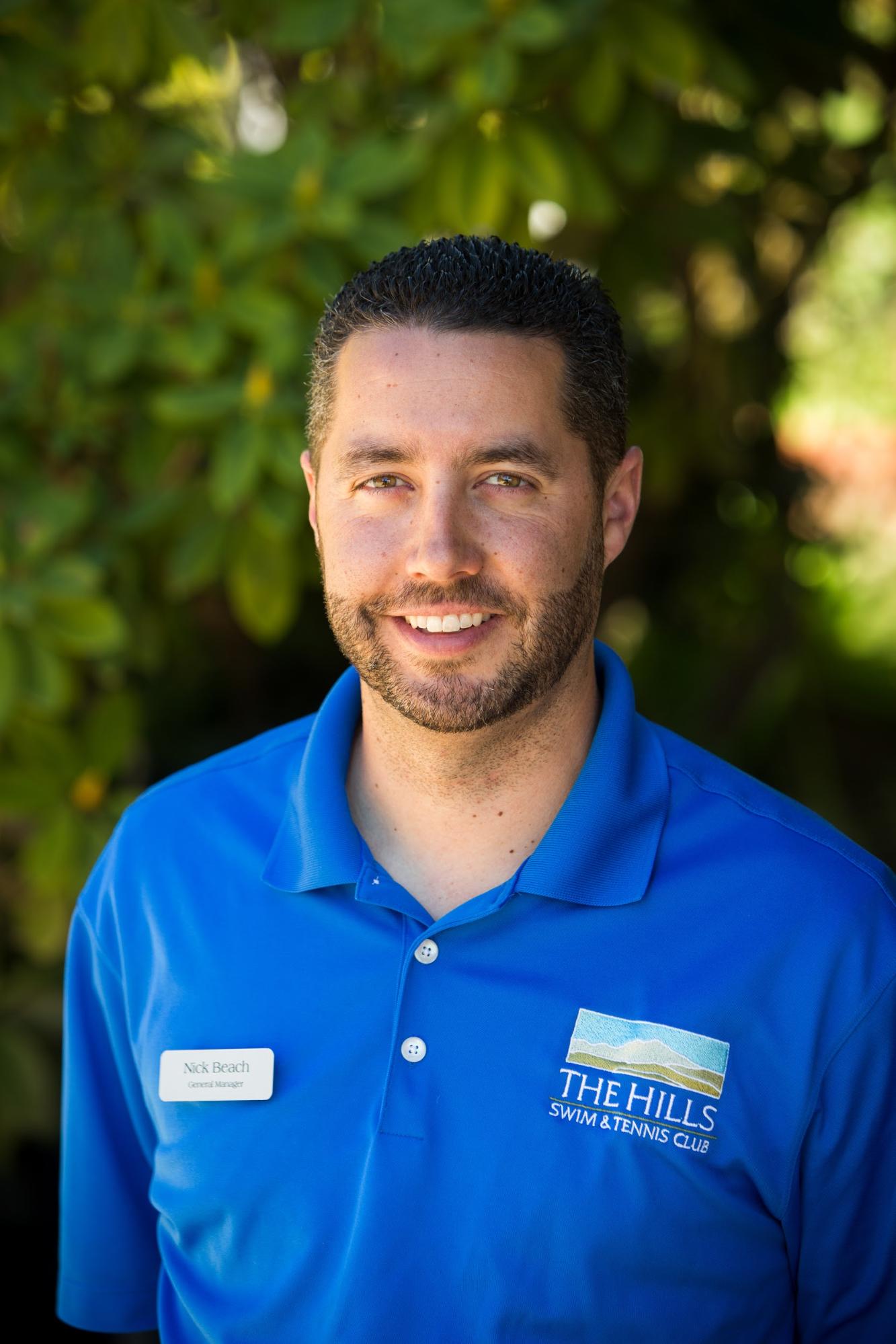 -Nick
Upcoming Events
May 9: Free Beginner/Novice Tennis Clinic 6-7pm
May 9: Intermediate/Advanced Tennis Clinic 7-8pm
Weekdays 11am-1pm: Pickleball on the basketball court
Summer Camp Kicks Off This Month!

Summer Kids Camp kicks off Tuesday after Memorial Day and the weeks are filling up, so if you are thinking about registering your child(ren), now is the time!

Our camp is a full day, 8:30am-5:30pm. Campers will participate in a variety of activities each day including (but not limited to) swimming, other outdoor sports, hikes, games, arts and crafts and theater. All pool activities will be supervised by a certified lifeguard.
Week 1: May 31 to June 3 (*no camp on Monday, May 30, Memorial Day*)
Week 2: June 6 to June 10
Week 3: June 13 to June 17
Week 4: June 20 to June 24
Week 5: June 27 to July 1
Week 6: July 4 to July 8
Week 7: July 11 to July 15
Week 8: July 18 to July 22
Week 9: July 25 to July 29
Week 10: August 1 to August 5
Week 11: August 8 to August 12
Registration is open. Cost: $500 per week* per camper
*$400 for Week 1 since it will only be a 4-day camp
Please reach out to Hills Summer Camp Director Anthony Lum via email at [email protected] for any questions you may have regarding Summer Camp 2022.
Spring Cleaning for our Group Exercise Department

It's time for some spring cleaning in our Group Exercise Department. If you are a Zoom participant, you may have received an invitation to re-register for class. Although inconvenient, the registration process helps us tally members and determine continued interest. We are also steadily adding to our Group Exercise schedule. We are now offering Therese's Friday morning 10am Pilates Party as a "hybrid" class. What do we mean by hybrid? Members have the option of logging into Zoom for this class OR coming up to the club and taking the class in person in the Peak Fit Studio. Either way, it's a great workout!

Also worth a mention is that this month our Sunday Dance class is LaBlast! LaBlast® is Highly Involved Interval Training: dance fitness that combines partner-free ballroom dancing and weight training. Students progress at their own rate while enjoying dances like Disco, Swing, Salsa, Lindy Hop, etc.
Come join me at 10am Sundays. Hope to see you in class!
- Angelique Pine, Group Exercise Director, [email protected]
Get Fit with Small Group Training

Happy month of May! This month is about getting it done! Summer's right around the corner, and we all know that, while we welcome summer, it throws off our routine just a tad. Our classes are filling up and it's so great to see the camaraderie between you all. That being said, please remember to register in time and to cancel a maximum of 12 hours prior to class. This keeps you from taking someone else's spot, as our classes have a maximum capacity of 6 for TRX classes and 8 for mixed format classes.

We will not be offering our unlimited promotion this month, however we're still offering a 10-class package at $150; the drop-in fee is $18 per class. Remember that your first class is free, so you've got nothing to lose!

Lastly, please register only if you know you'll be there. Unregistering must be done 12 hours before class to avoid a penalty. We completely understand that emergencies happen, so please email me if that's the case.
Peak Fit Studio May Schedule:
Mondays: 6:30am (Mixed Format)
Tuesdays: 7:30am (TRX)
Thursdays: 7:30am (TRX)
Saturdays: 9:15am (TRX)

Let's have an amazing month!
- Jenn Nasab, Hills Fitness Coordinator, [email protected]
Personal Trainers Help Mix Up Your Workout

Let's talk about resistance training. We all know that exercising is important to keep us healthy, strong and moving. Resistance training is adding some external resistance to the movement you're executing. You can do this with free weights, machines, cables and even resistance bands. The benefits of adding this to your workout regimen are well documented. Resistance training increases muscle strength and the metabolic rate, slows down the aging process, can prevent osteoporosis and lead to fewer falls. It also allows us to put our own carry-on bag in the overhead compartment. If you're interested in adding the good kind of resistance to your life, reach out to me and let me help you get stronger!
- Jenn Nasab, Hills Fitness Coordinator, [email protected]
What Fitness Means to Our Hills Pilates Director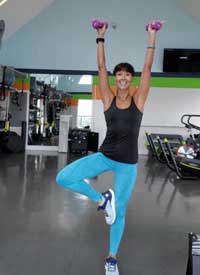 I think that we have all been there, clicking away on our phone, having our moments of Instagram hubris. My moment made me click on the link to the 2022 Ms Health and Fitness Competition and the hubris continued as I then entered the contest. Here I am now, wondering, what was I thinking?!?

What spurred me on to enter MsHealthandFitness is my own training for the upcoming Escape from Alcatraz Triathlon, which requires a good portion of a certain kind of fitness. I also feel a bit like a renegade entering a MsFitness contest based so much on image, since I hardly ever do any serious weightlifting or eat a low carb diet. I do not expect to win or place in MsFitness, but I wanted to illustrate what health and fitness means to me.

Here's what I know: I feel incredibly lucky to have been at The Hills for more than 2 decades(!) and have spent 22 years teaching Pilates! Being here has allowed me to make a difference in other people's lives. My own personal mission is to empower people to take care of themselves and to live happy lives.

Being fit does not always guarantee good health, things can still go wrong and sometimes they do. However, by giving people tools towards better health, they can have an impact on the outcome. Plus, I want to show that fitness can be fun, too! I have such a great time teaching classes, like the Friday Pilates Party, where we laugh our way through some tough core exercises to a pumping soundtrack.

The Hills itself is a great place of health and balance: the pools, the tennis and swim programs and the outdoors, the many different classes, the refinement in personal and small group training, the kids programs, and the Pilates and wellness offerings.

Most of all, our members make it a warm and friendly place.

During the pandemic it was described as a life saver by many members and I agree.
I hope that you feel the same way.

Here is the link if you would like to vote for me to be the next Ms Health and Fitness:
https://mshealthandfitness.com/2022/therese-br

Therese Brewitz
Pilates Director
With Anne, Barbara,Yulia, Colleen and Elizabeth

Contact our studio:
[email protected]

Follow us on Instagram and get inspired to do Pilates:
https://www.instagram.com/hillspilatesandwellness/
Ballet & Pre-Ballet Now In Session

Our Kid's Ballet program filled up quickly, but there is still time to join. These classes are taught by Hadley Kaufmann, ballet teacher and professional ballerina. The program will extend into the summer months and we will celebrate our young dancers with a recital at the end of the semester.

Pre-ballet, 4-6 year olds, meet on Wednesdays at 3:45-4:30pm
Ballet, 7-11 year olds, meet on Wednesdays 4:30-5:15pm
Semester: April 20-July 6
Cost; $220 for the full semester with deductions of classes passed

For more information, registration forms, etc., please visit our website: hills.caclubs.com/kids/ballet
or any questions about our Kid's Ballet program, please contact [email protected]
Calm & Centered: Boost Your Nervous System To Feel Good

Fee Being present, setting boundaries, cultivating gratitude and good energy, feeling grounded are some of
the topics we talk about in this class. We also move and use somatic therapy techniques, meditation,
martial arts, Pilates, breath work, and other methods to relieve chronic stress and to improve
our overall health and wellbeing.

Tuesdays, 5-6pm, cost $25 per class
This class is offered over Zoom. Contact our studio for more info: [email protected]
Cardio Pilates & More: Wednesdays at 9:30am
Reformer training is fun and Cardio trampoline and jumpboard training on the reformer is even more fun! This is a safe workout for beginners and experienced Pilates students. Cardio trampoline Pilates is also a terrific rehab tool for knee replacement and other lower extremities.

Sign up online: https://cachstc.clubautomation.com/
Reformer Pilates Classes

There is a reformer Pilates class for everyone, beginner to expert. Are you new to Pilates and/or to the reformer? Contact our studio today to receive a postural assessment, discuss any injuries and your exercise goals: [email protected]

We now have a Reformer I class on Tuesdays at 6:15pm where you can learn the essential reformer exercises and how to use the reformer equipment.Sign up for class online: https://cachstc.clubautomation.com/

You find our updated class schedule here:
PILATES STUDIO SCHEDULE MAY 2022
Partner Up with Your Own Pilates Coach

Our Pilates instructors have decades of experience in Pilates, wellness, fitness, and exercise science. We offer Pilates training for injury rehab and "prehab", athletic conditioning, cancer treatment recovery and more. You can train with us over Zoom too. Contact our studio to learn more and to sign up: [email protected]
Get Your Water Workout On!

Our aqua fitness classes are offered 9-10am, 3 days a week (Tuesdays w/ Bz, Thursdays w/ Sandra and Sundays w/ various instructors). The atmosphere is fun and social, so why not grab a friend and come up to the club for a great water workout! It's important to note that these classes are well attended and therefore we kindly ask that you register in advance if you plan on participating.

The workouts are designed to burn fat, increase cardiovascular fitness, and range of motion and muscle tone. Another benefit is that it's a great cross training exercise. Participants will use flotation belts, noodles, styrofoam barbells and more to perform a variety of motions including water walking/running, abdominal work and toning exercises. Held in the diving well, our aqua fitness classes are a great low-impact group exercise class that is included with your membership.

For those adults new to the club, new to tennis or looking to improve your backhand, we welcome you to join us on the second Monday of each month for our complimentary Adult Tennis Clinics! No sign-up necessary. This monthly event is free, and open to members only. From 6-7pm, beginners get an hour of instruction; 7-8pm is for intermediate/advanced players. Eddie Pasternak leads these clinics each month for adults with all skill levels. If rain is in the forecast, the clinic will be held the following week.
And for those members wanting to meet up for a friendly match or even a competitive doubles match, you can book a 1-hour court reservation per day either on our Manzanita Court or Diablo Court. If you are interested in nighttime tennis, you can reserve Diablo Court after dark as this court has lights.

Just a reminder, that we now have a Tennis Ball Machine available for members to use! It is located on the Manzanita Court, in the corner near the stairs. For those who would like to use it, simply reserve the court for an hour as usual. The brand of machine is Spinshot and the instructions can be found with the machine inside the storage container. So far I have received very positive comments from some of the members who have had a chance to try it out. They recommend downloading the app and using it to control the settings of the machine, which does have it's own wifi signal. Please, please, please, handle the ball machine with care, and always remember to plug the battery charging cord back into it when done using so that it charges for the next member.
Kids Get a Kick Out Of Tae Kwon Do

If you're looking for an activity that your kids are sure to enjoy, check out our exciting Tae Kwon Do program. It introduces kids to this ancient Korean art of self defense and teaches courtesy, integrity, perseverance, self-control, and indomitable spirit! Tae Kwon Do can help kids ease emotional problems such as stress and depression, while promoting physical fitness. This is a year-round program for kids ages 5-17. Each session involves kicking, punching and self defense, but most of all, we encourage the kids to have fun. The goal of the program is to instill confidence, teach respect, and focus on raising self esteem. Currently there are 10 students enrolled ranging from 6 years old to 11-½ years old.

Days/Times: Tuesdays & Thursdays 3:30–4:45pm (Beginner)
Tuesdays & Thursdays 6–7:15pm (Advanced)

Member cost: $85 per month
Non-member: $100 per month

For more information or to register your child, please contact:
Jeff Allen - [email protected]
510-339-0234 x18
Hills Aquatics: Splash Into Summer
Lap Lane Swimming Rules:
Lap Lane reservations remain weekdays from 9am-2pm in lanes 4, 5, & 6. All other lanes and times are available for shared member swimming.
Please Note: Hills Hurricane Swim Team will be using no more than 4 lanes from 4-8pm, Monday-Friday.
Hot Tub Rules:
Adult hot tub is for ages 18 years and up
Only 9 people allowed in adult hot tub as well as family hot tub at any time
Children younger than 14 years old must have an adult guardian within arm's reach
Flotation devices, toys, kickboards and horseplay are not allowed
No food or drinks in or near the hot tubs
Lifeguards Return This Month!

Our lifeguards will return to the pool deck on Memorial weekend and work daily through Labor Day weekend. The full schedule will be available by May 25 here.

Please take the time to review the club policies here so you are not surprised by any rule enforcement.
Jr Lifeguard Camp Offered This Summer

Trying to find something for your tween/teen to do this summer? There are still a few spots open for our Jr. Lifeguard Camp! We are offering this weeklong program to 10-15 year olds the following two weeks: June 13-17 and June 27-July 1. The Junior Lifeguard Training Program has been developed to serve many purposes where water safety is our primary goal. Along with water safety activities, we engage in CPR and First Aid training. A secondary benefit is the unique combination of establishing the foundation for good work skills, responsibilities, skill development, competition, and leadership skills. Throughout the week we provide a well-rounded training experience that includes 30 minutes of daily fitness, lectures, demonstrations, and team building activities. An additional two hours per week of volunteering may be required by each Junior guard. Course prerequisite: 50 yards of freestyle or breaststroke. Retrieve a 10-lb. brick from a depth of 12 feet. Swim underwater 15 feet.

Lunch/Snacks are not currently provided. Time: 9am-2pm daily. Cost: $390 per member per session.

Non-members must submit this form prior to registration and email or deliver it to the Aquatics office. An email notification will then be sent with directions how to register online.

REGISTER NOW!
Private and Semi-Private Swim Lessons

We are optimistic that our private and semi-private swim lesson availability will open up as we head into summer and more instructors open up their schedules. Please refer to the link below with our current offerings as things may change soon. It is important to note that our priority is for the membership and their time in the pool, and therefore programming will not take up any more space than is currently taking place. Lessons will only be offered at times that do not encroach on membership experience in the pool(s). Please follow the directions when requesting a lesson and have a high level of flexibility. Instructors may not respond if directions/policies are not followed properly.

Learn more about our offerings here!
Hills Hurricane Swim Team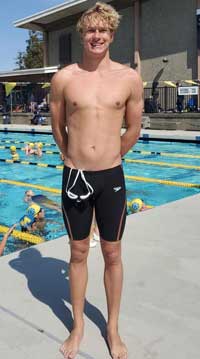 The competitive team is currently fully subscribed. Tryouts for the 2022-2023 season may take place in August. Full information such as practice times, and season dates is located here on the team website.

Congratulations to Hills Hurricane Swimmer Nathan Rogers for being a double winner in his events at the Western Alameda County Conference meet on April 30. Currently a junior at Bishop O'Dowd, Nathan won the 200 Freestyle in 1:45.40 and 500 Freestyle in 4:45.78. Aside from swimming for his high school team and The Hills Hurricane swim team, Nathan is also a lifeguard and swim instructor here at The Hills. If you see Nathan around the club be sure to congratulate him on his achievements!
Manta Rays & Tidal Waves Pre-Comp Program

Our popular Manta Rays and Tidal Waves pre-comp program is a great introduction to swim team and the best option for 4-10 year olds new to swimming. Our coaches focus on teaching everything from basic swimming skills to full stroke technique, all while introducing the kids to swimming terminology. We use the diving well for these programs and classes meet month to month.

NOTE: June sessions are TUESDAYS & THURSDAYS

Session 6: June 7-30

Cost Member: $125 Non-Member Guest Fee: +$40

Due to high demand, there are NO REFUNDS or PRO-RATING for these classes for any reason. Swimmers are expected to meet the prerequisite on day one of the class. Classes meet near the diving well. Classes meet month to month. Sign ups for each session will open a few weeks prior to the beginning of each session and in conjunction with The Hills member eNews. Register Here! Instructions on how to register online or App here.

Non-Club Members: We are currently not taking any NEW non-club members at this time.

Manta Rays (Pre-Swim Team) AGE 4-8 T/Th 4-4:30pm

Prerequisite: Swimmers must be able to tread in deep water for 60 seconds. Swimmers must be able to swim comfortably in deep water. Swimmers will learn basic swimming skills of all four strokes. Team activity skills and group swim safety is introduced.

Tidal Waves (Novice Swim Team) AGE 6-10 T/Th 4:30-5pm

Swimmers must pass the prerequisite for swim team: *50 yards of freestyle with side breathing *25 yards of back swimming *Treading water for 30 seconds *Streamline off the wall for 5 yards. This group will prepare swimmers for the swim team. This class will incorporate on-deck coaching with minimal in water instruction.
More Fun Ways to Get Out & Play

If you are looking for a fun way for the entire family to workout outdoors together, we have options! Reservations for our pickleball/basketball court have returned. Members can book an hour "block" of time to use the court. This does not mean that the court has to be used solely by one family unit during the hour; feel free to welcome and/or challenge other members to a friendly pickleball or basketball game. If you don't have your own equipment, you can ask the front desk staff for the pickleball bag (complete with paddles and balls) and/or basketballs.

Our court is reserved exclusively for pickleball from 11am to 1pm on weekdays. Games during these "open" weekday hours are friendly, social games with some accommodations made for beginning players. You'll see people of all ages and athletic ability having fun on our court. If you are not familiar with pickleball, it's one of the fastest growing sports and easiest to learn the rules of play and scoring and the order of serving if you play with someone who already knows them, so mark your calendar and/or book a reservation and head up to the club to join in on the fun!

Just outside of our enclosed court, we have 2 ping pong (or table tennis) tables. Both young and old can improve eye-hand coordination and fine motor skills by playing ping pong. The front desk has paddles and balls for members to borrow, so take a break from the pool and start some friendly competition with other members. The bottom line is that any of these three activities are a great excuse to come up to the club, get some exercise and maybe even make new friends!

All we ask is that you kindly return any borrowed equipment to the front desk when you are finished playing.
Grab Shade in Our Cabanas

When the weather heats up, so does the demand for cabanas. It's great to see members gather with family and friends for a casual lunch or dinner in the cabanas. If you haven't already noticed, our barbecues are ready for grilling season, so book a cabana, load the cooler and take advantage of this great perk of your membership!

Reservations for our cabanas open at 8am 3 days in advance. For example, on Tuesday morning at 8am, members can log in and book a cabana reservation for Friday. Please be aware that families can only make one 2-hour reservation per day. We kindly ask that members tidy up the cabana at the end of each use.
Celebrate May Employee Birthdays

Please join us in wishing each of them a happy birthday and thanking them for all of their hard work!

Alex Holtzman, 05/06
Robin Rosario, 05/14
Sara Kimball, 05/23
Birgitte Rohrbach, 05/27