September Newsletter 2021
UPDATE FROM OUR GENERAL MANAGER
Dear Hills Members,

Happy Labor Day weekend! With this holiday weekend on the horizon, it is important that our pool rules are reviewed with the entire family. Our club has these policies in place for your own personal safety and so those around you can enjoy the pool safely as well. And although school is back in session, we anticipate the potential for warm weather throughout September and possibly even October, which means more after school pool time for your kids and more family pool time on the weekends. Please keep in mind that our lifeguards are seasonal and therefore might only be able to work limited weekends following Labor Day.

The Hills has some positions to fill at both our Front Desk and our Maintenance/Cleaning departments. If you know of anyone who may be a good candidate for either of these positions, please feel free to have them email me at [email protected].

A quick reminder that masks are to be worn in all indoor areas here at the club. Please remember to cover your nose and mouth with your mask while working out in the gym.

I hope everyone has a fun filled and safe Labor Day weekend!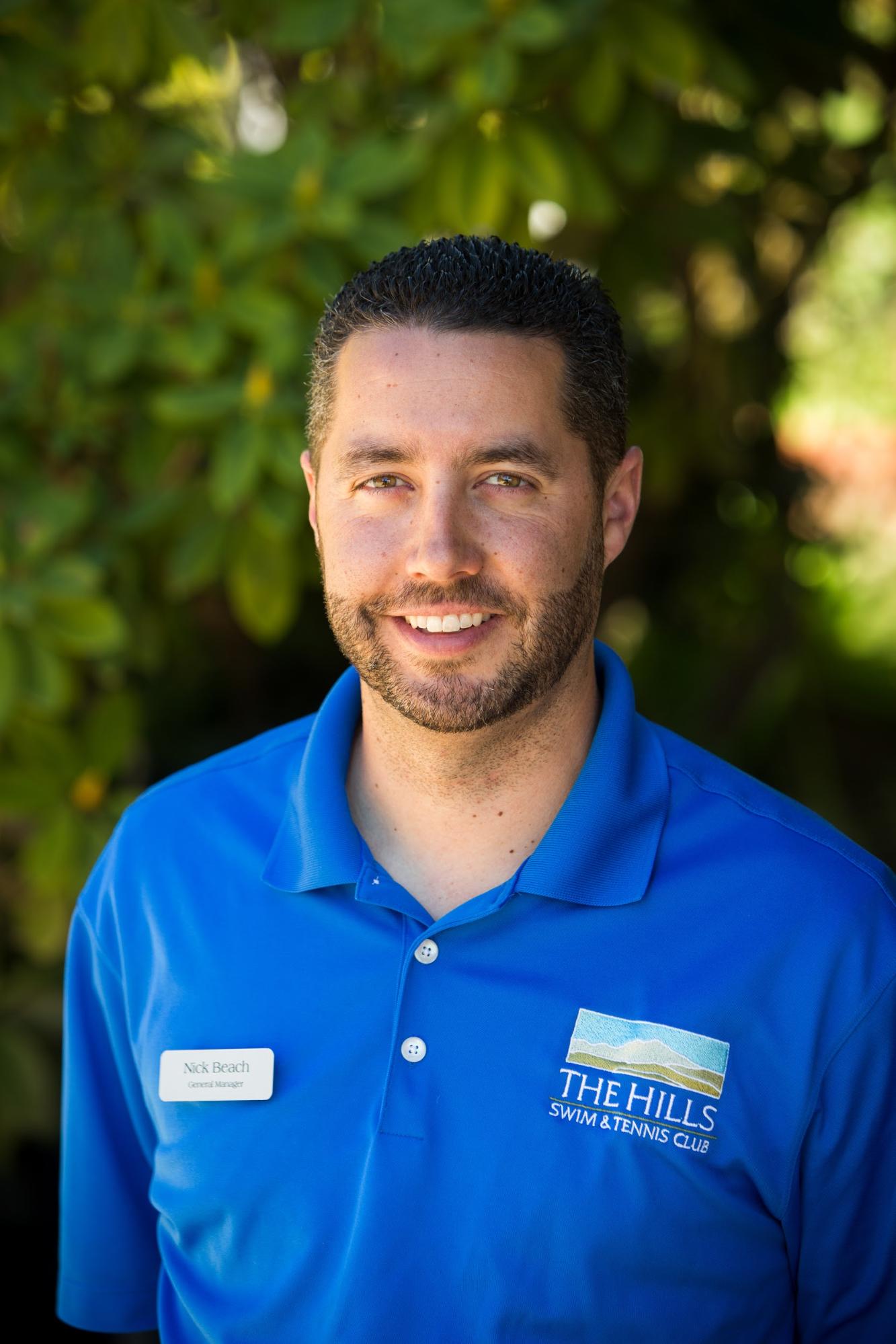 -Nick
UPCOMING EVENTS
September 13: Free Beginner/Novice Tennis Clinic 6-7pm
September 13: Intermediate/Advanced Tennis Clinic 7-8pm
Notes from the Billing Department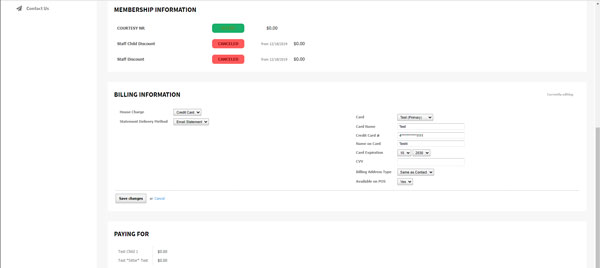 If you need to update your method of payment for automatic billing, please log into your member portal. On the left column, you'll want to click "View My Info" and from there scroll down to "Billing Information." On the far right side of the screen is the "edit" button; click on it and it will open up the page for you to make changes. You will see two tabs: House Charge (if this is set to "Mail Bill" use the drop down to switch it to "Credit Card" to add/update your payment method. The other tab, Statement Delivery Method has a drop down as well, but should always be set to "Email Statement" as we no longer send out paper statements.
As always, send me an email, [email protected], if you have any questions/concerns.

- Stefani McDermott, Administrative & Accounting Manager
Hills Cafe Charcuterie Boards

In addition to our full line of smoothies and energy bars available from our cafe, we are also offering delicious charcuterie boards. BYOB and pair our boards with a 2-hour cabana reservation and your happy hour is set! Just remember to bring your plastic drinkware as no glass is allowed. Small boards are $24 and large boards are $40.
Memories of Hills Summer Camp

I still cannot believe that summer camp is over for 2021. I guess that after running camps for 14 consecutive months it didn't dawn on me until I woke up one Monday morning of what would be the next week of camp and realized that I could actually sleep in! These past two years have been like none other, but despite the county guidelines and Covid protocols, our camp was a success.

I want to thank all of the families for signing up your kids, whether it was just one week or multiple weeks. Every week we did our best to engage your children. Together they formed new friendships, worked through different challenges and had fun each and every day. Without the guidance of my counselors, Mitch Curtis and Madeline Porras, camp would not have been the same. A big thank you goes out to both of them. These two brought energy and creativity, and your kids looked up to them. The smiles and laughter that both the counselors and the campers brought to the club this summer was a welcome change once the heavy Covid restrictions were lifted.

As I embark on my much-anticipated vacation in September, thank you again from the bottom of my heart for another great summer camp. I cannot wait to start planning for Hills summer camp 2022.

-Anthony Lum, Summer Camp Director & Assistant Front Desk Manager
Hills Aquatics

Lap Lane Swimming Rules:
Lap Lane reservations remain weekdays from 9am-2pm in lanes 4, 5, & 6. All other lanes and times are available for shared member swimming.
Please Note: Hills Hurricane Swim Team will be using no more than 4 lanes from 4-8pm, Monday-Friday.
Diving Board Rules:
The diving board will be open when at least 3 lifeguards are working
Only one person allowed on the board at a time
Members must wait until the area is completely clear before using the diving board
Hot Tub Rules:
Adult hot tub is for ages 18 years and up
Only 9 people allowed in adult hot tub as well as family hot tub at any time
Children younger than 14 years old must have an adult guardian within arm's reach
Flotation devices, toys, kickboards and horseplay are not allowed
No food or drinks in or near the hot tubs


Club Water Watchers Card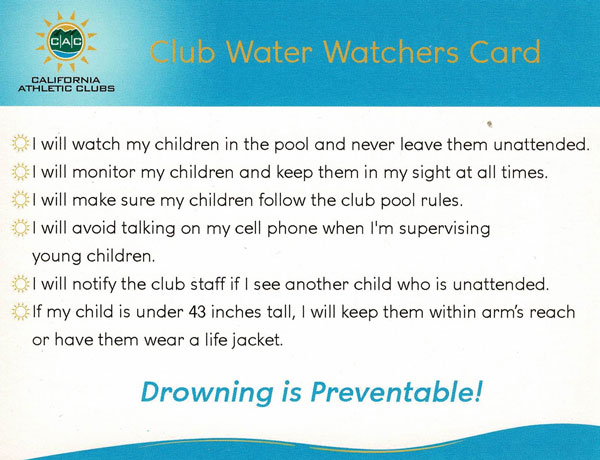 Our "Club Water Watchers Card" is a reminder for all members that parents need to always keep a close eye on their kids. Safety is our number one priority at The Hills.
More/New Instructors for Swim Lessons

From basic learning to swim, to adult stroke mechanics, to advanced competitive swimming, our instructors are available to improve your swim experience at The Hills. We have new swim instructors available! Instructors book their own lessons.
Learn more about our offerings here!
The Hills Welcomes Back Erin Lucas!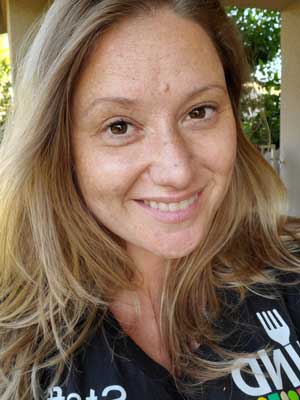 We have some very exciting news to share. Following our 2012 pool remodel, Erin taught and coached swimming here for quite a few years. She has recently returned to the Bay Area and is eager to advance her "aqua career" here at the club. Erin will be coaching swimming and is readily available to teach swim lessons. Here is a direct link to her bio and contact info.
Benefits of Aqua Fitness Classes

An aqua fitness workout has so many benefits. It's a great stress reliever. It strengthens and tones your muscles. The resistance of the water means that opposing muscle groups are worked as you push and pull with each movement. It has little impact on your joints vs a land workout. The water supports you and makes you feel light. It's great for every fitness level, because you can do as much or as little as you'd like. It's typically a fun and social atmosphere. Bottom line: aqua fitness is a great way to break up the monotony of your daily gym routine, so why not give it a try! Our aqua fitness classes are offered 3 days a week from 9-10am: Tuesdays with Bz; Thursdays with Sandra; Sundays with either Sally, Elaine or Sandra (please refer to the online schedule for the specific instructor for each Sun class). As with all of our outdoor classes, we need at least three members signed up in order to offer these classes, so please register in advance if you're interested in participating.
Hills Hurricane Swim Team

The competitive team is currently fully subscribed through November. Full information such as practice times, and season dates is located here on the team website.
Manta Rays & Tidal Waves Pre-Comp Program

**NOTE** Hills club members will have a 48-hour "priority registration"
over non-members. If necessary, we will also open a waitlist registration.

2021 Upcoming Sessions
Days/Times: Wednesday/Friday afternoons OR Saturday mornings

Session 9: Sept 1 - Oct 1 (CLASSES FULL)
Session 10: Oct 6 - 27 (Member registration opens on Sept 15 at 11am)
(W/F meets on Monday, Oct 25 instead of Friday, Oct 29)
Session 11: Nov 3 - 19 (Member registration opens on Oct 13 at 11am)
(short session/discounted rate)

Manta Rays (Pre-Swim Team) AGE 4 - 8 W/F 4-4:30pm or Sat 9:30-10:15am
Prerequisite: Swimmers must be able to tread in deep water for 30 seconds. Swimmers must be able to swim unassisted for 10 yards. Swimmers will learn basic swimming skills for all four strokes. Team activity skills and group swim safety are introduced. Instruction will be conducted in and out of the water.

Tidal Waves (Novice Swim Team) AGE 6 - 10 W/F 4:30-5pm or Sat 10:15-11am
Swimmers must pass the prerequisite for swim team: *50yards of freestyle with side breathing *25yards of back swimming *Treading water for 30 seconds *Streamline off the wall for 5 yards. This group will prepare swimmers for the swim team. This class will incorporate on-deck coaching with minimal in water instruction.

Full info and registration link here!
Adult Tennis Clinics Return

New to tennis or looking to improve your backhand? Mark your calendar for the second Monday of each month for our Adult Tennis Clinics! No sign-up necessary. This monthly event is free, and open to members only and is taking place on Monday, September 13. From 6-7pm, beginners get an hour of instruction; 7-8pm is for intermediate/advanced players.
For those members who are looking for some private tennis instruction, we offer lessons for both kids and adults. Please feel free to reach out to Hills Tennis Instructors, Eddie Pasternak, [email protected] or Maaria Husain, [email protected]

Just a reminder that members can book a 1-hour court reservation per day either on our Manzanita Court or Diablo Court. If you are interested in nighttime tennis, you can reserve Diablo Court after dark as this court has lights.
The Fun Sport of Pickleball

Our pickleball court is reserved exclusively for the game from 11am to 1pm on weekdays, but families are welcome to get a friendly game going on the weekend days. If you don't have your own equipment, you can ask the front desk staff for the pickleball bag (complete with paddles and balls). Games during the "open" weekday hours are friendly, social games with some accommodations made for beginning players. If you are not familiar with pickleball, it's easiest to learn the rules of play and scoring and the order of serving if you play with someone who already knows them. Over time you'll pick them up. This sport is fun for people of all ages and athletic ability...why not give it a try? You may end up hooked on the game! Please remember to return any borrowed equipment to the front desk when you are finished playing.
Activities for The Kids

Our enclosed basketball court is a great place for kids to practice their shot or gather for a friendly pick-up game. Basketballs are available at the front desk. Ping pong (or table tennis) is also a fun activity for kids that will help improve eye-hand coordination and fine motor skills. The front desk also has paddles and balls for members to borrow. Either way, you're bound to have fun and maybe even start some friendly competition! All we ask is that you return any borrowed equipment to the front desk when you are finished playing.
Words to Inspire from The Pilates Studio

During the spring and summer of 2021 instructors and students in our Pilates studio started a project where we sought out inspiring words and affirmations and pinned them up on Post-It notes. We picked 3 letters, C,R and B and let the daily mood decide. Some words were thoughtful and deep, some were fun and goofy. You can see the result here.

Words carry meaning and energy; they can both reaffirm what we already feel and offer change and a new outlook to our situation. Athletes often use words and affirmations to complete challenging workouts and races, and studies show that repeating simple words and mantras can have amazing effects on perception and on performance. When we feel overwhelmed or lack motivation and don't have time to rest or have other resources at hand to make us feel better, a simple word can be a catalyst for change.



Breathe - Care - Roar - Calm - Rain - Beginning - Coffee! - Rejuvenation
What is your word today?

Have a great and healthy start to your fall - we hope to see you in our studio!

- The Hills Pilates and Wellness Studio Team
Anne, Barbara, Colleen, Patricia and Therese

Contact our studio: [email protected]

Follow us on Instagram and get inspired to do Pilates:
https://www.instagram.com/hillspilatesandwellness/
Reformer Pilates

Weekend reformer classes will be added to our schedule on Sunday, 9/19.
We are thrilled to announce the return of our Sunday reformer program, tentatively scheduled as follows:
Mixed Level Reformer, Sundays 9:30am
Reformer Level II, Sundays 10:45am
Please check our schedule to confirm and register for class:
https://cachstc.clubautomation.com/

New to reformer Pilates? Contact our studio to get your own introduction to the reformer and to be assigned to an appropriate class: [email protected]
Zoom into Fall with Classes/Private Training

Zoom training can greatly improve fitness!
Here's what some of our students are saying about our Zoom Pilates program:
"It is transformative!"
"It offers focus and structure to my workout!"
"It has been a lifesaver during Covid!"

With the ever changing Covid situation some you may prefer to work out in the safety of your own home. Safety is our top priority and we will continue to offer Zoom training to members and nonmembers.

Try for yourself in our Pilates blend class 'Keep it Moving' on Wednesdays at 5:15pm. Cost: $15
We use flexbands, small weights, mini Pilates balls, Bosu (if you have one) and workout to a great soundtrack.
Register online: https://cachstc.clubautomation.com/

Private Zoom Pilates is also offered. Contact our studio to schedule your session:
[email protected]

We also offer Reformer training on Zoom for those of you with a reformer at home.
Cost:$25
Reformer II on Zoom Mondays 12:30pm (Register in the 11:30am class and attend at 12:30pm)
Reformer II on Zoom on Thursdays 5:30pm, starts 9/9. (Register in the 6:30pm class and attend at 5:30pm)
Register online: https://cachstc.clubautomation.com/
"Fall" Back into Group Exercise Classes!

As fall approaches we are so pleased to be offering nearly 40 complimentary fitness classes each week. The Air Quality, however, continues to pose a challenge. In the event of inclement weather or smoke issues, a class may be moved indoors or to Zoom. If necessary, pool classes will be canceled. Masks are required for all indoor events. The instructor will modify exercises as necessary for safety. Classes moved to Zoom will use the general Group Exercise invitation which you can find on your weekly Zoom schedule.
https://us02web.zoom.us/meeting/register/tZUsc-iorTwuH9FPATWsavfxa5wNKZ-PiMPg

Zoom classes are open to the entire CAC family, so please be sure and attend a sister clubs' class if it suits your needs.

How will you know if the outdoor class you want to attend has moved? Register for classes! It's free and available 7 days prior to the event. It's the best way to stay on top of the latest schedule changes. We have several changes for the month of September, so check out the online schedule, or ask for a hard copy from the front desk.

We look forward to seeing you in class!
- Angelique Pine, Group Exercise Director
Peak Fit Offerings: Outdoor TRX & Zoom

Peak Fit TRX class on the pickleball court is still going strong. Class time has changed to 8:45am on Tuesdays to accommodate school drop offs. The class is open to all levels and is lots of fun; the cost for each class is $15. We would like participants to commit to a month of classes (1x per week). The class for September is full, but if you would like to be on the waitlist, please let me know.

Our 8:30am Saturday morning "Zoom" class is also still going strong, so if you are looking for an early workout on the weekends please join us. All you need is a pair of dumbbells and a mat. Above is a screenshot from a recent Saturday Zoom... so fun!
My goal is to offer you a different workout each week and to push you harder than you would push yourself. There is no doubt you will burn calories and build muscle strength...all from the comfort of your own home!

Happy Labor Day!

- Jennie Votel, Peak Fit Director
510-316-3529
[email protected]
Relax in Our Cabanas

It's no surprise that members have been enjoying the return of the 2-hour cabana reservations, especially on the weekends and warm weekday afternoons/evenings. Reservations open at 8am 3 days in advance. For example, on Wednesday morning at 8am, members can log in and book a cabana reservation for Saturday. Please be aware that families can only make one 2-hour reservation per day. We kindly ask that members tidy up the cabana at the end of each use.
A Perfect Spot to Get Away

No need to make a reservation for our back deck...undoubtedly one of the most peaceful and serene "spots" here at the club. Fall is a great time to enjoy the Bay Area's warm nights, and what better place to enjoy one of our delicious charcuterie boards (paired with your beverage of choice)!
Cubism Exhibit in Hills Lobby

Longtime Hills member Marc Barach is the latest artist on display in the lobby. Here he shares with all of us his artistic background...As a child I learned to identify and appreciate great works of art from the classics of the Renaissance to the Modern era. However, it was the Cubist movement of the early 20th Century that spoke to me the most, so when I began painting in my late 20's it was inevitable that I would focus my efforts in that direction. Though the imagery in my paintings may seem disjointed or chaotic on the surface, it is held together by a geometric structure and internal logic and I found this to be an apt metaphor for my busy life as a business exec, husband and father. I painted regularly for about fifteen years, and then took a lengthy break. Now retired, I've regained my focus and this exhibit displays a sampling of both early and recent works. I wish to thank Sally Landis and Jenny Shears for all their help and encouragement in mounting this exhibit and to The Hills for making this space available to its members. I hope you enjoy this exhibit as you enter and exit this wonderful place. Please contact me at [email protected] if you're interested in buying a print.
Celebrate September Employee Birthdays

Please join us in wishing each of them a happy birthday and thanking them for all of their hard work!

Koung Chaiyasane, 09/05
Amie Garcia, 09/05
Maaria Husain, 09/19
Colleen McLarnon, 09/20