UPDATE FROM OUR GENERAL MANAGER
Dear Hills Members,

And just like that, school starts for some kids as early as next week! It has been an extremely successful and enjoyable summer here at The Hills. I want to give Anthony Lum a shout out for coordinating and managing another fantastic Summer Camp program for all the kids this year. That also includes the guidance of returning camp counselor Kyle Johnson, as well as new counselors Nadia Brooks and Mitch Curtis. Thank you to swim instructor Koung Chaiyasane for her assistance during the swim portions of camp, and David Siu as well for his tennis contributions. I honestly feel that our Summer Camp program continues to improve year after year, and I know many of the children (and parents) look forward to it week in and week out all summer long.

With the increase in buzz and popularity of our Pickleball program, as well as other programs here, I wanted to remind everyone about the importance of proper foot attire, as well as proper clothing, equipment, etc., for all activities. We recently had an unfortunate instance of one member (a first-time player) falling on the Pickleball court, possibly due to improper shoes being worn. I will continue to encourage members to try out something new here at the club; just want to be sure it is done with the utmost attention to safety so that these activities can be enjoyed far into the future.

Although the weather in the Bay Area hasn't been too hot this summer, it has been sunny and warm enough where the cabanas, BBQ grills, tennis courts and pools have remained popular throughout the peak season. This a friendly reminder that this a strong community-based and family-friendly club where many of the amenities we provide are shared amongst all of you. Even those services that are reserved for a specific block of time, such as cabanas and tennis courts, are shared in a way that has worked here for a long time. Please be mindful that there are some cases where families or individuals may show up a little early or late for their cabana/court rental times. This is the Bay Area where traffic is a rising problem, even on the weekends, and it can lead to late arrivals for such reservations. If you think you are going to be running late for something such as a cabana or tennis court rental, please be sure to call the front desk and give them a heads up so that we can keep your reservation booked. On the flip side of that, if you see a vacant court or cabana, please be sure to check with the front desk before proclaiming it yours. And lastly, if you happen to begin using an area and then those that did have the original reservation end up showing up late, please be courteous and respectfully allow them to migrate on in. I am confident this won't be a hard thing to do for members of this amazing club, and if anyone has any questions regarding this please feel free to contact me anytime.

I look forward to seeing as many of you as possible throughout the remaining days of the summer. As always, please soak up sun rays, enjoy every moment, and cherish the fantastic atmosphere here at The Hills. 😊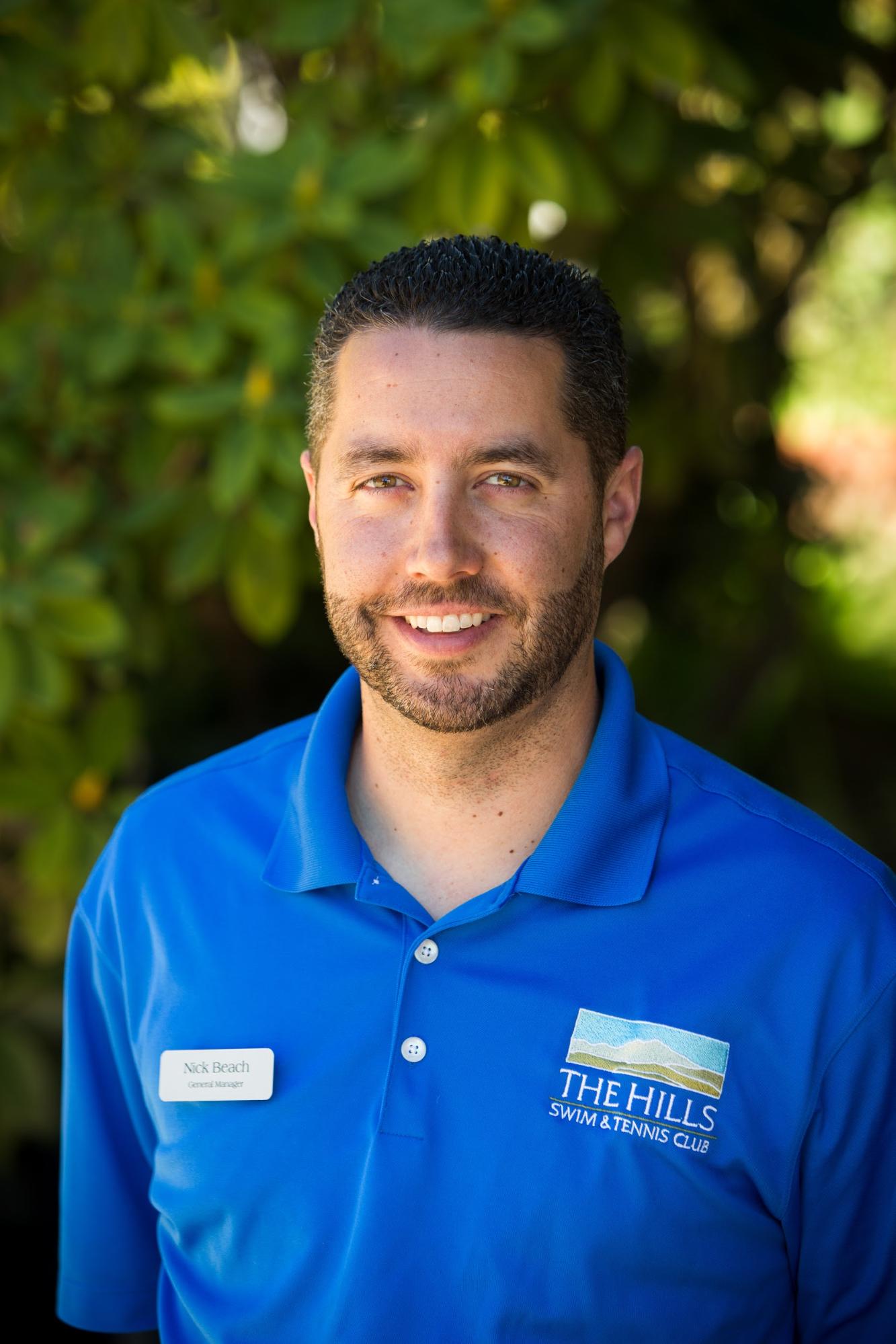 -Nick


Club Water Watchers Card - Drowning is Preventable
UPCOMING EVENTS
August 12: Free Beginner/Novice Tennis Clinic 6-7pm
August 12: Intermediate/Advanced Tennis Clinic 7-8pm (Please call the front desk to sign up)


Childcare Schedule:
Mondays 9am-2pm/4-6pm
Tuesdays 9am-2pm/4-6pm
Wednesdays 9am-2pm/4-6pm
Thursdays 9am-1pm/4-6pm
Fridays 9am-2pm/4-6pm
Saturdays 9am-1pm
Sundays 9am-1pm


We value your feedback and are doing our best to accommodate childcare requests. Feel free to contact our Operations Manager, Rosalinda [email protected] with questions/concerns.



Aquatics
Lifeguard Season Wrapping Up
As the lifeguard season slowly tapers off into Fall, we ask that parents continue to be extra vigilant around the pool and hot tubs by monitoring their children and enforcing club policy. It is the great members that follow policy that keep this club safe. Our pool policies are here! Thank you!


Private Swim Lessons
Year round private lessons continue. We encourage children and adults set up lessons regularly to help keep up their practice on swimming better.

Book lessons with one of our great swim instructors/coaches here!


Swim Team
Pre-Competitive Swim Team
Classes meet Mondays and Wednesdays
Session 9 Sept 4-27
Session 10 Oct 2-30 (no class on 10/25)
Session 11 Nov 1-22

Manta Rays (Pre-Swim Team) AGES 4-8; 4-4:30pm
Prerequisite: Swimmers must be able to tread in deep water for 30 seconds. Swimmers must be able to swim unassisted for 10 yards. Swimmers will learn basic swimming skills of all four strokes. Team activity skills and group swim safety is introduced. Instruction will be conducted in and out of the water. We do not hold tryouts or offer make up classes.

Tidal Waves (Novice Swim Team) AGES 6-10; 4:30pm-5pm
Swimmers must pass the prerequisite for swim team: *50 yards of freestyle with side breathing *25 yards of back swimming *Treading water for 30 seconds *Streamline off wall for 5 yards. This group will prepare swimmers for the swim team. This class will incorporate on-deck coaching with minimal in-water instruction. We do not hold tryouts or offer make up classes.

Register Here!
Hills Hurricane Swimming

Left: Coach Danny, Jeffrey & Coach Shad || Right: Ellie & her trophy
Congratulations to the Hurricane swimmers for their 2nd place finish at the Summer Regional Championships. Ten-year-old Ellie Hunter and eight-year-old Jeffrey Latronica took home the high point winning trophies for their age groups this year!

New tryouts every Friday in September.

Full swim team info here!



Pilates

If you have never taken a Pilates class, I recommend you give it a try. Pilates helps with flexibility and increases strength. With August as a big travel month for many, there are a lot of subs covering classes the next two weeks. I encourage you to try your typical classes with a different instructor; his or her style might be a perfect fit for you. The schedule is as follows:
Thursday, Aug 8
5pm Reformer III w/ Birgitte
6pm Reformer III w/ Birgitte

Friday, Aug 9
10am Pilates Party (group ex clubhouse) w/ Mae
11am Pilates Mat I (group ex clubhouse) w/ Mae

Monday, Aug 12
11 AM Reformer III w/ Anne
6pm Bosu Pilates (group ex clubhouse) w/ Angelique

Wednesday, Aug 14
5pm Men's Reformer w/ Patricia
6:15pm Better Back Reformer w/ Patricia

Thursday, Aug 15
5pm Reformer III w/ Birgitte
6pm Reformer III w/ Birgitte

Friday, Aug 16
10am Pilates Party (group ex clubhouse) w/ Sadaya
11am Pilates Mat I (group ex clubhouse) w/ Sadaya


Happy August!
-Therese Brewitz, Pilates Director



Group X

For those of you who can't make it to early morning or midday classes, we now offer Monday through Thursday after-work classes. The attendance at these nighttime classes thus far has been great, and continues to rise. If you have not made it to one of the evening classes yet, I encourage you to try one. The two newest classes are Tuesday night Spin Express with Amy (7:40 pm), and Wednesday night HIIT with Megan (7:15 pm). Thank you for making the evening group exercise program a success!

In other news, since summer is high travel season you may have noticed that there are a lot of subs. We appreciate you giving them a chance, and trying something new. If you are curious about who is subbing your favorite class, just check our website or app. With the exception of last minute changes, the group exercise schedule is always up to date.

See you in class!

-Angelique Pine, Group X Director


Peak Fit

For those members that have not yet ventured up to the Peak Fit studio, it's an incredible facility with great equipment. Small group training takes place in this studio, and it's the participants and instructors that make each class unique. Each one-hour session offers a mix of strength, cardio, core, and flexibility, making the most of your 50 minutes.

Come find out for yourself why small group training is so effective. We offer Peak Fit classes almost everyday and your first class is FREE!

Peak Fit Weekly Schedule:
Monday 9 am
Tuesday 6am
Wednesday 6am TRX
Wednesday 9am
Thursday 6am
Friday 9am
Saturday 8am

Make sure to register online or contact me for more information or to reserve your space in class.

We hope to see you in a Peak Fit class soon!

- Jennie Votel, Peak Fit Director
510-316-3529
[email protected]



Celebrate August Employee Birthdays
Please join us in wishing each of them a happy birthday and thanking them for all of their hard work!

Elaine Hofmann, 08/04
Muriel Reiley, 08/04
Shauna Barnard, 08/19
Miriam Ani, 08/22
Drew Swartz, 08/24
Milo Kuiper Rauch, 08/28
Jenny Hu, 08/29
Danny Camozzo, 08/31



Member Spotlight: Eve Maidenberg

Record breaking relay team pictured from left to right: Leslie, Becky, Eve, Jill
Hills member Eve Maidenberg competed in the 10th Annual Patrick Moore Memorial Relay LCM Meet, Sunday, July 7, 2019, at the Marguerite Aquatic Center in Mission Viejo. The event was the 4 x 200 meter long course relay, women's age 200-239 age group (the cumulative age of all swimmers). Her relay team consisted of herself, Jill Gellatly, Becky Cleavenger, Leslie Daland-James; they broke the previous record set in 2014 of 9:37.01 by 2.5 seconds! Our member spotlight for this month is Eve Maidenberg.
Eve was first tossed into a pool when she was 6 months old, but didn't start swimming competitively until she was about 11 years old. Her swimming career began with the Shaker Sharks swim team in her hometown of Shaker Heights, Ohio, and she swam through high school. When asked how competitive of a swimmer she was, Eve claims she was an average athlete but worked hard and really enjoyed it. She took a long break after high school until discovering Masters swimming in her early thirties. Literally diving back into a swim program brought back the feeling of how much Eve loved starting her day in the water, and she has not looked back since. "The coolest part for me has been to see that I can still swim as fast, if not faster in some events, than I did when I was 17—swimming is truly a lifelong sport."
Both of Eve's kids appear to be following in her footsteps. Laila, her 15-year-old daughter, swam for the Hills Hurricanes up until last year and now swims for her high school team at Bentley, while her soon to be 13-year-old son Ezra swims for the Hurricanes. According to Eve, neither of her kids are particularly competitive people, but they both love the water and have fun on deck with their friends, which in her eyes leads to a lifetime of enjoyment and camaraderie. Like many parents, it has always been important to Eve that her kids have athletic pursuits, and she's grateful that they chose a sport that she is passionate about and can get involved in. She currently volunteers with USA Swimming as an on deck official and helps Coach Shad organize the officials for the Hills swim team.
Eve trains at a few different pools, but you'll often find her in the far outside lane next to the Master's swim program here at The Hills. Sometimes she even slips over to do a set or two with the group! Hills members since September 2012, the family of four makes use of the club nearly every day. When she's not in the pool, Eve works out in the Peak Fit room, loves a good soak in the hot tub and also enjoys coming up to hang out in a cabana with friends on a weekend evening.
Outside of the club, the Maidenberg family loves to cook, hike and explore, both locally and far away destination; the four of them also love a good game night! When you see Eve here at the club, please congratulate her for her record breaking relay team—and being the member spotlight for this month.