UPDATE FROM OUR GENERAL MANAGER
Dear Hills Members,
Undoubtedly one of my favorite months here at The Hills is October because of, you guessed it, Halloween! More specifically, The Hills Halloween Party, which this year takes place Friday, October 25th from 6-9pm.
Our theme will be the phenomenal Netflix show Stranger Things set in the 1980s; expect a solid 80s decade representation by our staff. Feel free to wear any type of costume as this theme is not mandatory for everyone. Speaking of costumes, I was blown away last year by the creativity displayed by both kids and adults in the costume contests and as a result, my expectations are now sky high.
This year we're extremely proud to announce that the popular Bay Area cover band "The Freshmakers" will be performing at the party. For a sneak peak, check out their website https://www.freshmakersband.com/.
Dinner will be available to members and chef Muey has promised it will be better than ever. Dinner tickets are $25 + tax preorder, $30 + tax at the door. In addition, slices of pizza will be available for purchase during the party. A reminder that no glassware is allowed beyond the lobby doors, so please refrain from any beverages or anything else in glass.
Last year, in an effort to avoid parking issues and ease traffic flow, we hired a valet service and it was a great success. The same company will be here this year and available for those who decide to drive, but I encourage members that live close enough to walk or carpool if possible as parking is limited.
The club will be closed 4-6pm that day to give all vendors ample time to set up and allow us some uninterrupted time to put finishing touches on our decorations. The pools and gym will not be accessible that evening. Lastly, childcare will be unavailable Wednesday through Saturday (10/23-10/26) to transform that space into our haunted house.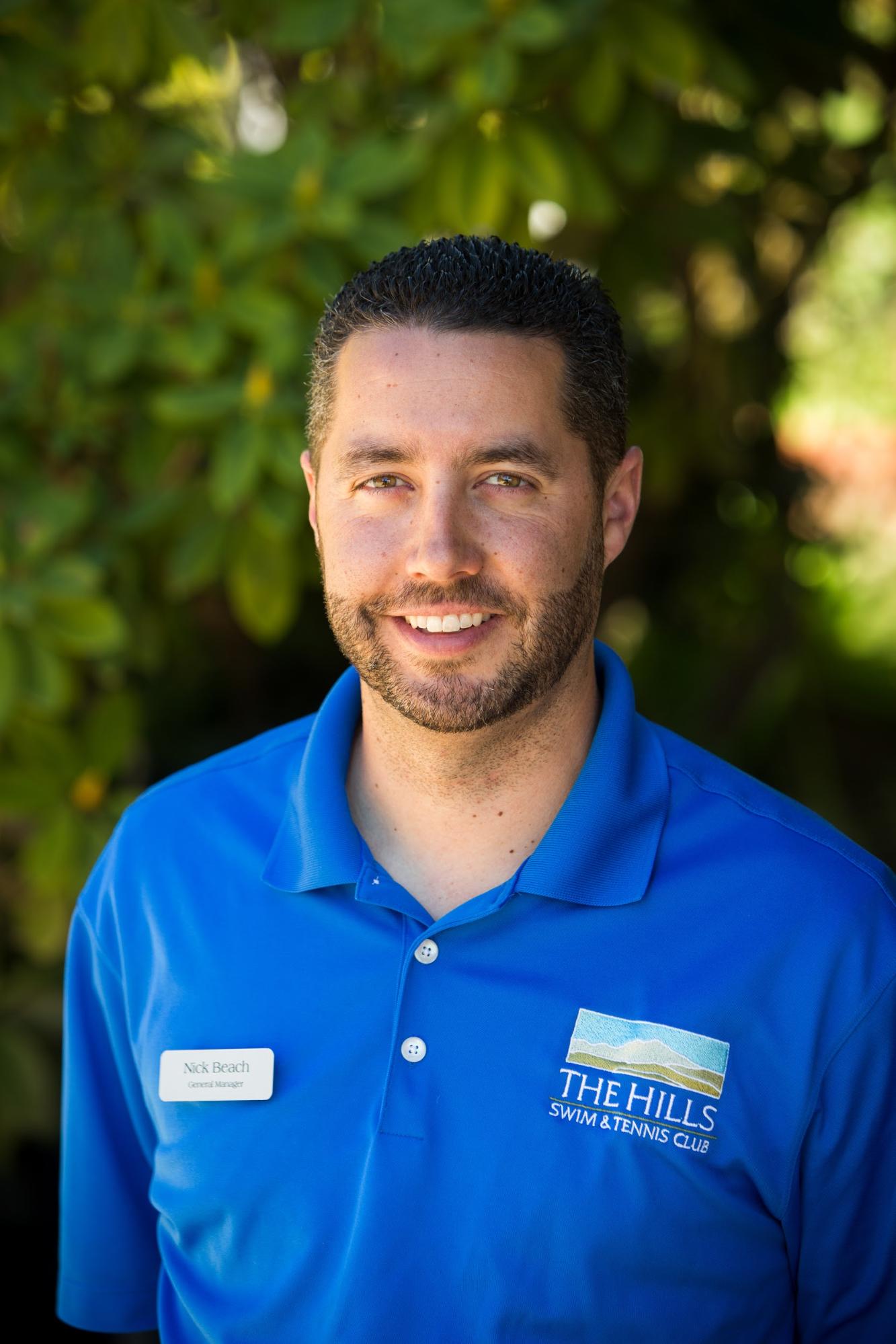 Looking forward to seeing everyone in costume and having a lot of fun that night. HAPPY HALLOWEEN!

-Nick
UPCOMING EVENTS
October 14: Free Beginner/Novice Tennis Clinic 6-7pm
October 14: Intermediate/Advanced Tennis Clinic 7-8pm (Please call the front desk to sign up)
October 25: Annual Hills Halloween Party, 6-9pm. Club closed 4-6pm.


Childcare Schedule:
Mondays 9am-2pm/4-6pm
Tuesdays 9am-2pm/4-6pm
Wednesdays 9am-2pm/4-6pm
Thursdays 9am-1pm/4-6pm
Fridays 9am-2pm/4-6pm
Saturdays 9am-1pm
Sundays 9am-1pm
We value your feedback and are doing our best to accommodate childcare requests. Feel free to contact our Operations Manager, Rosalinda [email protected] with questions/concerns.
Aquatics

Private Swim Lessons
Year round private lessons continue. We encourage children and adults set up lessons regularly to help keep up their practice on swimming better.
Pre-Competitive Swim Team

Classes meet Mondays and Wednesdays
Session 10 Oct 2-30 (no class on 10/25)
Session 11 Nov 1-22
Manta Rays (Pre-Swim Team) AGES 4-8; 4-4:30pm
Prerequisite: Swimmers must be able to tread in deep water for 30 seconds. Swimmers must be able to swim unassisted for 10 yards. Swimmers will learn basic swimming skills of all four strokes. Team activity skills and group swim safety is introduced. Instruction will be conducted in and out of the water. We do not hold tryouts or offer make up classes.
Tidal Waves (Novice Swim Team) AGES 6-10; 4:30pm-5pm
Swimmers must pass the prerequisite for swim team: *50 yards of freestyle with side breathing *25 yards of back swimming *Treading water for 30 seconds *Streamline off wall for 5 yards. This group will prepare swimmers for the swim team. This class will incorporate on-deck coaching with minimal in-water instruction. We do not hold tryouts or offer make up classes.
Hills Hurricane Swim Team

Lifeguards are no longer on duty, so we ask parents to be extra vigilant around the pool and hot tubs by monitoring their children and enforcing club policy. It is the great members that follow policy that keep this club safe for everyone. Our pool policies are here! Thank you!
Pilates
Just in time for Halloween, our BoneUp™ Pilates class will help build stronger bones and a stronger core

First session is Tuesday 10/22 at 6pm led by Pilates Instructor Barbara Hoffer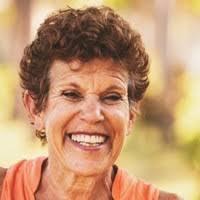 You'll use both Pilates apparatus and the Tye4™ wearable reformer (see photo) to:
Increase flexibility
Improve posture
Reduce back pain
Build overall core and bone strength
Cost: $140 for 4 classes or $40 for a drop in class
For more information and to register, please contact the studio: [email protected]
Pilates & Yoga Retreat in San Miguel de Allende, Mexico with Hills Instructor Mae Chesney!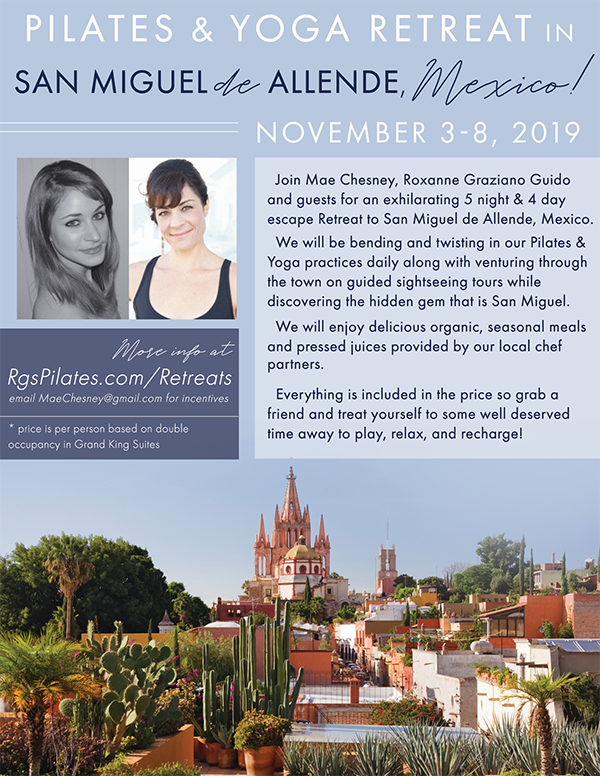 If you're feeling a bit anxious knowing that the end of another year is just around the corner, a retreat is a great way to "reset" and relax before heading into the busy holiday season. All are invited to join our own Hills Instructor Mae Chesney as she heads to San Miguel, Mexico, Sunday, November 3rd through Friday, November 8th to share her pilates experience and knowledge at the 3rd Annual RGS Luxury Pilates Retreat San Miguel de Allende.
With extended yoga and pilates classes twice a day, attendees will stay at a classic Spanish style villa just two blocks from San Miguel's Plaza Principal. The space is complete with extensive grounds, luxurious pool, outdoor sauna and numerous areas both indoors and out to relax, read a book or hang out with friends.
Each day will begin with a yoga class followed by fresh pressed organic juices, coffee and a snack leading into an extended Pilates session (with level options) and then brunch. Each evening will include a restorative Pilates session followed by more fabulous fresh food prepared for dinner.
The Pilates sessions will focus on heightened mind-body awareness to help you grow in so many ways. Please join Mae and put aside your busy lives for a few days and take a deeper dive into our Pilates practice - reconnecting with our bodies, our breath and our friends while relaxing in the sun and enjoying San Miguel de Allende.

Lunch will be available on site at your leisure or you can venture into town for the endless culinary options available. In addition to the classes, attendees will have time for plenty of optional activities in and around the town each day including hiking, hot springs and art gallery visits for those who want to get out and see more of what San Miguel has to offer.
For pricing, accommodation details and all other information about the retreat please visit the website: http://www.roxannegrazianostudio.com/retreats/
Here is a link to the gorgeous retreat center where you'll be staying: https://youtu.be/hMK1cBjmXwg
For more info and to sign up for the retreat, please contact Mae at
[email protected]

This is a wonderful experience that I highly recommend!
-Therese Brewitz, Pilates Director
Group X

We are pleased to introduce our new instructor to the early morning spin line up. Jena joined our team mid-way through September and has already gained devoted fans among our members. "Amazing", "great workout", and "fun but hard." Come see for yourself; all levels are welcome. Wednesday morning at 6am followed by a 30-minute Sculpt class from 7-7:30am.

Attention New Moms and Moms-To-Be!
The Hills is hosting a special yoga workshop for mothers and mothers-to-be! Lindsay Dombrowski is offering a special Saturday series: October 12, October 19, and November 2nd from 2-3:30 pm. Please sign up for the series at the front desk. Cost for members is $12 per class and childcare is available during each session.
Lindsay is excited to work with both prenatal and postnatal members. During these special sessions, you can expect to work through common areas of tightness in the shoulders, chest and upper back, as well as core and pelvic floor strengthening, and conclude with restorative postures. Learn to move and breathe in yogasana flow, as these skills can help promote calmness and ground you during the transitions of pregnancy, childbirth and parenthood. This is the perfect way to nourish your body and take time to check in with yourself while spending time/connecting with other women over your shared experiences.
Get to Know Lindsay…

If you haven't yet had a chance to meet her, Lindsay Dombrowski is a great addition to The Hills "family." Former dancer and sometimes story-teller, Lindsay has spent over a decade in relationship with sharing yoga. Currently a student of Maia Heiss in Ashtanga Mysore-style yoga, Lindsay bows to the teacher in all of us. She aims to share her discoveries through asana (yoga postures), pranayama (breath work), and meditation. She believes in a group practice that empowers and opens space for a student to get closer to themselves and therefore, one another. Co-creator of The Untraining, you can discover more about Lindsay at MoveYourBreath.com. She's ready to sit together, eager to see and speak to what comes up, and to continually pivot towards ease in the effort.
Peak Fit

Peak Fit classes were very lively and fun this past month. We had a lot of new members check out our classes with our September promo of free 9am classes. If you weren't able to try out the class during that promotion, please reach out to me so that we can set you up with your FREE first class!!

Here is our Fall Schedule:
Tuesdays & Thursdays 6am
Tuesdays 6:30pm
Wednesdays 6am TRX only
Wednesdays & Fridays 9am
Saturdays 8am (NOTE: no class 10/5)

Hope to see more new faces this month!

- Jennie Votel, Peak Fit Director
510-316-3529
[email protected]
Celebrate October Employee Birthdays
Please join us in wishing each of them a happy birthday and thanking them for all of their hard work!

Frank Clayton, 10/02
Liz Pemble, 10/03
Anne Mawdsley, 10/04
Chris Miano, 10/04
Jennie Votel, 10/06
Sadaya Zimmerle, 10/11
Charlie Perl, 10/15
Tori Sovocool, 10/17
Bz Churchman, 10/22
Katrina LaShea, 10/25
Ying Yan Chen, 10/30